Welcome to the next installment of WWHBD. If you have been following us, you know this is a bi-monthly post about What We Have Been Drinking. As in previous posts, since we are true believers of "Drink what you like and everyone tastes differently," rather than including our tasting notes, I have included basic information about each of the wines, or a bit about what was happening in our lives while we were enjoying them. If you are interested in reading our tasting notes and our ratings head on over to Delectable and check us out @Dracaenawines. Since the most celebrated day of the week for oenophiles is Wednesday, this post's week begins and ends on Wednesdays.
Week 1
Welcome to another #WineWednesday. Additionally, it is #NationalDrinkWineDa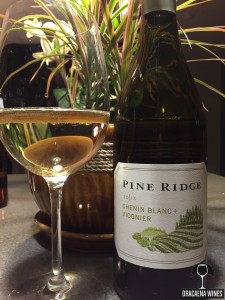 y. I love it when these days fall on a Wednesday. It is like a double holiday. But aside from the wine holiday, today was a momentous day for another reason. Today, after much deliberation, I finally decided that this was my last year coaching swimming. So much has happened in these past ten years. County and league champions twice, second place (first last) three times, coach of the year three times. It has been a wonderful run, but things change, and people change. My priorities are different now. I believe that a coach needs to dedicate 100% of their efforts to the team and I feel that with the winery, I can no longer do that. I think (I hope) my time will be dedicated to Dracaena Wines. It is a new time in our lives and I am very excited to be entering it.
Although I am ok with my decision, it was stressful finalizing it. But as normal, a little wine makes any situation better, so of course we needed to fill our glasses. Tonight we chose a go-to wine. One that we really have to thank Jon Thorsen at Reverse Wine Snob. He had this one on his website quite some time ago and I tought it sounded good, so we picked one up. After tasting, we have picked up many more. Now he recommended the 2012 which was full of pineapple, and we have now moved on to 2013 which is full of peach, but just as good. For $9, here at our local wine shop, you can't beat it. We paired it with what we call Onion Pasta. It is a great duo.
Ah, Friday. What a glorious day! I hope you had a Friday Funday. Mine not so much. Last night was my end of the season swim banquet. It started off very nicely. The boys were all dressed up- it's so nice to see them in their ties and dress shirts- one even had a bow tie. Gotta love it. I did my speech and all was well, UNTIL… about a half an hour after our meal, which I chose salad and a piece of focaccia bread, I began to get all itchy. Apparently, the fact that the fruit bowl which had A LOT of strawberries in it was a bit too close to the food I chose and my allergic reaction kicked in. It starts as hives on my arms travels up to my chest and then starts its attack on my throat. Good times! Thankfully the girl's coach had some benadryll. I popped two and it didn't do the job. I had to leave early, stop at a Walgreens and pick up some more. My tongue got a bit big and my throat got a tad smaller, but it stopped there. So when I woke up this morning, I felt like my body had been through the ringer. ( I guess it was) My tongue finally felt back to normal around 11am. So when it came time for dinner I wanted something not too crazy. We made refried beans with rice burritos with some sweet potato tortilla chips on the side. We paired it with a 2009 Vincent Arroyo Napa Valley Petite Sirah. We made a fire and just relaxed for the evening. Vince is an amazing grower/vintner. He is dead on serious when it comes to making quality wine. He has had his hands in every facet of the winery, making sure that the grapes are tended to properly from the vineyard to the bottle, and his care and knowledge can be tasted in each bottle. We have been receiving wine shipments from Arroyo for over 15 years. Vince's wine making philosophy is simple "Take what you have, and do the best you can with it. Each wine at the winery is hand-crafted, starting from before the grapes are harvested." Although they make Chardonnay, Cabernet, Petite Sirah, Merlot, Sangiovese and a couple of red blends, the Petite Sirah is their flagship wine.
The weather forecast for today is more snow on the way! What else is new, right? We are getting another 5 inches and to make it worse, we are supposed to be getting sleet and ice on top of it. I am so over this winter. I thought last winter was bad, this one is killer. I think we actually got more snow last year (but not sure anymore) but it is the brutal cold that is torturous. Last night was the coldest night in over 60 years. We have been below the average temperature for the past 25 days. I am happy if we are in single digits for the weather. (yes, since we have been in the negatives for several days) That doesn't even take into account the wind chill factor. Come on Spring- get your butt here soon! Anyway, I spent the day back at school doing crowd control for the Passaic County Basketball Semi-finals. (don't laugh, yes, I do crowd control) Four games, 7 hours later and the sleet and snow starting, I finally made it home. Mike had dinner ready to go. I'm so lucky, I know. We had a fritatta and paired it with a 2011 A. Rafanelli Sonoma County Zinfandel. We have had the honor of meeting Dave Rafanelli. He is a true believer of "quality not quantity." He is a wonderful and entertaining man. Dave continues to carry on the traditions started by his family in the early 1900's as he continues to be a grape grower and vintner. The winery is run by the family and as with Vincent Arroyo, these wines are only available through the winery itself. You must either stop into the winery or you can call.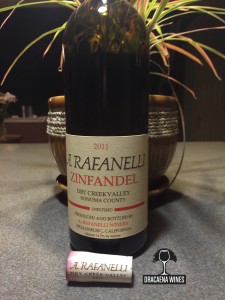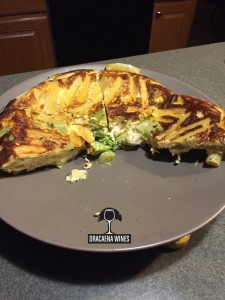 Week 2
Another #WineWednesday is upon us. I relish these days. It is such a better statement than #humpday. I much prefer wine over camels. (although llamas, alpaca, emu and ostriches rank high) If you didn't read previously, one of the best days in my life was when Mike surprised me by going to Ostrich Land in Solvang.You can totally see how happy I am while feeding these guys. It's pretty bad in terms of video, but you can see my "happy dance" (sort of – it is a bit cut off).

I joke all the time about how lucky Mike is. He has a wife that loves football. (don't even try to talk to me during a
Dolphins game! I drool over hockey and don't even think I will be anyplace other than in front of the TV during March Madness!) Honestly, how many wives out there would be beyond thrilled that their husband pulls up to Ostrich Land! Seriously, he is lucky! (don't you think?) Anyway, getting back on task, tonight we had a 2012 Trivento Reserve Malbec. It is one of our favorite midweek wines. I decided to pair it with avocado, roasted bell pepper and jalepeno monterey jack cheese paninis. We ended the night with #sonomachat and catching up on some shows. After checking their website, I found that Trivento means "three winds." The Sudestada, Zonda, and Polar winds cross Mendoza and they laid tribute to these winds using it as their name. They are relatively new to the wine industry, being founded in 1996. Since then, they have become the most diversely distributed Argentine wine brand in the world.
We spent the weekend in Atlantic City. One of my boys on the swimteam qualified for the Meet of Champions (MOC.) It is about an hour away from A.C., so we figured why not kill two birds with one stone. We drove down Friday afternoon after school, and spent the night. One of perks we received this weekend was an Amazon Fire TV. (woot woot!) I will be more than happy to hook that up when in comes in 8 weeks! Anyway, Saturday night we decided to use another perk and go to dinner at Nero's in Caesar's. According to their website, "Nero's is an Italian Steakhouse and offers oceanside dining in a magnificent old world setting." One of the reasons I chose this restaurant is that they boast that they are committed to promoting organic agriculture, and support local growers. I'm all about supporting local.
Steakhouse- check. Oceanside dining – check. UNpleasant experience – CHECK! First, it took awhile for the waitress to come to take our wine order. We were interested in a certain bottle and Mike asked what year it was. She said she did not know, took the wine menu away and disappeared for about 10 minutes. Upon returning, she told us it was a 2012 and Mike stated that he was ok with that year. (It's a good thing he was, because I don't know when we would have seen the disappointingly small wine list again.) When she arrived, she poured the wine and took our orders. One hour
later (mind you, no appetizers were ordered) we still had not received our meals. During our wait, Mike and I took the time to use Delectable for the 2012 Sonoma Cutrer Pinot we chose. Not sure you can see it, but behind the wine is garlic flatbread. It was pretty good and since it looked like we were not getting our food anytime in the near future we pounded it. I ordered a small portion of homemade cavatelli and a side dish of Brussels Sprouts w/Green Apple and Pancetta. The pasta was ok, but when I went to eat a Brussel Sprout (which I was craving) the fork couldn't even go into the sprout. They were horrible. When I called the waitress over, I pointed at the dish and before I could even say anything, she said, "Are they too hard?" So my guess is, they get returned to the kitchen quite frequently. Needless to say, it wasn't the most memorable (at least in a good way) meal we have ever had. Thankfully, even with all the negative of the meal, the Pinot did not disappoint.
Hope you have had some great wines and times these past two weeks. Remember, always Pursue Your Passion. We would love for you to leave a comment telling us what was your favorite recent wine was.
~Slainte!