October has been declared #MerlotMe month. Earlier this month, my colleagues at #WinePW got together to share our favorite Merlot wine pairings. I paired two Merlots with Ratatouille and shared my thoughts in my post #MerlotMe and the Little Chef. 
After my post was written, I received another sample. A Merlot from Mt. Brave Winery in Napa Valley. Since I received it after my post was live, I put the bottle aside to open at a later date.  
October may be over, but the Merlot celebration continues! One month is not enough for this grape variety that got a bad rap from the movie that shall not be named. The month-long love fest culminates on November 7th with #InternationalMerlotDay. A couple of weeks ago, I was going out to dinner to a BYOB restaurant, so I decided to bring the bottle. I threw it in my carry bag, took the tech sheet and figured I would post a few photos on Instagram and Twitter and that would be it.  However, that plan changed when the waitress opened the bottle and placed it in front of me. I poured myself a taste. I immediately noticed the deep intense color of the wine and actually said "Wow, this is an intense color for a Merlot." I then swirled the wine and brought it up to my nose to experience the aromas. Once again I said "Wow!" After tasting the wine, you guessed it… "WOW!" I was seriously blown away! 
Mt. Veeder
Some 150 years ago, a German Presbyterian pastor named Peter Veeder regularly explored the Mt. Veeder terrain in Napa Valley, bravely moving across creeks and into pocket canyons, marveling at what he found in these elevations reaching upward to 2,677 feet.
The first wines made from Mt. Veeder fruit were shown in the 1864 Napa County Fair by Charles Krug  Agoston Haraszthy and Captain Stalham Wing. One hundred and forty years after their arrival, Mt. Veeder AVA was established.  It is s the largest AVA in the Napa Valley encompassing 25 square miles and 15,000 acres, although only 1,000 acres are under vine and less than 2% of Napa Valley production. Although best known for Cabernet Sauvignon, I am here to tell you that Merlot is loving life at 1,800+ feet. 
Mt. Veeder, unlike the majority of Napa Valley, is an ancient seabed.  It is filled with rocks typically two feet down with 30 degree slopes giving the vines a multitude of micro-climates. With temperatures significantly cooler than the Valley floor, it is not uncommon to have harvest in November. Between the cooler temperatures, the steep slopes, water retention concerns and the thin soil, the vines on Mt. Veeder face incredible challenges; but with challenge comes rewards. 
Once known as Chateau Potelle Vineyard, Mt. Brave Vineyard sits high above the fog line at an average of 1,600 feet. Named in honor of the pioneers who originally settled on this rough terrain, Mt. Brave is filled with loam soil, filled with rocks which make nutrients scarce. This forces the vines to be stressed and results in extremely concentrated small berries and a wine that is one of the most memorable wines I have tasted in a long time. 
2015 Merlot (SRP: $80)
Thanks to an atypical climactic season, the 2015 harvest saw early bud break and bloom. May brought in a cooling effect which unfortunately happened during fruit set and led to a significant decrease in yield. Finally, towards the end of harvest, the fluctuations stopped and allowed for an earlier than usual harvest. Although the yield was reduced by about 30%, the quality of the fruit was one hundred percent! 
This 100% Merlot saw native yeast fermentation and macerated for 20 days.  It was barrel aged for 22 months in 95% new French oak barrels. It does clock in at a whopping 15% ABV, but it is so well-balanced that there is not a hint of alcohol heat. The wine poured an incredible deep purple in color with pronounced aromas of anise, mocha and dark fruit. On the palate, this dry medium bodied Merlot had medium acidity and tannins with notable flavors of milk chocolate, and plum, with just the right oak influence from oak. After sitting for about a half hour, I was greeted with the most wonderful blueberry and a hint of baking spice.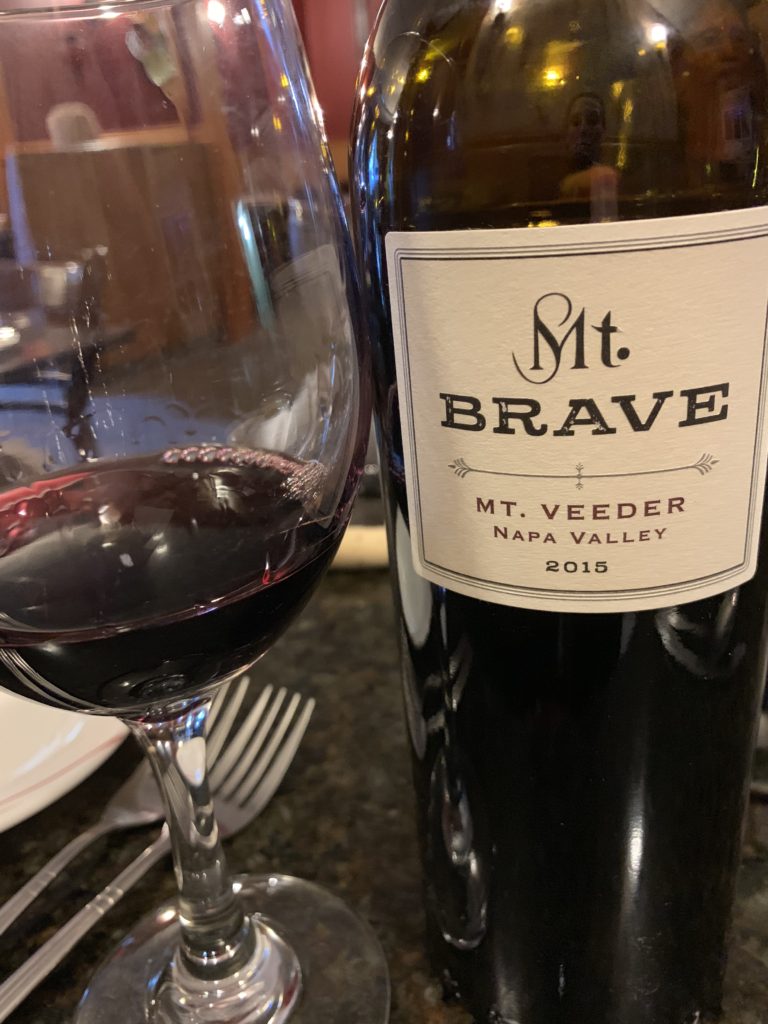 Want to be wowed yourself? You can purchase your own bottle of Mt. Brave Merlot here. 
~Slainte!
Please visit our sponsors!