Moldova is a small European country that has a history rich in winemaking. October 3rd and 4th, they will be celebrating that tradtion with their National Wine Day and my wine loving, blogging friends at World Wine Travel ( #WorldWineTravel ) are kicking off our inaugural posts centered around these festivities! 
Social media is a wonderful tool. It truly makes the world a smaller place. Yes, it can have it bad points, but more often than not, it is a place that you can look to find the answers you seek. When your questions focus around Moldova, the person to look to for those answers is Master of Wine, Caroline Gilby. (thank you @quick_philip for providing the connection) 
I reached out to Caroline via of Twitter and asked if she would be willing to answer some questions about Moldova for this post. She was gracious enough to reply with a "yes." I am so excited to share her answers and to let everyone know, that this interview will continue in the future with a podcast episode! 
Can you tell us a bit about yourself? You became a Master of Wine in 1992. Were you one of the first women? (how you got into the world of wine)
I was number 167 overall to pass the exam – but not sure how many women had passed at that point. I discovered a passion for wine while studying for a doctorate in plant sciences at the university of Bath. Up to that point I'd enjoyed wine, but detailed knowledge was limited to being able to tell red from white with my eyes open.  The university had a wine society and I quickly got into arranging tastings and researching and selecting the wines. Then I won a couple of tasting competitions and a trip to stay at Quinta do Noval in the port region. The die was cast by then, so I finished the doctorate and found a job as a trainee wine buyer. When I started working in wine, Eastern Europe was big business, but not very glamorous, so I was given the region as my first buying responsibility.  I started my journey in wine around the time the Iron Curtain started its fall – we kind of grew up together in the new era.
In 2018, you released a book titled, "The wines of Bulgaria, Romania and Moldova," can you please tell us a little more about the book and your inspiration behind writing it? How can people purchase your book?
I wanted to share the amazing stories that I've seen in these countries, as well as telling readers about the complete revolution in wine that I've seen.  In the west, we are often guilty of assuming everywhere was the same under communism, but each country has emerged in different ways, shaping each country's wines differently.  I also realized that there was very little written in English about these countries – so also wanted to write a bit of a textbook to fill in the factual gaps.  It's available from the publishers at http://bit.ly/Bulgariabook. US/Canada  https://bit.ly/BulgariabookUS. Or other good book retailers
Let's talk about Moldova as a country first. Where exactly is the country? How big is it and how easy is it for a visit to travel there?
The country lies to the east of Romania with Ukraine on its eastern border. It's a small country, with a population currently estimated at around 3.5 million (for comparison Romania is just over 19 million and Ukraine over 43 million). There are direct flights to Moldova's capital Chisinau from major European cities like London, Frankfurt, Vienna and Bucharest, so not hard to get to.  Then it's a short taxi ride into the city itself.
For quite some time, it was actually under Russian rule. What triggered their ability to come out from under the Iron Curtain and what are some of the major changes that the citizens have been able to experience since it fell?
I think I have to point you to my book for more detailed information on the changes, especially about the impact on wine. The fall of the Iron Curtain gave quite few countries the chance to declare independence and in Moldova's case it became the current republic in August 1991
Can you tell us a little about the winemaking history in Moldova? As with many European countries, wine has been part of its culture since around 3,000 BC. What would you say are some of the major changes that have occurred. Major hurdles they have overcome?
Another huge question. Undoubtedly, being part of the Russian Empire and then the USSR had a huge impact on winemaking – indeed the country that is Moldova today changed political identity 9 times over the past 200 years.  I'm closest to the changes over recent times – from shipping almost all of their wine to CIS states towards reinventing themselves with the rise of small winemakers and premium wines with a focus on western European standards
I have never been to Moldova, but I think every wine lover has seen images of Milestii Mici. Can you tell us more about this wine cellar? I read that they have been building this cellar since 1968. What was the original intention of the cellar? Do you know how many bottles it ultimately can hold – or are they continuously adding to the size?
These limestone tunnels were originally quarries for the rock that built much of Chisinau. It's naturally cool as the cellars are around 30 to 85 metres deep and I guess someone spotted that this was a perfect environment for ageing wine. It's often described as an underground wine town with streets named for grapes and wine styles, such as Cabernet, Aligoté and Feteasca. Around 55 km are used for wine but there are about 200km of tunnels in total.
And there is a second large cellar? Cricova, which is also close to the capital of Chisinau? What can you tell us about this cellar? Why do you think they have invested so much into these massive wine cellars?
Also a limestone quarry that proved ideal for ageing sparkling wine, produced here since 1950s.  At one time every third bottle of bubbly sold in the USSR came from Moldova and much of that would have come from Cricova. Famous in particular for wine collections of world leaders.
Moldova has both International grapes and indigenous grapes. What would you say are their top white and red variety? What are their tasting profiles?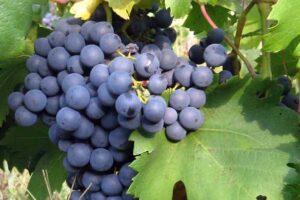 Cabernet Sauvignon, Merlot and other international names are the biggest varieties – but I suspect your readers will be more interested in the local varieties – which I encourage you to go and taste. Personally, I have a soft spot for the exotic aromatic white Viorica and for the gentle berry fruit and elegance that Rara Neagra can offer, alone or in blends like Negru de Purcari
Approximately how many acres are under vine in Moldova? Is wine their main agriculture? About how many bottles does the region produce and how much of that is exported?
126,000 hectares (311,000 acres) in total including all the back-garden plots. There are 62,500 hectares (154,000 acres) of commercial Vitis vinifera vines. Vines occupy 7% of all agricultural land in Moldova and 3.8% of the country's total surface – the highest density of vineyards in the world. The 2020 harvest is about 25 to 40% down on normal due to the drought – likely to be around 1 to 1.2 million hl.  83% of Moldova's wine is exported.
Follow Dracaena Wines on Twitter, Instagram and Facebook for special offers.
Does the region have quality designations?
Yes, since 2014 there have been three Protected Geographical Indications for wine: Codru, Valul lui Traian and Stefan Vodă. 9,600 hectares (23,722 acres) are registered to produce PGI wines
11. What is the climate like in Moldova? What does their typical growing season look like?
Winter can be really cold and summers warm – it's mostly a continental climate, though moderated a little by the black sea in the south east. Much more information in my book.
What are the soils like in Moldova? Are they predisposed to any natural pests?
Deep black soils over limestone with lots of slopes.  Winter cold and summer drought would be the key concerns (this year's drought is particularly grim) and more extreme weather events like hail.
13. The wines we were sent as samples are based on Feteasca. Can you tell us about this grape? A bit about its history? Do ampelographers know its lineage?
Nothing is known about its parentage so far. It appears to be an old variety that originated around the area of Iasi – in what was the principality of Moldavia (eventually divided between Romania and today's Republic of Moldova)
What is the relationship between Fetească Alba Fetească Regală and Fetească Neagra? Are they mutations of a single grape variety? 
Fetească Neagră is not a colour mutation of Fetească Albă – they don't appear to be related at all. Fetească Regală is the offspring of Fetească Albă and a grape called Frâncusa from the Moldovan Hills region of Romania. Fetească Albă is also an old variety with little if anything known about its parentage.
15. October 4th is The National Wine Day. The festival celebrates Moldovan wines and the longstanding winemaking traditions. How long has this festival been occurring? This year is virtual, but what is the event typically like?
You will have to ask a local – I've visited the country many times but only been for national wine day once when it couldn't be held in the capital, so we visited lots of different wineries around the country. 
Thank you again to Dr. Caroline Gilby for taking the time to share your knowledge with me.
Why not join us? It will be a fun and educational experience. This group will typically meet with a Twitter Chat that happens the fourth Saturday monthly at 11am Eastern Time (ET) / 17:00 Central European Time (CET) using hashtag #WorldWineTravel. However, in honor of the Moldova Wine Day, our first get together will be October 4th! If you want to try to find a Moldovan wine to celebrate with, The US online retailer is VINOvations.
There is also a Master Class with wine judge and writer Dr. Jamie Goode and panelists on October 3rd at the 9am PT. Click here to register for the free webinar and Master Class on Zoom. 
Camilla at Culinary Adventures with Camilla shares "Two Indigenous Moldovan Grapes – Fetească Albă and Fetească Neagră – Paired With Colțunași Harnici (Hard-Working Dumplings)"
Wendy from A Day In The Life On The Farm is "Celebrating the Food and Wine of Moldova"
David from CookingChat has "Food Pairings for Moldavan Wines"
Lori from Exploring the Wine Glass shares "Sitting Down with Master of Wine Caroline Gilby to Discuss Moldovan Wine"
Terri from Our Good Life shares "Moldova Wine Day Celebration!"
Linda from My Full Wine Glass is "Celebrating 'My Wine Day' and the little country that could"
Robin at Crushed Grape Chronicles shares "Moldovan Wine – moving forward while not losing track of the authentic grapes of their past" #WorldWineTravel
Susannah from Avvinare writes "You say Feteasca and I'll Say Moldova"
Jennifer at Vino Travels tells us about "Eye Openers to the Wines of Moldova"
Melanie from Wining With Mel is "Exploring new territory with Moldovan wines"
Jeff from foodwineclick asks the question "Are Local Grapes the Future of Moldovan Wines?"
Lynn at Savor the Harvest I share "Moldovan Native Wine Grape Discoveries" #WorldWineTravel
Jill from L'Occasion discusses "Wines of Moldova: Worth the Adventure"
Payal from Keep the Peas pairs "Kashmiri Yakhni Pulao and Moldovan Wine"
Nicole from Somms Table is "Celebrating Moldova National Wine Day with More Food and Wine Explorations"
Rupal at Syrah Queen shares "Celebrate Moldova National Wine Day – Exploring Native Varieties"
Liz Barrett from What's In That Bottle shares "Moldova National Wine Day is Here!"
Pinny from Chinese Food And Wine Pairings tells us about "Celebrating Moldova National Wine Day with Chinese Food"
Gwendolyn from Wine Predator shares "Meet Moldova: 2018 Purcari 1827 Rara Negra de Purcari Vin Sec Rosu Paired with Pizza #WorldWineTravel "
Deanna at Asian Test Kitchen tells us about "Meatless Moldovan Food and Wine" #WorldWineTravel