The holidays are upon us and it seems that they start earlier every year. Our house is decorated , the menu is being discussed and the presents are being wrapped. I am a huge Christmas fan. I am a kid at heart and poor Mike has to deal with it. He is not allowed to put the presents under the tree until Christmas Eve, because I like the surprise in the morning. Additionally, I do not sleep because of the sugarplums dancing in my head. He considers it a great Christmas if I let him sleep until 6am! I try and try to not wake him, but it never works. Last year was 6:30. (his first Christmas present)
Once I get him up, there needs to be a fire and I turn on the TV to the 24 hours of "A Christmas Story." (another thing he hates) I can watch that movie over and over and I laugh every time.
He then makes me hot cocoa and gets himself some coffee and it's onto the stockings.
Truth be told, I find the stockings the hardest darn things to fill. But I find a way to stuff his. After the stockings, the real fun comes and it is present time! Woot! Woot! We alternate opening presents. Of course I'm first, because I can't wait, then him, then Vegas (yes, he gets presents too) I love all there is about Christmas, not only the getting of presents but the giving. I love to buy gifts for people and seeing their faces when they open them.
So to help all those out there (or at least the few who read my blog) I am going to provide you with some gifts for wine lovers. I am sure there will be a plethora of similar blogs but I wanted to add my two cents. I decided it would be best to have both practical and whimsical gifts. Depending on your situation some may be more appropriate than others. I have also included a link to where you can purchase. Please note, I have no affiliation with any of the companies or products and am not recommending to purchase at the site I provide.
Come on, you all know you want this bell. I actually bought this for Mike (to put in that darn stocking) You have to be clever with the stocking stuffers. At a mere $9.99 it makes a great Secret Santa gift for a colleague. It can be found at Swoozies.com. Shipping is a little steep at $6.95, but hey it's the holidays!
Having never tried these, I can not speak on their quality or effectiveness, but the concept is pretty clever. Instead of having to keep your white wine on ice (Don't even get me started on the people who put ice IN their wines), you just freeze these stainless steel orbs. Depending on how cold you prefer your wine, you use more or less of them. I am sure you can find them in a number of places, but a quick search showed them to be the cheapest at Uncommon Goods at $24.95.
We all have seen the pictures on #WineWednesday of the people drinking wine out of giant glasses. Of course a company has decided they can make money off of it, so yes, they do exist. I have no idea how you would actually wrap this thing, but it is kind of funny. It is under $20 so still in that Secret Santa range. An alternate saying on the same site is "Let's Celebrate and I'm sure there are other sayings that can be found. This particular one was at ltdcommodities.com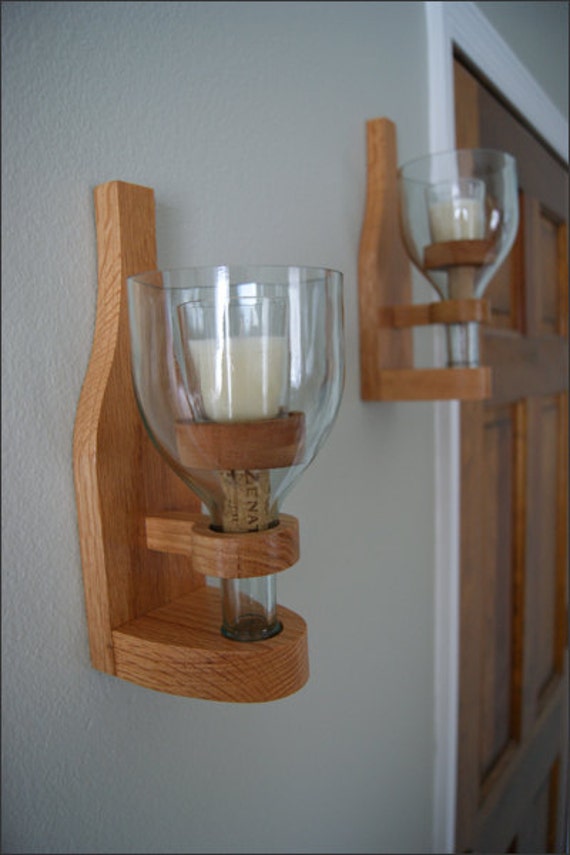 I actually really like this one. Some people are so darn crafty it is annoying. To me this is wonderful. They are selling it as a 5 year anniversary gift (for the wood) but I think it would make a nice Christmas gift too. This is outside of the Secret Santa range at $50, but considering each is individually made, I think it is worth the price. They have other versions of sconces also. Plenty to choose from. These can be found on Etsy.
A different way to see the temperature of the wine you are drinking. I like that it coils around the wine bottle like a belt. It has an automatic off switch, so the battery life lasts. It is made of steel and plastic and records in Fahrenheit. I found it on a multitude of websites all around $29.99 so it is a doable kitchen gadget for the wine lover in your life. However, on Amazon it is only $19.20 and it is PRIME!!
As we approach this holiday season, I wish you all a Very Merry Christmas (or Happy Hanukkah or Kwanzaa)! I am going to leave you with probably the only person who loves Christmas more than me with a little reminder that you better watch out, you better not cry, better not pout, I'm telling you why !
~Slainte!