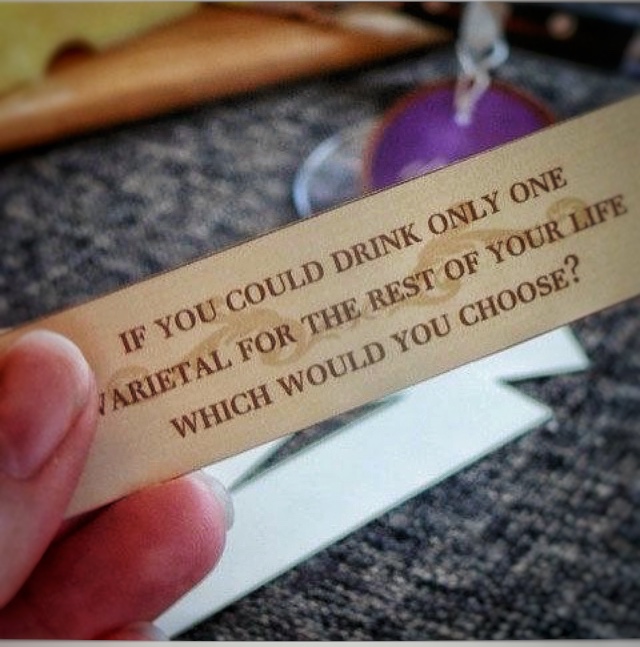 About a month ago, I posted the above photo online and it got quite the response. It had so many comments, I could barely keep up with them. Asking people to make a permanent decision on wine is one tough thing to do. Us winelovers, love wine! Not just a single one, but many, so do have to limit ourselves to just one varietal makes us go through the sweats.
My friend Anatoli, sent me a message after seeing the response, suggesting that I turn the question into a blog post. I thought is was a fantastic idea and I decided to reach out to several of my social media friends and posed the question to them. I chose to not provide my answer, since I am pretty sure everyone who reads this blog is fully aware what my answer would be! 
~Slainte!
AdVINEtures (Chris & Allison Wallace)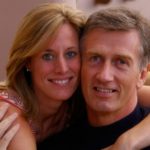 If we could only drink wine made from one grape variety for the rest of our lives, that grape would be Pinot Noir. Pinot just has such a multitude of facets, depending on the clone, where it is grown, how it is vinified.
First of all, we could not imagine a life without bubbles. Pinot Noir, along with Pinot Meunier and Chardonnay are the three main grapes of Champagne. Blanc de Noir, what the Champenois call their wines made from 100% Pinot, has enough tension to be terrific as an aperitif and enough body to go with a main course. Or if the time and place are a hot sunny day and a deck, then a Rosé of Pinot Noir can be just the refresher you need. We would head right down to the Willamette Valley in Oregon and over to Domaine Drouhin in Dundee Hills for their spectacular Rosé of Pinot Noir.
If we are imbibing at lunch (on vacation, every day) a medium body Pinot with elegance and balance is just what we would look for. And for that we would head over to Sonoma's Russian River Valley and knock on Stephen Hansel's door to get one of his amazingly balanced Pinots, either the Walter Hansel North Slope or the Walter Hansel Cuvee Alyce….or preferably both! At dinner time, if a stew or a roast is the fare, you just cannot go wrong with a big, robust Pinot from Santa Barbara County. And to do it up just right, we would pull out all the stops and open a Brewer-Clifton Pinot Noir, probably from the Hapgood Vineyard. Greg Brewer makes full body, intensely flavoured Pinot Noirs that always retain Pinot's trademark elegance–the iron fist in the velvet glove! If we were to just sit and have a glass of wine on its own, and be mesmerized by Pinot Noir's ethereal qualities of elegance, smoothness, complexity and extraordinary balance, we would have to go to the grail, to Burgundy. I will never forget the extraordinary experience of the 1993 Ponsot Clos de La Roche. As the gentleman who brought the bottle said after I commented on the texture: "It is like dragging a silk stocking over a satin sheet".
We would not want to go through life without enjoying all of the diversity of the wine world, but if we had to limit ourselves to just Pinot Noir, it might not be such a bad life after all!
www.advinetures.ca  
IG: @advinetures
Twitter: @allison_wallace
Coffee to Red Wine (Rick Dean)
Social Vignerons (Julien Miquel)
Topochinesvino (John and Irene Ingersoll)
The Wine Stalker (Joey Casco)
HVWineGoddess (Debbie Gioquindo)
It was romance at first sight, I was standing there in the tasting room at Whitecliff Vineyards waiting for the owner. I decided to do a tasting while I waited and was blown away by their Cabernet Franc. With a big smile on my face I stepped back to wait. I must have looked like I worked there because someone came in to purchase a case of wine for an event and asked me what they should buy.  I said Cabernet Franc of course and when asked why, I told them it's very versatile, beautiful black cherry, plum with an exciting burst of black pepper on the finish. That was the beginning. It is my go to varietal when I want to grab a bottle, whether it's to drink with my cheese, main dish or just relax with.
One of the reasons I like it so much because depending on where its grown the characteristics will be different. Cool weather Cabernet Franc grown on the east coast tends not be as fruit forward and high in alcohol that Cabernet Franc grown on the west coast. Depending on your mood you can choose east versus west. Then you have Cabernet Franc from the Loire Valley that is cool weather, fresh fruit and soft tannins and the many other regions it is grown in.  Cabernet Franc is also a wine you can drink now or cellar for a few years. It's light enough to bring to that barbecue in the summer and heavy enough to warm you up in the winter.
http://hvwinegoddess.blogspot.com/
Twitter: @hvwinegoddess
Facebook: Debbie Gioquindo
Instagram: @hvwinegoddess