GUEST POST! 
I have said it multiple times, in fact more times than I can count; I love social media. It makes the world a much smaller place and allows the opportunity for someone to learn about whatever topic they are interested in at any time of day or night. Although there is a lot of negativity on social media, there is also a lot of good! Wine lovers tend to fall into the latter category. The camaraderie is real and when you get to meet your fellow oenophiles in real life, it is as if you have known each other forever.
Although I have not had the pleasure of meeting Andrea Lemeiux in real life – damn you corona virus! (we were suppose to meet in March/April in Washington DC), I did have the pleasure of interviewing her for a podcast on Turkish wine and we immediately hit it off! You can listen to the podcast by clicking here. (or on your favorite podcast catcher) After the interview, I asked Andrea if she would be interested in writing a guest post and lucky for all of us, she agreed! Enjoy learning about Turkish natural wine and be sure to head over to Andrea's website, The Quirky Cork to find out more about her. 
~Sláinte!
Follow Dracaena Wines on Twitter, Instagram and Facebook for special offers.
The twenty-first century may still be fairly young but the wine world has already been rocked by a movement as big as it is controversial. Natural wine. While winemakers in several countries could argue that this is hardly new; much of the west treats it like a spanking new phenomenon. As we see natural wines popping up all over it seems to be a case of 'better late than never.' And now, the latest country to jump on the bandwagon is one of the oldest winemaking countries: Turkey.
A lot has been written on so-called natural wine over the last few years. At its most basic, natural wine is wine made with nothing added and nothing removed. According to the The Oxford Companion to Wine:
Grapes are typically grown by small-scale, independent producers.

Grapes are hand-picked from sustainable, organic, or biodynamic vineyards.

Wine is fermented with no added yeast (ie. native or "wild" yeasts).

No additives are included in fermentation (yeast nutrients, etc).

Little or no sulfites are added.
Despite these loose requirements, there currently exist no official or legal definition of natural wine. Where then, does Turkey enter this picture? Over the last 15 years in particular the wine industry in Turkey has leapt forward in terms of technology and quality. Now the country produces many fine wines indeed; and in a very few cases, natural (or nearly so) wine. Wild-fermented wine is more common than fully natural wine and many producers are embracing this. Truly there is really only one producer making what most would agree to be natural wine; while a handful of others fall somewhere in the 'nearly natural' spectrum. But the full breadth of what can be found here now is exciting and noteworthy. Leading the way is a little-known winery very few here even in the industry have heard of: Gelveri Winery.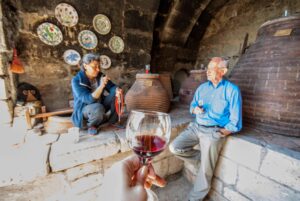 Udo Hirsch established Gelveri Winery in the small village of Güzelyurt which lies in the hills a 90 minute drive from Turkey's famous Cappadocia region. Udo learned about wine and winemaking while working on projects to assist Georgian villages in receiving UNESCO protected status for traditional food practices. He's had no formal training and prefers it that way. To his thinking, making wine shouldn't require a great deal of technical knowledge or, more importantly, technology.
Vineyards in Güzelyurt are spread across the village in private gardens. Some of the highest in Turkey, the vines sit at 1500 meters (4920 feet) on tuf soil. The vines are also among the oldest in Turkey; all of them being pre-phylloxera vines on native roots and coming in at somewhere between 150 and 200 years old. His vineyards are neither irrigated nor treated with sulfur or any other chemicals. In the winery, all wines are fermented, whole bunch and slightly crushed, in large küp (Turkish amphora) which he sources from around the country. The youngest are well over a century old, and he has some that date back to Roman and Byzantine times. After ageing is completed to Udo's satisfaction, the wines are bottled with no filtering or added sulphides.
Udo and his wife Hacer Özkaya work alone in the winery, which itself is part of their 300 year old (give or take), restored, cave house. Aside from known Turkish varietals, Hasandede and Kalecik Karası, he also works with grapes that have no names other than what the villagers call them, such as Keten Gömlek (linen shirt) and Kızıl Üzüm (rusty grape). Some of these grapes are so rare that they are only able to make something like 150 to 200 liters of wine with them. All in, their annual production is around 5,000 bottles which Udo said is about all the two of them can handle on their own.
While Udo and Hacer at Gelveri run the most completely natural wine operation in Turkey, other wineries are also in the game. Tomurcukbağ, based outside the Turkish capital Ankara in Kalecik, is owned and operated by Dr. Prof. Y. Sabit Ağaoğlu, the godfather of the Kalecik Karası grape. Dr. Prof. Sabit's wine career began as an academic exercise in the 1970s. At that time Kalecik Karası, now one of the most well-known Turkish grapes, was on the verge of extinction. His clonal research, conducted with three dried branches from an old Kalecik Karası vine, reinvigorated the grape. With those vines, Dr. Prof. Sabit and his wife Gülcihan established Tomurcukbağ, named for their daughter.  
Under his label, Trajan, Dr. Prof. Sabit makes handcrafted wines out of Kalecik Karası and Boğazere, another native Turkish grape. His wines ferment in stainless steel tanks with wild yeast, see limited filtration, no oak, and the barest touch of sulfides at bottling. He has not chosen to make wine this way to be current or popular. He's been doing this for 45 years because he believes that this is the most hygienic winemaking method, and that it is the best way to highlight both the grape's natural characteristics and the terroir.
Deep in the countryside of greater Izmir is Claros Winery. Named after the ancient Greek city Klaros, a mere 5 kilometers (3 miles) away, this is another of Turkey's little-known gem wineries. In 2006, the Yavaş family patriarch directed his post retirement interest in farming to planting Merlot "just to see how it would turn out." Together with his son and winemaker Canberk, they began by making wine for friends and family. Within a few years, they were making more wine than they could drink themselves and began selling commercially.
Everything in the vineyard is done by hand-from planting to harvesting. This alone keeps them at a very boutique size with about 5,000 bottles annually. In addition to allowing their wine to undergo spontaneous fermentation, Claros leaves the wines completely unfiltered. The last pour of one of their Merlots looks more like the famous Turkish coffee than it does wine! Due to their nearly natural winemaking, Claros's Merlot is very much an exercise in terroir. While it may be a foreign grape, the Aegean soil, precious winds off the very nearby sea, and overall terroir of the coast can be tasted in the glass.
Akhısar is something of an anomaly in Turkey's Aegean region. Located about 120 kilometers (74.5 miles) north east from Izmir, it does not share the region's generally lush, warm Mediterranean climate. While it certainly share's Izmir's heat index, that's where the similarities stop. Akhısar is dusty and arid and, at least when I visited, looked like vegetation of any sort would refuse to grow. That is, until we drive the olive groves that surround the Kastro Tireli winery.
At Kastro Tireli they farm more than organically, using (organic allowed) chemicals only as a last resort. While virtually all (wine) vineyards in Turkey are harvested manually, here the workers do more than pick bunches; they make the first pass through on quality selecting only the best. Red wines ferment spontaneously. Wines undergo only limited filtration and there is a touch of sulphur added during bottling. For all detractors who caution against vintage variation and the unpredictability of native yeast, Kastro Tireli will be a surprise. Kastro Tireli's wines are lush, elegant, and consistent from year to year.
Kastro Tireli has also recently debuted an amber wine, Hermos, from Narince and Viognier, making them one of four producers in Turkey creating skin contact white wines.
Moving from the arid land of Akhısar to the solid granite Sea of Marmara island, Avşa, we come to island winery Büyülübağ. Well-known for his award winning reserve Cabernet Sauvignon and his work with island grape Adakarası, Büyülübağ owner Alp Törüner is wildly (pun intended) proud of his wild-fermented Cabernet Sauvignon and Merlot wines. He started doing small batch experiments with wild yeast and spontaneous fermentation for wines that never saw the market. Until 2015 when he debuted his Büyülübağ Wild-Ferment Cabernet Sauvignon and became the first winery in Turkey to advertise that his wine was not made with cultured yeasts.
Wineries in Turkey aren't the only ones getting into natural wine. Restaurants and wine bars here are also embracing the movement. Mikla, one of Istanbul's premier restaurants, dedicates a large section of its wine list to natural wines. Mikla, located at the top of the Marmara Pera hotel, is one of the few places in Istanbul where you can score a bottle from the elusive Gelveri. Similarly high-end restaurants Nicole and Neolokal and new wine bar Foxy, little sister to Neolokal, also offer wine lists that feature natural wine.
There are more than 140 wineries in Turkey and I feel like I discover a new one every other month. Odds are there are more than a handful making wild-fermented, nearly natural, and full-on natural wine. For example, popular producer, Chamlija, now makes a 'nothing added nothing removed' skin contact amber wine. And while I do not share the almost militant belief held by some that wine which consists of anything more than fermented grapes is a chemical-laden travesty; I do love that Turkish winemakers are stretching their wings any way they can.
Please follow me on Instagram, Twitter, and Facebook. You can also find me on YouTube and if you are interested in wine pairings, follow my other blog, Wine Pairing with Dracaena Wines. And don't forget about my FREE wine education series, Winephabet Street.
Please Visit our Sponsors by clicking on the banners: