FLXWine on #WineChat
In September I was contacted by Julie of @flxwine and asked if I would be interested in joining a virtual tasting of 2014 Vintage Rieslings from the Finger Lakes. The virtual tasting would take place on Wednesday September 30th on #winechat which is a bi-weekly twitter chat hosted by Christina of @justthebottle I read the email again and smiled and thought, "What type of question is that? Of course I would love to have the opportunity to promote the Finger Lakes Wine Region!" I responded quickly, and the following week, viola! I had a nice package of three Rieslings delivered to me. 
Finger Lakes History
As always, a little history lesson couldn't hurt. As with many beautiful areas, the Finger Lakes came about because of the glacial movements.  It was about two million years ago when the glaciers began to melt and move their way across what is now New York State. As they traveled south, they left trenches in their wake. As they moved past the streams and rivers long and narrow lakes with extremely deep gorges were left behind. Bad for the glaciers, great for this amazing wine area.
Being the science person I am, this is how I believe the Finger Lakes were created, however, I must provide you with the alternative thought process, because quite honestly, it is a cool belief. The original inhabitants of this region were the Native Americans.  They believed in the Great Spirit.  It is this Great Spirit who reached down and touched the earth transforming it to sacred land and blessed by Nature. My science brain has to go with the glaciers, my heart wants to believe in the Spirit theory.Click To Tweet
The Iroquois, the original Native American inhabitants of the Finger Lakes, had joined tribes and called themselves and "extended lodge."  The more influential groups were Cayuga, Mohawk, Oneida, Onondaga, and Seneca tribes. They prided themselves on having a relationship with the land and not dominating it.  These tribal names along with their languages are where many of the Finger Lakes towns developed their names.
Unfortunately for the Iroquis Indians, when the revolution occurred, most of the tribes chose to be on the side of the British. It was this decision that ultimately led to them being driven from the Finger Lakes.  Once the Revolutionary War was over, many veterans received land grants for extraordinarily large acreage within the region and they began farming the area leaving no place for the Iroquis. 
The Finger Lakes wine region consists of 11 main lakes.Click To TweetThey vary in length and depth. Cayuga Lake is 40 miles long while Canadice is 3 miles.  Seneca Lake is 618 ft deep and Honeoye is only 30 ft. Whether they are long or short, deep or shallow what cannot be debated is that they are breathtaking. 
The Finger Lakes and Wine
Part of the allure of the Finger Lakes is that there are four distinct seasons with a myriad of activities to do.  The summers temperature average can range between 75 and 85 degrees Fahrenheit and during the Fall, you would be hard pressed to find better fall color foliage.  Winter comes somewhat early and varies depending where you are within the region but the weather allows for a popular winter vacation area with skiing, snowboarding and snow shoeing. Each town offers a different type of tourism. Some of the lakes are well-developed and spotlight tourism, while others remain very quaint but provide phenomenal hiking and biking trails. 
Dracaena Wines has received consistent 90+ ratings and multiple Double Gold medals. Click image to order yours today and let Dracaena Wines Turn Your Moments into Great Memories!

Let's not forget the booming wine industry. The combination of the waters with the high hills along them create a magical "micro-climate" that is superb for wine production. The Finger Lakes is actually the largest winemaking region in the Eastern United States.  The lakes with their steep slopes provide a natural way for rainwater drainage during the growing season. The depth of the lakes help regulate the climate allowing for warming fog which extends the growing season.  Although the region makes many fine wines, it is the perfect environment for their most popular grape, Riesling.  A grape varietal, that this region has learned to claim to fame. Today, there are over 100 wineries in the region and although Riesling is their signature grape, they do "dabble" in some other varietals including Pinot Noir, Cabernet Franc, Chardonnay, Gewurztraminer, and yes, they even bubbles! 
Finally, the Wineries
As I said earlier, I received three wines from three different wineries. The package came with the tasting order and a tech sheet on each of the wines. The first wine we tasted was from Thirsty Owl Wine Company. This wine was produced using three different estate grown clones above Cayuga Lake. They instilled the services of two different yeasts in multiple lots during fermentation. These lots were then blended post-fermentation to enhance the wine's complexity.
The winery opened its doors in 2002 with four wines and 1,200 cases. The winery is located on the West side of Cayuga Lake and they offer a tasting room, a gift shop and a seasonal bistro.  You can sit down, enjoy a glass of wine paired excellently with food, and enjoy the amazing view.  
 The wine poured daffodil in color [See our color chart here] with citrus aromas and a dry finish. It has 12% alcohol with a RS level of 6g/l.
Next up was Lakewood Vineyards who is located in Watkins Glen. This wine has 18.5g/l RS and 10.9% alcohol. If I were to be honest, we saw these numbers and cringed.  Both Mike and I are dry wine lovers and the RS number screamed sweet! BUT this is why you never turn down a wine sample.  The acid level balanced the sweetness and if I had tasted this wine blindly, I would have never guessed it was this high in RS. This wine poured banana in color and had aromas and flavors of apricot.
Lakewood Vineyards story begins back in 1951 when Frank Stamp, DDS decided dentistry was no longer his passion. He wanted to be a farmer, so he packed up and moved his family from Maryland to the West side of Seneca Lake.  He turned a dilapidated apple and peach orchard into a vineyard by planting Labrusca and French-American hybrids.  He later added vitis vinifera.  They sold their grapes for the next 36 years until decided to make their first vintage in 1988.  It is the combination of these three grape families that provide for their diverse selection of wines. 
The last wine of the evening was our favorite.  It was from Fulkerson Winery. Fulkerson winery is also located on the West side of Seneca Lake and offers over twenty-five varieties of wine and over thirty varieties of fresh grape juice.  2014 was their Silver anniversary (25th).  If you have the pleasure of visiting them, you can reserve to stay at one of the oldest farmhouses in the region  and partake in one of four specialized tastings. 
This Riesling, which they titled "Juicy Sweet" has 6% RS and 10% alcohol. This wine poured banana in color and immediately released a very pleasant bouquet.  Honey and apple fill your nose along with rose petals and honeysuckle. Once again the high level of acid (7.5 TA) round out the sweetness and leave a refreshing sensation on your tongue. There is no lingering impact of sugar and this wine cleans up quickly.  This is the quintessential summer sipper.  Flavors of nectarine and peach followed by what I would describe as "Orange Crush."  This is an extremely well-balanced wine with a soft finish and a light body.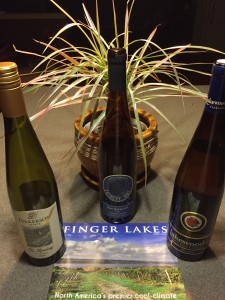 We would like to thank @FLXWine and @justthebottle for including us in this tasting. It was a wonderful and eye-opening experience that reminded us to not judge a wine solely by its RS level. It is the whole package - the RS and the TA - that matter in wine.Click To Tweet Although it has been a few years since we have been to the Finger Lakes we are planning a return visit in the future. Anyone interested in joining us? If you are waffling back and forth maybe these facts will help you decide. There are over 115 wineries with over 9,200 acres of grapes. (848 are Riesling) The region produces 220,000 cases of Riesling with many of the producers carrying more than one style.  Although the growing season is 190-205 days, most wineries are open year round and the area is full of exciting adventures for you to experience. We hope to see you there soon.
~Sláinte!
Try the 90+ rated and multiple Double Gold medal winning wines of Dracaena Wines and get a 10% discount off your first order. Click the banner below and use code "Explore" at checkout.