I have never claimed to be good at Geography. In fact, I make fun of myself for not knowing where other countries are. (I'm much better, but not great at which states are next to which) As the saying goes, 'Geography is a tough subject, until you start enjoying wine.' Click To Tweetand with each new wine I try, I do learn more about not only my palate, but the wine region and its characteristics.
This month, the #WinePW crew is getting together to discuss Greek wines.  For those of you who know me, you know I am a huge winelover, but food is not high on my priority list. I am a carbohydrate fiend, living mostly on pasta, pizza and protein bars. This is one of the reasons I joined this fantastic group of writers. Each month, I am "forced" to make a meal that I typically wouldn't and very often explore a wine that is new to me.  Our illustrious host, Cindy Rynning of Grape Experiences, was to join the "Greek Squad" and is to choose a wine or group of wines from regions of which we may be unfamiliar and pair with a recipe of our choice.
Between Coasts
I really wanted to join in on this chat since I was lucky enough to attend a Greek Winemaker experience in NYC last May. I was extremely impressed by the wines I tasted and enjoyed talking to the winemakers learning about the wines of the country. It was my first experience with Greek wines and have kept my eyes open for more opportunities to taste.
I wasn't sure I was going to be able to participate since I had just returned to New Jersey from California on Labor Day and am actually flying back to California on Friday. I wasn't sure I would have time to find a wine and cook a meal. Luckily, I found an evening that I had time, so I was all in!
Confused Country
There is a new Mediterranean grill restaurant in Fresno called Tofas. Last week, I checked out the menu and saw a Falafel wrap. I had never heard of this before, but according to the menu it was a combination of fava and chick peas with spices, lettuce and tomato in something called a juju sauce.  It sounded delicious, so I placed the order and let me tell you it was love at first bite! 
When it came time for choosing the meal to pair with my Greek wine, I thought about this meal and asked myself how difficult could it be to make? Then thought it would be a perfect match since we all know that like pairs with like when it comes to wine pairings. Choose a food from the region the wine comes from and you can be pretty sure it will pair nicely.Click To Tweet
Excellent plan, right? EXCEPT when I was searching the internet for a recipe, I found out that Falafel is not Greek but Egyptian. OOPS! With a very American view, I checked out the distance between Egypt and Greece and found out it was less than 1,000 miles away and a short one and a half hour flight.  Also, the Greek Ptolemy family ruled Egypt in early Roman times. CLOSE ENOUGH! (I know that is so bad)
On the Plate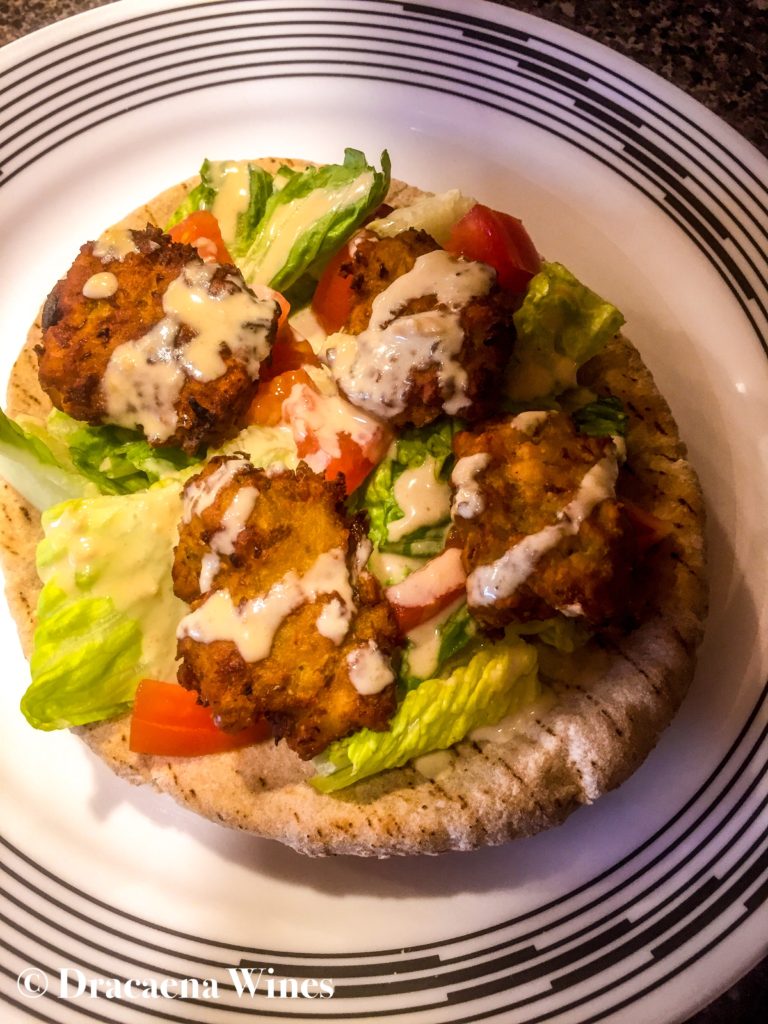 I found a recipe online for Falafel, but when I went to the store, I couldn't find all of the ingredients. So thanks to Siri and some imaginative questions for replacement ingredients, I came up with my own recipe. 
It came out delicious and is definitely a recipe I will be keeping and remaking. My typical meals include things I can pop in a microwave, pasta that cooks in less than ten minutes, or a protein bar; so this was way beyond my normal time for meals. It took about an hour and a half to prepare.  Plus, you need a food processor, so if you don't have one, that may be an issue. It was super simple, but the original recipe called for placing the dough in the refrigerator for several hours. I, with very little patience and hating eating dinner later, placed it in the freezer for an hour. It gave me time to chop up the lettuce and tomatoes and to clean up the processor.
In the Glass
I may have had the wrong country for the food, but I was spot on for the wine.  I chose a
2017 Nasiakos Moschofilero, which retails for $12.99. Moschofilero is known as the Chameleon. According to Wine Enthusiast "Moschofilero (mow-sko-FEEL-err-oh), is a lively and floral white-wine grape grown in the Peloponnese region of Mantinia. Pink-skinned and aromatic, the grape's expression is wide-ranging. Still white, rosé and sparkling wines offer flavors that span from light and delicate, to ripe and fun-loving, to exotic and spicy. It's often compared to Riesling, Traminer and Viognier, though its character is distinctively Greek."
Mantinia, has an average elevation of 2,100 feet and became a Protected Designation of Origin (PDO) in 1971. Wines from the PDO can have diverse aromatic and flavor profiles, depending on the altitude at which the fruit is grown. Within the foothills you can expect higher acidic wines with a crispness and citrus character, while the plateau yields a more floral, aromatic style.
Nasiakos is a family run winery who owns vineyards in both Mantinia and on Nemea "Kotsi" in Corinth, Peloponnese. Leonidas Nasiakos is both the viticulturist and winemaker. Production is about 6,500 cases between Moschofilero and Agiorgitiko.
Tasting Notes



Join Us!
Our live #winePW twitter chat will be on September 8 at 11am EST. So come be part of the Greek Squad on twitter. Even if you don't have a blog, you can join in the conversation and find out some amazing wine pairing recipes from my friends. 
~
~David from Cooking Chat suggests Grilled Tilapia with Tomatoes, Olives and Greek Wine Pairing.
~Sarah of Curious Cuisiniere serves Moussaka and a Greek Wine Pairing.
~Jill of L'Occasion writes about the 5 Surprises of Greek Wine
~Lauren of The Swirling Dervish features A Taste of the Peloponnese: Fresh Swordfish and Mercouri Foloi
~Wendy of A Day in the Life on the Farm discovers that Lahano me Kreas Does Double Duty.
~Jane of Always Ravenous serves Souvlaki Paired with Assyrtiko.
~Gwendolyn of Wine Predator says Go Greek with Marathon Wines and Grilled Eggplant with Spiced Yogurt for #WinePW
~Camilla of Culinary Adventures with Camilla pairs Garides Saganaki + A Traditional Semi-Sparkling Orange Wine
~Jade of Tasting Pour pairs Lamb Kebabs and Agiorgitiko
~Cindy of Grape Experiences takes on Dinner Tonight: Wine from Crete with Shrimp, Feta, and Tomatoes
~Nicole Ruiz Hudson of Sommstable is Cooking to the Wine: Domaine Sigalas Assyrtiko-Athiri with Scallops, Roasted Veggies, and Preserved Lemon Cauliflower Cream
If you would like to find out more about Greek wines,  please listen to my podcast! If you like it, I'd appreciate if you hit that subscribe button on your favorite podcast catcher and if you could leave me a review so it makes it easier for others to find me. If you can't listen right now, you can find me on iTunes, Stitcher, Google Play, Spotify; pretty much anywhere. Thanks for listening! 
~Sláinte!