As we close the door on summer and welcome what is suppose to be cooler seasons (it is currently 115) we begin to turn our eyes to harvest. For winelovers, we naturally turn to the vineyards and look on with anticipation to the picking of the fruit that will ultimately end up in our glass a year or more later. 
Many pick up a bottle of wine and often do not truly understand what it takes to make that lovely elixir that they enjoy. So much needs to go right, in order to make a quality wine vintage after vintage. Sadly, in today's world, there are more and more obstacles for us to overcome. For those who stand strong that global warming is not happening, I believe you have a right to your own opinion, but I ask you to at least recognize that "something" is happening and I ask you to please give me an explanation. 
Everyone's palate is different, and most people tend to lean towards a climate for their wine preferences. Are you a warm climate or a cool climate fan? This makes a big difference in the profile of the wine and in the grapes you enjoy. Do you like red wines that are rather ripe or even jammy? Those characteristics are typically found in warm climates. If you prefer your red wines to be more delicate with a profile of freshly picked fruit, those are indicative to cooler climates. Not a red fan? Let's talk white wine. Does your palate prefer the green apples and stone fruits (cool climate)? Or would you rather sit down with a glass of something with more pineapple and tropical flavors (warm climate)? Now that you know what you like, what happens as the climate changes and warm areas become too warm?
Some varieties such as Chardonnay, Chenin Blanc, Cabernet Sauvignon, Merlot and Malbec can "thrive" in different climates. They will just produce a very different type of wine. Let's take Cabernet Sauvignon for example. In Bordeaux, where the climate is cooler, the wines are contain herbal, savory notes and drier tannins. While in warmer Napa, there is a greater likelihood of pyrazines, the body of the wine is bigger and the tannins are bolder. Cab likes moderate to warm weather in order to create its high tannins, high acidity and pronounced aromas. But as the temperatures continue to increase, the profile of the wine will change. Your favorite wine will not taste the same.
But what about those grapes that are not as versatile? Riesling, Sauvignon Blanc, Pinot Gris and Gewürtztraminer are adapted to grow in cooler climates and do not flourish as the climate increases. As the temperatures increase, grapes like Pinot Noir will have difficulty with their sugar levels being mature prior to their physiological ripeness, which will cause havoc on harvest. It is important to harvest at the correct time and sugar ripeness can be very misleading, and spikes during high temperatures. 
Dracaena Wines has received consistent 90+ ratings and multiple Double Gold medals. Click image to order yours today and let Dracaena Wines Turn Your Moments into Great Memories!

A prime example of how global warming is impacting the wine world is Sparkling wine in England. Not long ago, a person would have been thought to be crazy if they planted a vineyard in cold, damp England. But according Alistair Nesbitt, a viticulture and climate consultant in an NBC news article, stated the "average temperature in southeast and south-central England has increased by about 1.8 degrees over the last 50 years." 
Why is that such a big deal? I mean, come on, less than 2 degrees over 50 years? Well, it is a big deal because that little increase now has created a climate that is more similar to Champagne's average temperature of 57.7o. It has also created a longer growing season, which helps in allowing the fruit to fully ripen. 
Another result of this changing climate, that effects us more locally is the increasing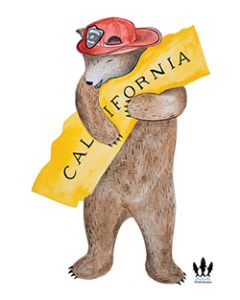 number of wildfires. Has the past few years been a "fluke of bad luck" or is this our new normal? At the time of writing this post here are the active fires in California. (CalFire)
SCU Lightning Complex –

396624 acres

 and 

93%

contained 
LNU Lightning Complex (includes Hennessey, Gamble, 15-10, Spanish, Markley, 13-4, 11-16, Walbridge) –

375209 acres

 and 

91%

contained 
CZU Lightning Complex (Including Warnella Fire) –

86509 acres

 and 

76%

contained 
Creek Fire –

78790 acres

 and 

0%

contained 
Butte/Tehama/Glenn Lightning Complex (Tehama/Glenn Zone) –

66459 acres

 and 

58%

contained 
Apple Fire –

33424 acres

 and 

95%

contained 
Lake Fire –

31089 acres

 and 

95%

contained 
Sheep Fire –

29570 acres

 and 

90%

contained 
Valley Fire –

10258 acres

 and 

1%

contained 
El Dorado Fire –

7386 acres

 and 

7%

contained 
Butte/Tehama/Glenn Lightning Complex (Butte Zone) –

2782 acres

 and 

80%

contained 
Potters Fire – 9

27 acres

 and 

98%

 contained
Coyote Fire –

143 acres

 and 

20%

 contained
I would LOVE to think that these are flukes, but it is getting more difficult every season to believe that.
A Different Kind of Harvest
This month, the #WinePW crew is getting together to talk about how vineyards are changing because of the changing environment. You can read the invitation post here. I had recently written a post about harvest that you can read here, but since it didn't involve a wine pairing Gwendolyn suggested I do another type of post and I loved her harvest food related suggestion.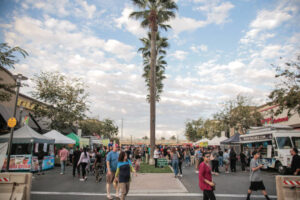 We are lucky to have  whole bunch of farmers markets around us. Pretty much you can find one almost any day of the week. We love wandering them and trying out new foods all while supporting local.  We decided to "harvest" our dinner from one of the markets. It was a very smoky and hot day so we moved quickly, and picked some zucchini, squash, tomatoes, onion, red pepper and yellow pepper and were on our way. 
This meal is fast and simple. Just how we like it! We cubed the vegetables and marinated them for about an hour in a mixture of balsamic vinegar, white wine vinegar, olive oil, garlic, salt and pepper. While they were marinating we soaked the wood skewers in a bowl of water. (I made the mistake one time of not doing this step- never will forget it again!) 
After marinating, heat the grill. Turn it to low and place the skewers on the grates. Cook for three to five minutes turning once and violà! Your meal is ready! Now, I do get that most people wouldn't consider this a full meal, but in our household, especially during the hot summer months, this is a go to meal! (Although we did also have some homemade bruschetta. )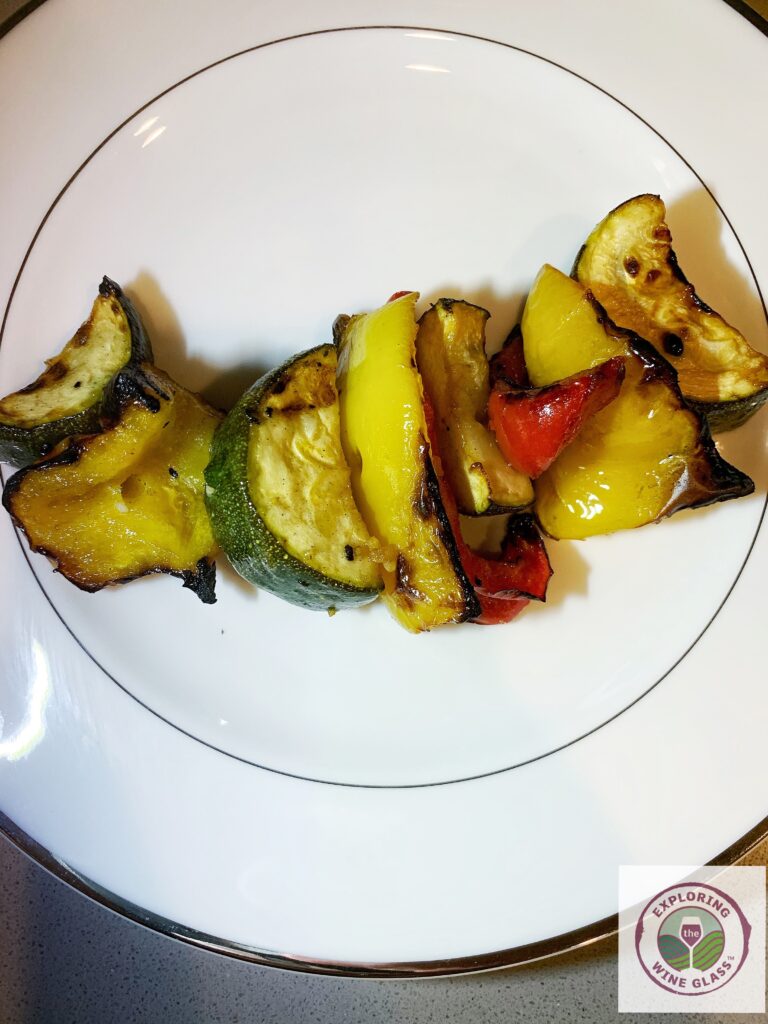 The Wine
Donna White Communications sent me the sample of Barone Montalto Pinot Grigio imported by Mack & Schuehle Group. I have to say, that I typically am not a big Pinot Grigio fan, but this one was a lovely sipper. Not only with the vegetables but on its own. 
Barone Montalto, is located in Santa Ninfa, Sicily. They opened their doors in 2000. They believe that making wine is a true ancient art but needs to take advantage of the knowledge that has been passed down throughout the years. In order to pay homage to this belief, they have a young team that has a passion for the vineyards and respect for the past. They pride themselves on the many certifications they maintain. 
Barone Montalto manages about 400 hectares of vineyards, part of which is owned. The majority of the vineyards are located in the heart of the Belice Valley, near Santa Ninfa, while there are some in the province of Agrigento, in the Valley of the Temples, and in Noto, in the south-western part of the island.
The particular wines of the family collection come from grapes grown in suitable soils, on the most beautiful hills, respectfully vinified. To you this gift of nature
2019 Barone Montalto Pinot Grigio (sample)
? pale lemon
?? light green apple, citrus fruit
? dry, high acidity, low alcohol, light body, medium flavors honey, orange, green apple, lemon, medium finish
? IGT Terre Siciliane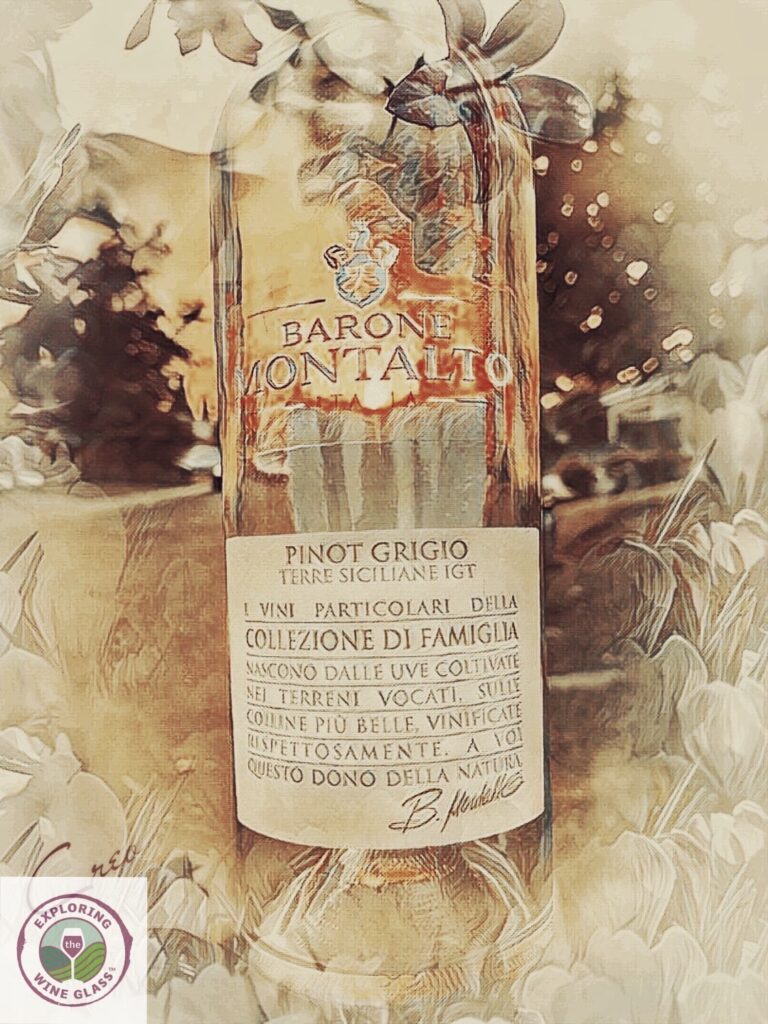 Join the Wine Pairing Weekend group of wine writers as we explore the theme of climate change and celebrate harvest. Read the invitation to re/consider harvest here. Between now and Saturday Sept 12 at 8am Pacific, the following participants will be publishing their posts including:
Join our twitter chat this Saturday Sept. 12 at 8am Pacific by following the hashtag #WinePW.
~Sláinte!
We've stacked the odds so that you can get our award winning wines without breaking the bank. Click the image to find out all of the benefits of joining the CHALK CLUB including free shipping and progressive discounts.