This month the #WinePW crew is getting geeky. Alright, I know you are thinking, we are pretty geeky most of the time, but this time we are REALLY geeky and are talking about some of the grapes mentioned in the book, Godforsaken Grapes by Jason Wilson. 
The chat is being hosted by Camilla Mann of Culinary Adventures with Camilla. In full disclosure, I do not own the book. Camilla was nice enough to share some of the grape varieties that are mentioned in the book. When I saw that Saperavi was among them, rightfully so, I did a quick google search and discovered that my local Total Wine actually carried it, so I ran off and picked up a bottle. I have read so much about Georgian wines, but have never actually had one. Well, that's a little lie… I had an orange wine when I met up with some wine friends in the city, but it was less than impressive and I can't even remember what it was. 
Georgia's Famous Wine Vessel
Clay jars (qvevri) have been found in Georgia that date back to 6000 BC. This would mean that Georgia is the birthplace of wine. According to some sources, Georgia was the first country to establish a an educational program dedicated to wine. Although only 30 varieties are currently being used in wine production, there are over 500 varieties growing in Georgia. 
The qvervi is synonymous with Georgian wine making and received the status of intangible cultural heritage (ICH) in 2013. The vessels are buried underground and are used for both fermentation and storage. During excavations in the Kvemo Kartli region, archeaologists discovered qveris that date to VI-V millennium BC and are now housed in the Georgian National Museum. 
Saperavi's History
Saperavi is an indigenous grape Georgian variety that is known for its color and acidity and is the most planted red grape. It is most often used as a blending grape, as to create a varietal, one must expect to provide it an extensive aging period. Saperavi's pulp is actually a deep pink, ripens late in the season and has a structure that makes it ideal for a winter red. In addition to being important in Georgia, Saperavi is widely planted in Russia, Ukraine, Moldova, Bulgaria, Armenia and Azerbaijan. (is it wrong that I have never heard of the last country and all I could think of was Azkaban and Harry Potter?)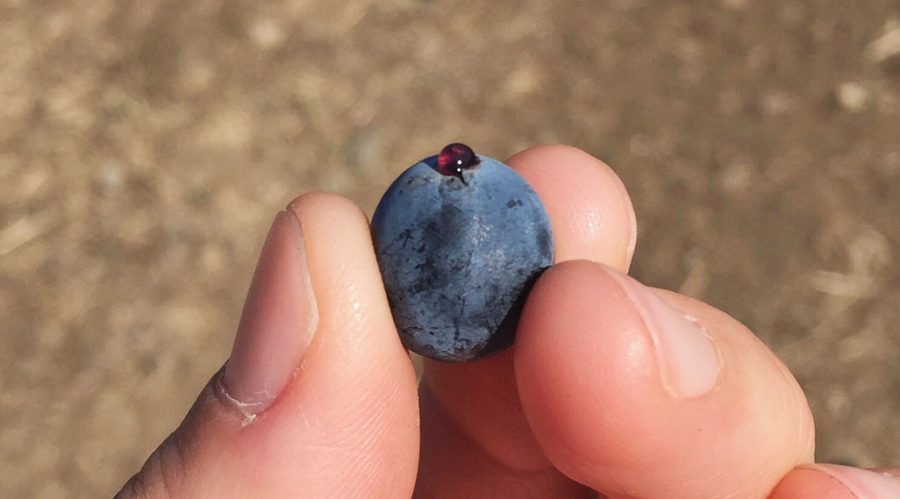 Saperavi ("sah-per-ra-vee ") translates to "dye" in English and it is the perfect name. The grape produces a wine that is extremely inky in color. Expect to see a deep red to an almost black color in your glass. On your palate, it will be extremely textural, full bodied, with a strong but pleasing tannin and high acidity. The flavor profile is often described to include black fruit, licorice, chocolate, smoked meat, and savory spice. Although most often found as a dry red wine with an alcohol content between 10.5-12.5%, it can also be found as a rosé, semi-sweet, sweet and even as a fortified wine.  
In My Glass 
An excerpt from the book reads, "In recent years, you may have noticed some unfamiliar names on wine lists alongside your usual chardonnays and pinot noirs — strange, hard-to-pronounce grapes from places where, until recently, many people didn't even realize wine was made." I was hoping that I wasn't going to have to go on a wild goose chase in order to find a bottle worthy of the challenge. 
Thankfully, as I stated earlier, it wasn't difficult to find this wine. I did, however, need some assistance, since there were no bottles on the shelf where the handy dandy app told me to look. While the employee was using a very cool electronic ladder to pull down the lone 6 bottle case on top of the shelves, she told me this was the only wine they carry from Georgia and the only Saperavi. I considered myself lucky, happily paid the cashier and was on my way. 
The history of Chateau Mukhrani involves the Bagratoni dynasty which is one of the oldest royal dynasties in the World.  Over 500 years ago, King David of Kartli donated the Mukhrani Estate to his brother Prince Bagrat. For centuries his descendants have contributed to the political, economic and cultural history of Georgia. 
The land, which was extremely fertile, often fell prey to invaders, causing the Princes of Mukhrani to protect it multiple times against numerous enemies, allowing them to occupy the Royal Throne of the Country as early as the 17th century. 
Prince Ivane Mukhranbatoni was born in 1812 into the prestigious family of General Konstantine Mukhranbatoni. Following in the family's footsteps, he joined the military and at the age of 42, after many successful battles, was appointed Military Governor of West Georgia. In this role, he established schools, including the Tbilisi Georgian State University and began several newspapers. 
After a trip to France in 1875, he gained an appreciation for farming and winemaking. Upon returning home, he left his military life behind and began producing wine at the estate. His reputation led to the infamy of the vineyards and even though his wines were expensive for the time, the demand for them increased. He began marketing the wine St. Petersburg, Moscow, Warsaw and the Baltic countries, Paris, Vienna and even in the US. He suddenly passed away at the age of 85.
In 2002, Frederik Paulsen, Mamuka Khazaradze and Badri Japaridze came together in order to begin the restoration of Château Mukhrani. They intended to bring the Estate back to its former glory and once again begin producing wine. Five years later, Château Mukhrani was making wine from estate fruit using modern technology. 
2016 Chateau Mukhrani Saperavi (SRP: $21)
? deep purple
?? medium aromas of rubber, spice, blackberry and blueberry
? dry, medium acidity, high tannin, low alcohol, full body, medium flavors of spice, blackberry, black cherry, black currant, spice, medium finish
? 12.5% ABV, natural wine
On My Plate
Finding the wine turned out to be the easy part of the pairing.  As I began googling dishes to pair with the wine, what I found was that Georgians love their meat! Top recipes were Kuchmachi which is made using pork or chicken hearts, livers and gizzards…. UH NO! Then there was Shkmeruli which is roasted chicken.. a little better, but still not for me. Ostri contains hot and spicy beef and kubdari has both beef and pork in them.  
I continued looking and I got excited because I saw a photo of khinkali (dumplings) then read that meat and mushrooms were in them. UGH!  But then I found khachapuri – ding ding ding! we have a winner! What's not to like about this dish? It is basically cheesy bread with a little egg added for more protein. I could get on board with this dish! Then I found out that it was actually the most famous dish in Georgia and wondered why it required so much of my time to find it! 
Georgian Cheese and Egg Bread (Khachapuri)
RECIPE COURTESY OF FOOD NETWORK KITCHEN
Ingredients
Dough:
1 tablespoon olive oil, plus more for the bowl
1/4 cup milk
Pinch sugar
1 teaspoon active dry yeast
1 3/4 cups all-purpose flour, plus more for dusting (see Cook's Note)
1 1/4 teaspoons kosher salt
Filling and Topping:
1 pound part-skim mozzarella, shredded
8 ounces feta, crumbled
3 large eggs, at room temperature
2 tablespoons unsalted butter, at cool room temperature
Directions
1-For the dough: Lightly oil a medium bowl. Heat the milk with 1/2 cup water in a small saucepan over low heat to between 110 and 115 degrees F. Transfer it to a small bowl and stir in the sugar, then sprinkle over the yeast and let stand until foamy, 5 to 10 minutes. (Cover the bowl if the room or the yeast is cold.)
2-Put a pizza stone on the lowest rack in your oven, removing the second rack if there is one. Preheat the oven to 500 degrees F. Cut two 10-by-7-inch pieces of parchment paper.
3-Put the flour in a medium bowl and whisk in the salt. Make a well in the center and pour in the yeasty mixture and the oil. Stir with a wooden spoon until the flour is incorporated and the mixture forms a shaggy ball — it will be soft and sticky. Flour your work surface, scrape the dough onto it and knead until smooth, elastic and still slightly sticky, about 5 minutes. Put the dough in the oiled bowl, turn it to coat with oil and cover the bowl loosely with plastic wrap. Set the bowl in a warm place until doubled in size, 1 hour to 1 hour and 15 minutes.
4-For the filling and topping: Work the mozzarella and feta together with a fork in a medium bowl. Make a little well in the center and add 1 egg. Beat the egg a bit with a fork, and mix and mash well to combine with the cheeses.
5-Lightly flour your work surface. Turn the dough onto the floured surface and cut it in half. Round the halves gently back into rough rounds. Put 1 piece of parchment paper on your work surface and flour it lightly. Press and use a rolling pin to roll 1 piece of dough into a round 1/8-inch thick and 10-inches across. Slide it onto the paper — it will hang over the long edges — and then slide it, paper and all, onto the back of a baking sheet. (Alternatively, use a pizza peel.) Repeat with the other piece of dough, transferring it to the back of a second baking sheet.
6-Spoon half of the cheese mixture on the first round, spreading some 1/2-inch from the edge and mounding the rest in the middle (there will be a big mound). Roll the sides up tightly to make a shape like a cheese-filled canoe — it should be about 10 inches long and 4 inches wide. Pinch the ends together and twist to seal tightly. Repeat with the other piece of dough and remaining cheese. Let rest 10 minutes.
7-Slide the khachapuris on their papers onto the pizza stone, leaving a few inches of space between them. Bake, turning them 180 degrees after about 8 minutes, until golden and crisp, about 12 minutes total. Crack 1 egg in each khachapuri and continue to bake until the white is just set around the edges, but some of the white and the yolk are still a bit raw, about 3 minutes. Remove to a serving platter, dot each khachapuri with 1 tablespoon butter and stir the eggs into the hot cheese¿they will continue to cook. Serve immediately, tearing off pieces of bread to scoop up the hot, buttery, eggy, gooey cheese.
Cook's Note
When measuring flour, we spoon into a dry measuring cup and level off the excess. (Scooping directly from the bag compacts the flour, resulting in dry baked goods.)
My Note
I cheated. Purchasing ready-made dough from my local pizza shop helped me save a large portion of time for this recipe. The recipe seemed close enough to my pizza dough recipes that I thought it was worth the shortcut.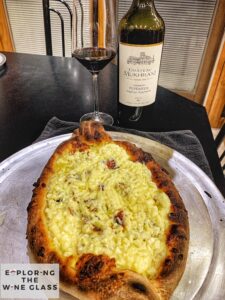 #WinePW Chat
Join us on January 11, 8 a.m. Pacific time when the participating bloggers will connect via a live Twitter chat. You don't need to have written a blog or even have a blog to participate. I guarantee it will be an educational experience.  I mean where else can you learn about a multitude of different grapes that most of us have never heard of before? 
~Sláinte! 
Please follow me on Instagram, Twitter, and Facebook. You can also find me on YouTube and if you are interested in wine pairings, follow my other blog, Wine Pairing with Dracaena Wines. And don't forget about my FREE wine education series, Winephabet Street.
Please Visit our Sponsors by clicking on the banners: