In my previous post [rant], You Know You Want to #MerlotMe I tried to tell the tale of the wonderful grape varietal Merlot and hopefully allowed you to see the wrong of Miles' ways from the movie Sideways. In this post we are going to delve even further into #MerlotMe and discuss Merlot food pairing. There are many wine holidays out there. World Malbec Day (April 17th) Sauvignon Blanc Day (May 15th) and yes, our personal favorite Cabernet Franc Day (Dec. 4th) but Merlot gets an entire month. October is #MerlotMe month and it is the brain child of Rick Bakas. This October, thanks to Jeff Burrows of foodwineclick, the kind #MerlotMe participating wineries are sponsoring our Wine Pairing Weekend (#WinePW) and I am very honored to be given the opportunity to participate in this event.
The object of #WinePW is simple. A bunch of people who love wine and food get together once a month to discuss their obsession. Each month there is a different theme and is hosted by a different person.  This month Jeff Burrows went beyond the call of duty and hooked us up with some amazing wine. In his preview post, he explains it all. If you are around at 11am EST on Saturday October 10th, join us on twitter for our chat.  Just look for #WinePW and you can follow along.  Better yet, grab a Merlot, pair it with a meal and join in the conversation. 
The Wine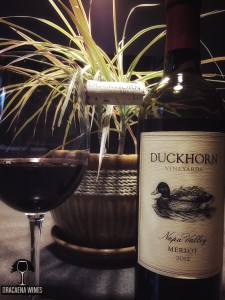 The wonderful people at Duckhorn Vineyards in Napa Valley were kind enough to send us a sample of their 2012 Merlot in honor of #MerlotMe. In 1976, Duckhorn Vineyards was founded by Dan and Margaret Duckhorn.  Their dream was to establish themselves as one of North America's premier producers and they have succeeded. Their first vintage in 1978, was a mere 1600 cases. (800 each of Cabernet Sauvignon and Merlot) Dan had travelled to St. Emillion and Pomerol and fell in love with Merlot and he felt that this grape was under appreciated in North America. With his love of the varietal and the desire to give it the credit it was due, right from the beginning, Duckhorn Vineyards decided they were going to focus on Merlot.  They were one of the first Napa Valley wineries to see Merlot as a single varietal wine.  In his own words; "I liked the softness, the seductiveness, the color, the fact that it went with a lot of different foods; it wasn't so bold, didn't need to age so long, and it had this velvety texture to it. It seemed to me to be a wonderful wine to just enjoy. I became enchanted with Merlot." 
In addition to some sourced fruit, they have seven estate vineyards in Napa Valley and Howell Mountain. Their winemaker Renee Ary dedicates himself to making wines with unique character and qualities that reflect the vineyards they come from. They chose these sites specifically for their distinct characteristics and their variations in soil, terrain, micro-climate and exposure.
The Food
When we heard that we were going to participate in #MerlotMe, we immediately started thinking of what food we would pair with it.  The pairing opportunities were almost countless.  The ability of Merlot to pair with so many different types of food is phenomenal but also makes the decision-making more difficult.  So many choices to decide from.  Ultimately we fell back to the fact that our garden was still producing fantastic vegetables and we would soon be missing our "farm to table" meals. We made Stuffed Chicken Breast with Sundried Tomato Butter. This recipe was found on St. Francis Winery's website, between the time we printed it and I am writing this post, the page is no longer there. It's a good thing we printed it, because this was a great recipe.

Stuffed Chicken Breast with Sundried Tomato Butter
Stuffing
1 green zucchini, julienned
1 yellow zucchini, julienned
1 red bell pepper, seeded and julienned
1 green bell pepper, seeded and julienned
olive oil for sautéing
1 tsp minced garlic
pinch Herbes de Provence
salt and pepper to taste
Preparation:
Heat olive oil and minced garlic in a sauté pan. Add red and green bell peppers and sauté a few minutes. Add zucchini and cook until soft. Add Herbes de Provence and salt and pepper to taste. Cool on a cookie sheet.
Sundried Tomato Butter
2 tablespoons soft butter
1 tablespoon sundried tomatoes (marinated in oil) minced
1 teaspoon parsley, chopped
salt and pepper to taste
Preparations:
Mix ingredients thoroughly
Stuffed Chicken Breasts
2 large chicken breasts, skinned and boned
Preparations:
Lay each breast flat on a cutting board. Using a sharp boning knife make a pocket in each breast through the side of the breast from end to end, be careful not to cut through the breast on the back side. Fill each breast with the sautéed peppers and zucchini and close the pocket with a bamboo skewer. Season each breast with salt and pepper and brown in a hot pan on both sides. Bake breasts in a 400 degree oven for 8 minutes or until breasts are cooked through. Remove breasts to plates and top with a tablespoon of the sundried tomato butter.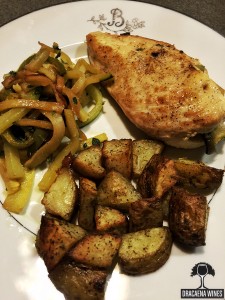 The Pairing
There are so many so-called rules when it comes to wine pairing.  Some I think hold true, and others, like many rules are meant to be broken. Think about wine and cheese parings at wineries. Now that is a job I would love to have!  Think about your dinner conversation with your significant other: "Tough day at work today, Honey, I had to sample wine and find the best cheese that paired with it."  But it does make a difference.  The flavors can really make or break a wine.  And tonight's dinner made the wine. Well, let me clarify, the wine itself was phenomenal all by its lonesome. Mike and I enjoyed a glass while dinner was cooking.  Once we sat down and began to eat though, the wine became [what's better than phenomenal?]
As a stand alone, the wine had cherry and plum aromas with flavors of cherry, a hint of spice and sweet oak. But once the meal was paired with it, the wine became a cherry bomb and raspberry flavors began to appear. The spice was still present but the sweet oak changed to a toasted oak. But what made it even better was right there, in the mid palate came an intense black cherry flavor and it was to die for. The food was perfect since it had the Herbes de Provence, plus we added some more fresh rosemary providing just enough flavors to bring out the fruitiness of the wine.  When the last drop was sipped from the glass (it was my glass because I stole the last in the bottle) we were both saddened that it was gone.  The good news; we have the remainder of October to continue to celebrate this wonderful varietal.
Grab yourself a bottle of Merlot and sit down to a wonderful dinner.  Join us on October 10th at 11am EST to discuss our Merlot pairings on #winepw and leave me a comment discussing your thoughts.  Not sure what to pair with a Merlot? Check out my friends' posts below to see what they paired with their wines.
~Sláinte!