My friend, Michelle Williams, over at RockinRedBlog, introduced me to a nice group of people who participate in a monthly virtual tasting party.  This party takes place on the second Saturday of each month at 11am EST on twitter and you can follow along by checking out #WINEPW. Each month, the participants are challenged to come up with a meal and a wine pairing that follows a predetermined theme. This month's theme is "South of the Border" and it is my first attempt at playing along.  When I heard the theme, my mind immediately went back to Mike and my trips to Cancun. We are lucky enough to go every Spring Break. It is the one week that we actually decompress and do nothing but relax, eat and drink. When we first started going, the restaurant on the beach, Piña Colada, had an amazing chicken and lime soup.  It was so good we would go back multiple times during the day.  Unfortunately, for some reason, they have now decided not to make that soup anymore, so I considered this the perfect opportunity to make it at home. I scoured the internet looking for recipes that sounded closest to the soup we fondly remembered and ultimately chose this one. I wanted to make something other than the soup, and I thought mexican cornbread was an ideal companion.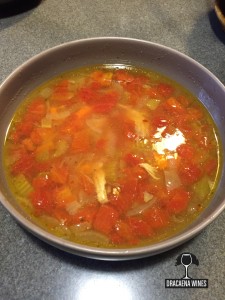 The soup, although easy to make, really had quite a bit of ingredients.  I have to admit, it is much better to just sit down and eat it than having to prepare it.  There were a lot of vegetables to dice, plus the shredding of the chicken.  Plus, I had made a little (ok, not so little) mistake with the recipe. While creating the shopping list, I wrote down "broth."  Seems pretty simple, but I managed to mangle it! I did not notice that the recipe called for two quarts, not two cans. OOPS!  But as Mike likes to say, when I choose something to cook, it is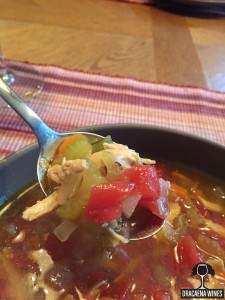 always an adventure. You never know what will go wrong, but something always does. I personally think it is this "never know what is going to happen" portion of my personality that Mike fell in love with in the first place. (at least it makes me feel better to think that) In the big scheme of things, to me, this error was pretty small, (I have been known to set a fire or two) pop a few boullions in water and we are good to go! I'm nothing if not fast on my feet.  The one thing that surprised Mike and me about the recipe was the diced tomatoes.  Neither of us remember there being tomatoes in our beloved soup, but since pretty much every recipe had them in it, we decided that maybe the Dos Equis Amber that we always had with the soup may have played a roll in our inability to remember details. 
The soup was truly delicious and although not exactly what we remembered, it is definitely a keeper recipe.  Over the meal, we discussed a few tweaks.  We would add a little more chicken and remove some of the tomatoes.  Mike also suggested adding some grilled tortilla strips.  There were plenty of recipes on the web that had the tortillas, but since I didn't remember them in the soup we had in Mexico, I eliminated them. In hind site, I think they would add a nice texture component to the soup.  
Onto the cornbread. YUM! YUM! YUM!  It was perfect with the soup.  The soup did have some residual heat from the chili powder and the cornbread, even with the jalepeño in it, calmed that down quite a bit.  The creamed corn allowed the bread to remain moist while the top browned nicely. The recipe said to place in an 8 x 8 or 9 x9 square baking dish.  I would think this would create an extremely thick cornbread.  I used an 11 x 13 pyrex dish and the batter was pretty much to the top.  It also needed a bit more time in the oven than the recommended 35 – 45 minutes, but it was worth the wait.  This too, will go into the keeper file.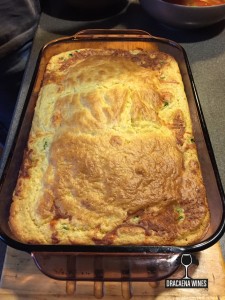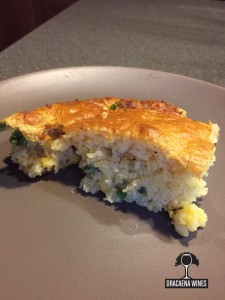 We decided to pair this South of the Border meal with a 2012 Seghesio Family Vineyards Sonoma County Zinfandel. They are celebrating their 120th year producing wines.  The Seghesio family has been in Sonoma county since 1895. Five generations later, they are still a vital part of the wine community. Their history is discussed in this three minute video found on their website. 
Seghesio currently has seven different Zinfandels. Their Sonoma County, the one we had, is harvested from multiple vineyards across the entire county.  Each vintage, the blending of the vineyard grapes vary under the scrutiny of the winemaker, Ted Seghesio. He honors tradition by adding a small amount of Petite Sirah to provide the color and the structure expected from their Zinfandels. If you are a regular reader of my blog, you may be familiar with my Exploring the Wine Glass posts.  These bi-weekly posts discuss the wines we drink along with the food we pair with them, with a little bit of our lives interwoven, but we do not post tasting notes.  If you are interested in reading our notes about this or any other wine, please head over to Delectable.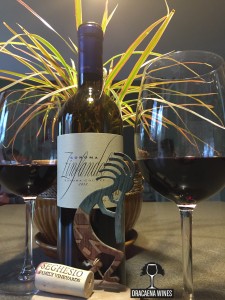 The Seghesio website is full of information about their history and their wines.  In addition to the video in this post, there are several others that tell their story in a unique way.  I recommend not only checking out their website, but also their wines. They are much more than just Zin! Be sure to also check out all the other great South of the Border food and wine pairings of the other #WinePw bloggers:
Camilla from Culinary Adventures with Cam has prepared "Dry-Rubbed Tri Tip Roast with Halter Ranch 's 2011 Cotes de Paso"
~Sláinte