A mountain or hill, typically conical, having a crater or vent through which lava, rock fragments, hot vapor, and gas are being or have been erupted from the earth's crust. A rupture on the crust of a planetary-mass object that allows hot lava, volcanic ash, and gases to escape from a magma chamber below the surface.
Wow, that is a lot of very scientific sounding words but honestly how else do you describe a volcano?  It is a mountain, it smokes, and when its temperature raises too high, it blows and molten lava and ash comes spewing out. With a show of hands [or maybe comments] how many people made the obligatory erupting volcano in elementary school?
Volcanoes have always intrigued me.  The concept that so much heat can be contained and then all of a sudden let loose is scary but fascinating. One of Mike's and my favorite vacations was to Alaska.  I have always wanted to go and we finally made it there in 2009.  It is an amazing place, with so much to do.  One of the things I wanted to do while in Alaska was to see bears in the wild.  I didn't want to go to one of the places where you are up above safe and secure looking down on them.  I wanted to be with them! [much to the chagrin of my mother] So we hired biologists that flew us in a hydroplane to an island and we hiked three miles to get to the bears.  We sat and waited as the tide came in and the bears arrived.  They could care less that we were there, we just sat on a log and watched as they came towards us from all sides.  I was in my glory.
However, this story has nothing to do with bears, it has to do with volcanoes. And although I did digress, there is a connection. As we flew over the water to get to the island, we flew right by Augustine volcano and it was was smoking. It was thrilling to see live, and our guide/pilot told the story of its eruption in 2006.
Alright, so I stole my post title from J.R.R. Tolken and the Fellowship of the Ring. He was talking about how the crownless King [Aragon] will rise and claim his title. I extrapolated it to how from fire and ash of a volcano terroir rises. Terroir is defined as  the complete natural environment in which a particular wine is produced, including factors such as the soil, topography, and climate. Volcanos are responsible for the components of soil, and as we know,the soil has a major impact on grapes. This month's #WinePW theme is Scorched Wines. Camilla from Culinary Adventures with Camilla came up with the idea and I love it.  It also plays right in with the release of a movie of one of my favorite books. The Scorch Trials [The Maze Runner book 2] but that is a whole other story.
Soils that have formed where there is a lot of activity from volcanos often have unique chemical properties. They are often very rich in nutrients and hold water well because of their volcanic ash content. Volcanic soils are some of the richest lands on earth. Volcanic soils generally have high physical fertility (tilth) and mature soils are relatively resilient to erosion and compaction. Italy is a perfect example of this phenomenon.  Southern Italy's soil is extremely difficult to cultivate because of the limestone, however, Naples, where Mount Vesuvius is, is extremely rich thanks to the two eruptions that left the land blanketed with deposits of tephra [rock fragments from the erupting volcano] which has migrated into the soil. Volcanic ash is also found in Waikato and Bay of Plenty of New Zealand. Closer to home [for me] Napa Valley also has its fair share of volcanic soil. The northern end of the valley contains a large volume of volcanic lava and ash. Several of the small hills that emerge from the middle of the valley floor near Yountville demonstrate the area's geological history. Additionally, Chile, France, Germany, Willamette Valley, and the Greek island of Santorini all benefit from having volcanic soils that are rich in calcium, iron and magnesium. Are you seeing a trend here? Great wines seem to be synonymous with volcanic soil. 
Pretty cool, right? Black soil.  Typically, black means death, but not when it comes to volcanic soil.  This soil traps all rainfall [great in these times of drought].  It allows the vines to dig deep and find the water.  While the soil itself is warm, the fog that rolls over it in many of the areas, cools it and condensation occurs, allowing even more water to be found by the ever thirsty vines. So although, the landscape looks like it would be treacherous to grow in, in reality, it is a grape vine's heaven. 
The Wine
Keeping with my reasoning of why I joined this group, I did not want to go back to a familiar wine region.  I went outside our comfort zone and initially chose to get a Greek wine.  That turned out to be more difficult than I had anticipated.  I went to our favorite wine store and there were only two choices and both were sweet white wines.  I knew that was the equivalent to stepping up to the plate, down in the bottom of the ninth with two strikes and two outs for us, so I decided I needed a new game plan.  I moved to the Italian section of the shop and found a 2010 Basilisco Teodosio. From the back label:

Teodosio wines are born on Vulture's volcanic slopes, where old vineyards alternate fruits and olive groves creating a landscape of extraordinary beauty. The Aglianico rests in to the lavic caves of our winery, while time rounds its impetuous character. Round and persistent with scents of cherry and wild berries.
The Basilisca region of Italy is located in the arch of the boot of Italy and is characterized by extremes of temperature and climate with mountainous terrain. The upper slopesof the region are where the finest wines are made. There are 4 DOC located in this region. Matera, Terre dell'Alta Val d'Agri and Grottino di Roccanova and the recently promoted (2011) DOCG of Aglianico del Vulture Superiore.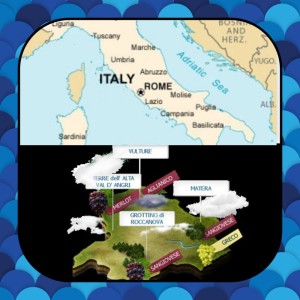 Aglianico del Vulture is an Italian red wine based on the Aglianico grape produced in the Vulture area of Basilicata. The Aglianico grape is a black grape that ripens late and is often one of the last non-dessert wine grapes to be harvested in Italy being picked from late October to early November. The vine is thought to have been brought to Italy from Greece. Although still a thriving grape varietal in Italy, it seems to have disappeared in Greece. Mount Vulture, the extinct (over 40,000 years) volcano responsible for the scorched terrior is located 35 miles north of the city of Potenza.

The Food
Basiliata is historically one of Italy's poorest and least populated regions. Today, although the economic situation has improved, the cuisine is still based on the peasant traditions. Pork is an integral part of Basilicata's cuisine and the sausage from the region is renowned.  
Campanelle with Sausage and Mozzarella
• 1 pound sausage (sliced)
• 1 Tbs olive oil
• 1 garlic clove, minced
• salt to flavor
• pepper to flavor
• ¼ teaspoon chili flakes
• 1 tablespoon extra-virgin olive oil
• 4 cups chopped canned Italian plum tomatoes 
• 1 pound orecchiette
• 1/2 bunch broccoli rabe


• ½ pound fresh or smoked mozzarella, coarsely grated




• ¼ cup freshly grated Pecorino Romano




Heat the olive oil in a pan large enough to accommodate the pasta later; add the sausage, and when it has browned evenly, add the tomatoes. Season with salt pepper to taste. Simmer for 15 minutes.
Meanwhile, preheat the oven to 425 degrees.
Cook the campanelle to al dente; drain, reserving 1 cup of the cooking water if needed to dilute the sauce, and fold into the pan with the sausage Cook for 2 minutes, or until the pasta has absorbed some of the sauce, adding some reserved cooking water if needed.
Steam broccoli rabe and add to pan.
Transfer to a terra-cotta pot; top with the mozzarella and Pecorino. Bake in the preheated oven for 10 to 15 minutes, or until bubbling, and serve hot.
The Pairing
Aglianico is a new grape varietal to us, so I was excited to taste it.  The cherry nuances were nice, although it did have a medicinal aroma that reminded me of cough drops.  Once we tasted it, we agreed the cherry continued on with less of the iodine sensation and an earthiness took over.  I wish I knew more about what this grape is expected to produce in terms of a tasting.
Pairing the wine with a meal from the region made the match a no-brainer. The wine itself had absolutely no faults and was a solid wine. Our palettes just haven't learned how to appreciate it. I continue to taste Old World wines with the hope that we will find something to our liking, but we have yet to find a wine to dethrone our New World preferences but I promise to keep trying. The wine paired perfectly with the meal.  The flavors of the sausage and tomatoes enhanced the slight earthy notes of the wine to create a nice balance. We sat out back and enjoyed a cool evening while we finished the wine.  I honestly can't say anything negative about this wine other than it is not a style we have learned to enjoy. Isn't that what wine is all about? Drink what you like. Everybody has a different palette and appreciates a different aspect of wine. That is what makes wine fantastic!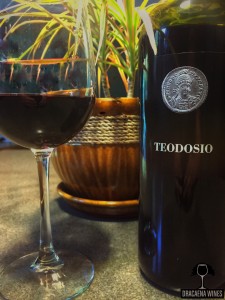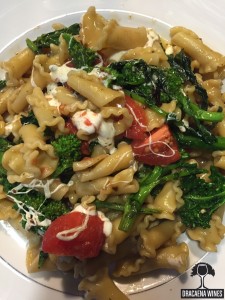 I hope you can join our #WinePW twitter chat today (Sept. 12, 2015) at 11am EST. We will be discussing the effects of "torched terroir."  If you can't join us for the chat, please check out my fellow bloggers to read about their experiences with volcanic wines.