Fàilte! Welcome to the next installment of Exploring the Wine Glass. Mike and I are big proponents of you should drink what you like and you are the only one who can taste like you. We advocate the fact that everyone experiences the wine differently, so in these posts we do not discuss our tasting notes. Instead we include basic information about each of the wineries, and/or a bit about what was happening in our lives while we were enjoying them. With that said, if you are interested in reading our tasting notes and our ratings head on over to Delectableand check us out. We tell it as we taste it over there. As always, since as oenophiles we love to celebrate #WineWednesday, our week runs from one Wednesday to the next.
Week 1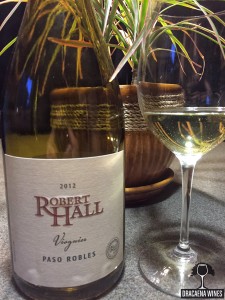 When we were sitting down to decide what wine to have tonight, we decided it was going to be a white. Mike went down into the cellar and found a 2012 Robert Hall Viognier.  The last time we had it was back in the middle of 2014.  Somehow, it "fell between the cracks" of our wine sight, and we needed to correct that.  This is liquid gold and sadly we have no more. 
Robert Hall is located on the east side of Paso Robles. Robert had visited the Rhone Valley in the 70's and fell in love with the wine lifestyle.  He was fascinated with the whole aspect from farming to wine making and ultimately pairing the wine with food.  He decided this was what he wanted to do.  He traveled to each of the California wine regions and upon coming to Paso Robles, he realized that the coupling of the warm days and cool nights along with the soil would be perfect for the Rhone styled wines he wanted to produce.  It was love at first sight with Paso Robles [who could resist?] and decided to settle down.

We decided to go to our favorite restaurant tonight.  Nadie's Touch of Italy is right in
town, is a B.Y.O.B and has no corkage fee. [we are so lucky that most restaurants in our area do not charge a corkage fee] But best of all, we can walk to the restaurant in about 15 minutes.  No, I take that back, best of all is the food! The menu is small, but everything is fantastic. They take good care of their customers. All meals are served with an eggplant tapenade,  family style salad, and warm bread that is killer. I had the penne in Vodka sauce with fresh peas while Mike had Fettuccine Bolognese . We paired it with a 2011 Trione Primitivo. 
From their website :Three generations, four decades, five ranches — our family is deeply rooted in the Sonoma County wine industry. Dedicated farmers for forty years, brothers Mark and Vic Trione own and cultivate close to 700 vineyard acres in three prime Sonoma County appellations: Russian River Valley, Alexander Valley and Sonoma Coast. 
Although it's Sunday and we normally don't have wine, but since it is a holiday weekend, we decided to pull the cork and enjoy. Our garden has had a rejuvenation and decided to get a second wind and we are back to more zucchini and squash [it never stopped with the cucumbers and I think I am going to be buried in them.]  We received an email earlier this week from Paul of Still Waters Vineyards that his Merlot is at  Brix 22.5, pH 3.43,  TA .70. For our 2015 vintage, we are purchasing some Cabernet Franc from him along with a small amount of Merlot to co-ferment.  It looks like the Merlot will be ready to harvest within the next two weeks. So with this, we decided we would open a Still Waters Vineyards Merlot. We paired it with some steamed broccoli rabe and some squash patties. 
Paul Hoover, owner of Still Waters Vineyards, has a farmer's mindset.  He is a farmer first then a winemaker and it works out perfectly for all involved.  He has 60 acres and fourteen different varieties specializing in low-yield and high-quality fruit. His blocks are managed to the wine makers specifications and all fruit is hand harvested. They are SIP certified and strive to take a whole farm approach,  meaning our goal is sustainability of the worker, soil fertility, cover crops, wildlife, native plants, air quality, water quality and conservation, and pest management.
Week 2
The Fall sports season has arrived. What does that mean? Well, it means that I go from enjoying a nice relaxing summer to being back in school, officiating volleyball games, doing the clock for field hockey and crowd control for football. What it really means is that I become this: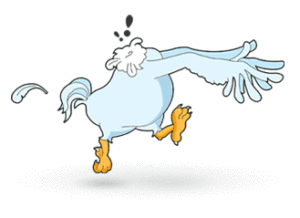 But I do it so that I can enjoy my summers.  Tonight I had a football game. Yeah, we won! It wasn't much of a challenge, but a "W" is a "W." When I came home, Mike was ready to grill up some more fresh veggies from the garden for pesto sandwiches.  Our garden is loving life, which in turn means I am a happy camper.  We paired the food with a Alta Maria Cabernet Sauvignon from Santa Ynez Valley.  I do not do reviews of wine on this post, but I will just say "Wow." Take it as you like, or go to Delectable, but seriously Thank you, Paul
Wilkins (winemaker)! With the fact that it is sold out, it was extremely difficult to find any information about this wine. But through the wonders of social media (instagram) I found out that this wine was only sold through the tasting room.  Our only hope is that since is their 10th Anniversary, a little more may show up as a Library release.  I'll keep my fingers crossed! 
It's Saturday and I spent the morning enjoying a twitter chat for #WinePW.  It is a monthly chat that occurs on the second Saturday of every month.  This month's theme was "scorched terroir." We got to choose a wine from any area that had volcanic soil and pair it with a meal of our choice.  We actually had the meal the other week, but the post went live today. After the chat, I went back to school to do the clock for a field hockey game. I swear, it doesn't matter how many games I watch, I will not understand the rules.  It seems a whistle is blown every thirty seconds! 
But for dinner, we were lazy and ordered pizza. Plus, I really wanted to try out the order the pizza using an emoji thing. Yes, that type of goofy stuff traps me.  I have to admit, it was pretty cool.  I send a pizza emoji in a text, confirm that I meant to send it, then 10 minutes later, violà! Bacon and pineapple pizza. We paired it with an Elyse Winery Cabernet Franc Blend. They call it #36 Mon Chou. It is a very nice wine, but the pizza did it no justice, so I decided to eat the pizza then drink the wine. All of the Mon Chou vintages get their number from the amount of Cabernet Franc in the blend.  Although this only has 36%, you can tell the Cab Franc is there. I wish I had their 2008 vintage to try with 56% Cabernet Franc. If you are ever in Napa, be sure to call ahead and make a reservation for a tasting, you will not be disappointed. 
Hope you have had some great wines and times these past two weeks. Remember, always Pursue Your Passion. We would love for you to leave a comment telling us what your favorite recent wine was.
~Sláinte