Before we get into the post, I don't know what it is about Washington wine regions, but they like to make us think twice about how to say them. Take for example, Willamette Valley. You can not be a wine lover without having heard at least once, "It's Willamette, Damn It!" Apparently, the residents of Yakima Valley AVA are not so aggressive 🙂 in helping us remember how to say their valley, as there is no cussing in the reminder. I was informed that I need to think "Omaha." and I will have the correct pronunciation, "Yack-i-maw."
Enough schooling for today, wine is much more fun to talk about. This month my Wine Pairing Weekend friends are gathering on March 13th to discuss, you guessed it, Yakima Valley AVA wineries and growers. I was partnered with Purple Star Wines, a family owned winery in Benton City, Washington.
Amy and Kyle Johnson own Purple Star Wines, as well as two additional labels Muret-Gaston and Native Sun Wines. I had the pleasure of sampling their 2015 Muret-Gaston EMV Syrah. Edith Mae Vineyard holds a special place in Amy and Kyle's hearts as it is one of the first vineyard designated wines Kyle made as head winemaker at Olsen Estates in Prosser. Kyle and Amy have maintained this relationship even now that they own their own winery and are thrilled to be able to continue producing a single vineyard wine from Edith Mae Vineyard.
Kyle and Amy met while attending Washington State University. They fell in love and began their life together. After graduating, Kyle began his wine career with a position in viticulture for Chateau Ste. Michelle. He left his position there, to become winemaker at Olsen Estates. Unfortunately, or fortunately depending on how you look at it, Olsen Estates closed it doors three years later. As a result, Kyle and Amy decided it was time to start their own journey and created their first vintage of Purple Star Wines.  
Dracaena Wines has received consistent 90+ ratings and multiple Double Gold medals. Click image to order yours today and let Dracaena Wines Turn Your Moments into Great Memories!

There is so much history and thought behind everything Amy and Kyle do with their wines and brands. I was so intrigued by the story behind the Muret-Gaston name. It is a nod to generations past and to the realization that no matter how big the world may seem, it truly is a small world after all. (sorry to put that ear worm in your head) As it turns out, after what I am guessing was some time viewing Ancestry.com or a similar site, Amy and Kyle discovered that fifteen generations ago their respective ancestors, the Murets and Gastons, lived in neighboring villages in southern France.
As they were looking for that "leaf" to their decedents, they reached out to each of the mothers to see if they had anything to help in the search. Thankfully, both mothers had some hidden treasures in their possession; love letters that were written in beautiful cursive from Amy and Kyle's grandfathers to their grandmothers during WWII. The labels of Muret-Gaston wines proudly display a reproduction of the signatures that were found on those love letters. 
After talking with Amy on the phone and obtaining a description of the wine she was going to send me as a sample, my mind began racing for pairing ideas.  I let my fingers do the walking on the web and found a recipe for Fig-Prosciutto Pizza with Arugula. I can't say for certain, but I am pretty sure I heard bells ringing as if I just hit the progressive discount on a Vegas slot machine.  I took this as a good sign and added the ingredients to my shopping list.  The recipe was so easy, that I made it on a weeknight. The meal was light and relatively healthy and it was a match made in heaven with the 2015 Muret-Gaston Edyth Mae Vineyard Syrah.  (please ignore my cluttered counter in the video) 
The wine was lovely on its own, but it was excellent with the food. The Syrah loved the earthiness of the fig, the savouriness of the prosciutto and the caramelized taste of the balsamic glaze.  It was like a trifecta of flavors designed specifically so the wine could highlight its dark fruit flavors.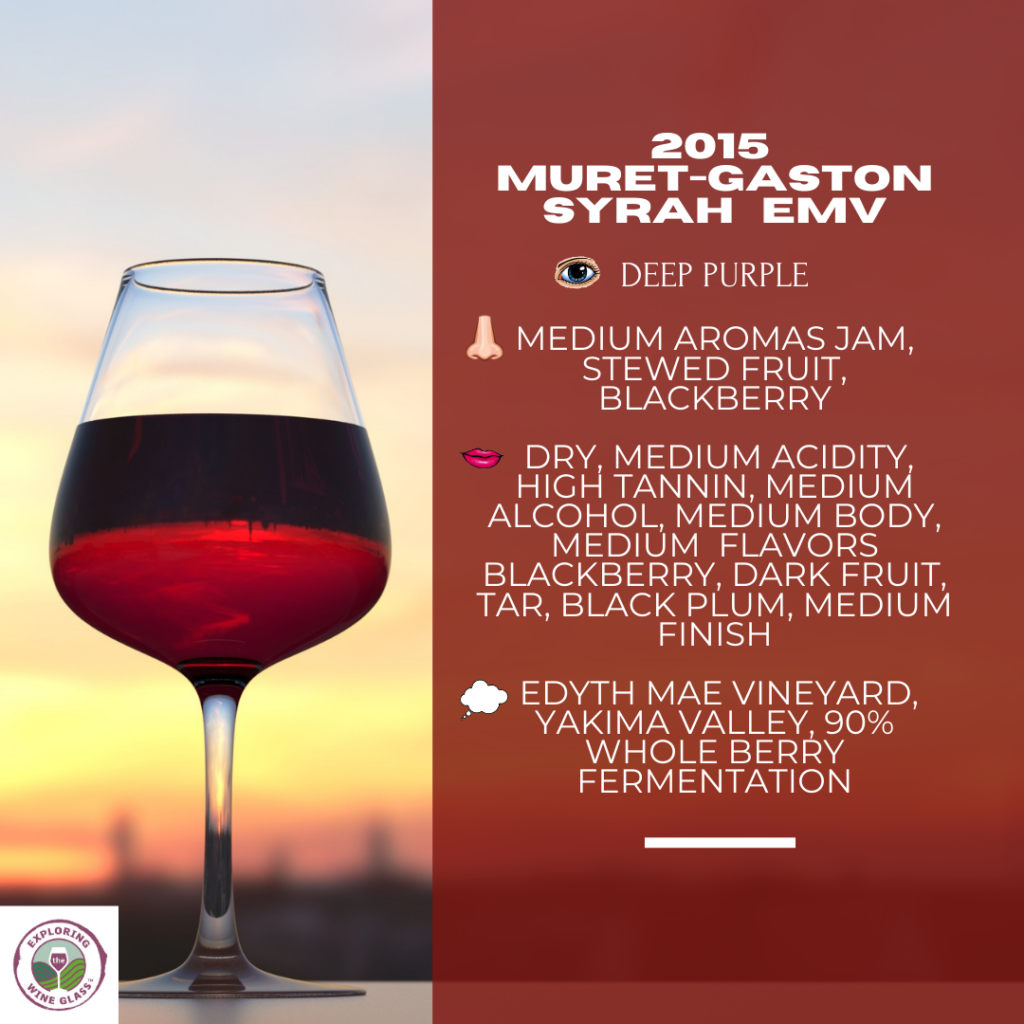 Join me, and my wine pairing friends on Saturday, March 13th at 8am PT on Twitter. Follow along using #WinePW to find out more about this wine and other Yakima Valley wineries as well as some incredible wine pairing suggestions. My only suggestion is don't come hungry, because we guarantee the conversation will make your mouth water! 
~Sláinte! 
We've stacked the odds so that you can get our award winning wines without breaking the bank. Click the image to find out all of the benefits of joining the CHALK CLUB including free shipping and progressive discounts.