There is something about wine that intimidates people when they first begin to enjoy it. That is something that has always bothered me. Wine should be enjoyed and shared, it shouldn't be scary. But I totally get it. It's easy to be intimidated, since there is so much information surrounding wine. Wine regions, wine pairings, wine varieties all lead to lots of questions and I'm answering some of them today. If you missed my first  post, be sure to go back and see the previous questions. 
Jennifer R – I drink less expensive wine at home, but when I bring a bottle of wine to a hostess, I want to impress. What should I look for when I'm at the store to feel confident I'm getting a good, quality wine?
First, I think that if you enjoy a bottle of wine, no matter the cost, it makes for a good hostess gift. If you like it, they may also. But if you want to bring something different, my first suggestion is to determine the price range you are comfortable with spending. That will narrow your choices down. When looking at labels, there are certain terms that give the impression of quality. Such as "Reserve" it is impressive, however it does not have any legal definition. It is named that for a reason the winery/winemaker feels makes it better. ie- our Reserve is a single clone single vineyard Cabernet Franc so we consider it special and thereby deemed it our reserve.  Other terms on labels that may impress your host is single vineyard, estate grown. These two terms have legal definitions and although do not necessarily translate to increased quality; they typically are viewed that way. You can look for wines that are from specific regions that are known for quality; some examples, but definitely not limited to include Mt. Veeder or the Maipo Valley for Cabernet Sauvignon, Howell Mountain for Zinfandel, Mendoza for Malbec, Alsace for Riesling, or Marlboro for Sauvignon Blanc.  Another option is to download one of the wine apps such as Vivino, Delectable or Cellar Tracker. These apps allow you to scan the bottle or UPC code and will provide you with reviews from other people who have had that wine. You can look at the average rating of the wine and read what people have to say about it and make an educated decision on whether you want to buy it or not.   
Megan W- I just bought my first older wines (20 years and 15 years) and I could NOT get the corks out. They crumbled. Did I mess up? Or is this normal?
Oh yes, this can happen frequently with older wines. Although a crumbling cork doesn't always mean that the wine is compromised, it often is a hint that it may be. But don't just throw the wine down the sink, give it a taste. You can always get rid of the cork floaters by pouring the wine through a coffee filter or strainer. Let's start off with some bad reasons why this may have happened. I hope this is not the case for you. We store our wines horizontally to keep the cork wet. When a bottle of wine is left upright, the wine is not in contact with the cork and over time it can begin to dry and will become brittle. The cork itself may have just been faulty from the get go such as being punched out in the wrong shape, may have been inserted into the bottle incorrectly, or it may have been exposed to heat or dry conditions.
Remember that cork isn't exactly the strongest material in the world and since it is natural, they begin to decay as they get older. So even if the bottle was stored in perfect conditions, you may still see crumbling in older wines.  When you are opening an older bottle, you want to pay attention to the type of wine opener you are using. A cheap winged corkscrew tends to shred cork, enhancing the crumbling of an older cork. Choose a waiter's key that is thin and be sure to insert it into the center of the cork. Be sure it is inserted deeply, since if you only put screw it in less than half way through, the cork can split. Pull it up slowly and if you see any signs of crumbling stop.
 When opening an older bottle, I typically use an ah-so. This is a bottle opener that is
also known as a 2 prong puller. It does not have a screw worm at all, instead you insert the two prongs on either side of the cork after removing the capsule. There is a longer and a shorter prong. Insert the longer one first, followed by the shorter one and shimmy the ah-so back and forth until it is all the way down. The prongs squeeze between the bottle and cork. After pushing the prongs down, use the handle to twist and pull straight up. Since you never compromise the cork, it does not crumble. I would recommend using an ah-so for any bottle over ten years old.
Yashica's Intuition – I love red wine chilled..what's the big deal about that?
This is a question I receive all of the time. One of my biggest rules for drinking wine is to "Drink what you like. Don't let anyone tell you what you should or shouldn't like." That is why my tag line is "I'll never tell you what to drink, but I'll always share what's in my glass." So my answer is it's not a big deal! However, temperature has a huge impact on the aromas and flavors of wine. There are ideal temperatures to serve wines at. White wines are typically served cooler than red wines. When you serve wine at its ideal temperature, you are allowing the wine to express itself in its best form. If red wines are served too cold they tend to taste thin and harsh, while if they are served too warm (above 65oF) its freshness and flavors will be muddled. But again, I can't stress enough that if you like it drink it! For long term storage of wines it is recommended to maintain them between 50 and 59oF. For reference, here are the recommended serving temperatures for various wines: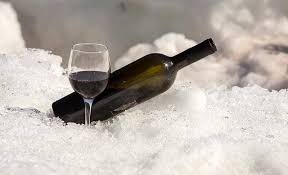 Sweet wines – serve between 43 and 45oF
Sparkling wines – serve between 43 and 50oF
Light or medium white wines such as Sauvignon Blanc – serve between 45 and 50oF
Medium to full oaked white wines such as Burgundy – serve between 50 and 55oF
Light red wines – serve at 55oF
Full body red wines – serve between 59 and 64oF
Max G- What's a consistently good region for wine? For example, lots of people tell me Portugal is delicious and underrated.
This is a great question Max. There are so many amazing wine regions out there and determining which regions are good is dependent your palate. Something to look for is whether the fruit comes from a cool climate or a warm climate. Cool climate wines typically have higher acidity and lower sugar and tannins. In warmer climates, grapes ripen more easily, leading to lower acidity, higher sugar levels, and darker color. If you know if you like warmer climate fruit or cooler climate, that can help you determine which wine regions (and grape varieties) you would tend to like.
Aside from that, there are wine regions that are famous for their wines: Chablis is
Chardonnay and in my opinion, some of the best with its green fruit and citrus flavors.  Cote d' Or in the heart of Burgundy is famous for its Chardonnay. Look for such labels as Meursault or Puligny-Montrachet. Cooler Australian regions for Chardonnay is the Yarra Valley, Magaret River or Adelaide Hills. In New Zealand look to Marlborough for Chardonnay. In Chile, look at the Casablanca Valley and in Argentina head to the Mendoza
If you prefer Pinot Noir look for Bourgogne in Burgundy, Nuits Saint Georges or Beaune. Pfalz and Baden in Germany are known for the Pinot. Central Otago and Marlborough in New Zealand and Mornington Penninsula or the Yarra Valley in Australia are the big dogs for Pinot. In the United States, Oregon has made quite a name for itself when it comes to Pinot.
Bordeaux is best known for its Cabernet Sauvignon and Merlot blends. Merlot is more dominant on the Right Bank while Cab is king on the Left. In Australia, Cabernet is best grown in the Coonawarra and Margaret River regions. In New Zealand look to Hawke's Bay for high quality Cab and in Chile the Maipo Valley is a standout. Stellenbosch South Africa also makes some great Cabs and Merlot. Look to Napa, Rutherford Oakville and the Alexander Valley for domestic Cab.
Karen J- There are some styles of wine that can really vary in quality, like Sauvignon Blanc. I've had some Horrible Sauvignon blanc, but occasionally a good one. How can wine lovers know who makes the good stuff?
This question is a perfect follow up to the previous one. Your comment about having

some really bad Sauvignon Blanc and then some good ones is not just limited to Sauv Blanc. There are bulk wine regions and premium wine regions for every grape variety. As with everything in life, there is good and bad. Unfortunately, Sauvignon Blanc is a wine that there is quite a bit of bulk out there. Sauvignon Blanc grows best in cool climates. If you are looking for some highly recommended wine regions for Sauvignon Blanc I would suggest Sancerre or Puilly-Fume in the Loire Valley. Marlborough, New Zealand is synonymous with Sauvignon Blanc as well as the Adelaide Hills in Australia and the Cape region of South Africa.
Each region will have a different profile, so you need to experiment with what characteristics you prefer. Loire Valley in France, will be extremely mineral; New Zealand, will be more tart with a greenish note, sometimes even a jalapeno note. California, tends to be crisp with melon flavors and South Africa, is sort of a combination between the Loire Valley and California.
Paula J- How long can I keep a white wine? Does it age like reds? Should I throw out a 1998 Ferrari Carano Chardonnay?
Wow! Ferrari Carano! My ephiphany wine! The wine that got me into wine. A 2002
Chardonnay. I loved it so much, Mike scoured the tri-state area purchasing every bottle he could find. Although there are many white wines that can age well, I would have to say that your 1998 Ferrari Carano is past its prime. I wouldn't say you have to throw it away, it won't get you sick, but I would bet that it isn't tasting as well as it once did.
Although Red wines are definitely more often thought of when it comes to aging, German Rieslings, white Rioja and Burgundy age amazingly well and reveal the layers of their complexity after decades of storage.
Thank you to everyone who sent in these questions. I had fun answering them. I enjoy being able to share my passion for wine with others and am always happy to answer questions and these were some great ones! I would love to do this again in the future, so if you have any additional questions for me, please leave a comment or send me a message via of the socials – I'm across the board as Exploring the Wine Glass. 
Please follow me on Instagram, Twitter, and Facebook. You can also find me on YouTube and if you are interested in wine pairings, follow my other blog, Wine Pairing with Dracaena Wines. And don't forget about my FREE wine education series, Winephabet Street.
Please Visit our Sponsors by clicking on the banners: