Fàilte! Welcome to the next installment of Exploring the Wine Glass. Mike and I are big proponents of you should drink what you like and you are the only one who can taste like you. We advocate the fact that everyone experiences the wine differently, so in these posts we do not discuss our tasting notes.  Instead we include basic information about each of the wineries, and/or a bit about what was happening in our lives while we were enjoying them.
Want to know what we think of the wines? Do you want a little insight into our palates? Then head over to Delectable and check us out. We tell it as we taste it over there. Click here to see the chart we use to describe the color. A video of them as they are poured is found at the end of the post. Visit our YouTube Channel to see other wine videos. As always, since as oenophiles we love to celebrate #WineWednesday, our week runs from one Wednesday to the next.
Jersey Girls Unite
One day about three years ago, Mike and I were in a tasting room in Los Olivos and there was another couple next to us at the bar. We overheard them talking as they mentioned Jersey. (no one in New Jersey uses the word New) Me being the shy individual that I am (NOT) immediately interjected myself into their conversation and introduced myself. As it turns out, they were from a town about 45 minutes away and had relocated to Paso to pursue their passion! You can read their story here. 
Nancy and I have been friends ever since. Even though there may be months in between our get togethers, it is as if no time passed each time we see each other. Time flies when we are together and my cheeks usually hurt afterwards from laughing. On this occasion, I was in town to pick up a few cases of our 2015 Cabernet Franc to store in Fresno. I texted Nancy the night before to see if she was free and the Jersey Girls Gods were in our favor.  We met at local wine bar and ordered a bottle of Love and Hope Rosé.
Love and Hope is a team effort between a rather famous winemaker and chef.  As the story goes, they were together one day when Austin turned to Tim and said, " "Let's make a bad ass rosé!" in which Tim turned back to him and said, "$*#@ YES, let's do it!" And as they say, the rest is history!
In the Clouds
On Friday evenings, Tooth and Nail, also known as the "First Castle on the Right" in Paso Robles has live music and food. We met with our consulting winemaker, Jeremy, one night a couple of years ago and he told us about this winery named Denner.  He gave us a sample of Mother of Exiles which was a Cabernet blend. I took one sip and realized I had been missing out on some seriously good wine. The next day, Mike and I called ahead for an appointment and the gate code and made our first (of now many) visits to Denner Vineyards.
The winery itself is beautiful, and built to hug and nestle the existing hillside and vineyards. But the views are breathtaking! We love visiting and taking our time while tasting our way through the lineup. Denner is also one of only a few California wineries that are gravity fed which allows them to eliminate the use of pumps and other machinery. Instead of mechanical means to move the wine from one processing section to another, gravity does the work! "Gravity-flow helps to produce hand-made, artisanal wines that are stylized vinous portraits of the unique terroir from specific parts of Denner's hilly estate vineyard." 
On one of our visits, a gentleman entered the tasting room, and I immediately recognized him. It was Ron Denner himself. He sat down at our table and we began chatting. It was wonderful to hear him tell his story first hand and to learn the reasoning behind the wine named Ditch Digger.
As he explained to us, he was lets say, not the most motivated student in the world. His dad constantly was trying to pursued him to hit the books more and to be in trouble less. His father often would ask him, "Do you want to dig ditches for the rest of your life?" Ron Denner, did turn himself around, in fact, he attended USC, obtained an MBA, was a member of Phi Beta Kappa, and was a captain in the Army Infantry. But in an ironic turn of events, he did end up digging ditches for his life. In case you didn't know, Ron Denner owned pretty  much all the Ditch Witch dealerships west of the Mississippi.  When he decided to open a winery, of course Ditch Digger had to be wine!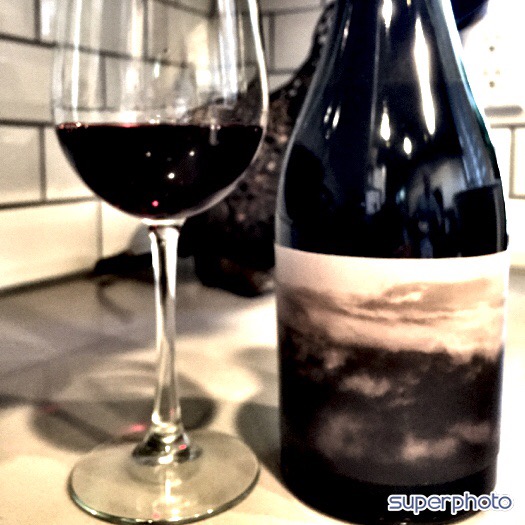 Fresno meets Paso
Mike and I went out to dinner with a colleague of his and his wife. Our destination for the evening was Rev's in Old Town Clovis. The restaurant is owned by a husband and wife team and is named for the Renee's initials. Brian served as a radio operator in the first Gulf War and is a Le Cordon Bleu trained Chef who worked all over the East and West coasts.
I ordered the ravioli special, which was mixed cheese ravioli in a half and half alfredo and spicy marinara sauce. I wish I had taken a photo of the dish, because it came out looking beautiful and was equally delicious. However, the couple we were dining don't really follow social media and I figured it would be on the rude side to take out my phone and start snapping photos. 
In our glass, was a Brecon Estate Forty Two. (the photo was taken prior to their arrival, bottle unopened) We have discussed Brecon quite a bit on this blog, in fact we did a Pursue Your Passion post. Brecon is known for their small batch premium wines sold only through their tasting room. Damian is an international award-winning winemaker. He has created award winning wines across the United States, Australia, and Europe. Both he and his wife, Amanda, are avid spelunkers. And his love of limestone, along with appreciation of fine wine, is what originally brought him to Paso Robles. 
Why 42? Great question, I must admit, I was completely wrong in my reasoning. Since our first meeting with Damian, I thought it was a tribute to Jackie Robinson. I guess that is the athlete in me. I see that number and my brain immediately goes there. But according to their website it has to do with a scene from the movie "The Hitchhiker's Guide to the Galaxy." You can see the "famous" scene here.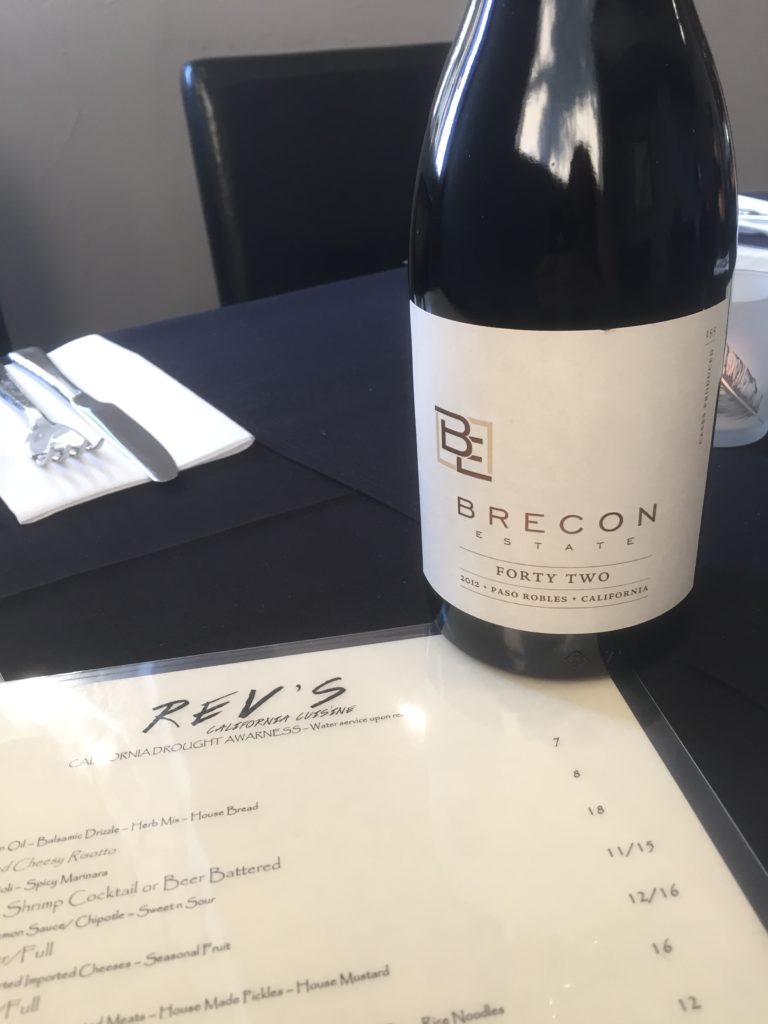 The Property That Started It All
Sunday in the Budd household means homemade pizza day and during the warm summer months it becomes grilled pizza day. If you follow this blog, you have seen an inordinate amount of photos of pizza, so I won't add another one here. If you are interested in any of my pizza dough recipes, please check out our other website Wine Pairing with Dracaena Wines. 
In our glass was a favorite of ours. Niner Estate 2011 Bootjack Ranch Cabernet Sauvignon. Bootjack Ranch was the first vineyard that Niner purchased. They bought the 40 acre vineyard in 2001, and have since replanted and grafted vines to a total of 89 acres. Although this was their first vineyard, it is not as famous as their Heart Hill Vineyard which sees less diurnal changes than Bootjack. There are two distinct soil types found in the vineyard. Expansive flats of calcareous soils (ancient crustacean remains) and rolling hills of sandy loam can be found here. Niner Estates considers this vineyard their "Adventure" vineyard. A lot of experimentation occurs in this vineyard and they aren't afraid of change. In fact, they removed approximately 60 acres in 2015 because they weren't happy with the set up of the vines and the combination of the rootstock.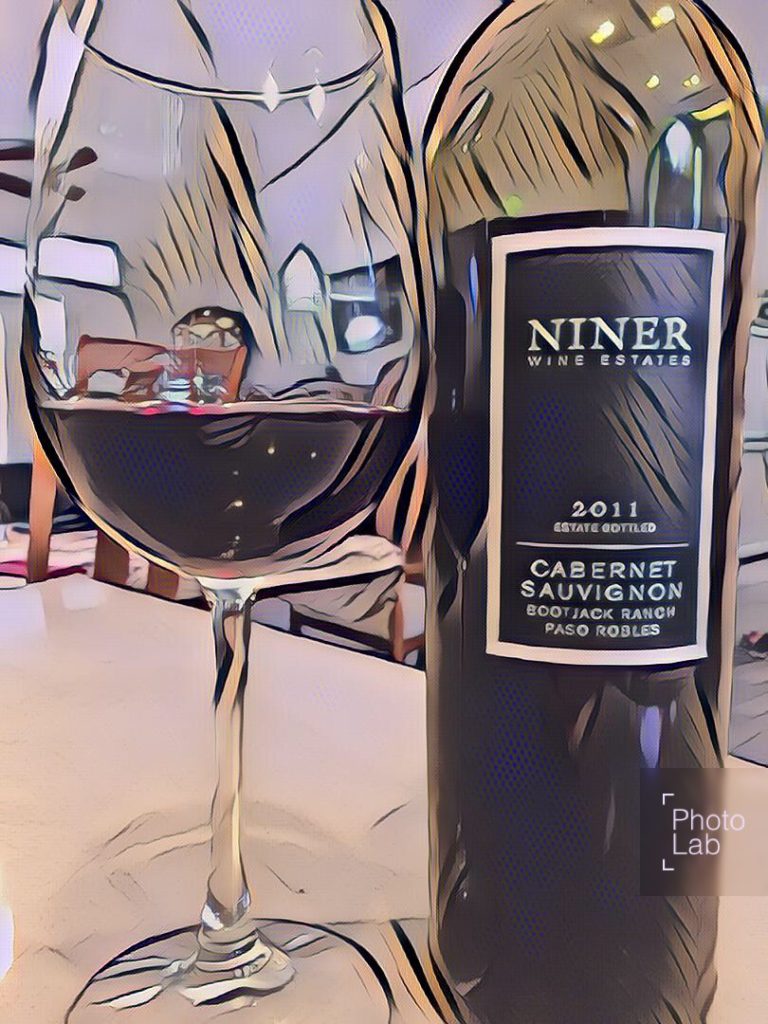 Cab Franc in a Teepee 
Mike and I have been Meeker fans for an extremely long time. In fact, our first few visits we sat in their teepee tasting room.  We loved the idea and were shocked when we learned it was purely out of necessity and not creativity. I still like to think it is a combination of both! 
The years past that we hadn't gone to Napa/Sonoma in a while and when we returned we of course had to stop in at Meeker. Unfortunately, they were no longer at their old location. The teepee was down and we were on a mission to find them! It wasn't really a difficult to find them, so we hopped back in the car and a huge smile came across my face as we pulled up to their tasting room.  Leave it to Meeker to no have the typical tasting room!  It may not be a teepee, but tasting in a historic bank, cashier bars, vault and all is pretty damn awesome! 
In my post Please, Say To Me You'll Let Me Hold Your Hand, I go in-depth about the history of Meeker Vineyards including more about the teepee. I had the honor to learn about their history and the vineyards directly from Kelly and Lucas Meeker thanks to #winestudio. Tonight we opened the 2013 Cabernet Franc. Although, we weren't in a teepee, the wine always brings back great memories.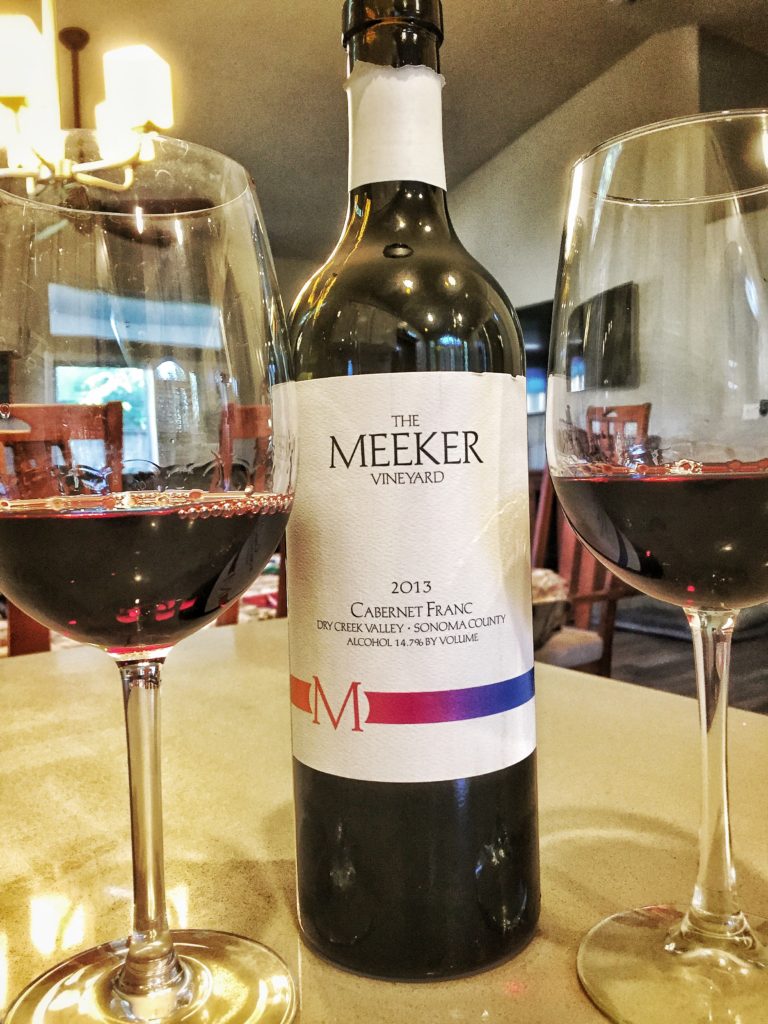 1 Family, 7 Generations, 133 Years
The Steinbeck family has been farming in Paso Robles since 1884, including farming wine grapes for over 125 years! Each generation has lived off the earth and has proudly worked to keep the land pristine for the next generation. From their site, "We were sustainable farmers before the word sustainable was in vogue." 
In 1884, the William Ernst family traveled cross-country from Illinois and settled in California. They named the town where they settled Genneseo, after their hometown (4 miles East of Paso Robles) and planted 25 varieties of grapes. The current Steinbeck vineyards is just a few miles north of original site and was purchased in 1921. The tasting room is on the site of an old blacksmith's shop. 
As if that is not enough history, on April 11, 1956, a B-26 Maurader crash landed on the property. George and Hazel Steinbeck watched as the plane crashed and exploded and then as parachutes opened in the sky. They ran outside, brought the Captain into their home and kept him alive until medics came to help him. In honor of this event, they now produce a red blend called "The Crash" and have pieces of the plane in their tasting room.
On this night, however, we were having Chinese takeout and decided to open their 2013 Viognier. I opened the bottle, poured us two glasses and immediately took a double take at the color.  A tinge of orange. I took a sniff. My nose turned up and questioned what I was smelling. So I gingerly took a small sip. NOOOOOO! Major funk that literally gave me a chill.  So like any normal person, when you taste something not right, you hand the glass to someone else and say "Taste this!"  Mike tasted it and agreed, we had a corked bottle. Luckily, we had another one in the cellar. I grabbed it, popped the cork and poured. The color difference was immediately obvious. I brought the glass to my nose, and although I thought more Sauvignon Blanc than Viognier, there was no taint. So to the mouth the glass went and thankfully it was as expected,pineapple, peach and floral bliss!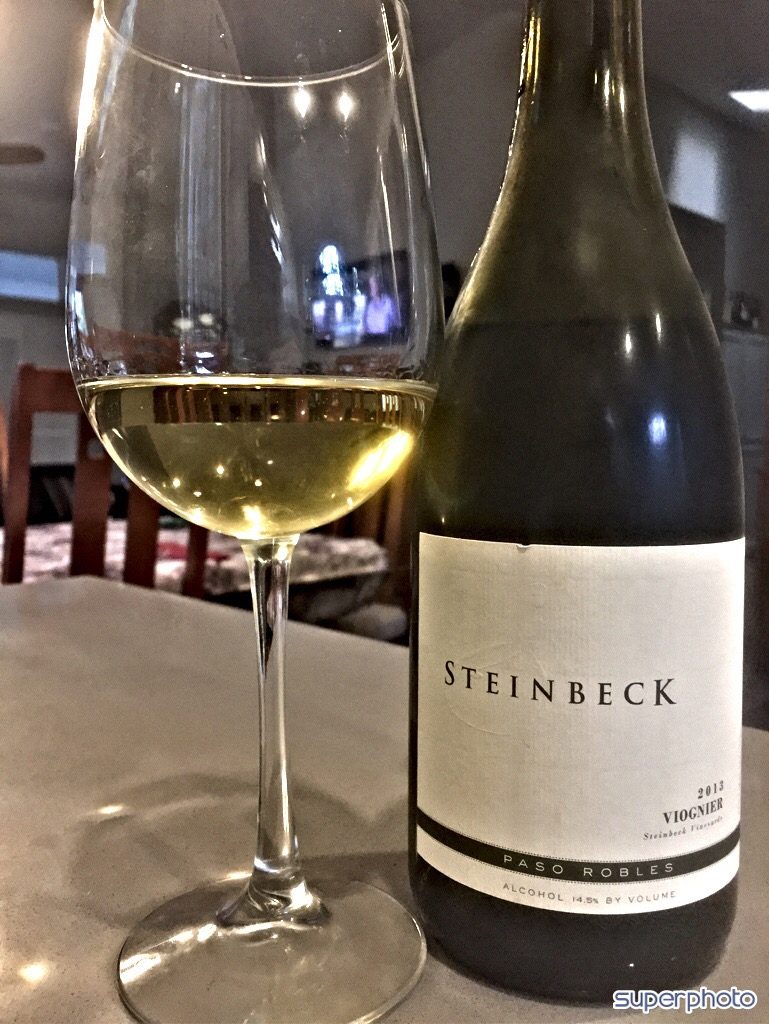 Petite Fans Forever
Mike grilled some chicken enchilada sausage that I picked up from the Fresno State Farmer's Market.  I love that place. The Gibson Farm Market offers a wide variety of products that are produced by students on the university's campus. The products are delicious and you are supporting the educational programs of the university. It's a win/win situation. 
In our glass, we opened a 2012 Rattlesnake Acres Petite Sirah from Vincent Arroyo. The winery is located in Calistoga between the Silverado Trail and Highway 29. Vince started his winery in the 1970s. He was a successful mechanical engineer in the Silicon Valley. He left that all behind and purchased 23 acres of land known as Greenwood Ranch. Being a true farmer at heart, Vince converted that 23 acres into 85 acres and began cultivating 9 different wine grape varietals. He began with a few hundred cases and now produces 8,000. Although he still produces seven varietals, Petite Sirah is probably what the winery is most known for.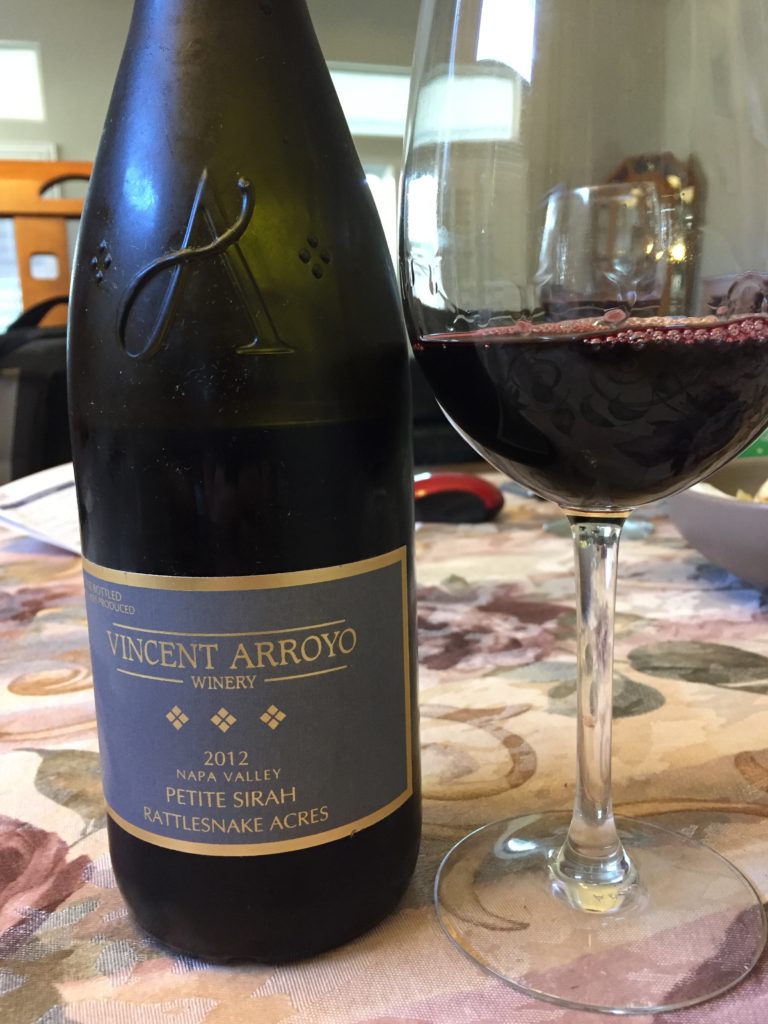 Hope you have had some great wines and times these past two weeks. Remember, always Pursue Your Passion. We would love for you to leave a comment telling us what your favorite recent wine was.
~Sláinte