Fàilte! Welcome to the next installment of Exploring the Wine Glass. Mike and I are big proponents of you should drink what you like and you are the only one who can taste like you. We advocate the fact that everyone experiences the wine differently, so in these posts we do not discuss our tasting notes.  Instead we include basic information about each of the wineries, and/or a bit about what was happening in our lives while we were enjoying them.
Want to know what we think of the wines? Do you want a little insight into our palates? Then head over to Delectable and check us out. We tell it as we taste it over there. Click here to see the chart we use to describe the color. A video of them as they are poured is found at the end of the post. Visit our YouTube Channel to see other wine videos. As always, since as oenophiles we love to celebrate #WineWednesday, our week runs from one Wednesday to the next.
Pinot and Pizza
We are coming into the home stretch of summer. In fact, by the time this post goes live, summer will be a fleeting memory. That is so depressing! I was sitting at home and Mike sent a text that he was, as he puts it, "putting out a lot of fires." It has been a long week for him. He has come home late every day and is exhausted. So I thought I would put a smile on his face and surprise him with a  mid-week pizza.
In our glass was a Niner 2012 Pinot Noir.  I've spoken quite a bit about Niner in these articles (click here for info on them), so I decided to discuss Edna Valley. The Edna Valley was designated as an AVA in 1982 and is located in San Luis Obispo County, approximately 30 miles south of Paso Robles. The region is bounded by Lake Lopez to the south and Islay Hill to the north. The valley runs east to west and is bounded by thee Santa Lucia Mountains.  Black humus and clay are the typical soils found in the region.  Between the moderate sunshine and the cool fog, Edna Valley has one of the longest growing seasons allowing for long hang time. The region is best known for Chardonnay and Pinot Noir.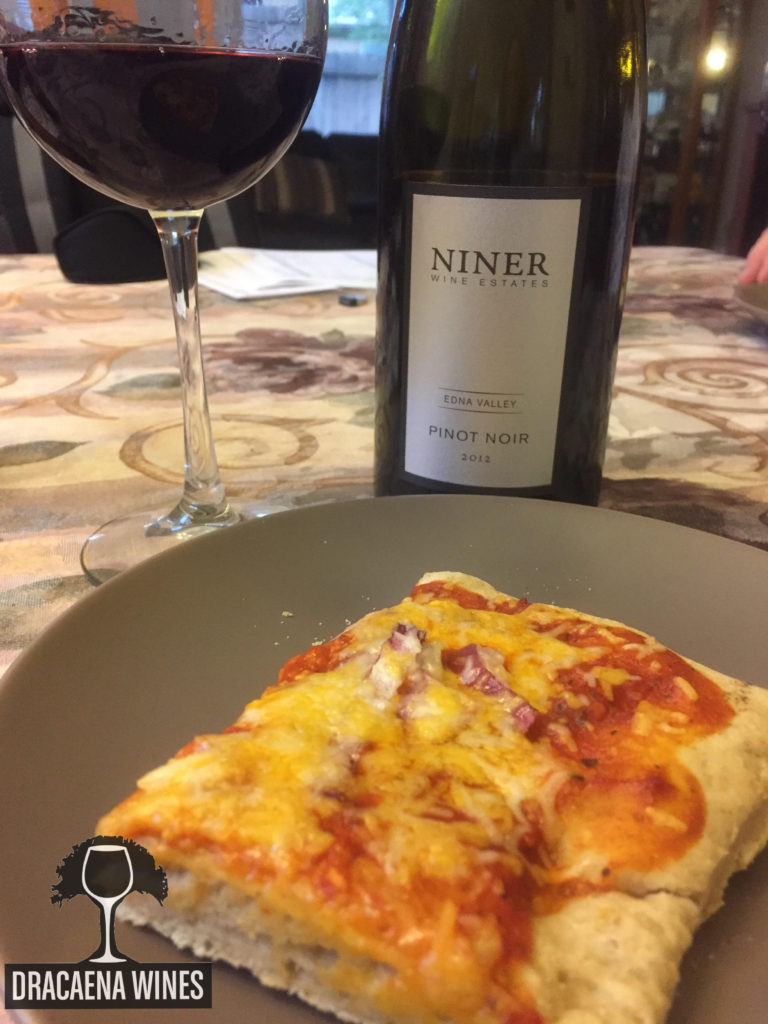 The Jewel of Carneros
The summer is coming to a close. We are entering the final week of August and that means that Mike is leaving for his annual golf trip. I am flying back to New Jersey next Saturday and he will be returning from his trip earlier that day. We'll meet in the airport for about an hour. I'm guessing have a beer then I'll take off and he'll head home. In honor of our last dinner together for a while, we opened a bottle of Artesa Cabernet Franc and Mike made one of my favorite meals, peanut butter pasta. 
Artesa, in my opinion, is one of the most beautiful tasting rooms in California. I am always in awe when we drive up to the tasting room that is literally built into the mountain. It is beyond impressive! Being set in the mountain allows the winery to be naturally insulated by the native grasses. As you walk up to the building you are greeted by two equally magnificent water cascades. Once inside, if it's a clear day, in addition to viewing the countryside, you can actually see San Francisco! 
Artesa's story in Carneros began about 25 years ago when Codorníu Raventós purchased land in order to develop vineyards. The Codorníu Raventós Group is the oldest family business in Spain and one of the oldest of the world. The original winery was named Codorníu Napa and was a sparkling house. Wanting to focus on, and be known for, artisan wines, the winery was re-branded in 1997 as Artesa which is Catalan for "handcrafted."
The LXV Sutra
In ancient Indian culture, there is the belief that there are 64 sutras. These sutras are forms of art and include such things as singing and dancing, but also solving riddles and practicing medicine through the use of herbs. In downtown Paso Robles, there is a winery that believes you are the 65th.
I have gone by the tasting room, located on Pine Street, many times. I have always wanted to stop in, but never had the time. I decided it was time to to change that. When you walk in, there is a small tasting bar, but the blue walls, the artwork, and day beds call your attention and makes it more of a lounge than a tasting room. The wine tasting is unique in that the wines are paired with spices, and the wine labels are inspired by the 64 arts of the KamaSutra. 
The Heart Note Rosé is made in the direct press method and is 100% Sangiovese. "Heart Note is inspired by Gandhayukti (Art of Perfumery), the 18th Art of KamaSutra. The label features artisan candle maker, Mary Ramos, as she crafts her perfumes."
As for the pairing, well, lets just say that the caliber of meals goes down significantly when Mike isn't here.  When left to my own devices, I tend to go towards the quick and easy and the microwave is my best friend.  So cheese and onion quesadillas it is! (of course with some Cholula sauce) Not going to lie, they paired well together!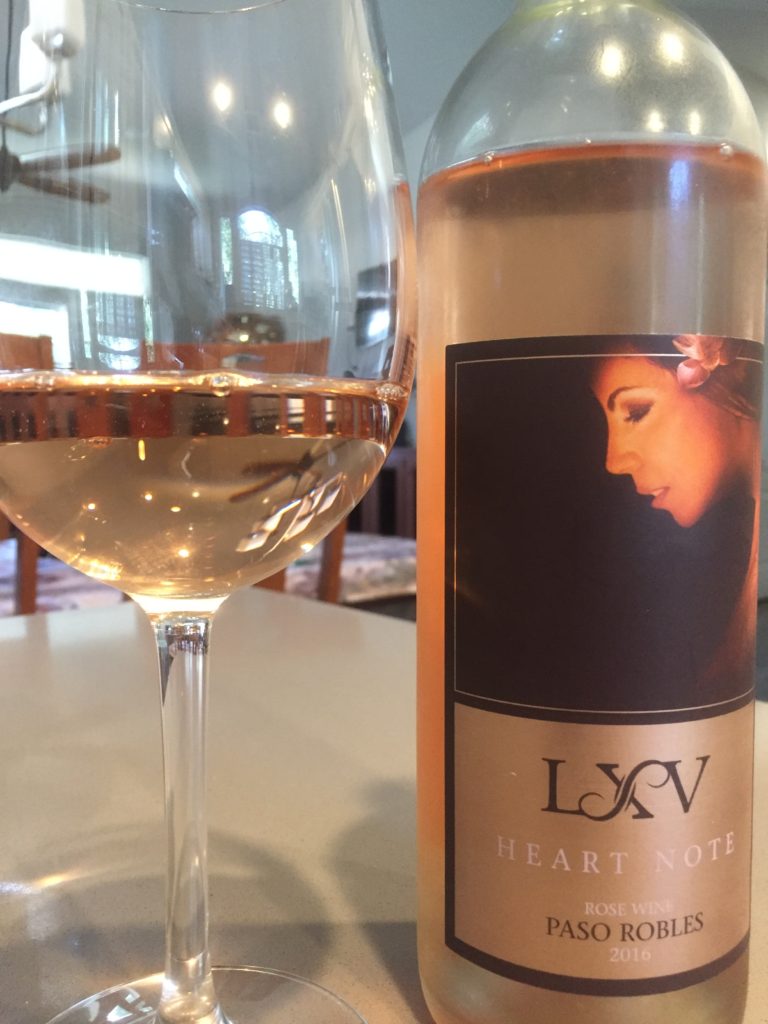 Saber Time
I have wanted to saber a bottle of sparkling for a very long time. I always thought it was one of the coolest things ever! But at the same time, I have seen so many fails that I was a wee bit nervous that the bottle would explode in my hands. Now, it probably wasn't the smartest thing in the world to try it the first time while Mike was out-of-town. Hell, I don't even know where the closest emergency room is, but I really was in the mood for sparkling and I figured now was as good a time as any.  The scientist in me made sure both Vegas and I were safe. 
I selected a sparkling wine from Moravia Wines in Fresno. Moravia acquired their name in honor of the Norwegian vessel, "MORAVIA," which departed from Hamburg, Germany on March 17th, 1885, and arrived in New York on April 2, 1885. One of the passengers on the ship was 21-year-old Hans Jacob Jeppesen. After being married, Hans and his wife, Lena, moved to Easton, CA and eventually had 9 children. In 1890, Hans purchased a farm in order to raise Muscat grapes. Thus started the family's history in farming that is still strong today. If you would like to learn more about Moravia and other Fresno wineries, please listen to my podcast "An Interview with the Fresno Winemakers" also available on iTunes- just click the iTunes logo on the right side. 
Hope you have had some great wines and times these past two weeks. Remember, always Pursue Your Passion. We would love for you to leave a comment telling us what your favorite recent wine was.
~Sláinte