We all have them. Wine that is in our cellar, on our shelf, in our pantry or closet that we consider our go-to wine. The wine that we buy by the case and we aren't afraid to open on any given weeknight. So I am asking you what wine are you grabbing to make it fine? What's your go-to wine and food pairing? Wendy of A Day In The Life On The Farm posed this question for this month's #WinePW chat. 
On the second Saturday of every month, a group of us bloggers who love to talk about how wine and food come together discuss our pairings. Each month, a different host chooses a theme and there is a live Twitter Chat at 11am EDT. Anyone interested in wine pairing is welcome to join the chat, just follow along with the hashtag #WinePW.
The Stats Show
"Columbia Crest" has been mentioned in fourteen of my posts. If you know me, you know that I am an insane fan of Ferrari Carano. So I put that in my search box and eleven pages were returned. Who would have thunk that?! Columbia Crest is Mike's and my go-to wine. Understand that Columbia Crest is a huge winery and has several labels under its brand, but I can honestly say that when we are home on a weeknight and are looking for a wine that has a great QPR, we grab a Columbia Crest wine. 
Just looking at my little collection I have with me here in New Jersey (the majority of my wine is sitting in boxes in California waiting for our new wine credenza to be made and shipped), I have two bottles each of Columbia Crest H3 Merlot, Chardonnay and Sauvignon Blanc. That by far statistically outnumbers the other wines I have in my possession. Then add in the bottle each of Columbia Crest Grand Estates Merlot and Cabernet Sauvignon, I think that definitively classifies them as my go-to winery. In fact, it was a Columbia Crest Grand Estate that we opened as our first wine in our new home state of California after driving cross country. 
About Columbia Crest
There are three tiers of Columbia Crest wines. The Reserve Wines are "Sourced from premier vineyard sites and meticulously hand-crafted in our Petit Chai – a "winery-within-a-winery." The Reserve label represents the "pinnacle of winemaking at Columbia Crest." The H3 label are wines that are "created to celebrate the winery's rich heritage in the Horse Heaven Hills as well as its innovative spirit with regards to winemaking and viticulture practices.
The H3 series, which is probably the tier we drink the most of, is named after Horse Heaven Hills AVA which is located in the south east region of Washington state. It is sandwiched between the Yakima Valley AVA and the Columbia River and is the home of the winery itself. Elevations in this AVA range from 200 feet (61 m) above sea level in the south to 1,800 feet (549 m) above sea level at the northern boundary. Grapes planted in the south-facing slopes of the Horse Heaven Hills benefit from strong winds that arrive from the west via the Columbia Gorge, reducing the likelihood of rot and fungal diseases." 
On My Plate
I think the theme was about the wine, but I don't do anything half-ass. I pretty much live by the "go big or go home" motto. So I decided I would also make our go-to meal. I'm almost as confident that most people have a go-to meal as I am that they have that go-to wine. When I asked Mike what he thought was our go-to meal, he immediately responded bacon and onion pasta. 
In my mind, "go-to" means always on hand and always willing to have. With that in mind I agreed that bacon and onion pasta fits the definition. The basic recipe is always the same, however, sometimes we change things up with adding broccoli or peas. The recipe can be found on my other website Wine Pairing With Dracaena Wines.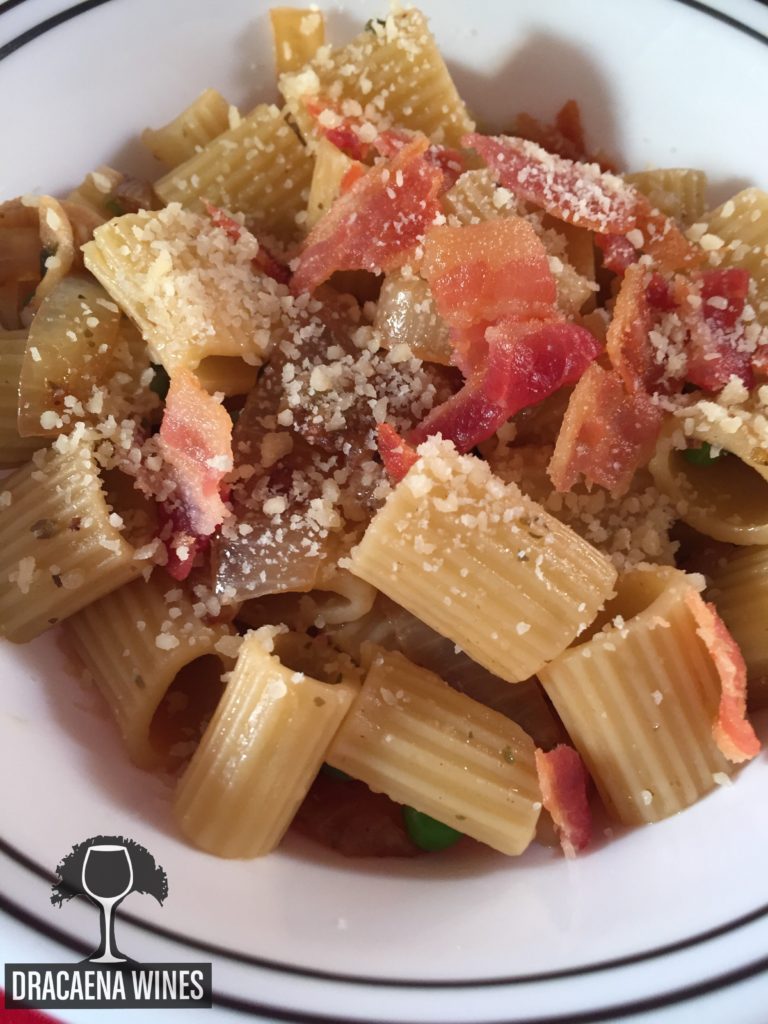 In My Glass
I opened a 2014 Horse Heaven Hills Chardonnay that I purchased at our local wine shop for $11.99. The 2014 vintage was warmer than the two previous years. In fact, 2014 was one of the warmest seasons in decades in Eastern Washington with the warm weather conditions continuing into fall. The wine is 99% Chardonnay and 1% Riesling with an ABV 13.5%. It was barrel fermented in 50% new French oak with a portion held in stainless steel to capture acidity. The wine was aged on lees for 9 months before being blended and bottled. 
The wine poured lemon-gold in color with pronounced aromas of nut, apple, citrus, popcorn and honey. I would classify the wine as off-dry with medium(-) acidity, and a low alcohol presence. The medium (-) body produced apple, pineapple and a hint of oak on the palate. This is not a wine that you would lay down to age, rather a wine that is meant to enjoy now.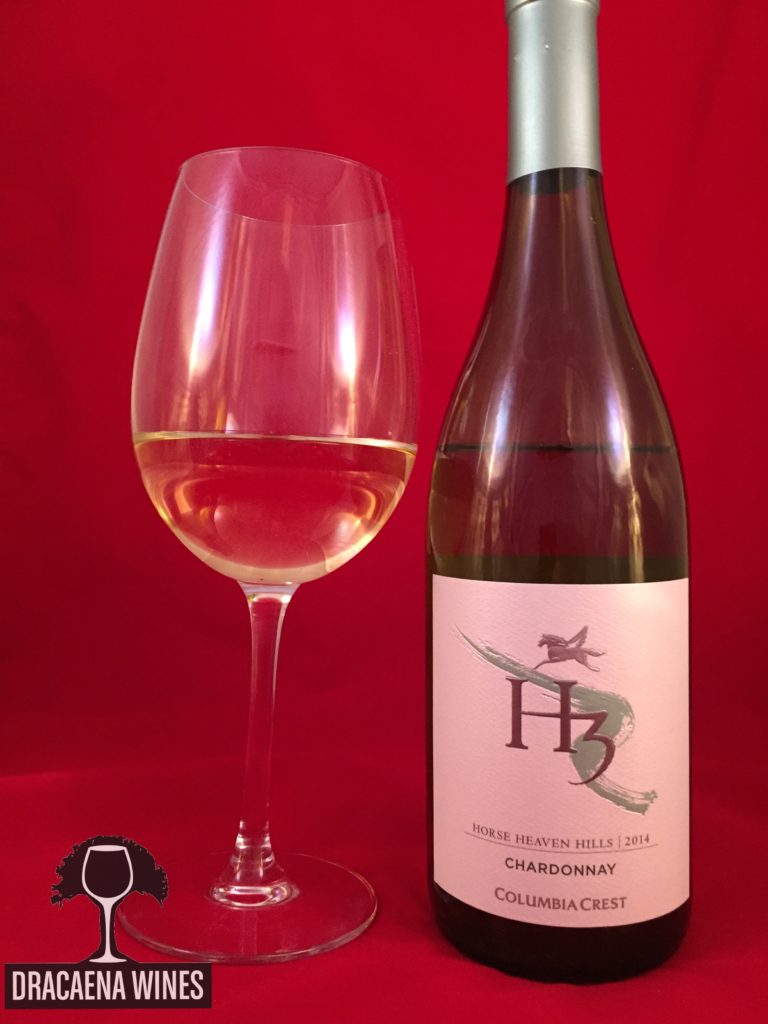 The Pairing
With this being our go-to wine and meal, we have had this pairing on several occasions over the years. This is a pairing that we feel is meant to be.  Each vintage changes slightly on the nose and palate, but the overall consensus is the same. The oregano and rosemary in the "sauce" call out for a Chardonnay. The bacon echos the oak in the wine while the Parmesan cheese is part of a traditional pairing for a moderately oaked Chardonnay.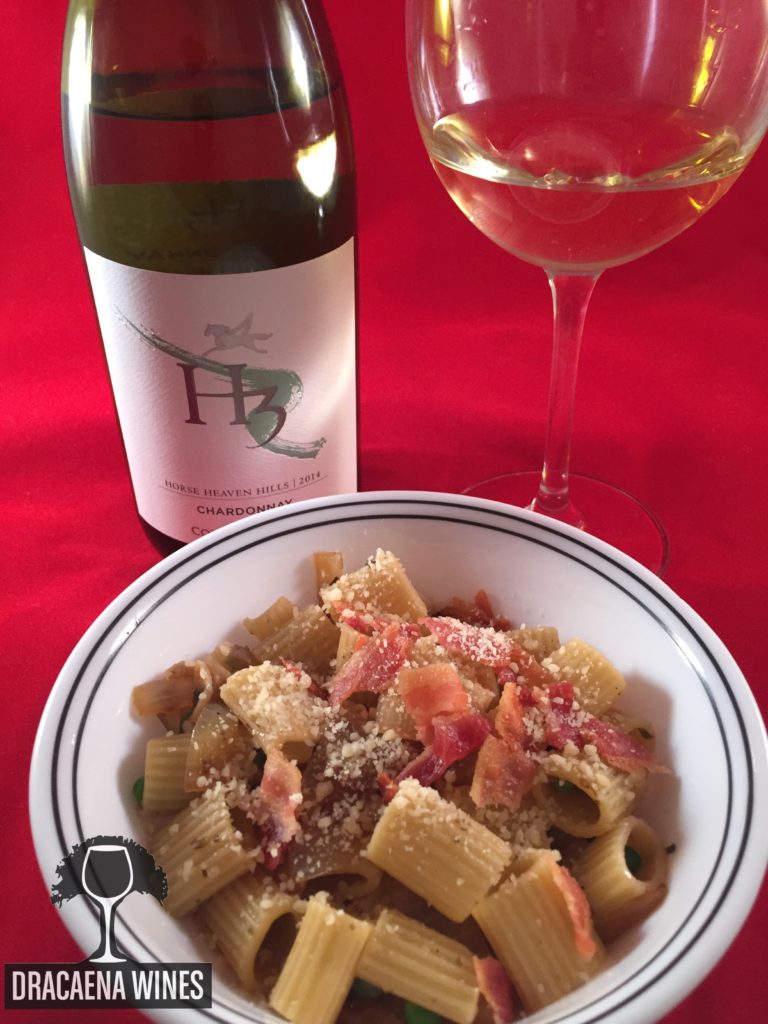 Check Out My Friends
If you are free this morning (April 8, 2017) Please join us for the twitter chat at 11am EDT by following #WinePW. If you have a blog and are interested in participating, leave a comment below and I will be sure to get your information to David of Cooking Chat, who created this awesome group. In the meantime, please check out the following posts of my friends and their go-to wine pairings. 
15 Years, 3 Kids, 5 Houses and 1 Wine that's seen it all. by L'Occasion 
Azaleas, Rosé and Pizza: A Few of My Favorite Things by Pull That Cork 
Go-To Chardonnays (and recipes for pairing) by Grape Experiences
My Go-To Wine for Curry by Cooking Chat
Need a Go-To Wine? Go to Beaujolais! by The Swirling Dervish 
Old Vine Zin is an Old Fave by Culinary Adventures with Camilla 
Pan Seared Rosemary Garlic Strip Steaks with Bogle Petite Syrah by A Day in the Life on the Farm 
Standards: Sauvignon Blanc and Zinfandel for an easy midweek meal by Wine Predator
You Come Home, You Need Wine. What are you Grabbing To Make It Fine? by Dracaena Wines
~Sláinte!