Tumultuous History
Located in the southwestern portion of the Iberian Peninsula, near the 
Atlantic Ocean, Portugal was founded in 1128 when Afonso Henriques defeated his mother in battle and declared himself the sole leader. He proclaimed himself King in 1139 making Portugal officially independent. Continuing his march southward, he forced out the Moors in 1149, and successfully captured Algarve, which helped Portugal's present day borders.
In the 15th century, Portugal was the first country to discover the Atlantic Route to India, Brazil and China and explored east and west coasts of Africa. These expeditions brought money into the country and allowed its population to grow significantly. In 1640, when the second king without an heir passed away,  Philip II of Spain claimed the throne of Portugal forming the bond between the two countries.
Portugal, unfortunately is plagued with historically poor political management. Because of this forced union with Spain, Portugal was dragged into the Eighty Years War, which did not sit well with their long time allies, England. Then the Portuguese War, which lasted from 1595 to 1663, resulted in the loss of the Portuguese Indian Sea trade monopoly. Turmoil continued for the next 100 years. Finally in 1755, the tide began to turn, when Sebastiao de Melo became Prime Minister, and the country began to see economic and financial success. 
Unfortunately, the prosperity did not last long. On November 1st of that same year, there was a 9.0 magnitude earthquake followed by a tsunami and fires. These disasters of course destroyed the city of Lisbon, but did not deter Sebastiao de Melo. He immediately began to rebuild the city. Joseph I, then King, was so impressed with his efforts, he allowed him to acquire more power. The new power took control of Sebastiao de Melo and he turned into a powerful dictator. As his power increased, so did the disgruntled upper class. 
When Joseph I died, Queen Maria I, took over and immediately saw to it to end the dictatorship. Once again, it looked as if the future of Portugal was going to improve and it did, for about a century until 1822 when Brazil declared independence causing both political and economic uprisings. This turmoil continued to dominate into the 20th century. In 1910, the King was overthrown and a Republic was instituted. This lasted until WWI, when the military declared that Portugal once again be under dictatorship. During WWII, Portugal remained neutral and was a founding member of NATO, OECD and the European Free Trade Association (EFTA). Portugal held its first democratic elections in 1976 and joined the European Economic Community (EEC) in 1986 finally bringing economic improvement.
Food Influenced by Politics
Although Portugal has a poor political background, it is rich in culture. "Foods and dishes from Portugal and its various outposts have crossed and recrossed the world", according to Cherie Hamilton, the Minneapolis-based author of Cuisines of Portuguese Encounters, a book offering recipes, history and food lore. The economical, political and religious influenced the gastronomical history.
Although Portugal is relatively a small country, it has over 500 miles of oceanic coast. So it is no wonder that seafood is a mainstay in their culture. Many recipes for cod and sardines as well as squid, octopus and crustaceans are easily found on the internet.  
Besides seafood, Portugal has historically been an agricultural country. Having been plagued with poor economics, meat was something reserved for the upper class. The majority of people relied on eggs as their source of protein. They would raise chickens and sell unused eggs at markets to "trade up" for other commodities.
Portugal's trade history has also heavily influenced their culinary style. Introduction of spices such as piri piri (a type of chili pepper) black pepper, cinnamon, vanilla and saffron, as well as garlic, olive oil bay and parsley are often used to flavor pork and beef which are the two most popular meats.
History Intertwined with Wine
Portugal is home of around 500 indigenous grape varietals and  has been influenced by its isolation within the wine world except for Britain. There are eleven main wine regions and twenty-nine DOC (Denominacao de Origem Controladad) in Portugal. Port came about thanks to the addition of small amounts of brandy to keep the wine stable and palatable when travelling long days to Britain. The sweet wine from Madeira that is enjoyed by many, also came about out of necessity to maintain quality wine while spending many days on a ship at extremely hot temperatures basically cooking the wine.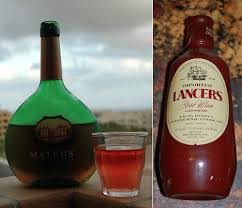 In the mid-to-late 20th century, sweet, slightly sparkling rosé brands from Portugal. Remember Lancers and Mateus? These wines were extremely popular across the globe, but Britain was leading the way. It was extremely difficult for Portugal to improve on their wine production because of their political turmoil.  However, the joining of the European Union, increased their economic status and allowed for grants to the lethargic Portuguese wine industry. The incoming money allowed for improvements in both facilities and technology and created a shift in focus to more premium wine production.
In My Glass
Not knowing very much about Portugal wine and being extremely short on time, I decided to go to Costco and see what they had. To my surprise (and joy) they had three different bottles that I could choose from.  All three were from DOC Dão, so I couldn't make my decision on the location.  We actually had done a #WinePW on Portugal a couple of years ago, and this is the same DOC that I had back then, so I figured it was a safe bet. What made my final, rather quick, decision was that the Cabriz Colheita Selecionada had a shelf talker on it. It was ranked number 46 Best Portuguese wine in The Wine Spectator and received a best value with 90 points.  
The wine is a blend of Touriga National, Tinta Roriz (aka Tempranillo) and Alfrocheiro and spent 6 months in french oak. I was impressed with this wine. I wasn't expecting much at $6.99, but I did enjoy it. In fact, I enjoyed a glass all by itself after dinner was over. It was difficult to find information about the winery itself, but I was able to find this on wines of Portugal. 
In 1989, in the heart of the Dão demarcated region in the village of Carregal do Sal, born Dão Sul – Wine Company Limited Inspired by Thursday Cabriz, a property with a magnificent manor house and century chapel. XVII, has become a benchmark of excellence of the wines of Dão. The vineyards typically surrounded by pine forests, there are the grapes produced in integrated production system that generated the balanced acidity of wines and delicate aromas of Cabriz brand. A portfolio that ranges from Cabriz Select Harvest to top Cabriz Four C, through the sparkling and spirits, red grapes and white are vinified in a winery equipped with the most modern winemaking technology, quality control laboratory and tasting room.
On My Plate
Empanadas
For the dough I used my flaky crust pizza recipe that can be found on my wine pairing website.  Because it uses butter in the recipe, I thought it would create a nice flaky empanadas.  Additionally, since there is so much fat in the crust, I opted to bake my empanadas. For a faster option, feel free to buy pizza crust from your favorite grocery store or pizza shop. You can also deep fry your empanadas.
Empanada Ingredients:
3 spicy sausage links (I used chipotle BBQ). Cut up and browned. Let cool on a paper towel to drain excess oil
1 medium sized onion (I used a red onion, I like them better.) Cooked until translucent
4 large eggs. hard boiled and cut up
3 cloves of garlic. Cook in oil but don't let brown
4 plum tomatoes. Salt and pepper to taste and cook in pan for about a minute.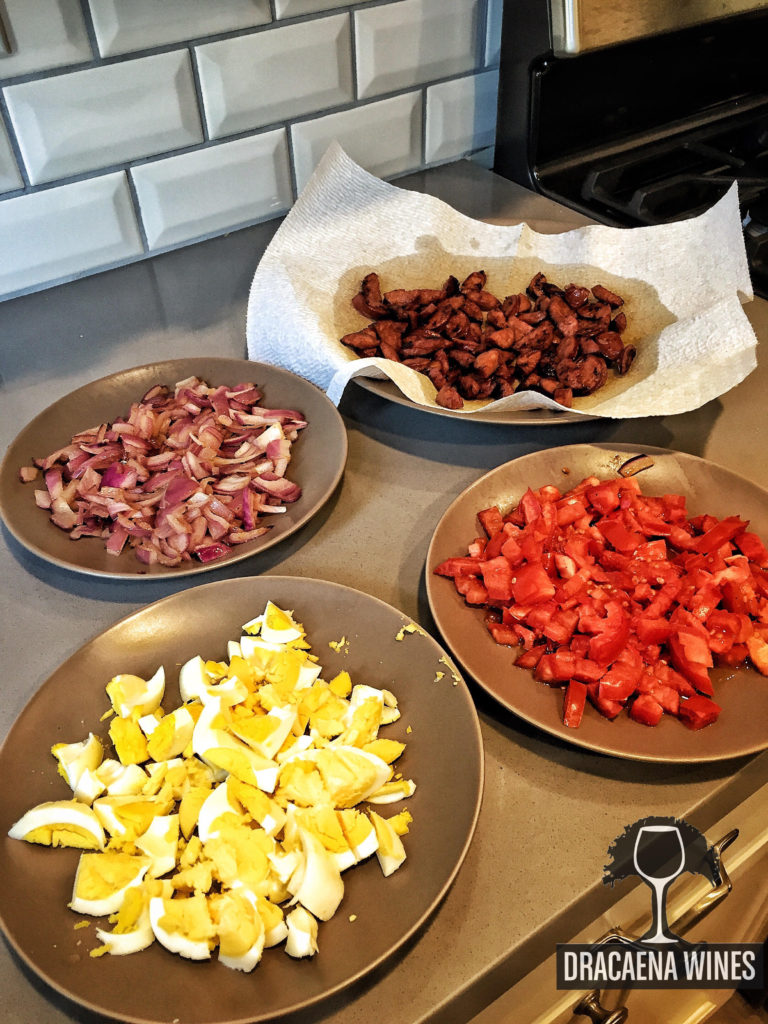 Assembly directions:
Be sure all ingredients are cooled prior to assembling.
1- Roll out the dough and cut into 4 inch squares.
2- Place equal amounts of the filling into the centers of the squares. Brush the edges lightly with water. Fold in halves to form a triangle, pressing the edges to seal. Place on a greased cookie sheet and prick with a fork.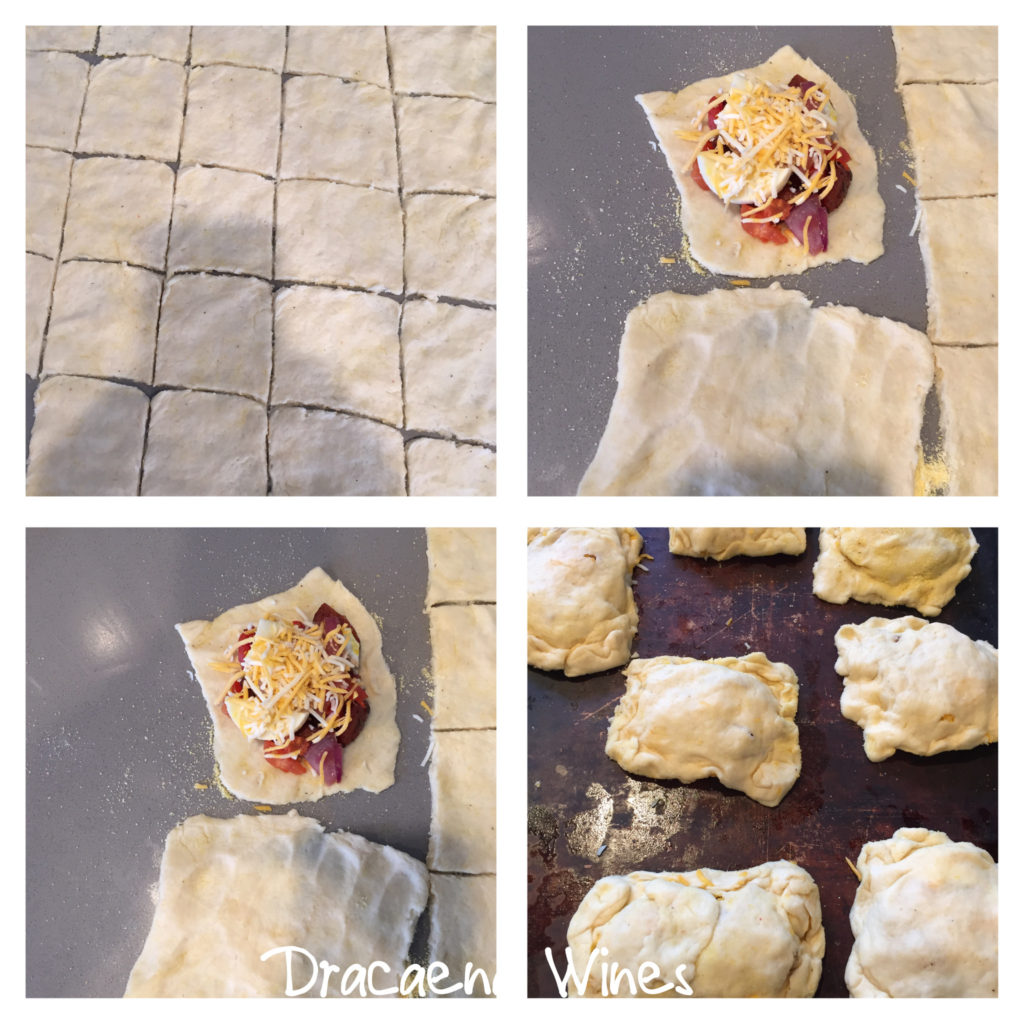 3- Bake for 10 minutes in the 475 degree preheated oven. Pull empanadas out and brush with olive oil. Return for another 10 minutes or until golden brown. Let stand 5 minutes before serving.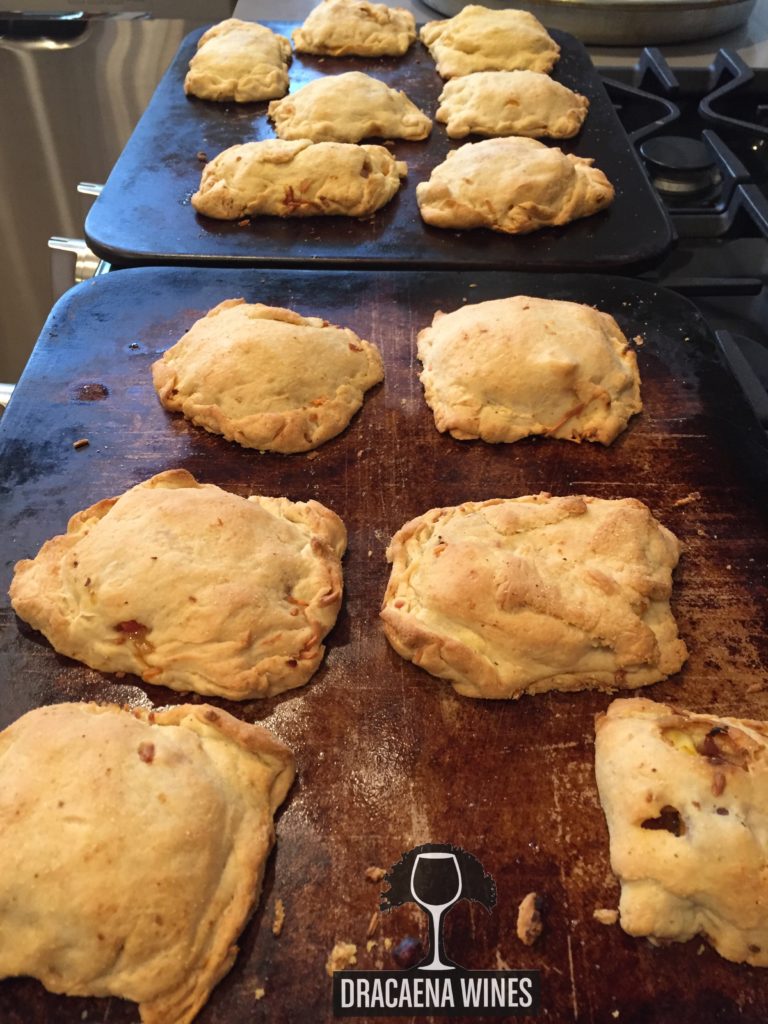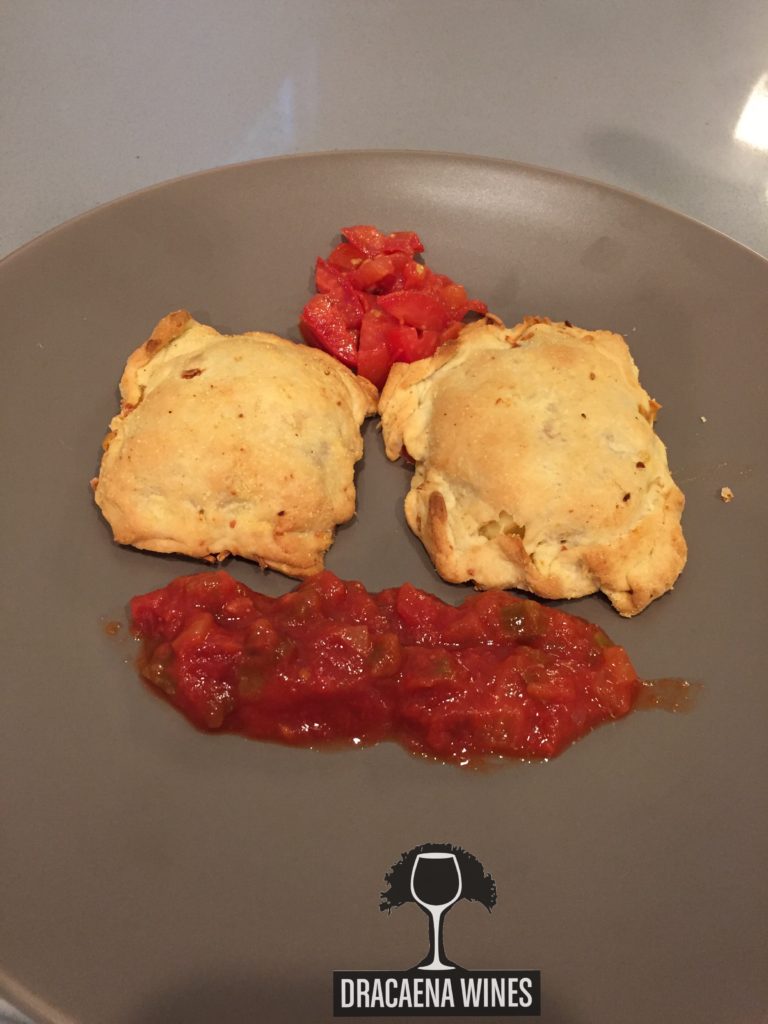 The Pairing
My first observation was that although I think my flaky pizza crust recipe is kick a$$ for pizza, it was not so great for empanadas making.  The dough was so pliable that it was difficult to put the ingredients inside and fold. I had to adjust on the fly and instead of folding, I put one square on top of another and made more like a ravioli. If I were to make this recipe again, I would use this dough recipe. 
Once it was cooked, the pairing went well. The chipotle in the sausage really stood out and enhanced the fruit within the wine.  The wine by itself was much lighter than I had anticipated, so I was glad that the meal was not a powerhouse in terms of flavor.  Another adjustment would be to cut larger pieces of dough to make sure that I can fold them over into the triangle versus using a top and bottom layer. The bulk of the flavor of the meal was the dough. The chipotle did come through, but I couldn't taste the eggs or the onions. 
I am now curious how this wine would pair if I had gone to a restaurant and ordered "professional empanadas." They most likely would have been deep fried, which would have brought a whole new element into the pairing. I wasn't able to place a lot of "insides" into each pocket and having more filling in each bite would also alter the experience.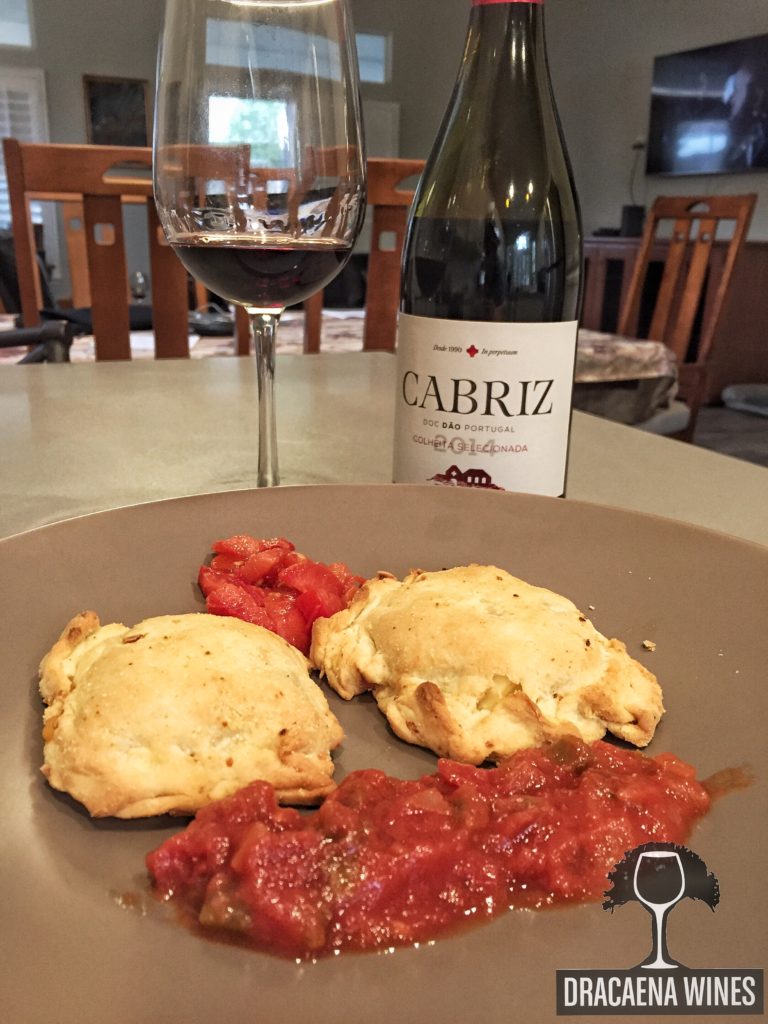 What is #WinePW?
#WinePW is a monthly get together of a group of social media friends who enjoy wine and food pairing. It was started in June of 2014 by David Crowley of cookingchat.com. The live chat happens at 11 a.m. EDT on the second Saturday of each month. The Wine Pairing Weekend theme changes each month to focus the pairings. Anyone interested in wine pairing is welcome to join the chat, just follow along using the hashtag. 
This month's theme is, you guessed it, Portugal. It is being hosted by Gwendolyn over at winepredator.com. As she states in her invitation post:
Join us as we investigate the wine and cuisine of Portugal this September. Choose red, white, or rose from any region of Portugal — even Port!– and pair it with a recipe found from Portugal or somewhere closer to home to pair with it.
So grab yourself a bottle of Portuguese wine, and join in the chat on Saturday September 9th at 11am EDT. Just follow #WinePW. If you can't join in the chat, you can still learn about Portugal's wine and food pairings by checking out all of my friend's recipes below! 
~Sláinte!