Hashtag Overkill
First, #WinePW stands for Wine Pairing Weekend.  It is the brain child of David Crowley, food blogger extraordinaire! On the second Saturday of every month, dating back to June 2014, a group of wine and food enthusiasts get together to combine their two loves and chat on Twitter.  The chat occurs at 11am EST and now that you know what the hashtag stands for, you can easily follow along. If you would like to see upcoming topics, just click here. 
Moving onto the second hashtag. This one may be a bit more difficult to extrapolate. But #OTBN stands for Open That Bottle Night. #OTBN, which occurs on the final Saturday of February was created by Tastings columnists Dorothy J. Gaiter and John Brecher. The original concept was developed to give us oenophiles a reason to open the bottle that has been sitting in our cellars collecting dust because we have, for some reason or another, declared it too special to open on a "normal" day.  
Sentimental Not Monetary
As I discussed in last year's post, the objective of this wine holiday isn't necessarily that you have to pick the most expensive bottle in your collection or the oldest, but one that has sentimental value.
This year, my wine of choice has more emotional attachment to me than any other and I have never even heard of it prior to purchasing.  For what was probably the first time ever, I walked into my local wine shop and went to the aisle marked Bordeaux. (I can hear the gasps across the social networks) If you know me, and read this blog on a regular basis, you possibly noticed that the majority (99.99999%) of my wine is New World.  Mike and I have a New World palate. I joined #WinePW, not only for the comradery of fellow wine lovers, but also to force me outside my wine comfort zone.  
So, what made me go to the aisle my cart has never been before? I had entered my blog, Portugal's Political History Affects Its Culinary and Wine Culture #WinePW for the #MillesimaBA2018 (another hashtag for you!) contest and ended up being one of six winners. My prize…. a trip to Bordeaux during the week of Primeurs. Since learning that I won, I have been on a mission to learn all I can. On the recommendation of a few other bloggers, I purchased the book Noble Rot, I have been learning French using the Duolingo app (currently 25% fluent, thank you very much!) and have not only ventured down the Bordeaux aisle at my wine shop but have purchased a few bottles!
Where in the World is Bordeaux?
The vineyards in Bordeaux were planted over 2000 years ago. The region obtained
its name from the French au bord de l'eau which means "along the waters." The waters in reference  Gironde estuary and its tributaries, the Garonne and the Dordogne rivers. These waterways played an essential role in its history and success. 
Bordeaux is considered a municipality of France and in 2014, had a population of 246,586. There is also a region known as Bordeaux Métropole which includes its suburbs and satellite towns increasing the population to 1,195,335, ranking it the sixth largest metropolitan area in France. People living in the area are known as "Bordelais" if they are male and females are known as "Bordelaises."
What's the Climate?
According to weather-and-climate.com, you can expect the following in Bordeaux throughout the year.
The months June, July, August and September have a nice average temperature.

On average, the warmest month is July.

On average, the coolest month is December.

The average annual maximum temperature is: 17.0° Celsius (62.6° Fahrenheit)

The average annual minimum temperature is: 8.0° Celsius (46.4° Fahrenheit)

Bordeaux sees an average of 950 millimeters (37.5 inches) of precipitation per year. It is typically evenly distributed over the seasons, with the least rainfall being seen during the summer.
| Bordeaux | Jan | Feb | Mar | Apr | May | Jun | Jul | Aug | Sep | Oct | Nov | Dec | Year |
| --- | --- | --- | --- | --- | --- | --- | --- | --- | --- | --- | --- | --- | --- |
| Prec. (mm) | 90 | 85 | 70 | 80 | 85 | 65 | 55 | 60 | 90 | 95 | 105 | 105 | 985 |
| Prec. (in) | 3.5 | 3.3 | 2.8 | 3.1 | 3.3 | 2.6 | 2.2 | 2.4 | 3.5 | 3.7 | 4.1 | 4.1 | 38.8 |
| Days | 13 | 11 | 11 | 12 | 12 | 9 | 7 | 8 | 10 | 11 | 13 | 13 | 130 |
In My Glass
2016 Chateau DeCarolle (SRP: $15.99)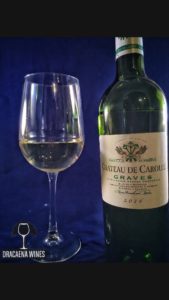 This was one tough cookie of a winery to find out information about! In fact, all I could find was that  it has been around for forty years and it is situated at the south of the Graves appellation, 50 kms from Bordeaux and that it overlooks the Brion Valley. The winery is owned by the Guignard family, who run their winery with the philosophy of respecting the environment.  The wine is produced using sustainable farming
The back label informed me that the wine is a blend of 50% Semillon, 30% Sauvignon Blanc and 20% Muscadelle and that the winery is situated o the highest hills of the Graves region.

 On My Plate
Returning to the back label, the suggested food pairings were seafood and white meat.  Upon looking further into the wines from the region it was suggested to pair the wine with brown butter, prosciutto, goat cheese, lemon-drizzled spinach and avocado salad. I decided to make a spinach stuffed chicken wrapped in bacon recipe that I found on allrecipes.com. On the side, I went the lazy route and chose Rally's frozen seasoned fries.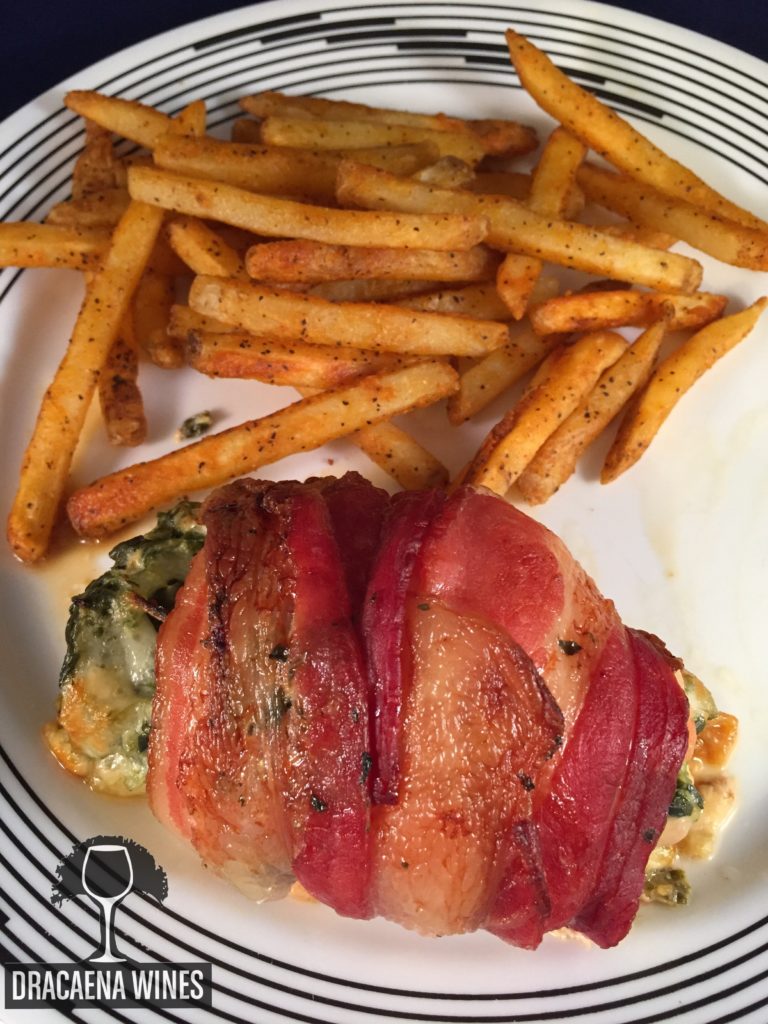 Winner, Winner Chicken Dinner
As I stood in the store, holding the bottle this bottle, I noticed that the wine had Muscadelle in it. I immediately shook my head and said, "ooh, eek! I don't like sweet wines." He shook his head confidently and said, "it only has a hint of sweetness, I really like it.. but if you want something else I can suggest…." I'm not going to lie, he kind of guilted me into putting it into my cart. I replied, "you haven't steered me wrong yet and I'm here to try something new." Thank goodness I listened to him! I'm in love with this wine and am on a mission to try  more! 
For the  most part, I stuck to the food groups that were suggested. I used jack cheese instead of their suggested feta and because prosciutto is a bit difficult to wrap around chicken, I replaced it with bacon. This wine pairing was outrageous! The wine was a winner on its own, but with the meal it was out of the ballpark! It received two thumbs up from all!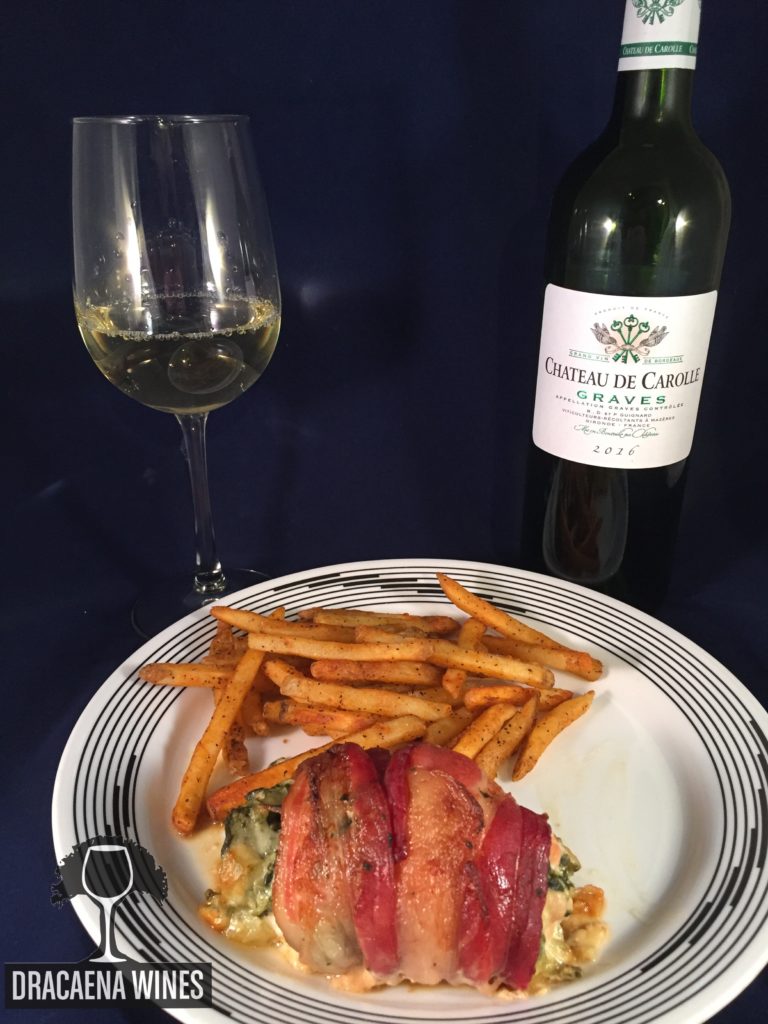 The #WinePW Chat
Join my friends and me on later today (March 10th, 2018) when we will connect on Twitter at 11am EST for a chat. This month's chat is hosted by David of Cooking Chat. You don't need to have a blog in order to join us, just follow the hashtag. Feel free to join in the conversation. If you can't be live with us at 11, still be sure to check out my friends posts by clicking on their links below. 
Martin from ENOFYLZ Wine Blog will post "A Journey To Iberia And Beyond for Open That Bottle Night #WinePW"
Lori from Dracaena Wines shares "Emotion, Not Money or Age for this #OTBN #WinePW"
Wendy at A Day in the Life on the Farm posted "Instant Pot Irish Stew with a White Cheddar Crust #EattheWorld #winePW #OTBN"
Jane from Always Ravenous served "Chicken Breasts in a Tart Cherry Pinot Noir Sauce #winePW #OTBN"
Camilla at Culinary Adventures with Camilla paired "Brisket over Butter-Braised Leeks + Hundred Suns' Ciel du Cheval 2015"
Nicole from Somm's Table will share "The Big 10, Champagne, Burgundy, and #OTBN."
Gwendolyn at Wine Predator will blog about "OTBN: Ranchita Canyon Vertical Paired with Lasagna for #WinePW"
David from Cooking Chat will post "Roasted Lamb Chops with Blackberry Sauce for #OTBN #winePW"
Don't have a blog post about #OTBN to share? No problem! Join the conversation about #OTBN and special wine and food pairings by joining our live Twitter chat. Tune into the #winePW hashtag on Saturday, March 10, 11 am ET / 8 am PT to join the conversation.
You can also check out past and future #winePW topics on the Wine Pairing Weekend page. Get ready for the April #winePW which will be on "Exploring the Wines of Navarra Spain", hosted by Gwendolyn at Wine Predator.
For background on #OTBN, visit our Open That Bottle Night Invite post.
~Sláinte! 
Dracaena Wines now has  a Wine Club! We named it the CHALK CLUB. Draco is on our label, but Vegas was getting a little jealous.  So we decided he deserved to be club spokesdog. In Las Vegas, betting CHALK means you are betting on all the favorites. We are betting that we are one of your favorite wineries, so we thought the name was apropos.  The club is simple yet a bit different than most. When you wager on us, we will ship you three bottles of wine twice a year; once in April and once in September. You can choose all red or a mix of red and rose'. You immediately receive 15% off ALL your wine purchases but what makes our club stand out is a progressive discount.  Let your club membership ride into the next year, your discount increases. Each year you parlay your membership, you receive an additional 5% off up to a plan maximum of 25%. Your club shipments are discounted. Flat $15 shipping PLUS we'll cover your club shipping cost for your second shipment. That is $15 house money in a sure bet for you! So please head to our website; www.dracaenawines.com/chalk-club to find out all of the benefits of joining the CHALK CLUB and to sign up. We've stacked the odds so that you can get our award winning wines without breaking the bank.