This month on #WinePW, we are traveling to the Finger Lakes wine region in New York.  Linda Whipple of My Full Wine Glass, arranged for us to receive samples to help us explore the region through our glass. I was excited when I heard the theme this month, since we had visited the region quite some time ago. When we were there, the grapes were mostly native and they were just starting to develop their vinifera program. The region is best know for Riesling and my favorite, Cabernet Franc is making quite a name for itself there.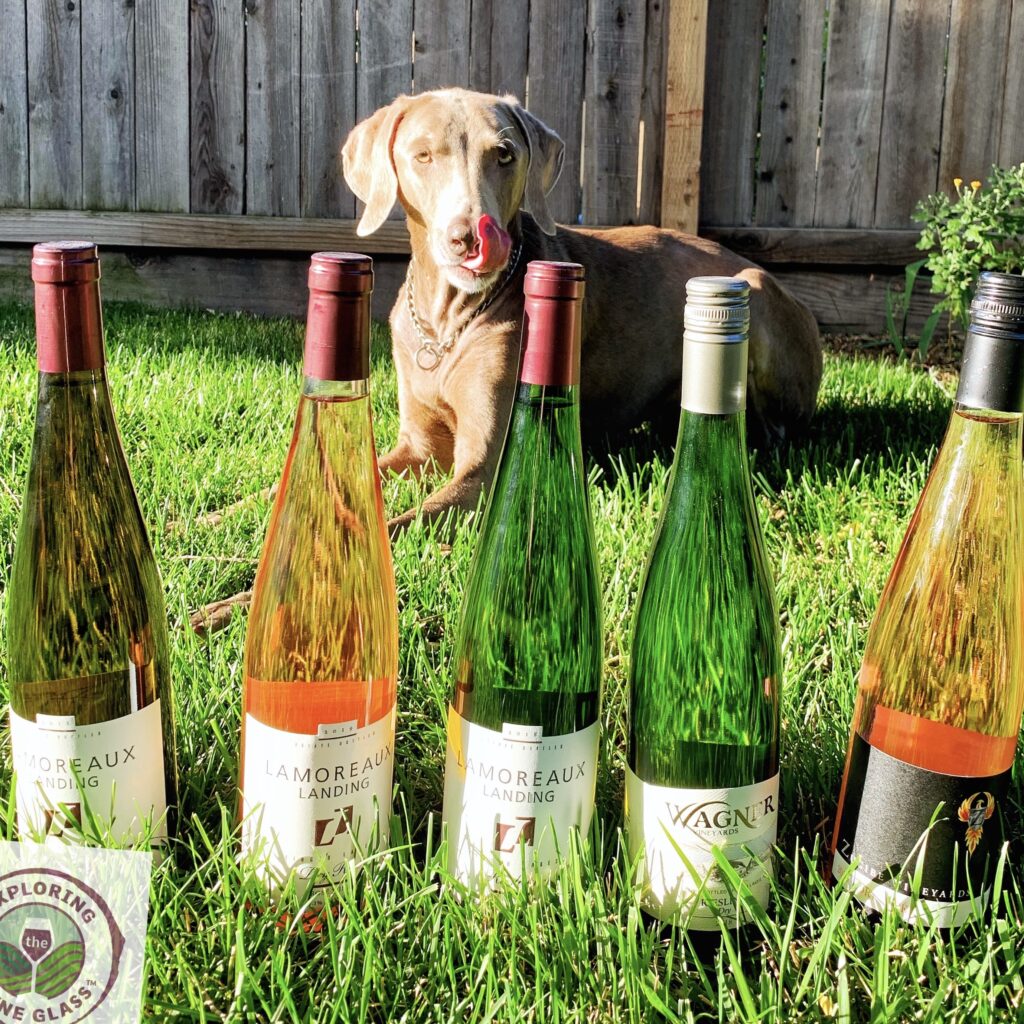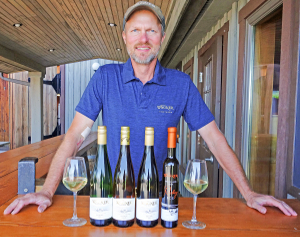 Since I have previously written about the Finger Lakes, I thought I would take a different approach for this post. When I asked the Finger Lakes Wine Alliance who I should speak to about the history of the region, they directed me to John Wagner of Wagner Vineyards. I was lucky enough to have John jump on a Zoom conversation with me. His family has been involved in the Finger Lakes wine industry for generations. Not only does he know the history of the region, but he knows how to make exceptional wines. Wagner Vineyards was named 2019 New York Wine Classic Winery of the Year, after 4 of his Rieslings received Double Gold! I hope you enjoy the conversation as much as I did.  
LB: I had read that it started by glaciers, that these lakes came in. The fingers are glaciers. So can you elaborate a little bit more about Lake the the beginnings of the Finger Lakes?
JW: So many thousands of years ago, there were shallow riverbeds that flowed north, south and where the early beginnings of where the Finger Lakes line now and eleven thousand years ago was the last ice age. And in this area right here, we had a blanket of ice that was a mile thick and that ice moved from north to south and it scoured the earth. And as it it is a traveled down those shallow riverbeds. It formed the Eleven Finger Lakes. And so the the action of that heavy ice scouring down through there moved a lot of material from north to south. And it dug those lakes very deep. When the glacier melted and receded, all that water ran down the banks of those lakes and made steep gorges and a lot of the waterfalls and everything that we have, the points of nature and beauty in the area. And we were left with these deep bodies of water. Seneca Lake is the deepest. It's six hundred and forty feet deep. So very, very deep, long resembling fingers. That's hence the name the Finger Lakes.
LB: I love supernatural stuff, but I'm a scientist, so although I know the glaciers caused the fingers there is a story about a Great Spirit reaching down to touch the earth, transforming into a sacred land and blessed by nature. Is that a story from the Native Americans who originally inhabited the area?
JW: Definitely an intriguing story. I think that was passed down from the Native Americans that had settled the region shortly after the glacier receded. But I think, you know, we all kind of really understand the science behind it and what really did form them. There's been people in the region for many thousands of years. Really, about the late 1700s was when European settlers came in the area and began to do more farming of fruit and other crops in the area.
LB: Is there still a large population of Native Americans in the area?
JW: There is a small population in the in northern Seneca County there is some, but not nearly what there was. I mean, there was quite, quite extensive farming that the Native Americans had done here along the shores of the lake. Peaches and corn and even quite a bit of fruit because they had identified the areas that had a little bit more moderate climate next to lake.
LB: There are 11 lakes making up the Finger Lakes Region. Do all eleven lakes have wine? Are vineyards growing around all of them?
JW: The majority of the vineyards are clustered around the four largest lakes in the center. So Canandaigua, Geneva, Keuka, Seneca and Cayuga. There are some smaller wineries throughout some of the lakes beyond that to the west and to the east. But those smaller lakes do tend to freeze in the wintertime. And when the surface of the lake freezes, then you lose the effect of that water giving up its heat in the wintertime. So the grapes that are grown in the regions outside of those four central lakes are pretty limited. We are on the east side of Seneca Lake. And as I mentioned before, due to its depth, it hasn't frozen solid in the wintertime since 1912. So that open body of water is what gives us a little bit of protection from those cold winter temperatures. We do tend to get a prevailing northwest wind that comes across that open water and keeps the east side of Seneca Lake just a slight bit warmer than surrounding regions. 
LB: What about irrigation? Can you dry farm or do you still need to irrigate?
JW: We are 100 percent dry farmed. Just knowing the growers around the area, I would say, 95-98% are dry farmed. There are a few new plantings going in that are installing drip irrigation. We get about thirty five inches of rainfall per year, which, if spaced out equally, is just about right for us through the growing season. We do tend to get some heavier rain events than we used to get. So those are a little challenging for us, given that the farms are on sloping sites. So we have to be very cognizant of soil conservation and things of that nature, permanent cover crops and protecting that topsoil. 
LB: How big is actually the Finger Lakes region? And then you said that the wine region is pretty much localised around those center lakes. So about how many wineries are there in what you would say in the Finger Lakes region?
JW: The region in entirety is 2.6 million total acres. About 11,000 are planted to grapes. There are one hundred and twelve wineries in the official Finger Lakes AVA region, and a little over half of them are right around Seneca Lake.  
LB: So getting back to the history, when the Finger Lakes first started being populated by by the Europeans. What was there? What brought them to the Finger Lakes?
JW: There were pretty fertile soils throughout the region and quite a bit of timber in the area. So there was a lot of natural resources for them to be able to produce homes, to produce lumber, plus the flowing water and the rivers. There were a lot of mills where they were grinding grain sawmills. So quite an abundance of natural resources in the area that they were able to harvest and use to settle the area. And then a lot of crops were growing well in the area. So as more came, the railroads came through and were able to move things around. The waterways at that point, moved a lot of goods. 
LB: Were the wineries flourishing at the time of prohibition? 
JW: Yes. Actually, there were. So, back in the late 1800s, there were many native varieties planted in the area. So Concord, Cayuga, Delaware, Catawba. And quite, quite a booming wine business with these older wineries. And it all kind of came crashing down with with prohibition. And a lot of those structures still stand and are historic buildings at this point. Some are museums, but pretty much it was a it was a death blow to a lot of those businesses that were functioning at the time. So then there was kind of this lull and there was some large commercial wineries. For instance, the Taylor Wine Company wine company began to get bigger and bigger and have a large grower base. 
LB: Your family has grown grapes for five generations, but has been making wine for three. Previous to that, growers weren't allowed to produce. Is that right?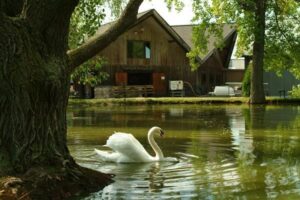 JW: Yes, previous to the passing of that act, you either had to be a grower or producer or, yes, a grower or a commercial winery that could produce wine and sell it through wholesalers only. In 1976, New York State passed the Farm Winery Act, which allowed growers to get into the wine business and the different components that it allowed was once you had a farm winery, you could produce wine and do tastings and sell retail as well as sell wholesale. Prior to that, if you had a winery license, it all had to be sold through wholesale channels. So it really it really was the impetus that started the exponential growth of farm wineries in the Finger Lakes and allowing the tourists to come into the area and travel and go through the tours and the winery and the tastings.
LB: Has there ever been an issue with Phylloxera there?
JW: So Phylloxera really was not a big problem for us because the varieties we were growing back prior to 1976 were native and French American hybrids, which had very good resistance to Phylloxera and then when we began to plant grafted vinifera varieties, we were grafted on roots, that are  resistant to it. 
LB: When you hear Finger Lakes today, you kind of think Riesling and Dr. Konstantin Frank's name is like all over. Almost like its synonymous with Finger Lakes. So who is he? Why is why is his name pop up a lot on Google when you search Finger Lakes?
JW: He was a Ukrainian immigrant that had studied Vinifera Grape growing over in his home country under very cold conditions. So when when he arrived here, there was very little vinifera planted in the region. It had been tried and experimented. Cornell was always experimenting with different varieties, and most of those initial trials had not gone well for vinifera. So when he inquired about that, he was told, "Well, it's just we've tried it. It doesn't go grow well in this region." He knew that back in Ukraine, under similar cold winter conditions. He was able to grow the varieties. So he got into the research business and he began to do some small scale trials and proved that they could be grown in our region. So that's why you do see his name a lot. Because he was kind of the one that said, "Hey, I think we can grow these varieties!" They they are still a very active winery in the region.
LB: in terms of promoting the region, there is the Finger Lakes Wine Alliance. Yes, it is that community of wine makers, growers. I counted that alliance. When did that alliance come in?
JW: About 15 years ago, the Wine Alliance was formed. There presently is about 35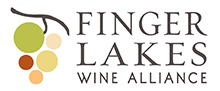 wineries that are member wineries. I'm on the board of directors for the Finger Lakes Wine Alliance. But our our mission is to promote brand Finger Lakes and to really showcase the wines in the wineries of the region and take our message outside of New York State and really get it out there through channels such as yours and through various other things. But we know we're doing a super job on promoting quality natural wines in the region. And the Wine Alliance is championing that effort and trying to get the word out.
It truly was a treat to speak with John about the Finger Lakes region.  We continued the conversation to discuss more about Wagner Vineyards itself and his family's history in the wine industry. Please subscribe to my podcast "Exploring the Wine Glass," so that you don't miss listening to the remaining conversation, including tips on what to do when you visit! 
In the meantime, let me share a bit about his wine. We paired Wagner Vineyard's 2018 Dry Riesling with a warm Saturday evening playing cribbage. This wine was ideal for sitting and sipping, but thanks to its acidity, I can see it pairing with a variety of foods, including seafood, semi spicy food, pork and my  go to meal…. cheese!
? pale lemon
?? medium aromas nectarine, lime, petrol, orange rind and wet stone
? dry, high acidity, low alcohol, light body, medium flavors citrus fruit, lime, nectarine and wet stone, medium finish
? sample, SRP: $14.99, 11.9% ABV, Stainless steel fermentation, 0.5 RS, blend of our Caywood East & West Vineyard
When the weather is breaking 100 degrees, I am not typically in the mood for a large meal. Luckily, it is the time of year for tomatoes and basil. I find myself sitting outside, under the water spritzers enjoying the good things in life. My husband, my dog and good wine.
In 2004, Dr. Frederick Zugibe Jr. found the vineyard sit that overlooks the Seneca Lake, and began planting vines to fulfill his dream. Although their brand was stuck with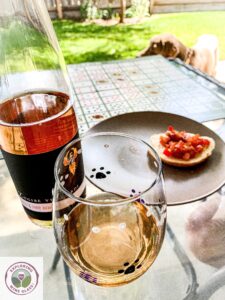 tragedy in 2006, when he passed away, the family decided not to give up on his dream but to embrace it. They chose the firebird to represent their brand, for the duality of their Lebanese heritage and to signify their ability to overcome the misfortune of losing their father and seeing his dream become a reality.⁠
2019 Zugibe Vineyards Dry Rosé⁠
? pale orange⁠
?? medium red cherry, white peach, strawberry⁠
? off dry, medium acidity, low alcohol, medium body, medium flavors white peach, white flowers, red cherry, medium finish
? sample, 12% ABV SRP: $16.99, .4% RS⁠

Although I am never one to tell someone that you shouldn't just sit an enjoy a wine, especially one as delightful of Wagner's dry Riesling, the idea of this group is to pair wine and food. So I am going to share an actual food pairing with you. 
Lamoreaux Landing has been growing grapes on the Seneca Lake for three generations. They are dog friendly and have picnic areas so that you can bring your own food and enjoy the afternoon with family friends and wine. They pride themselves in sustainably farming their vines and have recently completed New York State's sustainable viticulture program,Vine Balance. 
Because the wine was an off-dry Riesling, we thought that it would be able to stand up to some heat. In order to continue to support local during these difficult times, we stopped into our local butcher and picked up two pieces of Buffalo Chicken and simply grilled them. We also stopped at the farmers market to pick up a few tomatoes, pulled some basil from our garden and made fresh bruschetta. 
Let me tell you, the pairing was fantastic. The slight sweetness in the wine made a natural alliance with the heat in the food, enhancing the experience of both the wine and the chicken. The acidity from the tomatoes in the bruschetta played nicely along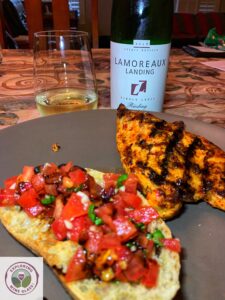 the crisp minerality in the wine.
2018 Lamoreaux Landing Riesling
? pale lemon
?? medium aromas lime, lemon and petrol
? off dry, medium acidity, low alcohol, light body, medium flavors granny smith apple, peach, wet stone, lime, medium finish
? sample, 10.4% ABV, stainless steel fermentation
Don't forget to join us Saturday at 11 am ET/8 am PT for the chat. Even if you can't join the chat live, be sure to check back for all the excellent pairings and thoughts on the Finger Lakes from my wine pairing friends! 
~Sláinte!
Please follow me on Instagram, Twitter, and Facebook. You can also find me on YouTube and if you are interested in wine pairings, follow my other blog, Wine Pairing with Dracaena Wines. And don't forget about my FREE wine education series, Winephabet Street.
Please Visit our Sponsor by clicking on the banner below: