What is #OTBN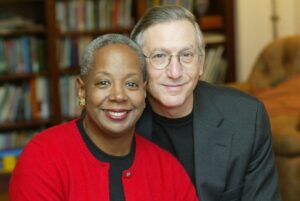 #OTBN, Open That Bottle Night, is a wine holiday that was started by two wine critics who who are also journalists for the Wall Street Journal. Dorothy Gaiter and John Brecher, in the late 1990s knew that too many people keep wine as a prized possession and wait too long to open it. There is the obvious that maybe the wine isn't as good as it is expected to be, but there is also the adage of you may not be around to savor that sip. I know, that's a very depressing concept, but every morning you wake up you have no idea what will happen and sadly you may not have another day. ( then that wonderful wine you were coveting will be consumed by another) 
The holiday occurs every year on the last Saturday of February. It also is this month's theme for our #WinePW crew.  We all decided to open a bottle, celebrate and create a new array of memories. The chat, which is held on the second Saturday of each month (Saturday, March 11, 2017) at 11am EST, is being hosted by David Crowley. Join in the chat, even if you don't have blog to discuss what wine you opened. 
Wine in Boxes
We sold our house in New Jersey in January and had our stuff packed up and moved to Fresno.  It was a wonderful thing. The moving company came in and they packed everything up in boxes.  However, on the other end, they just drop the boxes off! Oh I wish they also unpacked them! Our garage is filled with boxes and we are rediscovering our belongings slowly but surely.  
In our NJ house, Mike built an amazing wine cellar. In Fresno, at only 1700 sq. feet and no basement, there is no room for that! So we had to purchase a new wine credenza. It is going to be beautiful when it arrives, but it is taking an outrageous amount of time to be delivered.  Each piece of furniture is hand made to each customer's specifications, so we were told we can expect to see it sometime around the end of April. In the meantime, all of our precious bottles are in boxes in the garage. We have bottles that we purchased from our Paso Robles favorites, but the wines that typically would classify as a contender for #OTBN are locked up for a few more months.
Thinking Outside The Box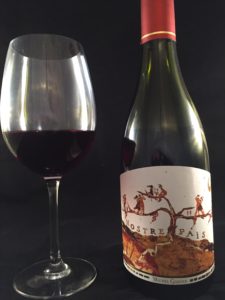 I was on the right coast for this wine holiday. Since any wine that would be categorized as #OTBN worthy was not only in boxes, but in California I had to really think outside the box (literally) for this one. See, the objective isn't that you have to pick the most expensive bottle in your collection or the oldest. The idea is that you are picking a wine that has sentimental value to it. A bottle that will bring back memories of when you purchased or received it. 
I decided to make the evening about opening a bottle that would NOT be in my cellar.  I used it as a reason to open a bottle we normally would never open! We are NW palate people so going into the wine shop and walking the aisles of OW was definitely putting me outside my comfort zone and without a doubt create a lasting memory. I purchased a bottle that I had absolutely no clue who the producer was, or what to expect from the wine itself. Granted, I cheated a bit and went with a varietal that I know and enjoy. Baby steps! 
Ferocious Beasts
Once upon a time there was a beautiful wild terroir, where ferocious beasts were treasured and the sun shined more than elsewhere, where celebration was a way of life, and where wine, a true social tie among men, was a part of everyday.  But little by little, the terroir became neglected, misunderstood and forsaken. The celebrations became drab, repetitive, and life lost its flavour and the people their identity. After long years in exile, a winemaker decided to awaken this sleeping beauty.
Nostre Pais is produced in the AOC Costières de Nîmes which is located in
the southernmost appellation of the Rhone Valley. With more than 2,700 hours of sunshine each year, the Mediterranean climate is characterized by extreme periods of dryness June through August. Rainfall is rare and tends to be concentrated in the form of violent autumn storms. The mistral (a strong, cold northwesterly wind that blows through the Rhône valley and southern France into the Mediterranean, mainly in winter) blows over the vines throughout the year.
The fruit is selected form parcels of old vines that are farmed to produce naturally small yields.  The fruit is hand picked and sorted at harvest. Care is taken to provide for gentle extraction with manual punch downs. After fermentation, the wine is barrel aged in French oak for six months with 50% of the juice remaining on lees. Total production of this unfiltered wine is 800 cases. The main variety in this blend, Grenache, is representative of all the full flavors of Rhone wines. Grenache arrived in the Rhone Valley from Spain in the Middle Ages and never looked back. It is a rather easy grape to identify with its tough, thick, bluish skin. Large clusters are loaded with large, round, juicy berries, while its light green leaves are smooth and shiny. Finally, the leaves are rather rounded in shape, without the pronounced lobes. This 2013 vintage is made up of 45% Grenache, 25% Syrah, 15% Mourvèdre and 5% Cinsault. This wine is a great QPR and although it is labeled as 15.5% alcohol, I would have never guessed it that high.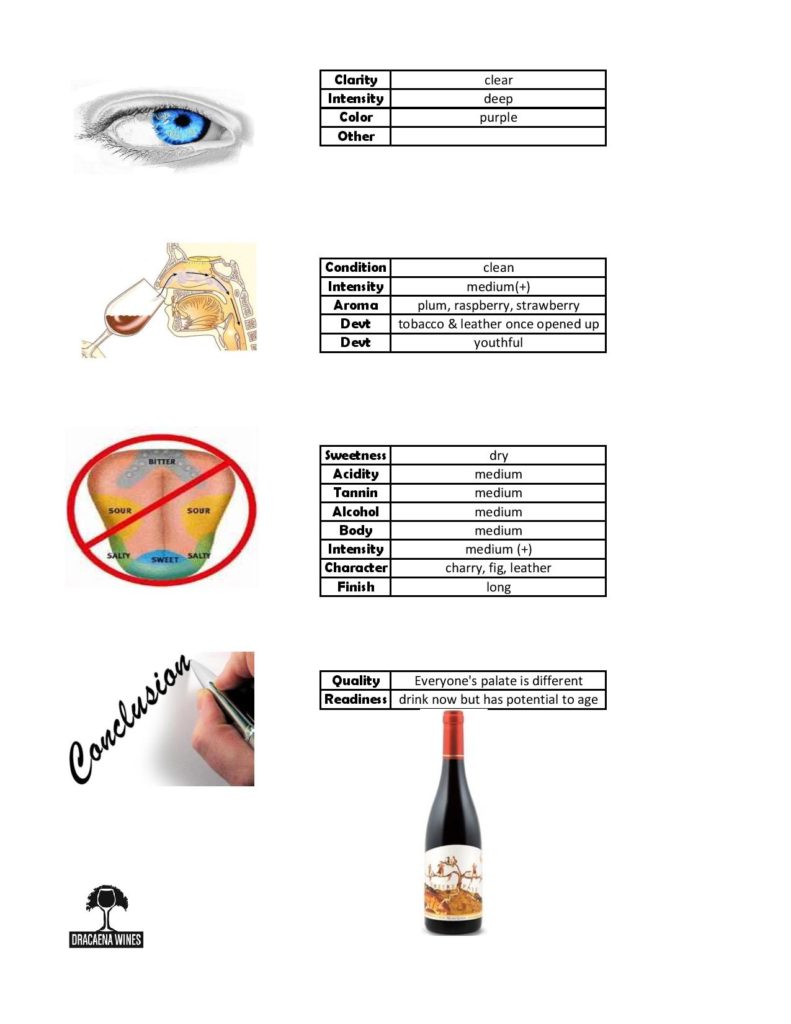 On the Plate
With the concept of reminiscing in mind, I decided to pair this wine with a meal that has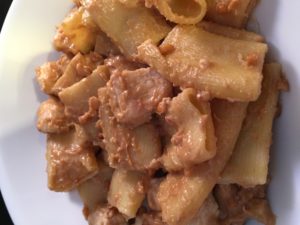 great memories for me. If you read this blog on a regular basis, you know that Mike does most of the cooking and this is a meal that he makes for me when I need a little uplifting. With us being on opposite coasts quite a bit, I have had to become a bit more agile with my kitchen skills. One of my favorite meals that Mike makes for me is Peanut Butter pasta. Every time I say that, people are like "Ew!" It really is good, and to help give you some sort of concept, its reminiscent of sesame noodles and I don't think anyone says "Ew" to that. If you are interested in trying something different, you can see Mike's recipe here. Keep in mind though, that Mike only wrote the recipe down for me so that I can make it. He never uses a recipe and does a lot of modifying on the fly. 
The Pairing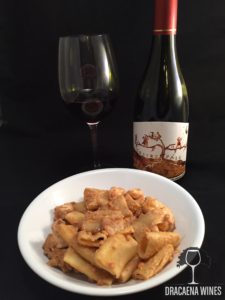 The meal was good. The wine was great. Let's just say that I did not modify on the fly as well as my Honey does. The pasta was a bit dry. I think I used too much peanut butter and not enough broth. Mike said 1 Tbs, admittedly I think I used closer to two. I am a peanut butter maniac and one tablespoon just didn't seem like enough for one pound of pasta. Lesson learned- listen to Mike [please don't tell him I said that!]
The profile of  the wine changed with the pasta. On the palate, the cherry flavor popped and the perception of the acid was reduced. The acid in the wine cut through the fat in the peanut butter. 
Conclusions and Further Explorations
I must admit that this year's #OTBN, although not typical, was a grand slam. I walked into our local wine shop, perused an aisle I had never walked down before and opened a bottle that has never had a place on our table prior. More importantly, I enjoyed it! Talk about a bottle of wine being paired with lasting memories!
Please check out my friends' posts about their Open That Bottle Night experiences and don't forget to join us on Twitter at 11am EST today. (March 11, 2017) Follow along using #WinePW. Even if you didn't open a special bottle on #OTBN, you can still join in on the fun! 
Open That Bottle Night Pairings from #winePW bloggers
Wendy from A Day in the Life on the Farm will post How #OTBN happens while on vacation in Dominica
Jen from Vino Travels will share Baked sausage rigatoni with Vignavecchia Chianti Classico Riserva
Sue from A Palatable Pastime is pairing Pork Carnitas with Saint Cosme Cotes-Du-Rhone
Michelle from Rockin Red Blog is writing about South of the Border for Open That Bottle Night
Cindy from Grape Experiences is posting Wine and Dine: Two New Zealand Pinot Noirs and One-Pan Chicken
Camilla from Culinary Adventures with Camilla is pairing Red Wine Chorizo + 1994 Argyle Reserve Oregon Pinot Noir
Nancy from Pull That Cork will post Our OTBN Celebration: The Château Léoville-Las Cases Stole the Show
Martin from ENOFYLZ Wine Blog will post Batting A Thousand for OTBN Vol 8- A Celebration With Friends
Jill from L'occasion is opening A Gigondas from the Cellar
Julie from Wine-N-Friends will share A memorable pairing with 2012 Kenzo Murasaki
Gwendolyn from Wine Predator is posting Cheers to Open That Bottle Night 2017 with Champagne from Bollinger
David from Cooking Chat is posting Chanterelle Beef Stew with a Special Wine
No blog post about #OTBN, no worries! You can still join the conversation about Open That Bottle Night Pairings by joining our live Twitter Chat on Saturday, March 11. Simply tune into the #winePW hashtag on Twitter at 11 a.m. ET / 8 a.m. PT on 3/11 and join the conversation. Please also make plans to join us for the April Wine Pairing Weekend event, when Wendy from A Day in the Life on the Farm will be hosting on the topic of "My Old Standy" on April 8. You can get a list of all the past and upcoming #winePW events by visiting the Wine Pairing Weekend page.
~Sláinte!