Fàilte! Welcome to the next installment of Exploring the Wine Glass. Mike and I are big proponents of you should drink what you like and you are the only one who can taste like you. We advocate the fact that everyone experiences the wine differently, so in these posts we do not discuss our tasting notes.  Instead we include basic information about each of the wineries, and/or a bit about what was happening in our lives while we were enjoying them.
Want to know what we think of the wines? Do you want a little insight into our palates? Then head over to Delectable and check us out. We tell it as we taste it over there. Click here to see the chart we use to describe the color. A video of them as they are poured is found at the end of the post. Visit our YouTube Channel to see other wine videos. As always, since as oenophiles we love to celebrate #WineWednesday, our week runs from one Wednesday to the next.
Lover, Trailblazer and Rule-Breaker
I am a new fan of rosé. I must admit that I never liked them. I didn't see a reason for them. However, Michelle Williams, aka RockinRedBlog, is a major fan and told me I had to keep trying. She debated, they were a worth while wine, and I needed to explore more. So I did.  
One day last year, I saw that Tina Morey of winestudio was offering an educational
program on rosé. I thought this was the opportune moment to explore. So I signed up for the program.  You can read about my experiences here and here. During that month long exploration into rosé wine, I came across a sample of Angels and Cowboys. It was like the light bulb clicked on for the first time! I may have actually blurted out 'WOW!" I immediately asked where I can purchase some, but unfortunately I found out they were already sold out. 
So when I got notification that this year's vintage was available, I went into stealth mode! I had to find it and I had to get it! I sent Mike on a mission and he was successful in obtaining three bottles! The first bottle did not last long in the cellar! With great anticipation I opened my first bottle of the 2016 Angels and Cowboys Sonoma County Rosé. 
Angels & Cowboys is a collaboration between SHARE A SPLASH wine co. and Northern California graphic artist, Michael Schwab. I had the honor of being to share Dennis Hill's story of how he Pursued his Passion in a guest post. Since then, in addition to them being associated with Cannonball Wines they have added Astrolabe and High Dive. 
The 2016 Angels & Cowboys Rosé is produced in a similar fashion to those wines made in the south of France. The fruit was harvested at 21° brix and a low pH to retain the natural acidity. It is this acidity, that I think draws me in! Hand harvested fruit is pressed and upon finishing fermentation, is aged on lees for just over two months. They recommend pairing with spicy ethnic food, but I paired it with hot sausage, peppers and onions and I was just as happy as I was a year ago! 
Where the Wine is Blended
Back in 13th century  Europe an Apotheca was where mystical wine was blended and stored. This is where Apothic Red got its inspiration. The wine is a blend of Zinfandel, Merlot, Syrah and Cabernet Sauvignon. 
Upon entering their website, they invite you to explore the apothic cellar and reveal the mystery. I have to admit, this may be the COOLEST winery website ever! It's like a 3D game. You can choose to go into different rooms. First, I got my palm read. And it was kind of spot on! The second room I entered, I was greeted by a bartender, who demonstrated how to make a mixed drink using the different Apothic wines. Another room offers you a guestbook to sign. This may be the most awesome newsletter sign-up I have ever seen! The next room I entered, Apothic Crush, allowed you to send a love song with a personal dedication to someone near and dear to you. The final room, Apothic Dark, allows you to upload a photo of your choosing to create a Dark Portrait that reveals your dark side.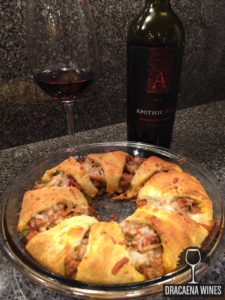 We paired this wine with what I call a taco ring. I have no idea if it has a real name.  It is super simple to make. I use ground turkey, but ground beef or pork can also be used. After browning the turkey, I add in some bell pepper, onion and garlic and then taco seasoning.  While that is blending all together in the pan, I open up two cans of crescent rolls.  Using a water glass in the center to help with the circle, I lay out eight triangles of crescent rolls in each of two pie pans.  I then distribute the taco mixture onto the crescent rolls and flip the edges over. Bake, following the typical crescent roll directions, and BAM, Taco Ring! 
#OTBN with a Twist
February 25th was Open That Bottle Night. (#OTBN) Although the original premise for the wine holiday was to open a bottle that you have been storing in your cellar for the "Special Occasion." So many of us tuck bottles away for the special day, and then we sadly find out that the wine was past its prime. This holiday is all about making every day a day worth celebrating with wine!
Mike and I definitely have some bottles in our collection that we have said "No, it's too good of a wine to open now." So we could very easily have picked one to celebrate #OTBN. Unfortunately, if you have been following us, you know that we just relocated cross country. (Well, he permanently relocated and I am bicoastal for a bit.)  So finding that bottle was a bit difficult.  For him, in CA, all our wine is still located in the boxes that we shipped them in. We are impatiently waiting the arrival of our new wine cellar. On my end, here in New Jersey, any wine that would qualify for #OTBN is not on this coast. So I had to get creative! Instead of choosing a bottle that we have been laying down, I went a purchased a bottle that we typically never would open. I decided to make the evening a reason to explore a new wine. 
I entered our local wine shop and bypassed my well traversed aisles of California, Oregon and Washington wines, and moved right to France. This may seem trivial to some of you, but since Mike and I really only drink New World wines, this was equivalent to Mr. Toads Wild Ride. After perusing the selections for about fifteen minutes, I settled in on a 2013 Nostre Pais by Michel Gassier. I chose it because it was a blend of some of my favorite grape varieties. It is composed of 45% Grenache Noir, 25% Syrah, 15% Carignan, 10% Mourvèdre and 5% Cinsault. 
At first I was a bit confused, since this wine was in the Burgundy section. I didn't think Burgundy was the place for Grenache, being a bit too cold, but I wasn't 100% sure. I picked the bottle up to further examine the label, and saw that it came from the Appellation Costières de Nîmes Contrôlée. This region is in an area between the ancient city of Nîmes and the western Rhône delta, in the French department of the Gard. Ah, that makes more sense- the bottle is just in the wrong aisle. (and I gave myself a mental pat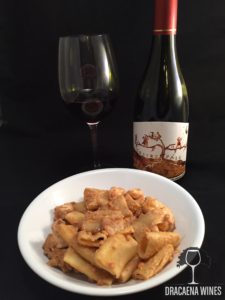 on the back) 
For dinner, I made what I call Peanut Butter pasta. It is similar to sesame noodles. It is made with chicken broth, peanut butter and soy sauce. I love it! Although I must admit, Mike makes it a heck of a lot better than I do! If you are interested in the recipe, you can find it on our other website dedicated to wine pairings. I will be writing another blog post about this wine and it's pairing for the March #WinePW which will be on Saturday March 11th at 11am EST. So come join in the chatter! I will discuss the winery and the wine in more depth in that post. 
A Dwindling Case
A few years ago, I went to Napa/Sonoma with my two girlfriends. We had started the tradition of a girls weekend getaway several years before. Our weekend getaway had somehow evolved into a week long adventure in Wine Country. [no complaints here!] While designing the itinerary and deciding which wineries we should go to, I knew one of the stops had to be to go visit Jess Vallery aka @Moxie_Lady at Trione Winery in Geyserville.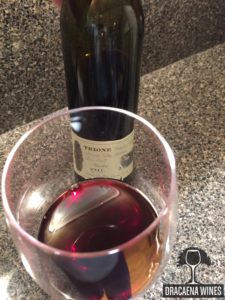 While visiting, I fell in love with their 2011 Primitivo and ordered a case on the spot. Unfortunately, since it is one of my favorite wines to pull, I am down to a mere three bottles! I am going to have to space my openings to make it last! 
Trione farms about 700 acres across three Sonoma County appellations (Russian River Valley, Alexander Valley, Sonoma Coast.) They began their wine endeavor by selling off all of their fruit to other wineries. After 40 years, they decided it was time for a change.  In 2005, the Trione family decided they were going to use their fruit to make their own wine. They built the "Home Ranch" and they selected fruit from only the top 3% of their vineyards. That first vintage they produced 7,500 cases. The 'Home Ranch' is  magnificent with its focal point being the Old Stone Building, a historic landmark that the Triones restored. Today, it is no longer the winery, but an event center that is available for private parties.
2017 Girl's Weekend 
Onto this year's girls' weekend. Yep, it is back to a weekend. With me flying back and forth to California, I couldn't take too much time for this year's adventure. We decided to go to Nashville. Although my friend has been there previously, I have not, so I was looking forward to the new experience. 
Let me lead off with I am not a country girl. I'm a headbanger, so the music itself was quite the eye opener. The music aside, I must say that there are a heck of a lot of extremely talented people in Nashville. Every bar we went into, [yeah, there were quite a few] there was live entertainment. Each person was more talented than the previous one. Nashville is definitely a place to visit if you enjoy people watching. There is some serious entertainment in that respect.
Hope you have had some great wines and times these past two weeks. Remember, always Pursue Your Passion. We would love for you to leave a comment telling us what your favorite recent wine was.
~Sláinte