This past Saturday, I spent the day swirling, sipping, and spitting and enjoyed myself immensely! It doesn't sound like a shabby day, does it? I was honored to be asked by Debbie Gioquindo, aka @hvwinegoddess to be a wine judge at the Hudson Valley Wine Competition. This is my second year as a judge and once again it was a phenomenal experience. 
Rise and Shine
My day began at 6:30am as I got on the road for the 1:45 minute drive to the Dutchess County Fairgrounds in Rhinebeck, NY. As I got closer to the Catskills, the temperature continued to drop and the beautiful blue sky started giving way to fog rolling in. I love fog! I think it is so mysterious and is beautiful in its own way. I'm kind of surprised that there isn't an official word for a fog lover, I mean, heck there are terms for sun lovers (Heliophile), moon lovers (Selenophile), even thunder and lightning (Ceraunophile). I know I'm not the only one who loves fog, because the SF fog has its own twitter handle: @karlthefog with over 264K followers!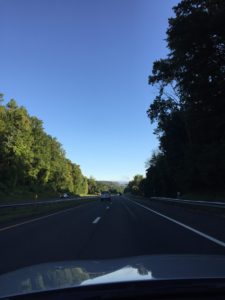 Meet and Greet
I arrived in plenty of time to meet some other judges and share our stories of wine adventures, prior to sitting down to begin judging at 9am sharp! As we sat at our tables we were provided with the American Wine Society's wine evaluation chart. This is what we would be using to guide us through our tastings.
AWS Wine Evaluation chart 2012

Let The Judging Begin
There were three of us in our grouping and we were going to be judging 23 wines. First up were the Pinot Noirs. We had three. The first thing I noticed was that only one seemed to be a true "Pinot" color while one was extremely "bricky." Keep in mind we have no idea what the wineries are or the age of the wine they are submitting, but we were privy to the fact that all three were 100% Pinot Noir. 

Next up were the red blends.  Honestly, this was a tough category to judge. The wines are so different because it can be a myriad of  varietals and each one is so different from the others. Luckily, we have what the blends were. The wine on the left actually did not break down what it's blend was just that it was 70% of something, and 15% of two other varietals. Talk about being completely blind! The second wine was 80% Noiret, 10% Caberent Franc, and 10% Oberlin Noir. The third was 54% DeChaunac, 24% Merlot and 20% Chambourcin. (anyone else notice something wrong with that?) All three of us looked at each other when we saw DeChaunac. None of us were familiar with it and had no clue what to expect or what it's characteristics are.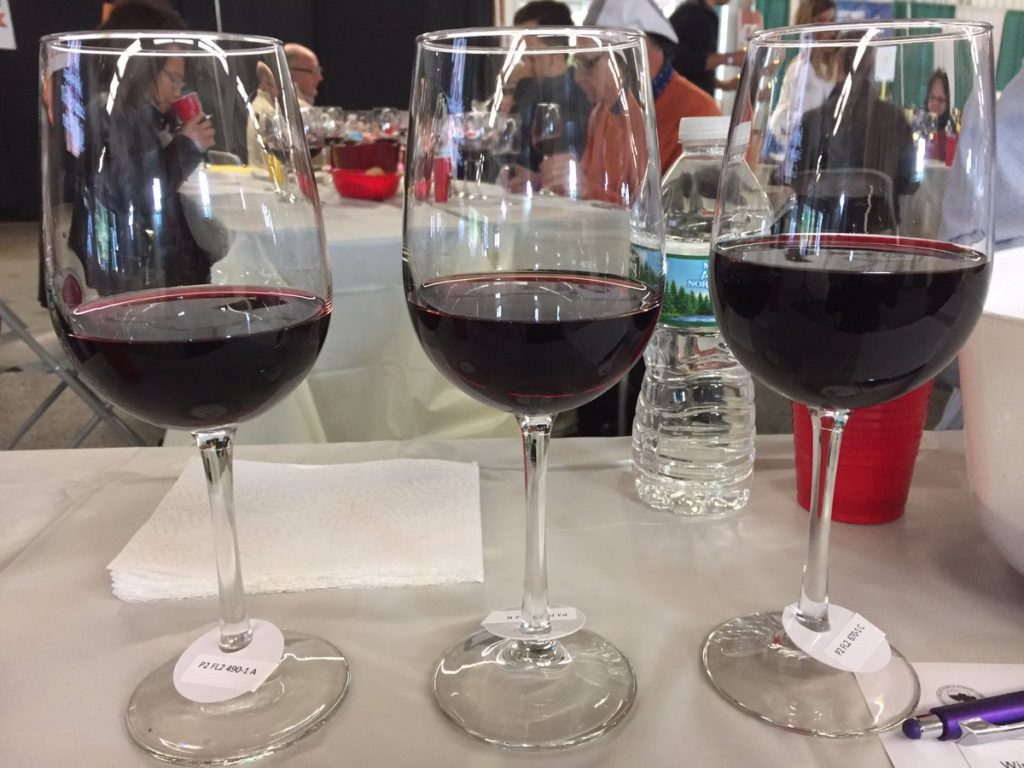 Next up were 6 Rieslings and a lone Gewürztraminer. It was a true rainbow of yellow. From pale straw to golden-yellow. We spent a lot of time on these wines. They were all 100% Riesling and ranged in residual sugar (RS) from .2 to 4.25! Of all the categories of wines we tasted, I think this was my favorite. The highest scored wines of the day came from this grouping. My two favorite wines were the two at the opposite ends of the RS spectrum, separated by only one point. Both received solid silver medals while three others received bronze. 
After the Riesling we were greeted with two Fruit wines. The category was Apple/Pear, The first wine was 40% Crispin, 30% Empire, 20% Granny Smith and 20% Lady while the second simply stated 100% apple.  This intrigues me, because as someone who submits to wine competitions, we put whatever information we are allowed to. So when our '13 Cabernet Franc had 15% Petite Sirah, we said that. We also include what district the fruit is from. It may be a blind tasting, but if they are going to give you the opportunity to provide some guidance, I would take it! As for the wines, one received a bronze but the one with the mixture listed received a gold and we passed it onto the final round! 
Our final wine grouping was the fortified/dessert wine category.  The behind the scenes crew came out and placed 5 glasses in front of us. There was a broad spectrum of color and flavors.  Our first was 100% Black Currant (.4% RS), followed by 100% Vignoles (5% RS), a 60% DeChanac and 30% Seyval blanc (bad math again) that had 6% RS, a 100% Riesling (11.9% RS) and we were in the dark for the final glass. I must admit that I was nervous upon seeing that large of a RS. I am a dry wine lover and am not a fan of sweeter wines. (first world problems of being a wine judge, I know) But to the surprise of myself and my judge mates, the acidity level in the wine was in perfect balance and the sugar was not detected to be at that level and it scored the highest in the group. My second favorite was the red currant wine. 
The Best of the Best
Once all the tables finished their groupings, it was time to judge for the "best of" categories.  You can find the results for this and previous year's competitions on the Hudson Valley Wine & Grape Association's website. But here's photos of some of the winners. 
The End of the Day
After the competition ended, I walked around and explored the event with another judge.  We tasted some more wines and smiled at each other when a wine that was poured for us was brought up to our noses and we recognized it as one we judged earlier in the competition. It was fun to find the wines that we had blindly tasted. 
The most awkward moment was when we went to a booth and was poured a certain red blend.  We brought it up to our noses, tasted and immediately knew this was one of the wines that we tasted and did not award a medal to. We took our polite sip and before we completed our dump, the girl behind the table asked, "What did you think?" Not giving us any time to respond, she continued on, "I'm really annoyed! The judges didn't give us a medal for this amazing wine!" My colleague and I just looked at each other, politely smiled at her and nodded our heads. I guess you're going to run into some disgruntled wineries when you are a wine judge. 
After a full day of sampling wine and craft beer, (plus one hemp wine – don't need to do that again) it was finally time to get back into the car and start the drive back home. There was no fog, but the setting sun made for a beautiful sky. 
~Sláinte!