Fàilte! Welcome to the next installment of Exploring the Wine Glass. Mike and I are big proponents of you should drink what you like and you are the only one who can taste like you. We advocate the fact that everyone experiences the wine differently, so in these posts we do not discuss our tasting notes.  Instead we include basic information about each of the wineries, and/or a bit about what was happening in our lives while we were enjoying them. With that said, if you are interested in reading our tasting notes and our ratings head on over to Delectable and check us out @Dracaenawines. We tell it as we taste it over there.  As always, since as oenophiles we love to celebrate #WineWednesday, our week runs from one Wednesday to the next. 
Week 1
Another week, another #Wine Wednesday.  What was in your glass tonight?  We had a 2011 Bodega Norton Reserva Malbec.  Bodega Norton was founded in 1895
at the Mendoza River Valley.  The estate is located at the foothills of the Andes.  Although "reserva" does not have a legal definition, Bodega Norton chooses the grapes for their Reserva from vineyards more than 30 years old.  The wine is then aged 12 months in French oak barrels before bottling. This particular wine received a 92 from Wine Spectator that they happily boast on their capsule. (this was a new one for us. We have seen stickers placed on bottles, but never a capsule – but if we received a 92, we would want to showcase it also!) Being that it was a Wednesday and I am still in volleyball season (last week, yeah!) we didn't have a major meal planned.  We sat down with our wine and cut up some Monterey Jack and Sharp Cheddar cheese to pair with it.  Personally, in my opinion, you can never go wrong with cheese. What do you think? 
It's Thursday and it's been awhile since I have gotten together with my girlfriends. (a whole week has passed)  So tonight we got together at one of my friend's homes.  I do love going out, but there is definitely something to be said about just chilling with friends at a house.  It was beautiful weather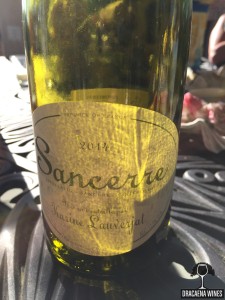 today. The sun was shining, but it wasn't super hot and more importantly, there was zero humidity.  You can't ask for more.  We sat on her deck and enjoyed the warm weather and talked about I don't know what, but we had a great time.  Next week is my other friend's birthday but she will be out of town, so I brought her gifts with me.  She is a big sangria fan.  I bought a bunch of fruit and put it in an empty box.  My empty box was a Sam Adams Summer Ale 12 pack box.  She was thrilled that I bought her beer.  I had to laugh when  I told her it wasn't beer and she had to open it. Her face was priceless when she saw the fruit. Then she opened the other box that contained a cold beverage server, and three bottles. (a red, white, and sparkling)  Lastly, she opened the box that had her personal sized birthday cake. Her huge smile let me know her gifts were a hit.  I always try to give gifts that are thoughtful but not the normal and the smiles let me know I was successful.  As we sat and talked I sipped on a  2014 Karine Lauverjat Sancerre.  This was another new one for me, and I was pleasantly surprised.  According to the Wine Buyer @Bottle King:

Nestled in the tiny village of Sury-en-Vaux in the Sancerrre appellation, husband and wife, Christian and Karine Lauverjat farm 12 hectares of vines sustainably, resulting in pure, balanced wines. The average vine age is 26 years.
and Garyswine.com:

The Lauverjat family has been growing grapes in Sancerre for generations in the tiny village of Sury-en-Vaux. In the past, they always sold off the grapes to other producers, but decided eventually that it was sad to work so hard all year in the vineyards and then not be able to enjoy the fruit of their labor.
Our white Sancerre is a blend of our different parcels of Sauvignon. It expresses clearly its aromas of white flowers and citrus fruits, and lingers long on the palate. The dominant fresh mouth does not betray its terroir.
Husband and wife team, Christian and Karine are now making wine from the fruit they grow. The result is a classic, medium weight Sancerre that strikes a perfect balance of citrus and melon. The wines from Lauverjat undoubtedly represent some of the best values to be had from the appellation.
and me:
I truly enjoyed the wine. I agree the aromas of citrus were dominant with a wonderful finish. It was a very nice sipping wine for a hot day on the patio with good friends.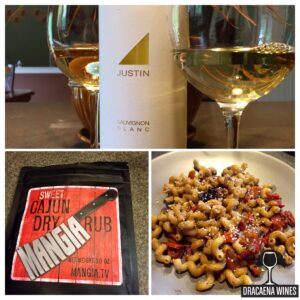 It's Friday and I definitely have that #FridayFeeling! I am so ready for this weekend. Not that anything special is happening, in fact there is absolutely nothing happening, and I am thrilled about it.  It is the first free weekend in a long time, and I just want to sit back and enjoy it.  So let the chilling begin!  The weekend started  with a great meal that was made using a cajun dryrub that was sent to us by our good friends at MangiaTV. Mike used the rub on chicken and then tossed it in with some pasta with sundried tomatoes and topped it with Parmesan cheese.  It was fantastic! If interested, you can watch the video of Mike making it on our YouTube channel. 
Today was also International Sauvignon Blanc Day. Although that did not get so much play we had a Justin Sauvignon Blanc in the cellar so we pulled it. Honestly, the rub was a bit too spicy to go with the wine- completely our fault. The wine was fantastic and the rub was phenomenal, but it wasn't a great pairing.  We saved most of the wine for an "After dinner, enjoy the good weather while sitting on the patio sipper", and it was perfect!  Justin Vineyards is located in Paso Robles. The soil of their vineyards is full of limestone which allows them to create big amazing Bordeaux wines and the micro-climate provides a huge day-night temperature swing. The hot days produce intense flavors within the fruit, while the cool nights impart great structure and balance.
Happy weekend everyone. I spent a portion of the day watching Mike's nephew play soccer. They are from
Central Jersey and came up to Wayne (where I work) for a game. There is a funny controversy of what exactly is South Jersey and Central Jersey depending on where you live within the state.  Since we are as North as you can get, the Trenton area is Central for us, but there are some people who call it South (they are wrong!)  When we got home, I made dough for calzones.  I figured we haven't had them in a long time, we had leftover chorizo and tomorrow will be pizza day. Since Mike never has any issues with pizza of any form, I thought this was a safe bet. We paired it with a Halter Ranch 2012 Estate bottled Syrah. I guess we are still missing "home." Anyway, Halter Ranch is located on the west side of Paso in the Adelaida District.  Their wines are 100% estate grown and are sustainable farmed on their limestone soils. In January, Halter Ranch was voted as one of the Top 10 Hot Brands by the Wine Business.  You can read all about their hotness here. 
Week 2
It's #WineWedneday again, and although technically tomorrow, May 21st, is #ChardonnayDay, we decided to celebrate a day early. We are rebels, aren't we?! I have formed an opinion about these holidays thanks to the gentle nudging of Jeff at thedrunkencyclist.com.  You can read my semi rant here.  Anyway, I decided a good dish for dinner tonight would be pasta primavera.  It seemed simple enough until I went to the food store. The produce section was beyond atrocious!  If you live in an area where you are lucky enough to have a plethora of farmer's markets, I envy you.  We do not. The closest one that I know of that is somewhat decent is a good 45 minute drive.  It is just another reason I can't wait to get our butts to California permanently sooner rather than later. Sadly, I had to go to the frozen section for my veggies but I wanted my meal and my Chardonnay.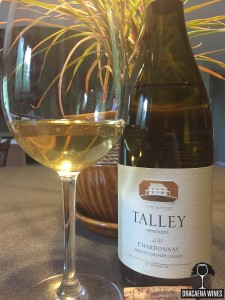 Mike came up from the cellar and I asked which wine he chose. He said "our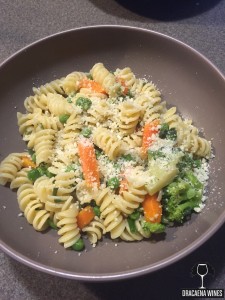 backyard."  Now, I knew he didn't mean our NJ backyard since there are no grapevines there, so I started rattling off Paso wineries.  I started with J. Lohr, because they make a stellar Chardonnay. After a few others, he repeated "OUR BACKYARD not the winery"s."  And it hit me. He chose a Talley Vineyards Chardonnay.  You can't get much more in our backyard than that. Several years ago, we purchased our retirement property in Arroyo Grande and it is in the Las Ventanas at Talley Farms. We love the area and we can't wait to make that permanent move. 
It's Friday and it's the holiday weekend.  No school on Monday and I plan on enjoying this weekend! I was counting the minutes until school was out.  Today was Senior cut day, so there weren't many students around (apparently, Senior cut day has now filtered down through the Juniors and Sophomores.) There are only 21 days left until we are out and I can't wait. I know that will get people up in arms and yell teachers have the best jobs, but until you walk in ours shoes, trust me, we need the summer!
We had dinner at our favorite restaurant,, Nadies Touch of Pasta. I actually had a new dish. The penne in vodka sauce with fresh peas was calling my name, but I opted for a little change.  I had chicken and broccoli in a garlic tomato sauce over rigatoni pasta. Mike had his Rigatoni in Bolegnese sauce. We are still in our "we miss Paso phase" and had a Rhone Blend from Le Vigne Winery. The wine was a  2011 Ame de la Vigne and received 93 Points from Wine Enthusiast. 
Le Vigne's story dates all the way back to the 1960's when Sylvia Fillippini and her family purchased the property to maintain hay and cattle.  It wasn't until 1982 that they planted grapevines. Their grapes had a high demand and in 1989, they decided to start producing their own wine. "Le Vigne" means the vineyard in Italian. An old world tradition that the owners take to heart.  According to their website "At Le Vigne Winery our goal is to create unique and outstanding wines that portray characteristics of the vineyard and vintage that produced them."  As if this is not enough to make you want to visit and purchase their wines, their gift shop has a large selection of gourmet foods and one of the most extensive selections of international cheeses.  Plus they make Paninis on site.  Wine + cheese + paninis = a great tasting experience. 
It was a beautiful day today. The temperature was warm, with a nice breeze and no humidity.  What a day!  We had plans to have dinner with friends, but sadly one of them got sick so we will have to reschedule.  When I told Mike we weren't doing dinner and asked what he wanted, he replied – don't be shocked here – pizza.  So I made the dough and pizza it was.  BTW- since tomorrow is Sunday, I will be having a déjà vu moment with more pizza.  Mike pulled a 2010 Elyse Winery Black Sears Zinfandel.  This was another wine that I purchased while I was on my girls' trip to Napa/Sonoma.  As I have said in previous posts, Mike and I usually compare palettes prior to purchasing and with him not there, I knew what I liked, but as we open a bottle I purchased, and he tastes it, I am anxious to see his opinion.  And I'm glad to say so far I'm 3 for 3.  Elyse Winery has an interesting wine making philosophy. 
Winemaking is cooking without a flame. Our winemaking philosophy at Elyse in Napa Valley is similar to the approach of a great chef who carefully prepares artisan grown ingredients to bring each layer of flavor to the table.
Ray and Nancy have accomplished what Mike and I hope to do one day. They moved from the East Coast and began producing wine in 1987 with 286 cases with a custom crush facility. After more than ten years of what they call "nomadic" winemaking, they purchased their winery and vineyard on Hoffman Lane and a new beginning for Elyse Winery began.  If you are in Napa, make sure you make time in your schedule to stop by Elyse, but be sure to call ahead to make an appointment. 
It's Sunday of a Holiday weekend, so with the knowledge that there is no work tomorrow, and the alarm will not being off at 5:40am, we decided to open a bottle.  We chose another "girls' getaway wine." When I was in Napa/Sonoma this past summer with my friends we stopped in at Trione and it was instant love.  What a great tasting experience and the wine is fantastic.  My favorite was the Primitivo, so I bought plenty. There is much debate over this grape.  Primitivo is from Italy, however, DNA says it is Zinfandel. Historically speaking, both grapes descend from the Croatian varietal Crljenak. Zinfandel is thought to be an exact replica of this grape, while Primitivo is considered a close copied clone.  The vine vigor and cluster sizes are also different. According to the TTB, Zinfandel and Primitivo are not synonyms and bust be identified separately. Primitivo is typically picked earlier that Zinfandel, so it tends to have a lower alcohol content. Zinfandel usually exhibits more red fruit tendencies, such as raspberry, while Primitivo exhibits more black fruit, such as blackberry and black cherry. And as always holds true in the Teaghlaigh (household) Budd on Sunday, it was homemade pizza night. 
I hope you all had a wonderful holiday weekend, and I my hope is that all recognize what the real meaning behind this day is. A lot of people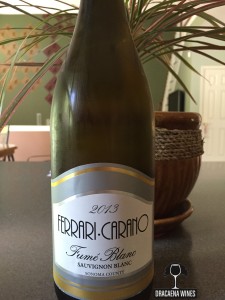 sacrificed their lives for us to live the lives we live.  In addition to Memorial Day today was #DrinkWineDay.  I have come to the conclusion that there are certainly a lot of made up holidays for us winelovers.  I think it is pretty funny considering I really don't think we need a special reason to drink wine. We pretty much drink wine because we CAN drink wine and we love doing it.  Tonight's selection was from my favorite winery. If you read this blog on any regular basis, you are very aware of which winery this is.  Happy Gilmore was on TV this morning. That movie cracks me up. If you are an Adam Sandler fan, you know in this movie he is told to go to his "Happy Place." While in his happy place he is invincible on the golf course.  Well, my "Happy Place" is Ferrari Carano. This is the winery that never fails me.  I know I'm going to love the wine if it is from FC.  Does anyone else have a "happy place winery?" I'm not going to lie. There are some FC wines that I like more than others, but when I need to go to my happy place, it is an FC wine that I know will take me there. 
Hope you have had some great wines and times these past two weeks. Remember, always Pursue Your Passion.  We would love for you to leave a comment telling us what was your favorite recent wine was.
~ Sláinte!