Fàilte! Welcome to the next installment of Exploring the Wine Glass. Mike and I are big proponents of you should drink what you like and you are the only one who can taste like you. We advocate the fact that everyone experiences the wine differently, so in these posts we do not discuss our tasting notes.  Instead we include basic information about each of the wineries, and/or a bit about what was happening in our lives while we were enjoying them.
Want to know what we think of the wines? Do you want a little insight into our palates? Then head over to Delectable and check us out. We tell it as we taste it over there. Click here to see the chart we use to describe the color. A video of them as they are poured is found at the end of the post. Visit our YouTube Channel to see other wine videos. As always, since as oenophiles we love to celebrate #WineWednesday, our week runs from one Wednesday to the next.
Rosé in a Rose Bottle
I must admit that I have seen this wine in the shop and have passed it every time prior simply because of the bottle. My thought was, a rosé in a bottle that looks like a bouquet of flowers must be a gimmick to sell not very good wine. Not sure if I am alone in that thought, but it is the truth. Then earlier this month, I started seeing the bottle pop up on people's social media feeds. Comment after comment said this was a great wine and how it was some people's "go to" Rosé. So when I was in Costco for some milk, which obviously means I'm walking through the wine section, the bottle once again caught my eye. I figured, what the heck, I'll give it a try. 
Gérard Bertrand grew up in the vineyards of Languedoc. He is intimately familiar with the terroirs of the region and is dedicated to producing wines that demonstrate the attributes and variety found within them. He has been in the wine industry for twenty years and his objective remains the same; to create wines following four fundamental values: excellence, authenticity, conviviality and innovation. 
I am passionate about the Mediterranean lifestyle and I want to promote and share the cultural and gastronomic riches of the South of France through the numerous wine tourism activities available at Chateau l'Hospitalet.
The wine is a blend of Grenache, Cinsault and Syrah. The grapes are mechanically harvested separately so that each variety can achieve its proper ripeness. After de-stemming, the fruit is cooled down to 8°C and transferred to the press to extract the rosé wine must. Strict quality control is maintained to ensure that only first press juice is captured. The juice is allowed to settle to provide the aromatic profile and then fermentation can take between 15 and 30 days. The wine undergoes fining and then is bottled to capture the fresh, fruity character. 
Calcareous Times Two
In what is probably the first time in our wine drinking history, we opened two bottles of wine from the same winery within one week. Granted, they were completely different wines, but I honestly can not remember this ever happening before. 
The first wine we opened was a 2012 Tres Violets which is a Paso Robles GSM blend consisting of 45% Mouverdre, 37% Grenache and 18% Syrah. The second was 2013 Kate's Vineyard Zinfandel. The fruit for Calcareous comes from one of three of their estate vineyards. Calcareous Vineyards, planted in 2000, is located on Peachy Canyon Road in the westside hills of Paso Robles. Their oldest vineyard site, Carver Vineyard was planted in 1968, and is located in the York Mountain AVA, also on the west side of Paso Robles. Fruit from this vineyard is only used to produce single-varietal vineyard designate wines. The final vineyard, Kate's Vineyard, is where all the Zinfandel is planted and is is located 1/2 mile south-east of the Calcareous Tasting Room. Kate's Vineyard was planted in 1988 and is 12 acres.
Cool Climate Chardonnay
Laird Cold Creek Ranch Chardonnay is grown in the the slightly cooler Los Carneros district of Sonoma. In this area, there is thick fog and cool marine winds that allow the fruit to hang on the vine longer with protection to their sensitive skins.  The wine is a 50/50 blend of Clones 15 and 95 that saw 50% malolactic fermentation and saw 11 months in 50% new French oak. 
Ken Laird studied to be a mechanical engineer in New York City, but never forgot his farming lineage.  As a third generation farmer, Ken decided to purchase land in Napa in 1970. The site is located adjacent to Tubbs Lane in Calistoga and at the time was the home of 70 acres of worn-down prune trees. He knew he wanted to convert the land to a grape vineyard, but was just a wee bit short on funds ($150,000 short) Looking for an investor, he grabbed the phone book [remember them?] and scanned through names of wineries. The only name he recognized was Robert Mondavi.
Without a blink of an eye or a doubt in his mind, he picked up the phone and asked Robert Mondavi to come his site and he did! While walking the site, soils, vines, yields, irrigation, and proper pruning techniques were discussed and in the end Robert Mondavi agreed to finance a deal with Ken if he would plant 50% Gamay. They shook on the deal and Ken planted his vineyard of 50% Gamay and 50% Cabernet Sauvignon. 
New York Cab Franc
Last September I received a private message in Facebook from Jim Baker asking if I would be interested in doing a wine swap. Through the back and forth conversation, I found that I really liked him. He seemed such a sweet man and was so dedicated the winery. I pride myself in being able to read people, and although that typically is a face to face talent, I was pretty confident in my opinion of Jim being a nice guy. So I packed up two bottles of our 2013 Cabernet Franc and shipped it to him for two of his in return. 
Since the initial discussion, we have had other conversations and I consider him friend, one that I would like to meet in real life in the future. If it weren't for the almost 7 hour drive to get to his winery, I am sure we would have already met. 
Jim and Kathy Baker's story began in June of  2006 when they purchased 31 acres on the banks of 18 Mile Creek in Newfane, New York.  They began growing the more common varietals of Cabernet Franc, Cabernet Sauvignon, Merlot, Pinot Noir, Chardonnay, Riesling, and Gewürztraminer as well as the less familiar Saperavi, Turan, Blaufrankisch and Feteasca Neagra.
New Jersey Sauvignon Blanc
I use to be a Groupon maniac.  My friend and I were on a circuit and I don't think we went more than two weeks without purchasing and using a Groupon for either a spa experience or an event to get us out of the house.  But somewhere along the line, the deals stopped being so great and the encounters were not so phenomenal, so we stopped procuring them.
I still get the daily email, and scroll through the offers and one day, there was a Groupon for a wine and cheese tasting. Wine? Cheese? Ding Ding Ding! Two tasting flights and a cheese platter for $15. Heck, they even have live music on weekends so I couldn't pass up the deal. 
I picked up my friend and off we went for the almost hour drive. As we got on the road, I asked if she wanted to listen to music or a new hysterical podcast I had found. (well, new to me- it started in 2015. Yep I have a lot of catching up to do) We opted for the podcast. If you listen to podcasts, I can not recommend enough, "My Dad Wrote a Porno." (Don't judge me! it has over 50 million downloads) We laughed the entire ride. If you download it, I'm sure you will become addicted but be sure to wear your earbuds! 
Once at the winery, we were greeted and escorted to the back lawn with a view of the vineyards.  The flight I chose included Sauvignon Blanc, Pinot Grigio, Bianco Solo and Moscato. After tasting, we decided to purchase a bottle of the Sauvignon Blanc and we had our Italian cheese board including  Asiago, Provolone and wine soaked Goat Cheese. In addition to the cheese there were Kalamata olives, toasted crostini and "Papa's Homemade Preserves." The preserves were fantastic! It was a blend of pear, cinnamon and ginger. YUMMY! 
The name of the winery comes from the Italian word meaning cave or mine. Hamburg, NJ along with its neighboring towns are rich in mining history. Cava Winery pays tribute to this history and hopes to yield precious fruit from the earth as miners yield precious metals. The winery is located in the Skylands, which is in the northwest region of New Jersey. It is a family run winery that respects old world techniques to honor their Italian heritage.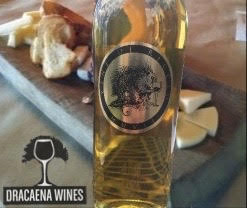 Hope you have had some great wines and times these past two weeks. Remember, always Pursue Your Passion. We would love for you to leave a comment telling us what your favorite recent wine was.
~Sláinte