There is a wonderful group of people who get together once a month to discuss their love of wine and food.  The quote by the American writer, Judith Viorst speaks volumes. 
Close friends contribute to our personal growth. They also contribute to our personal pleasure, making the music sound sweeter, the wine taste richer, the laughter ring louder because they are there.
I joined this group a short three month ago, and I am so happy I did. These friends help me explore wine regions that I would typically not and truly make me enjoy the process of wine and food pairing.  Join us on twitter the second Saturday of each month for #WinePW. This month was organized by Michelle (@Fiery01Red) of RockinRedBlog. She took advantage of the two July National Holidays (4th of July and Bastille Day) and allowed us to choose which holiday we would celebrate through #WinePW.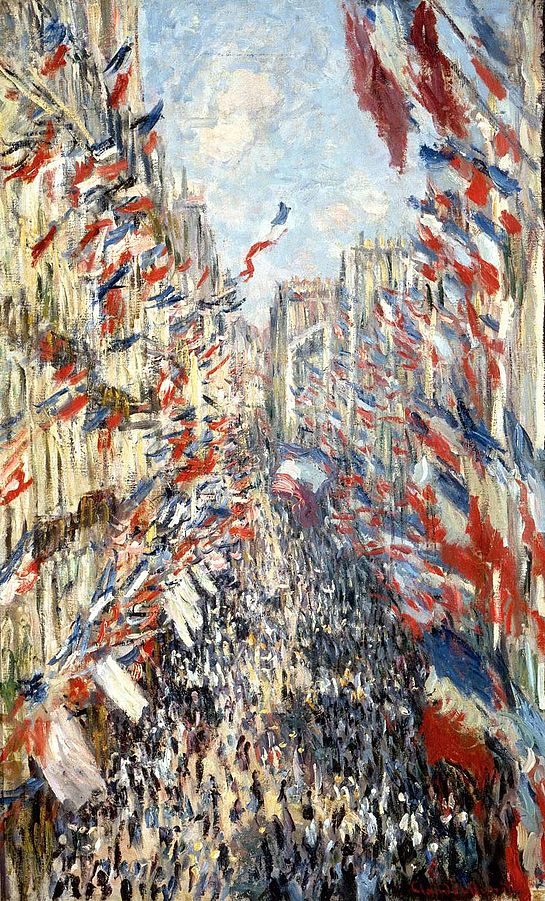 On July 14, 1789 an angry mob stormed the prison that was a representation of how strong the king was. The rebellion was a symbol of hope.  It allowed people to believe that maybe, just maybe, the reign of the king could end. In honor of this historic day, Bastille Day (the name given in English-speaking countries to the French National Day), is celebrated on July 14th each year. In France, it is formally called La Fête nationale. Celebrating peace one year later, on the very same day in 1790  Fête de la Fédération celebrated the unity of the French people.  On May 21, 1880, Benjamin Raspail proposed a law to have "the Republic choose the 14 July as a yearly national holiday" and the proposition became law on July 6, 1880.
Although the Bastille Day Military Parade has changed location, it has occurred every year since 1880. Prior to 1918, it was held near the capital city but now is held on the Champs-Élysées, with the participation of the Allies as represented in the Versailles Peace Conference. The parade even took place during the four years (1940-1944) of German occupation, however it resided in London. Currently the parade passes down the Champs-Élysées from the Arc de Triomphe to the Place de la Concorde, where the President of the French Republic, and the ambassadors to France stand to watch. Even here in the USA, you can partake in Bastille Day festivities at many major cities. Some include: Baltimore, Boston, Chicago and New Orleans. 
I must admit that I have seen Les Miz on Broadway three times and always thought the battle was the Storming of the Bastille.  At least while doing research for this post, I found out I was not alone in this misconception.  In reality, the story of Les Miz begins in 1815, more than two decades after the start of the French Revolution. (oops!- my bad!) The storming did however play a role in the back story of the play, since so many classes were upset with the monarchy and the impoverished were infuriated by their economic hardships. Then of course there was the ultimate battle trigger of Marie Antoniette: "Let them eat cake".  In addition to the lower class being outraged, the middle class was also disgruntled and were inspired by America's newly won freedom.  They demanded change. This is the story of Les Miz.
With the history of the celebration now explained, it is time to get to the food and wine! Since I joined this group to be more adventurous in our wine ventures, I chose the French option. Plus, I haven't made crepes in a very long time and it provided the perfect opportunity. I have had the crepes recipe forever.  
Dracaena's Basic Crepes
3 eggs
1/2 tsp salt
2 cups plus 2 Tbs all-purpose flour
2 cups milk
1/4 cup melted butter
1. Beat eggs and salt together in medium bowl with electric mixer or wire whisk. Add flour alternately with 2 cups milk, beating until smooth. Stir in melted butter
2. Allow crepe batter to stand 1 hour or more in refrigerator before cooking. The flour may expand and bubbles will collapse. The batter should be the consistency of heavy cream. If the batter is too thick, add 1 to 2 Tbs of additional milk and stir well.
3. Cook crepes in heated, 9″ nonstick pan over medium-high heat. With one hand, pour 1/4 cup batter into center of pan; with other hand, lift pan off heat. As pouring, quickly rotate pan in circular motion until batter covers bottom; return to heat. Cook until light brown (approximately 2 minutes); turn and brown other side for about one minute.
Note: use a spatula to gently lift up edges of crepe then shake pan.  If crepe slides around, the side is done. Makes approximately 20 crepes. 
(Thank you to Jeff Burrows of foodwineclick.com for providing me with the code to make the recipe appear within the post!)
For the crepe filling, I modified the Martha Stewart recipe for Spinach-Gruyere Gateau de Crepes. I did not layer the crepes, instead I rolled them.  To be honest, I can't even imagine how many crepes she used in that picture. The recipe states to alternate layers of crepe and bechamel.  With crepes being paper thin, it must take at least 50 to make that gateau. Additionally, I added some boiled chicken to the bechamel to gain a little protein and used fresh wilted spinach. I filled the crepes and rolled them. I placed the remaining cheese and bechamel on top and cooked in a pre-heated 375o oven for 20 minutes covered, then an additional 5 minutes uncovered.  
For the wine Mike decided on a 2012 Réserve des Vignerons Saumur Champigny. This is a 100% Cabernet Franc from the Loire Valley. Cabernet Franc,  along with Sauvignon Blanc are the proud parents of Cabernet Sauvignon.  You can read about the genetics of this phenomenal grape (we may be prejudice) here. According to Wine Spectator,  "The fresh – cut plum and raspberry fruit is offset by a chalky spine, with a briary edge bouncing throughout the finish. Ready to drink." Saumur is found on the left bank of the Loire Valley between Angers and Tours and houses one of the most famous castles.  In this area, there is a network of hundreds of miles of underground tunnels.  These tunnels are used by the local vintners as their wine cellars.  Saumur is most popular for Chenin Blanc and Cabernet Franc. 
Overall, it wasn't an ideal match in the fact that the food and wine did not enhance each other, but they didn't take away from each other either. The Gruyere cheese was too dominant for the lighter bodied Cab Franc.  However, on its own, the wine was a nice sipping wine.  It was a lighter bodied Cab Franc than we are used to, but the flavors were harmonious and we found no faults. It was intriguing to experience a different style of Cabernet Franc than we are used to, or for that fact, one we are striving for. After further research, the recommended pairings are; pate, cold cuts, cold chicken, and smoked salmon. (I still like my crepes better than those options)
Hopefully you can join us today (July 11, 2015) on twitter at 11am. We are easy to follow, just use #WinePW.  But if you can't, (or even if you do) don't forget to check out all of my  friends' phenomenal food and wine pairings.   
A Day in the Life on the Farm: "An American Feast for #WinePW"
A Pug in the Kitchen: "Classic Nicoise:An American/French Pairing"
Confessions of a Culinary Diva: "Provence Style Pan Roasted Chicken with Rose"
Cooking Chat: "Gruyere Cheeseburgers with a Bordeaux"
Culinary Adventures with Camilla: "Tapenade-Topped Sablefish + Cave de Saint-Roch-les-Vignes Côtes de Provence Rosé
Curious Cuisiniere: "Cherry Clafoutis paired with a Cremant Rosé"
ENOFYLZ Wine Blog: "Independence Day at Ridge Vineyards Zins and Blends #winePW"
Food Wine Click: "All American Menu: Farmer & Winery Friends"
Grape Experiences: "Wine and Dine: Les Vignes de Bila-Haut Blanc Cotes du Roussillon and Salade Niçoise"
Pull That Cork: "Domaine de Bila-Haut and Cobb Salad for #winePW"
Rockin Red Blog: "Celebrating America & France with July #WinePW"
Tasting Pour: "Steak with Mushroom Cognac Sauce, Patriotic Potatoes, and Bell Wine Cellars Cab Sauv #winepw"
Vino Travels: "The Alchemy of Hunt Country Vineyards Paired with Braised Beef Short Ribs"
~Sláinte!