Gregor Mendel- Father of Genetics
When I'm out and about and the topic of the winery comes up, people here in Jersey are intrigued that we have started Dracaena Wines.  The first question asked, after "What's the winery's name?" is "What type of wine do you  make?"  More often than not, when I tell them Cabernet Franc, I get the glazed over eyes and the "uh, what is that?" look. With this in mind, and me being the Life Science geek I am, I figured I'd explain what Cabernet Franc in a blog entry. When trying to explain the typical characteristics inherent in the grape, it makes complete sense to consider its genealogy.
Cabernet Franc is considered a Bordeaux grape.  It is popularly used as a blending grape, typically adding herbaceous accents like tobacco and dark spice.  Additionally, it has some vegetal characteristics.  Cabernet Franc's is probably most indicative of green bell pepper. The color of berry skin is classified as a blue-black and for you other genetic geeks out there its classification is Vitis vinifera.
Historically speaking Cabernet Franc is thought to have been established during the 17th century in France. Like many other things in history, Cabernet Franc got its name from who "found" it.  New York received its name from Charles II's brother, the Duke of York. California was named after a legendary Amazonian Queen, Califia and Cabernet Franc, also known as Bouchet, received its name by being planted at the Abbey of Bourgueil under the care of an abbot named Breton whose name by the 18th century had become associated with the grape.
Through the years, it became more increasingly obvious that there had to be a relation between Cabernet Franc and Cabernet Sauvignon. Finally, in the age where genetics found its way to prove innocence or guilt in the courtroom, it was used to determine that Cabernet Franc had crossed with Sauvignon blanc to produce Cabernet Sauvignon,
For the true genetic geeks out there the pedigree can be found on slide 5 of the santaritaestateseurope.com presentation.  In fact, the entire slide show is extremely interesting.
Comparatively speaking, Cabernet Sauvignon and Cabernet Franc are very similar.  However, Cabernet Franc's buds tend to ripen a little earlier allowing the vine to flourish in cooler climates.  You can see some of the similarities and difference in the pictures below.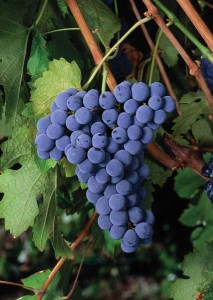 Cabernet Franc is a very adaptable grape, however, it does prefer sandy, chalky soils.  The wine tends to be lighter than Cabernet Sauvignon lending its peppery tones while blending with more robust grapes. It provides aromas like tobacco, cassis, violets and raspberry in addition to typical bell pepper. With the lower amount of tannins compared to Cabernet Sauvignon it produces a smoother mouthfeel.
With the summer here and school being out, here is my lesson on genetics for anyone interested. Hopefully, anyone reading this will take away a little more understanding of a wonderful grape. One that we feel is more than worthy to be a stand alone varietal. As all teachers know, your lesson needs to have a closure.  I'll end with a little genetic humor. Hope it gives you a little chuckle.
~Sláinte!