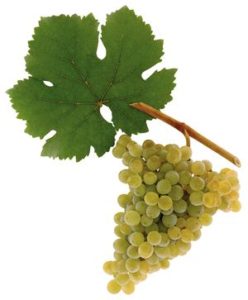 I walked into the wine store and couldn't believe what I saw. About ten bottles of Grüner Veltliner on the shelf in the store. It seems I'm not alone at wanting a bottle. So many bottles to choose from looking for a home! (paraphrased from The Police)
I am going to be honest, I have never even heard of Grüner Veltliner. If you are a regular reader of this blog, that shouldn't surprise you, since Mike and I are mostly West Coast wine drinkers.  When this month's #WinePW theme was announced, I knew I was going to have to do some research. Thank you Martin of Enoflyz Wine Blog for choosing a new varietal to me! You can read his invitation post here.
From Austria with Love
Grüner Veltliner is considered the most important grape variety in Austria. The height of its popularity was in the 1950s but it is still widely planted in Niederösterreich and northern Burgenland. It is by far the most planted grape variety in Austria. DNA has shown that this varietal is the offspring of Traminer and St. Georgen. 
The pentagonal to circular medium sized leaf has five to seven lobes and is considered to be hairy on the underside. The cluster is medium to very large with medium density. The shape is conical, shouldered with very large round berries that are greenish-yellow. It is best grown in deep loess soils and prefers to be wet.  The berries are extremely sensitive during the flowering period and is susceptible to water mold, red burner which is similar to downy mildew and chlorosis (iron deficiency.)
It Takes Two
Grüner Veltliner has two main expressions. It can be found as simple mass produced wine meant to be consumed immediately or can be ageworthy wines that have the ability to develop in the bottle. Grüner Veltliner is not considered an overly aromatic wine when consumed young. The grape often shows white pepper, lentil and celery note with some examples showing citrus notes and more full bodied examples having a "honeyed weight" to them. [Oz Clarke Encyclopedia of Grapes pg 114 Harcourt Books 2001] The wine is often compared to Chardonnay produced in Burgundy and some expressions can be overly oaky. There is also unoaked versions that exhibit minerality that has been compared to Riesling.
Grooner Baby! 
I arrived at my local wine shop and looked around. There were ten bottles to choose from. They varied in price between $8.00 and $19.00.  I had no clue which one to choose, since all four of the shelf talkers said staff recommended. [How can all be the staff recommendation?]
So I must admit, I chose the wine by price point. I didn't go with the cheapest nor the most expensive, plus I thought the label was a clever play on the grape name.
2015 Grooner Grüner Veltliner
When I did my initial quick research about the grape, I read about it being similar to Riesling and that it paired well with hot and spicy food.  I got all excited, because my two months in Fresno, I did not have any real spicy food. I tried on a few occasions, but they were never successful. But now that I was back in NJ, I knew I could get spicy! When I looked at the back of the bottle itself, it once again reiterated the fact that it would pair with spicy food.
If you like Sauvignon Blanc or Pinot Grigio, you'll love GROONER. Made from 100% Grüner Veltliner, Austria's #1 grape varietal. Crisp and dry. Hints of apple and citrus fruit. Easy drinking and refreshing. Perfect for every occasion and every food; seafood, poultry, meat, veggies-raw bar, hot & spicy, fried + more. Eat anything Drink GROONER.
I decided to have a buffalo chicken wrap. A smile came over my face when I finally got to sit down with my glass of wine and my wrap. I looked, I swirled, I sniffed, and I sipped. And then I scratched my head. The wine had a hint of effervescence when poured, crystals were on the sides of the glass as if there were some residual sugar and it was not Riesling-like at all. It was more like a past prime oaked Chardonnay and fuller than I had anticipated. Crisp would not be a word I would use to describe this wine. 
As for the pairing, it was extremely weird. The wine did not change at all with the food. Has anyone ever have this happen before? In fact, the second night I had the wine with a salad and again, the wine was just the wine. The food had no impact on the wine's flavor. I guess it could be that my palate was off. I will go back to the store and pick up another bottle for comparative research.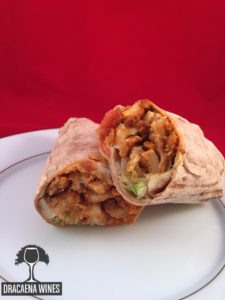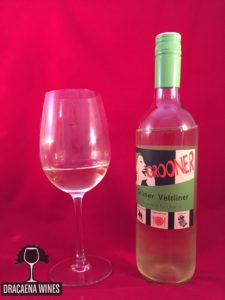 Tasting Notes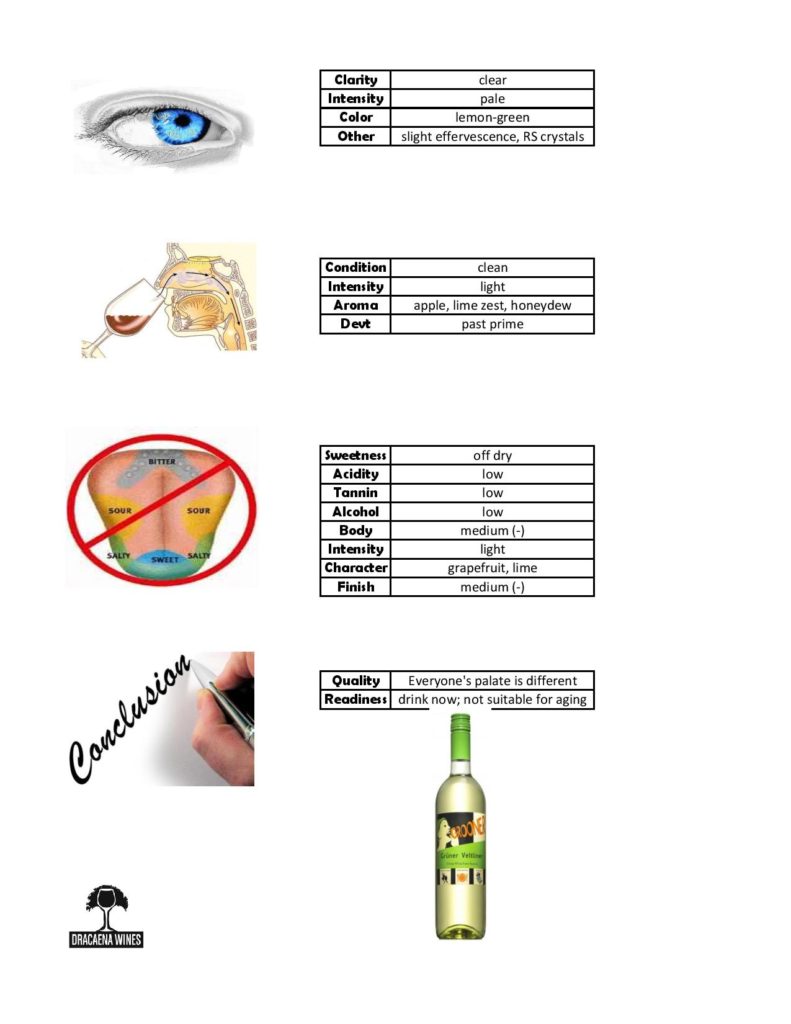 Join in the Fun
Interested in learning more about Grüner Veltliner and some possible pairing ideas?  Join us on twitter today, September 10, 2016, at 11am EST as we discuss this grape.  Follow along using #WinePW. If you can't make the chat, or even if you do, please check out my Wine Pairing Weekend friends' post about their food pairings. 
Click here for a list of past and future Wine Pairing Weekend events!
~Sláinte!