The interesting thing about comfort food is that 
there really is no definition for it. What is comfort food to me may not be comfort food for you. In all honesty, I am not really sure I have any meal that I deem as comfort. Well, maybe pizza and I'm not convinced it is comforting, versus just really good. There's nothing like jumping on my Leesa king mattress, eating 2 (or 12) slices of pizza and watching a film. I usually fall asleep as I sink into my Leesa, but that's not the point! But when I thought about the concept, the first thing that popped into my head was a casserole. Maybe it is a throwback to all those TV sitcoms when I was growing up where the moms were always serving casseroles to the family. 
What's a Casserole Anyway?
The term casserole comes from the French word cassa meaning pan. It is a meal that is made in a deep dish that is placed in the oven and then again used as the serving receptacle, the casserole dish.  Casseroles typically consists of meat, vegetables, some sort of carbohydrate and in my opinion the most important ingredient, cheese! 
In order to be classified as a casserole, liquid is added to the medley of vegetables and meat and then is slowly cooked in the oven uncovered. Casseroles may be a side dish or the main course. Although there is some controversy [guess there is nothing better to debate] about the difference between a stew and a casserole, the general consensus is that a stew is made on the stove top while a casserole is in the oven.  [I hope you can now sleep soundly knowing the difference.]
"Casserole cookery has been around since prehistoric times, when it was discovered that cooking food slowly in a tightly covered clay vessel softened fibrous meats and blended succulent juices" (The Oxford companion to American food and drink, Smith 2007: 97). But the modern casserole is thought to be credited to Elmire Jolicoeur, in 1866. Jolicoeur, a French Canadian immigrant, invented the precursor of the modern casserole in Berlin, New Hampshire. Early casserole recipes typically consisted of rice that was pounded, pressed, and filled with a savoury mixture of meats. 
There is also a strong belief that the modern casserole came into fashion during the
depression. They provided economical sustenance during the depressions of the 1890's and 1930's and the scarcity of food items during both World Wars. The idea of casserole cooking as a one-dish meal became popular in America again in the 1950s with the greater availability of canned foods. Campbell Soup Company cashed in on this concept by heavily promoting their creamed soup line providing a simple, easy and cheap way to use leftovers. 
The Texan's Casserole
According to What's Cooking America, King Ranch Chicken Casserole is a favorite stick-to-your-ribs comfort food among Texans.  You will find it served at many potlucks, school cafeterias, funerals, and church socials. It is considered the quintessential Texan potluck dish. King Ranch is an actual place and is located in Southern Texas between Corpus Christi and Brownsville near Kingsville. It has the distinct honor of being the largest ranch in Texas. 
There are a lot of recipes out there for this famous casserole. I decided to go with one from Chef John that I found on allrecipes.com although I made some modifications. My first modification involved eliminating the can of condensed cream of mushroom soup. [I do not do fungi!] I just added a second can of the condensed cream of chicken soup.  Secondly, I eliminated the sour cream. In my opinion, sour cream is just unnecessary calories. I also thought that there were a lot of ingredients for only one piece of chicken breast, so I used two. Lastly, and probably the biggest modification involved the spices. I did not have access to many of the spices that are in the recipe, so I decided to grab a can of chipotle peppers in adobo sauce and use that as a catch-all for all the Mexican spices. 
[slideshow_deploy id='5270']
Cuvee Le Bec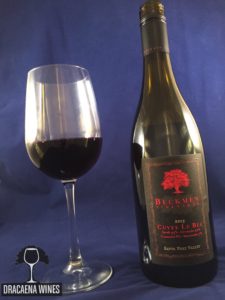 When looking for a wine to pair with this meal, I wanted to choose one that would have a big enough body to handle the adobo heat, but not overpower the overall lightness of the dish.  I also was concerned about the use of the bell peppers in the dish enhancing any possible pyrazine flavors in the wine. [since I am not a fan] So I purposely stayed away from the usual suspects of Old World expressions of Bordeaux grape varietials.
I decided to choose a Rhone blend. The Cuvee Le Bec (SRP: $25) from Beckmen Vineyards in Los Olivos consists of 45% Syrah, 40% Grenache, 8% Counnoise and 7% Mourvedre. My thought was that choosing a wine that had a large portion of Syrah would provide enough tannic structure to hold up to the adobo.  Let me preface this by stating that I have in the past had a learning experience with adobo.  I made pasta in adobo sauce and used all the peppers and all the sauce. I think it took me a week to stop sweating! So I am very aware of the concept of start small and add to taste and tread lightly with the adobo.

Tom and Judy Beckmen made their money by producing keyboards and synthesizers. They were the founders of Roland Corp, US. In 1994, they, along with their son Steve, decided to head to the Santa Ynez Valley to begin a career in crafting distinctive wines. They found a 40 acre winery in Los Olivos. They also purchased an unplanted ranch in Ballard Canyon, Purisima Mountain Vineyard in 1996. All of their wines are produced from grapes that are grown on these two vineyards.  
The Purisima Mountain Vineyard is located on the western side of Ballard Canyon and is biodynamically farmed.  The soil consists of similar components as those found in Côte Rôtie and Châteauneuf du Pape. The soil limits vine vigor and provides for lower yields with intensely flavored fruit. The Winery Estate vineyard is 25 acres of rolling hills, and is warmer than the Ballard Canyon property and is where the majority of Cabernet Sauvignon is planted with small amounts of Grenache, Mourvedre, and Syrah. 
Empty Bottle = Good Pairing
Oh yeah, I nailed it with this pairing! The wine by itself was a little lack luster in complexity but once the flavors of the meal came into play, the wine took on an entirely new persona. It was as if a quiet, shy introverted person decided it was time to shine and stepped out into the spotlight. Once in the spotlight, they not only thrived, they flourished! The black cherry flavors were then greeted by earthiness and spice without a hint of pyrazine. The sure sign that it was a good paring was that the bottle was empty before we knew it!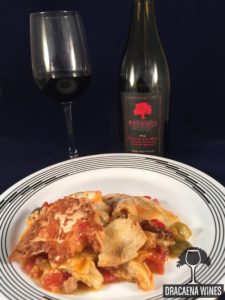 Read More Comfort Food Posts 
Wine Pairing Weekend occurs on the second Saturday of each month. This month's theme was created and hosted by Cindy Lowe Rynning of Grape Experiences.  We will be getting together at 11am EST today, February 11, 2017, on twitter to discuss our comfort food pairings.  You can join in the fun by following along with #WinePW. Feel free to join in the discussion even if you didn't make a dish!  Even if you miss the chat, please check out my fellow bloggers' posts below.