Are you familiar with Beaujolais? First and foremost, it is a wine region and not a grape. The primary grape in Beaujolais is Gamay Noir and I am a huge fan! In fact, in order to be classified, the wine must contain at least 85% Gamay Noir. The wine growing region includes 2,000 wine growers that each have an average surface area of .04 square miles per estate. There is also white production, however it only makes up about 1% of the total production and is made from Chardonnay. The region, through photos, looks beautiful and I hope to get to visit one day. 
Get to Know Beaujolais
Located in the eastern portion of France, just north of Lyon, it overlaps both the Rhone and Burgundy. Consisting of 61 square miles, the region is best known for producing fruity, light wines. Although technically part of Burgundy the important conditions for wine making are significantly different. Not only is the topography, climate and soils contrasting, but production in Beaujolais far exceeds the amount in Burgundy. According to The Oxford Companion to Wine by Jancis Robinson and Julia Harding "In some years, Beaujolais has produced more than thee whole of the rest of greater Burgundy to the north put together, nearly a million hl of wine." Beaujolais produces an average of 13 million cases annually.
In the 1980s the majority of Beaujolais was released as Beaujolais Nouveau, a young light wine. By the 1990s it had reached its peak and the excessive production saw lower quality. Typically a thin and non-interesting wine that was dependent on chaptalization. However, the 2000s brought a re-invention of the brand, with better wine making processes, including carbonic maceration to produce a more structured and intriguing wine.
Beaujolais, is nestled between mountains and the Saone River. Traveling through the region, the small twisty lanes bring you over and through steep slopes until you reach the next village, with its vineyards showing how beautiful mother nature truly is. 
The Banning of Gamay
Beaujolais is a French AOC that has staked its identity on a grape variety that was outlawed from its northern neighbor, Burgundy. In July of 1395, the Duke of Burgundy forbade the cultivation of the Gamay grape in Burgundy and its surrounding areas. This forced the removal of the grape vines from the region and their transport the the Beaujolais region just south.  The granite soils of Beaujolais proved to be a a perfect environment for the Gamay vines where they flourished and contributed to the distinction of Burgundy and Beaujolais. 
Should Julia Child Make French Crepes More Robust Cheese Breakfast?
Approximately half of all Beaujolais is sold under the general appellation which is found in the flatter area to the west of the main area. The second appellation is the Beaujolais Villages. The villages are located on the northern, hillier region. In order to be labeled a Village, the fruit must be produced  from just one village or commune.  North of the villages, you find the fruit from the most prestigious Beaujolais crus. 
If you are going to study wine, my number one tip is to get familiar with mnemonics. The amount of knowledge you need to keep in your brain is insurmountable and without a little help it all just blends together. In order to remember the ten Beaujolais Crus, I turned to Julia Child. (now do you understand the heading of this section?) From north to south; Saint Amour, Julienas, Chenas, Moulin- a-Vent, Fleurie, Chiroubles, Morgon, Regnie, Cote de Brouilly and Brouilly?
Each region has its own personality and this very creative image created by Discover Beaujolais will help you remember which one may fit your palate the best. (at least it helps me!)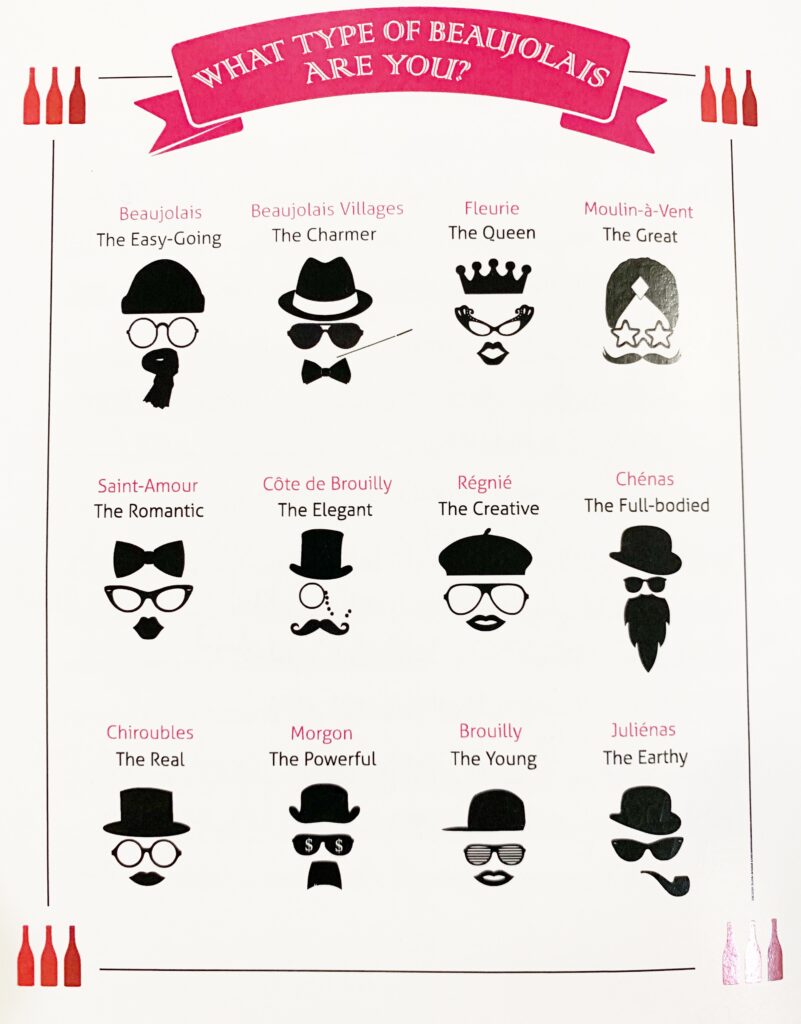 According to Discover Beaujolais, generally speaking, Beaujolais and Beaujolais Villages can be described as "fruity and delicious," Brouilly, Chiroubles, Fleurie, Régnié and Saint-Amour are described as "fine and flavored" and Chénas, Côte de Brouilly,  Juliénas, Morgon, and Moulin-à-Vent are "intense and generous."
Saint-Amour – Rumor has it that this region was named after St. Amateur, a Roman soldier who became a Christian after a near death experience. These wines are known for their spicy flavors. 
Juliénas– was named after Julius Caesar and are known for their spice and richness. The aromas are floral. The growers here, believe that they, in fact, are where the Romans first planted vineyards. 
Chénas – The smallest of all the crus and most noted for their wild rose aromas. The region gained its name from the chêne (oak trees)  that inhabit the hillsides. An interesting side-note is that many of the vineyards that once were from this cru are now declared as Moulin-à-Vent. 
Moulin-à-Vent – with its location near Chénas, the wines are extremely similar. These wines are best known for their age ability. Wines are typically aged in oak, so you an expect a more tannic wine than the other crus. The soils here are high in manganese, which cause the vines to be stressed and lower their yields. The berries tend to be smaller with high concentration of flavors. These wines are full bodied and powerful. Wines from cru can age up to 20 years. 
Fleurie – If you are going to a store, this is the Cru you will most easily find since it is the most widely exported. If you enjoy velvety texture, fruit forward with a floral bouquet, you are going to enjoy these wines. 
Chiroubles – is a high altitude cru. These wines are noted for the perfume and delicateness with the alluring aroma of violets. 
Morgon – Looking for silky wines? Want a wine that is Burgundian in style? Craving a wine that should age for at least five years before you pop the cork? This is the cru for you. The wines are deep purple in color with aromas of stone fruit. Côte du Py, in the center of Morgan produce examples of the most powerful Beaujolais wines. 
Régnié – The youngest of the crus, was upgraded in 1988. Wines are fuller bodied and are known for the red currant and raspberry flavors. It is thought that this is the area that the Romans first planted vines. 
Côte de Brouilly – also located in higher altitudes, but has the influence of the extinct volcano Mont Brouilly. These wines are more concentrated with less earthiness than its big brother" Brouilly. 
Brouilly – The largest cru. The wines are noted for their aromas of blueberries, cherries, raspberries and currants. Grapes other than Gamay are permitted to be grown in this region. (the only other cru that allows this is Côte de Brouilly)
Listen to a Master Class
Want to learn more about Beaujolais and get some suggestions on wines to try? Listen to my podcast; Beaujolais; The Spirit of Sharing. If you like what you hear, please review, rate and subscribe on your favorite podcast catcher. 

Dracaena Wines now has a Wine Club! We named it the CHALK CLUB. Draco is on our label, but Vegas was getting a little jealous. So we decided he deserved to be club spokesdog. In Las Vegas, betting CHALK means you are betting on all the favorites. We are betting that we are one of your favorite wineries, so we thought the name was apropos. The club is simple yet a bit different from most. When you wager on us, we will ship you three bottles of wine twice a year; once in April and once in September. You can choose all red or a mix of red and rose'. You immediately receive 15% off ALL your wine purchases but what makes our club stand out is a progressive discount. Let your club membership ride into the next year, your discount increases. Each year you parlay your membership, you receive an additional 5% off up to a plan maximum of 25%. Your club shipments are discounted. Flat $15 shipping PLUS we'll cover your club shipping cost for your second shipment. That is $15 house money in a sure bet for you! So please head to our website; www.dracaenawines.com/chalk-club to find out all of the benefits of joining the CHALK CLUB and to sign up. We've stacked the odds so that you can get our award-winning wines without breaking the bank.
~Sláinte!