It is 2016 and the New Year has brought a new #WinePW. We were invited to jump on board with a resolution we all could keep. All we had to do was try something new! How easy and exciting is that? We were asked to step outside our comfort zones and celebrate the new year with a new wine. Last month's theme was Sparkling wine and throughout the conversation, South African sparkling kept coming up. It intrigued me. Mike and I never had a wine from South Africa, so this month's decision was pretty easy.  We did not choose a Sparkling, mostly because I wanted to do something different from last month's post, but a Sparkling wine from South Africa will definitely be on the agenda in the near future.  
When the theme was suggested originally by Martin of Enoflyz Wine Blog, I think we all jumped on board quickly. Unfortunately, due to personal matters, Martin had to step down from hosting and we were lucky to have Camilla from Culinary Adventures with Camilla step in and volunteer to take over the hosting duties. 
The Region
South Africa's vineyards are mostly situated in the Western Cape near the coast. There are currently approximately 246,000 acres of vines producing wine grapes. As a form of reference, California has  944,000 acres (although that does include wine, raisins, and table grapes.) South Africa's wine business is regulated by the Wine of Origin Scheme. The area is divided
into officially demarcated regions, districts and wards. There are six regions in the geographical unit of the Western Cape – Breede River Valley, Cape South Coast, Coastal Region, Klein Karoo, Olifants River and Boberg. These regions are broken down into 26 districts and then further into 67 wards. I must admit, I got very confused trying to figure it all out. What confused me the most was that there are also four Geographical Units and some of them Limpopo and Kwazulu-Natal have no districts or wards. However, some wards, like Napier have no district. I'm completely baffled! So if someone who is more familiar with this region can help explain this to me, I will be greatly indebted to you! 
Confusion aside, I was able to deduct that the wine we chose is from the Western Cape Geographical Unit, Coastal Region, Cape Peninsula District and the Constantia Ward. To me that seems like one heck of a designation! 
According to www.wosa.co.za The Constantia ward is located On the southern slopes of the Table Mountain range and its world-renowned floral kingdom lies the historic Constantia valley, the cradle of winemaking in the Cape. The valley was the site of Simon van der Stel's 17th-century wine farm and the origin of the Constantia dessert wines which became famous throughout Europe during the 18th century. Rooted in ancient soils, the vineyards climb up the east-facing slopes of the Constantiaberg, where the vines benefit from the cool sea breezes blowing in from False Bay. The ward receives about 1 000mm of rain annually, making irrigation unnecessary, and has a mean February temperature of 20.6°C.
There are only a handful of cellars in this premier ward, where the cool climate favors the production of white wines, notably Sauvignon Blanc, and where the tradition of producing remarkable wines since 1685 continues.
The Wine
We chose a 2013 Buitenverwachting Bayten Sauvignon Blanc.. This winery has been in production since 1796. The winery's name Buitenverwachting means "beyond expectation".  The locals refer to this winery simply as Bayten. (I'm guessing because it is too time consuming and difficult to say Buitenverwachting.) When I walked into our local wine store, I had to point to the name. I have absolutely no clue how to even start pronouncing that! Bayten is located just a few miles from the sea so it is located in a cool coastal climate. The slopes, comprised of decomposing granite soil, are east facing and were originally formed as part of the Constantia Estate, which was founded by Simon van der Stel, the first Governor of the new Dutch colony at the tip of Africa. 
The wine poured daffodil in color (see our color chart here.) It was a light bodied wine with a long crisp finish. 
On the nose we were greeted with grapefruit, grass, straw and a hint of honey.  We looked at each other as we brought the wine glasses up to our mouths, since we had no idea what to expect. We both swirled again and then took the plunge. We sipped and aerated and then we both smiled.  Holy SH** this was a damn fine wine!  On the palate we had a symphony of flavors. Green melon, green bell pepper, but not overly bearing, and a flavor that we both enjoyed but could not describe. After reading a bit more about SA Sauvignon Blanc we discovered that the primary flavor is gooseberry. I have never had gooseberry, never seen a gooseberry, nor have I heard of gooseberry. We then went to my Christmas present from Mike last year, my Le Nez Du Vin wine aroma kit and, nope! No gooseberry.  So by process of elimination or lack of any other options, we declared that the flavor was gooseberry and that we are gooseberry fans! 
I of course needed to learn more about this berry. So I did some research and was surprised to find out it is actually in the currant family and it is native to Europe, northwestern Africa, west, south and southeast Asia. 
The Food
Along with a new wine, we decided to try a new meal.  Mike found a recipe on Kraft Kitchens for Velveeta Potato Bites. According to their website, they were suppose to be "Crunchy, popable potato balls with a ooey gooey, cheesy center." Now, we did substitute sweet potatoes and we were not entertaining the idea of Velveeta, so we used real cheddar cheese. Additionally, since we had a few slices of bacon left over he added that also. Not sure if it because of those alterations or the recipe just isn't a good one but lets just say they didn't turn out quite like the picture! Mike is a great cook.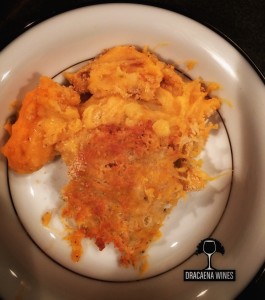 Actually, his talents are completely wasted on me, since I am a very finicky eater. But he chose this recipe because of the sweet potatoes. I LOVE sweet potato anything.  Anyway, while he was in the kitchen cooking, I heard him say, "UMMMMM, not happening." I took that as not a good sign. Then he went, "Oh well, time to improvise."  I must say, Mike is at the best in the kitchen when he is improvising.  Apparently, the sweet potatoes were too "mushy" to roll into balls so instead he changed it into a casserole.  I don't know what it was supposed to taste like, but oh my was this a tasty meal! One that will be on our dinner table often! I know, most people wouldn't choose sweet potatoes to be their meal, more like a side dish, but I was in heaven. 
The Pairing
The wine itself was fantastic and the food was spectacular but the pairing was just acceptable. The flavors within the dish did not overpower the wine and the wine flavors played nicely with the food, but after having both the wine and the food combination,  I would most likely choose a dish that matched the acidity in the wine. 
It is always difficult, albeit fun, to try to do a food pairing when you have no clue what to expect. When you factor in the that we were trying to do something completely new and different in order to stay on theme, I don't think we did too badly. We knew it had to be a light dish because it was a Sauvignon Blanc, and we thought the cheese and hint of bacon pieces would make the wine pop. But now after the experience, what pops in my mind is a dish that contains flavors like mango or pineapple or in that family. 
There you have it. Our first new experience for the new year. If one of your New Year's Resolutions is to try something new, why don't you start by joining me and all of my #winePW friends at 11am EDT today (Jan 9) on twitter as we share our thoughts on our wine experience. It's easy, all you need to do is follow #WinePW.  Also, please check out all of my friends' posts below. 
Here's what the #WinePW Bloggers poured…
These are listed alphabetically by post title and I'm excited to see new vintners, new countries, and wines from Turkey, Croatia, and even Lebanon.
If you've come to us after January 9, consider joining us for #winePW on February 13, focused on a Valentine's Day theme, hosted by Christy at Confessions of a Culinary Diva. You can get a full listing of past and upcoming Wine Pairing Weekend events here.
~Sláinte!