There is so much to learn in the wine world. Some are easy to remember and some
are a bit more confusing! Let's take Montepulciano d' Abruzzo and Montepulciano for example. ⁠ Montepulciano is named after the village in Tuscany and is made with Sangiovese, while Montepulciano d'Abruzzo is made with the grape Montepulciano and is found in the southern region of Abruzzi.⁠ Confused yet? Let's try to sort this out. 
Montepulciano – the place
Envision yourself standing in a medieval town, encased within its walls and surrounded by palaces and churches. A city that is on top of a nearly 2,000 foot high limestone ridge hill. One that as you look at your surroundings, you are taken back by the breathtaking views of  the Val d'Orcia and Val di Chiana valleys. Can you see yourself exploring a city that during the 14th and 15th centuries housed nobile families? A city that is wonderfully located just about 43 miles southeast of Siena that has two main gates Porta al Prato and Porta delle Farin that are to this day the only way to enter and leave the once Roman fort that was responsible for guarding the main roads of the area. As you look beyond the walls, you find rolling hills, vineyards, and  magnificent cypress trees.
Follow Dracaena Wines on Twitter, Instagram and Facebook for special offers.
Montepulciano – the grape
The DOC of Montepulciano d'Abruzzo was formed in 1968. It consists of a rather large portion of Abruzzo, running approximately 75 miles by 20 miles. The majority of the vines within Montepulciano d'Abruzzo are planted within the low hills, plains and coastal areas vs. the mountainous regions. 
Although it was named after the town in Tuscany, today there are not many plantings there. Instead, today we find it's home to be Abruzzo, where it has been documented since the 18th century. The grape is also grown in the Marche regions in central Italy, as well as Puglia and Molise in southern Italy. 
The grape itself is rather thick skinned, so it produces a rich, deep colored wine. You can expect a wine that is medium in body and alcohol, lively fruit flavors, with medium/high tannins and acidity. Montepulciano d'Abruzzo DOC does allow blending of up to 15% Sangiovese. Their price point ranges between around $20 for the stainless steel/neutral oak expressions up to about $50 for the wines that are aged in small oak barriques. 
Montepulciano wines that are aged in the barriques can rest in your cellar for about ten years prior to consuming, however, the majority of the wines are produced with  the intent of being drunk young. On the palate Montepulciano wines of Abruzzo taste like plum, tart cherry and herbs, along with a note of earthiness.
Montepulciano – from the vineyards around the city
Montepulciano is the second-most widely planted red grape in Italy, after the grape
responsible for Vino Nobile di Montepulciano; Prugnolo Gentile (or as we call it Sangiovese). This wine is also named after the town, Montepulciano, but in this case, the grapes are actually grown here. By law, the wine must be comprised of at least 70% Sangiovese from the Montepulciano region, although you can find many wineries that produce 100%.  
Nobile has been a favorite wine of many Kings and Popes. In fact Thomas Jefferson spoke very highly of the wines. 
"For the present I confine myself to the physical want of some good Montepulciano…this being a very favorite wine and habit having rendered the light and high flavored wines of a necessary of life with me. It was most superlatively good."
In order to be classified as Vino Nobile de Montepulciano DOCG, the wine must see a minimum of one year in oak and a total of two years of aging prior to being released. This aging actually begins on January 1st of the year following harvest.  There is also Rosso di Montepulciano DOC which can be thought of as the younger sibling to Vino Nobile. It is more of a fruit-forward red wine and requires only a few months of aging. 
Thanks to the hot climate, a lack of limestone, and far more sand in the clay soil of Montepulciano, Vino Nobile (Sangiovese) is a much bolder wine than d'Abruzzo. These wines are more cellar worthy, and thereby typically carry with them a larger price tag. 
When consuming young, you can expect aromas of ripe red fruit and slight spice. A wine that on the palate has a full body, high acidity and firm but alluring tannins.  If you are patient and wait you will be rewarded with tobacco, leather, and candied fruit flavors, and thanks to the high acid, a wine with a solid structure up to 20 years later. 
Conclusion
I hope this article helps clear up some of the confusion behind the two Montepulcianos. I found this graphic by Colangelo and Partners to be a nice little summary. But I have one last hint to help you remember the difference. It all comes down to a small Italian word. "di" (d'). If you are in a restaurant or at a store find yourself confused, look at the"di" (d') on the label. Since in Italian, "di" means "of" or "from" that's all you need to see. Since we now know the the grapes in Montepulciano region are NOT Montepulciano grapes, we know if it states di Montepulciano it is Sangiovese. Then by process of elimination, we know that Abruzzo is Montepulciano.  That's how I remember it, does it make sense to you? 😆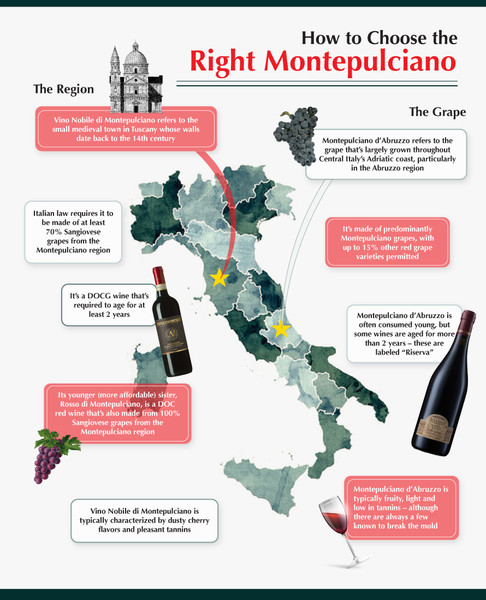 ~Sláinte! 
Dracaena Wines has received consistent 90+ ratings and multiple Double Gold medals. Click image to order yours today and let Dracaena Wines Turn Your Moments into Great Memories!