Being creative with Thanksgiving can be accomplished in many ways. You can go all out and actually buy holiday specific china. You can decorate every nook and cranny of your home with leaves, pumpkins, and acorns.  There are the harvest plaid table cloths and of course the stuffed turkeys [not of the food type] that hold signs up that claim "Happy Harvest Y'all" or "Gobble 'til you Wobble!" 


Or you can think outside the box and be creative with your food and wine pairings. That was this month's challenge for the members of the WinePW group. If you are unfamiliar with this group, you need to get on board and join in.  It is a fun group that chooses a food and wine pairing theme each month and gets together on the second Saturday of each month on twitter to discuss.  It was started by David Crowley of cookingchatfood.com. Our next get together is today, November 14, 2015 at 11am EDT, so get on twitter and join us to see what you are missing! Just follow #WinePW and feel free to add to the conversation. 
The kindling for my creative juices began when I received two sample bottles and some recipes from Elizabeth of Benson Marketing Group the Languedoc region of France. As I have written on several occasions, Mike and I are New World wine aficionados. We have not had extensive experience with Old World wines, and that is one of the reasons why I decided to join this group. Receiving these wines really forced me to be creative, since I had no clue what to pair with the wine. I did a little research into the area and its culture. 
The Region
Languedoc-Roussillon, is more popularly known as simply the Languedoc and is the central region of southern France. Included in this region is the western Mediterranean coast from the Rhone valley in the east to the Spanish border in the west. Montpellier, is the regional capital. The region is known for its fertile coastal area which lends to the regions agriculture, vineyards and fruit and vegetable production.
The "Lange d'oc" was the version of French spoken in the southern part of the country and Languedoc refers to the part of the region where the "language of the oc" was spoken. "Oc" is this regions equivalent to "oui." The variety of the Thanksgiving table is equivalent to the variety of the activities to do in this region. Amazing adventure activities await you in the Languedoc. During the winter you can 
go dog sledding, downhill skiing, cross-country skiing, and ice skating. Warm weather sports include cycling, horse riding, rugby, swimming, sailing, canal barges, SCUBA diving. If you are more adventurous you can participate in air sports like flying, gliding, hang gliding, paragliding, and hot-air ballooning. But what peaked my interest the most was sea-jousting! These events take place mostly in August and are medieval style jousts, but the people are mounted on board boats instead of horses. How cool is that?! 
The Food and Wine of Languedoc
The area is particularly rich in traditional foods of the region, and has borrowed from the cuisine northern Italy, and some from Spain and Morocco. Along with the obvious Mediterranean influence with the use of fresh fish. As for the wine, WineFolly stated it simply: "In the Languedoc, vineyards are often called 'patchwork' because so many different grape varieties grow together. Most producers make blends instead of single varietal wines. Red blends from Languedoc Roussillon tend to be more full-bodied and fruit driven."
The Languedoc-Roussillon wine we had with this dinner was a 2009 Chateau La Roque Pic Saint-Loup Cuvee Mourvedre Vieilles Vignes. [that's a mouthful] Honestly, the first thing I thought of was the Friends episode when Joey tries to learn French for an audition. I know, I'm showing my New World immaturity. The wine received a 90 by Wine Spectator, is one of the most popular wines from the region, and is the the second most expensive wine made from Mourvedre (Monastrell) in Pic Saint-Loup. The history of the winery dates back 1259 when according to their website

 two gentlemen brothers, Jean and Guillaume de La Roque, became the owners and planted vines on the slopes of the hillside which protects the estate.
In 1426, Firmin de La Roque, acquired a glass factory on the site of Couloubrine, thus giving a new dimension to the phrase, 'a marriage of glass and wine'. This new dynasty of the 'de La Roque de Couloubrine' reigned until the end of the 17th century.

Their descendants continue to cultivate this bountiful land, whose beautiful fruit provides the special character of the La Roque you taste today.
 There is a lot going on that table
While learning about the region it hit me that the key to this tasting was all in the wine.  Languedoc is known for the integration of grape varietals and of all the holidays, I think Thanksgiving is probably the one holiday where the chef needs to blend the most flavors, which in turn makes it one of the most difficult meals to pair wine with. A typical Thanksgiving dinner includes turkey, mashed potatoes, cranberry sauce,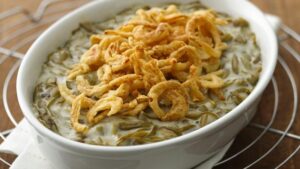 string beans, carrots and stuffing. Oh, and don't forget those French's crispy fried onions. Is there a North American table that doesn't have the green bean casserole on their table? And honestly, does anyone buy those things any other time of year? But I digress.  What I was getting at, was the various flavors on the table.  The tartness and sweetness of the cranberries, the dryness of the turkey, the vegetal characteristics of the strings beans and the sweetness of the carrots means one bottle probably isn't hitting home with all the flavors. Somewhere there is going to be a conflict. 
The Creative Pairing
When you hear Thanksgiving, Fall comes to mind [well, first my birthday comes to mind, since I was born on Thanksgiving – then Fall] I'm not sure this is a national feeling [Fall, not my birthday] or an East Coast thing because of the changing of the leaves. I must say that nowadays it seems that Thanksgiving means pumpkin and Starbucks. Unfortunately, the food store did not agree, and I could not get pumpkins, so I had to substitute on the fly with Butternut Squash. So what's the meal you ask? Well it is Butternut Squash Spiced Tacos.  How's that for creativity for the November holiday?! 
I can't take claim for the idea, since I found the recipe online, but once I saw it, I knew this was what we were going to make for the Languedoc pairing. You can find the original recipe here. In addition to receiving the wine to sample, we were provided with some sample recipes.  I fell in love with the Lavender Roasted Potatoes idea.  I was drooling at the thought of preparing them.  My backyard has about 15 lavender plants. I can not walk past a plant without pulling off some flowers and rubbing it between my hands to release the scent. Lavender makes me happy! 

Lavender Roasted Potatoes
Prep Time: 20 minutes
Cook Time: 30 minutes
Ingredients
2.5 pounds (about 4 large) thin-skinned New Potatoes
2 tablespoons olive oil
1 1/2 tablespoons dried Lavender designated for culinary use
Salt and Pepper to taste
Directions
Preheat oven to 350 degrees F
Scrub potatoes, cut out any bad spots and cut into bite-sized pieces. Do not peel. Toss in a bowl with olive oil. When coated with the olive oil, add lavender, salt and pepper.
Spread into a layer in a roasting pan or on a baking sheet. Place in the oven for 30 minutes, stirring part way through to ensure even browning. Potatoes are done when soft inside to the bite
.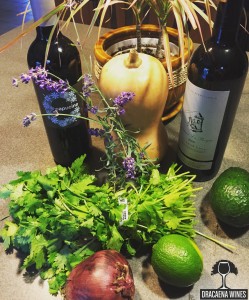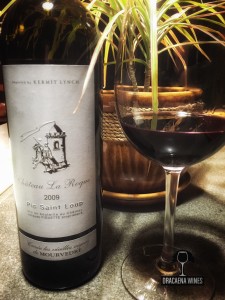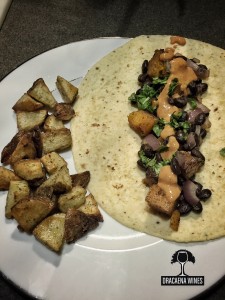 Now, you may want to sit down for this, especially if you follow this blog. This is an Old World Wine, and I LOVED it! Thank you to @LanguedocWines for providing this sample.  I have already checked, and I can purchase this wine at my local wine shop. The pairing was exceptional.  The lavender of the potatoes complimented the slight earthiness in the wine.  The dark fruits of the wine alongside the butternut squash and black beans were like a match made in heaven. You have to love it when a plan comes together [or in this case substituting on the fly].
Well, there you have it. Our creativity when it comes to Thanksgiving dinner and wine pairings.  In all honesty, it isn't that outrageous since I don't eat turkey. [I know, it's almost sacrilegious.] My Thanksgiving meal typically consists of green beans, mashed potatoes and biscuits.  However, now I have an amazing alternative. 
Be sure to check out all these Creative Thanksgiving Wine Pairings!
Culinary Adventures with Camilla will share Simple Elegance: Beurre Noisette-Braised Radishes + Sips from Languedoc
Rockin' Red Blog will Celebrate Thanksgiving Lodi Style
Cooking Chat will share Garrigue Roasted Turkey Breast with Wine from Languedoc #winePW
A Day in the Life on the Farm will pair Turkey Tetrazzini with a Michigan Wine
Curious Cuisiniere will share French Herb Roasted Turkey with Languedoc Wine
Confessions of a Culinary Diva is planning A Sud Ouest Thanksgiving
Pull That Cork will post #winePW Thanksgiving for Two: Storm Pinot Noir and Seared Duck Breast
Tasting Pour will Pick Picpoul, Choose Corbieres: Languedoc Wines and Thanksgiving
ENOFYLZ Wine Blog will share Pumpkin Gooey Butter Cake Paired With An Aussie Sticky
Grape Experiences will post Wine and Dine: Chateau Paul Mas Belluguette and Mediterranean Fish Stew
Join our live Twitter chat on Saturday, November 14, from 11 a.m. to noon, Eastern Time. Just tune into the hashtag #winePW. This will be a great chance to ask your Thanksgiving wine pairing questions, and share what you know! If you've come to us after November 14, consider joining us for #winePW on December 12, focused on "Sparkling Wine and Festive Holiday Dishes", hosted by Cindy at Grape Experiences. You can get a full listing of past and upcoming Wine Pairing Weekend events here.
~Slainte!