As the summer temperatures rise, more people are looking to cool down with a lovely glass of Rosé. The popularity of rosé has been on the upswing for several years. Many say that it is just a passing trend, however, it doesn't seem to be declining anytime in the near future. 
True rosé is made from red grapes, gaining its color comes from the anthocyanins
(natural pigments) found in the skin. There are three main processes that rosés are made.  Presse, or direct press, is done similar to a production of a red wine. The fruit is harvested specifically to be a rosé. This typically means that it is picked earlier than if the winemaker was picking the fruit to be a red wine, allowing for more acidity in the grape. The winemaker will press the red grapes,allowing the juice to remain in contact with the skins until the juice reaches the desired color, and then it is immediately removed to be fermented separately.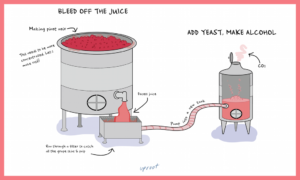 Saignée, also known as bleeding, is a process where the winemaker is making the rosé wine by removing some of the juice from a red wine vat. They are producing two wines from one fruit harvest. The fruit is harvested at the ideal time for the red wine. The winemaker allows the juice to be bled off from the grapes providing them with a light tinted wine for their rosé, but since there is more skin contact on the remaining juice, the red wine will be darker.
Finally, rosé can be made by simple blending. The winemaker may choose to just blend red and white wine together to create the desired rosé color. Although this is not very common, it is an acceptable way to make rosé. 
Jean-Claude Mas believes that that "wine gives endless pleasure", and isn't pleasure what we are all searching for? We look for enjoyment in our everyday lives and very often, it is a glass of wine that brings a smile to our face.
Born in Languedoc, Jean-Claude Mas participated in his first harvest at age 3.  Alright, he didn't really work, but he did hang out with his grandfather in the cellar and that is where he fell in love with the wine making process. Although he worked in other fields as a young man, wine always called him back to pursue his passion. Finally in the early 1990s he followed the passion to Bordeaux where he began his hands on experience of blending wine.
Today, Domaines Paul Mas  farm over 750 hectares in Languedoc   while sourcing fruit from over another 1,500 allowing them to work with over 45 different varieties and 15 distinctive Domaines. "Innovation and tradition combine and emulate perfectly to feed a philosophy which we define as the Luxury Rural." Paul Mas is proud to produce affordable wines that will inspire true happiness for all your senses. 
As the summer temperatures rise, more people are looking to cool down with a lovely glass of Rosé. National Rosé Day is celebrated every year on the second Saturday of June and I received two samples from Paul Mas Wines just in time to celebrate.
Both wines were from Domaine Lauriga which has 60 acres under vine covering 3 Roussillon terroirs of which some use to be part of the King's vineyards that once produced wine for the King of Aragon. 
Dracaena Wines has received consistent 90+ ratings and multiple Double Gold medals. Click image to order yours today and let Dracaena Wines Turn Your Moments into Great Memories!

I noticed that although both wines were labeled Lauriga, one was Domaine and the second was Château. Have you ever recognized this difference? It may seem trivial, but it is a requirement. Due to French regulations, AOPs can label under Chateau denomination while IGPs can only be labeled under Domaine classification. In France, the wine classification system is called the Appellation d'Origine Protégée (AOP.) Originally developed by Baron Pierre Le Roy in 1936, it is basically a system of hierarchy for quality. 
In order to be an AOP, the wine must come from a specific regulated region. A region that has their own rules for grapes, growing conditions and minimum quality. Typically, an IGP is a larger area with less restrictive regulations. 
The 2019 Domaine Lauriga Le Gris produced from Grenache Gris was full of orange blossom strawberry and raspberry aromas. The mouth watering acidity, light body, and flavors of jolly rancher, strawberry and cranberry were ideal in the 100+ temperatures we have been experiencing. 12.5% ABV SRP: $13.99.
The 2019 Château Lauriga Rosé is a blend of 70% Syrah and 30% Grenache Gris reminded me of a freshly baked cherry tart on the nose. On the palate watermelon and citrus flavors predominated on this medium bodied wine. A shorter finish than the Domaine Lauriga, but not short by any means.  13% ABV SRP: $20
The majority of the vines under Paul Mas' portfolio are managed organically. The wines may not be labelled as such, but 80% organically farmed of which 40% are certified AB. 100% of the vineyards are certified HVE (France's High Environmental Value). (source: Wine Enthusiast) He believes that this type of viticulture is important to the quality of the wine and for respect to the planet, but doesn't believe it should be used as a sales tool. 
I recommend both, Domaine and Château Lauriga, as high QPR that you can enjoy either as an apéritif or with a typical light summer dish such as this Arugula, Watermelon and Feta Salad.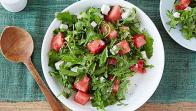 Sláinte! 
Try the 90+ rated and multiple Double Gold medal winning wines of Dracaena Wines and get a 10% discount off your first order. Click the banner below and use code "Explore" at checkout.