April 17th is World Malbec Day.
Click To Tweet
If you believe in having a soul, I don't think there can be any doubt that Malbec is Argentina's.
On this day, I was one of select few to participate in a science experiment of sorts. One that caused me to rely heavily on my palate. Thanks to Achaval Ferrer and #Winestudio, I had a wine box delivered to me in the afternoon and at 6pm PST, I sat down to test my taste buds by going through a blind tasting. 
There are different levels of blind tastings. You can Google "Host a blind wine tasting" and in a mere 0.81 seconds have about 1,350,000 results. In its simplest form, you cover the bottles so that the person who is tasting can't see the labels. Since a taster's judgment can be prejudiced by knowing details of a wine, such as geographic origin, price, reputation, color, or other considerations, in the most extreme form, you are poured the wine in black glasses in a room filled with red light.
In this blind tasting, we had the advantage of knowing the region and the winery, so that did provide us with a huge advantage. We had spent the previous two weeks tasting 2015 Malbec Uco Valley, Luján de Cuyo, Medrano, Mendoza Argentina and 2015 Cabernet Sauvignon Agrelo, Medrano Mendoza Argentina both from Achaval Ferrer. We also know that the following week we would be tasting the 2015 Cabernet Franc. Although some may say this is a disadvantage, since we subconsciously have already pigeonholed the wine we were tasting. As we tasted we were using the WSET III modified tasting grid to help guide us through. It isn't a magical tasting sheet, all the tasting grid does is help the taster separate visual, aromatic and taste information by providing a visual guide of these intrinsic characteristics. I do believe that once you start using the grid, you will no longer taste wine the same. You can find the grid here.
Our Procedure
I had questioned how we would know which wine we were to be tasting first, since there were no markings on these beautiful bags. I was informed that there were dates on the corks themselves. Thanks to the experience the previous two weeks, I learned how much Achaval Ferrer wines evolve after being allowed to open up a bit. I wanted to let these wines get some oxygen prior to tasting. So about two hours prior to the event, I used my trusty Coravin to pour Mike and myself a glass of each of the two wines and marked both the bags and the glasses with the vintages so I wouldn't get confused later. 
We started with the 2013. Here are my tasting notes.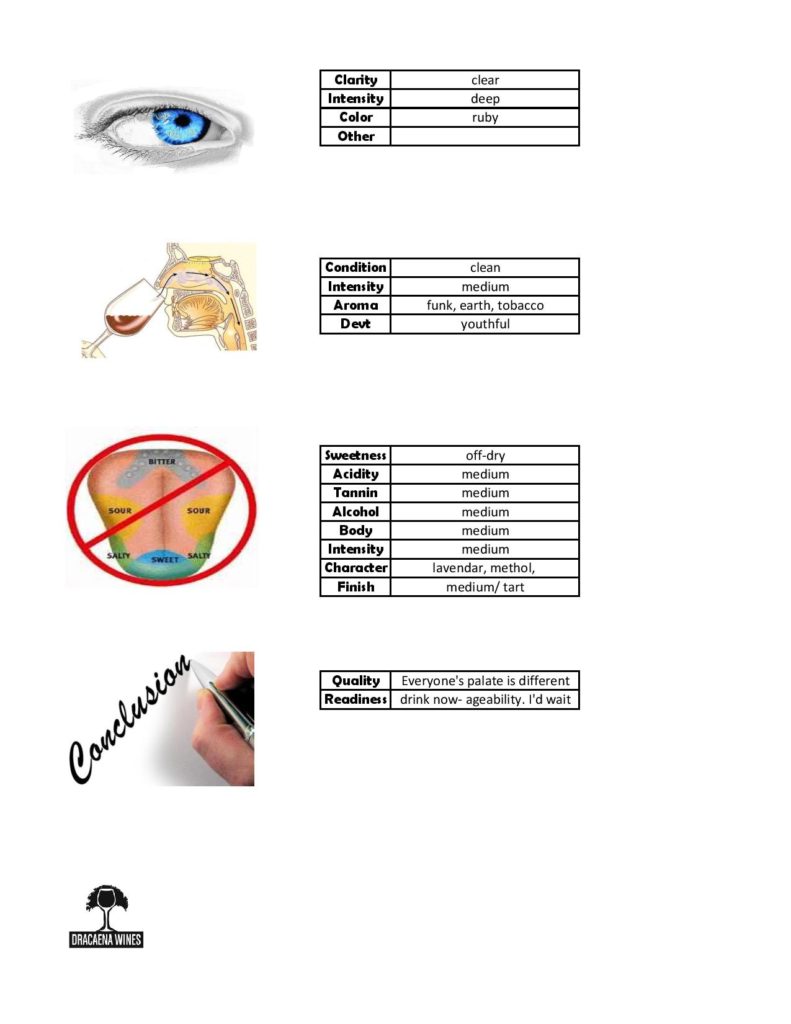 And onto the 2012 tasting notes.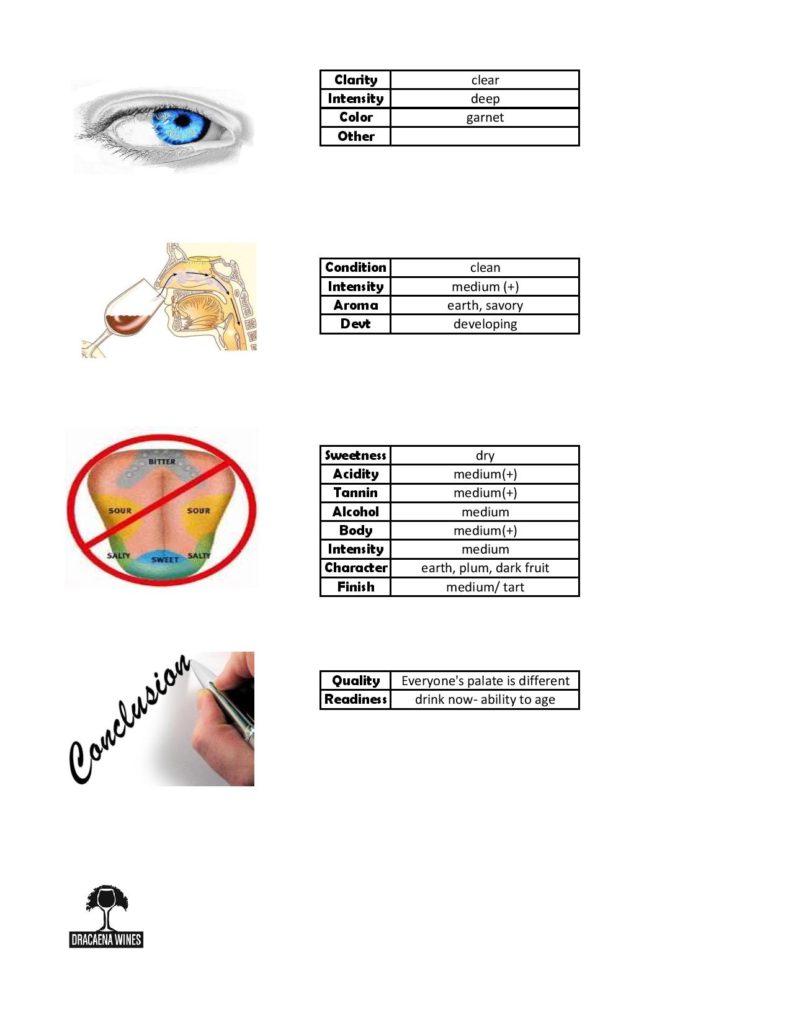 The Conversation
As we were tasting and discussing our thoughts, Tavo Rearte provided us with some interesting facts. 
#WorldMalbecDay is important to us because it is 70% of our total/100% of our Finca vineyards
Our focus is #Malbec — it develops amazingly in Mendoza, due to old vines/no phylloxera, ideal weather and terroir
#WorldMalbecDay is celebrated on April 17, to commemorate the day when president Domingo Faustino Sarmiento of Argentina officially made it his mission to transform Argentina's wine industry. On that day, back in 1853, he tasked Michel Aimé Pouget, a French soil expert, to bring over new vines.Malbec first planted Per @winesofarg "towards the end of the 19th century" 
Turkey burgers had curry in it and 2013 lighter, more fruiter went better #winestudio

— Debbie Gioquindo,CSW (@hvwinegoddess) April 18, 2017
Our @AchavalFerrerUS blind #Malbec #wine dinner for #winestudio filet w mushroom sauce & Cajun potato wedges #worldmalbecday pic.twitter.com/QieqjO7eZP

— Vino-Sphere (@vino_sphere) April 18, 2017
The name 'Quimera' came up here but I guess we'll see. #winestudio

— Dezel Quillen (@myvinespot) April 18, 2017
@AchavalFerrerUS while '13 should be a Malbec, I would rather identify it as Cab Franc??? @Dracaenawines @foodwineclick @winestudioTINA #winestudio

— Talk-a-Vino (@talkavino) April 18, 2017
@winestudioTINA @AchavalFerrerUS '12 Quimera and '13 Malbec but some here say Cabernet Franc. Color says Malbec but earthy edge & wild herbs say Cabernet Franc. #winestudio

— Dezel Quillen (@myvinespot) April 18, 2017
@myvinespot @winestudioTINA @AchavalFerrerUS I could be comletely wrong, but don't see '13 as CF. But we are NW #winestudio

— Lori & Michael (@Dracaenawines) April 18, 2017
The Big Reveal
After much conversation, anticipation [and a lot of elbow grease to get the black shrinkwrap that was around the bottles off], we finally had the moment of truth! To say we were all shocked, may be an understatement. But both bottles were Quimera. What is even more interesting is that both vintages were made from the exact same blend – 50% Malbec, 24% Cab Franc, 16% Merlot, 8% Cab Sauv and 2% Petit Verdot. This is a testament to how Mother Nature can effect a wine. I don't think there was a single person who thought the two bottles were the same wine. 
We came up with a unique practice at Achaval Ferrer that we have named warm-blend. Instead of cutting its parts when they are ready, Santiago Achával and Roberto Cipresso go through the vineyards and taste the grapes hours before they are harvested and this is how Quimera is created. They decide year after year just how much variety there will be all while on a never ending quest to find the ideal wine.
2013 Vintage 
(as reported by Jancis Robinson)
The 2013 harvest was characterised by a good crop, especially in the fresh zones of the centre of the region and in the Uco Valley and other high-altitude areas, showing a higher average yield than last year. This year's harvest was delayed, above all in the red grapes, despite having shown advanced maturity at the beginning of the white wine harvest, and more still in the fruit for the sparkling base. The white wines have good aromatic intensity, medium body and good acidity; while the reds are of good colour, intense aroma, fresh and even floral, with medium concentration of tannins and medium body, with a good acidity which confers freshness. If we had to compare 2013 with previous harvests, I would say it's more like 2010 than 2011 or 2012.

In general the budding of the vineyards was very good, with a stable climate, fresh mornings and sunny days, without rains, strong winds or frost. The spring continued with excellent conditions, despite some Zonda winds (hot and dry), bringing generally good flowering and fruit setting and resulting in a good quantity of bunches per plant. These, in turn, had a good quantity of grapes.

December and January were warm, as was the first part of February, but March and April were characterised by temperate days and very chilly nights. These were excellent conditions, typical of a Mendozan autumn, to assure good-quality grapes.

The warmth of the start of summer meant veraison was early, and everything pointed to an early harvest. This was true only in the first white grapes, but not in those destined for still wines and in chilly areas (higher altitude). The first weeks of February were also warm, but not the end, which like March was chilly. In this month there were some significant storms, including hail, which affected specific zones of Mendoza, the Uco Valley and also Luján de Cuyo. Although some of them caused grave damage in certain properties, the effects were not generalised enough to diminish the volume of the harvest.
2012 Vintage
(as reported by Wine Spectator)
A cool March in Mendoza—Argentina's premier wine region—slowed and settled what had up to then been a fairly warm growing season, allowing vintners to harvest when they wanted and generally at optimal conditions. If there is any downside to the 2012 vintage in Argentina it will be low quantity; strong spring winds called zondas caused inconsistent flowering and scattered hail.

"We have not quite finished the harvest, but if the weather remains stable and we have no frost until the end of April, the quality will be extraordinary and homogeneous across all varietals," said Pablo Cuneo, winemaker for Mendoza-based Bodega Ruca Malen, on April 16.

"Quality overall is very good," echoed Santiago Mayorga Boaknin, vineyard manager and enologist with Mendel Winery. "I'm seeing a lot of color, tannins and healthy grapes. For the whites, the harvest was a little early because of the heat in January that advanced things along. Also the low yields in general made for more concentrated grapes." –M.S.
I would like to thank Achaval Ferrer for their generosity in providing these wines and Tina Morey of #WineStudio for arranging such a fun and educational way to celebrate World Malbec Day! 
~Sláinte!