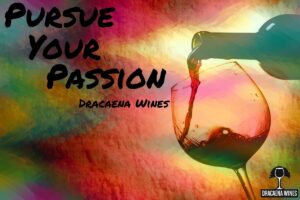 What is the definition of being successful? Is it making more money than you know what to do with? Is it having letters after your name that people aren't even sure what they mean? Or is it simply being happy? When Mike and I decided to enter the wine business, we knew it wasn't going to be an easy road. We were realistic. We understood that we would neither be an overnight sensation, nor ever be as recognized as Robert Mondavi. That's not why we entered the business. We entered the wine industry because we love wine and it was our dream to own a winery. We chose to not just wish or dream about it, we made a conscious decision to make it happen. We chose to Pursue Our Passion.
It's a scary thing chasing down your dreams, but if you don't enter the race you are never going to win. One of my favorite sayings about Pursuing Your Passion was made by "The Great One," Wayne Gretzky. He very eloquently stated, "You miss 100% of the shots you don't take." He knows you need to take risks. You need to leave the safety net that tethers you to your comfort zone so that you can experience what happens next.
In this, what has become a monthly tradition, a guest blogger will tell you their story of how they pursued their passion in the wine industry. These people understood what Van Gogh meant by "I would rather die of passion than of boredom."
I'm not really sure how long I have known Kathy Wiedmann on social media. If you are on twitter and interested in wine, which I assume you are if you are reading this article, I'm pretty sure you are following her at @Virginia_Made. (if you aren't, you should be!) She also writes the blog Vinous Musings. What I do know is that it was two Memorial Day weekends ago that she invited Mike and me to come explore the Virginia wine region and to taste the wonderful Casanel wines. We were all set to go. She even helped us find a cute Bed and Breakfast nearby that accepted pets. We were all set to go when Mike got word that he was offered the job he currently has in Fresno.  Instead of a leisurely drive to Virginia and tasting some great wine, we had to scurry quickly, change plans and arrange to drive cross-country to our new lives in California.
I was upset that we missed out on that opportunity. Kathy and I have talked about rescheduling, but time has been tight for us, but I am rectifying that and heading to Casanel Vineyards this January!  
When Kathy suggested having Katie be a guest on my Pursue Your Passion post, she told me some of the amazing things that Katie has done in such a short time! Let's see; Katie is under 30 and a female winemaker and vineyard manager. The winery is family owned and run. Her father is an immigrant (Brazilian by birth – came to US at age 20) and on top of all that she still works in tasting room when harvest/winemaking allows. That is passion! I knew I had to share her story here!  
I hope you enjoy this interview. As you read through her answers I think you will be able to see her passion! I can't wait to meet Katie (and Kathy) in real life this January! Enjoy! 
~Sláinte!  
Take us through your mindset. Your father, who was in construction for most of your life, decides to purchase land and plant vines. How did you react to that idea?  That is a huge transition in lifestyle.
At first, I thought it was a joke when my father told me that we'd be starting our own vineyard and winery. "We were in construction, you know? What are you talking about with all of this grape vine nonsense? We are concrete people, " I remember thinking at the time. I had just headed off to college (Virginia Tech), had already declared my major (English). I had chosen a career path for myself and honestly didn't think too much about my father's new venture. He had retired a couple of years earlier, selling his construction business to my Uncle, but my immediate family and I knew that Dad wouldn't stay grounded for too long…
I think the moment that I knew this was real, that this whole vineyard/winery thing was happening, was when I came home in May, and there he was: my father standing in a large field, big black boots covered in mud and dirt, a giant smile lighting up his face, holding what I thought looked like a bundle of asparagus. Much to my chagrin, those little stalks would soon grow up to be my sparkling Chardonnay vines, all hand-planted by my Father and I (along with family and friends) on May 5, 2007.
You went to Virginia Tech for English. What was your professional goals upon entering college?
I wanted to be a writer. My concentrations were in both creative and professional writing, but my heart was set on becoming a published author. I had written a few things here and there, poetry and short fiction, and eventually was published in various magazines on campus and nationally. Writing was my first love, for sure, and I still write, albeit not as much as I used to… which I hope will change one day!
I did have a fellowship lined up in New York after graduation; however, I graduated a semester early with the hopes of taking time for myself before heading up North. My father asked if I could hang around the farm a little to help out. I remember (begrudgingly, at first), agreeing. Funnily enough, after the first couple of weeks out in the vineyards, chatting with customers behind the bar, and getting my hands dirty on the farm, I realized what a magical little place Casanel had become. I knew I wanted to be a part of this, regardless of what was stamped on my diploma.
I know the feeling of "I'll just do this "for a while" and then it becomes permanent. What clicked within you, that allowed you to realize winemaking was your passion?
I don't think it was exactly one moment, you know, like that "ah ha" moment, but rather, a series of events that led me to believe, "Hey, I can do this." My sister, Anna, was strategic in this, as she was/still is one of my biggest cheerleaders, encouraging me to dive in, head first. The more wines I tasted, Virginia and abroad, I found myself more and more intrigued not only by the winemaking process, but also with grape-growing, too. I knew that my family had created something special, but most importantly, something with a ton of potential. I started following our vineyard manager around, picked up a few books about winemaking, was involved in harvest, crush, bottling… you name it, I wanted to learn it. All of it. I had officially been bitten by the wine bug. I had no clue how much that semester off in 2010 would change my life.
A lot of people glorify the idea of winemaking. They don't see all the behind the scenes "dirty work" that is required to produce a quality wine. What is your favorite and least favorite "dirty job?" Why?
This is a fun question! My favorite dirty job? Anything to do with using the pressure washer (cleaning barrels, cleaning the cellar floor/drains, etc.). I know that sounds weird, but pressure washing is one of those activities where you can really monitor your progress and see the job being done right before your eyes. Cleanliness is godliness in the cellar, and we take sanitation extremely seriously at Casanel.
My least favorite dirty job… has to be a tie between: 1) cleaning the press (ugh – no matter how hard you try, it's almost never-ending) and 2) cleaning lugs (because, again, it's never- endingggg).
Casanel produces a wide variety of wines, from dry and sweet whites, to single varietal reds, to even a port! Which is your favorite to work with? Why?
Ah, my favorite wine to work with? That's like asking if I have a favorite
child (lol), really… but, if I had to pick, it's our sparkling Norton, "Red Spark." It's such a unique wine, so unique, in fact, that I believe Casanel is the first winery to ever make a méthode champenoise-style sparkling from Norton grapes in the world! It's my favorite wine to work with because it's truly my own wine, made in completely different style from everyone else.
Typically in the tasting room, Norton can be a tough sell. It's not widely known and doesn't have the same prestige as the French vinifera. So, with that in mind, I came up with the initial idea on a whim in the hopes of elevating Thomas Jefferson's favorite grape and trying to figure out a better way to market our state's historic vine. Traditionally, Norton is produced in a heavy red wine style, and can often times be extremely earthy and hard for white wine drinkers to appreciate.
By processing the Norton as a sparkling, we were able to create something so different, yet so rooted in tradition both historically and technically, that I felt Thomas would definitely tip a glass or two back in agreement. We hand-harvest our sparkling Norton earlier in the harvest cycle, and complete production via the steps outlined in méthode champenoise (all of which we also complete by hand, so truly from "bud-to-bottle" as we say). From start to finish, there's truly nothing like it. It took a lot of hard work, and even more patience, but I'm really glad the "Red Spark" has been so well-received in our little wine community. The 2015 Estate Red Spark will be available to the public this September.
You state that "every winery needs an 'Ace' ." What do you mean by that, and how are you acting as that 'Ace'?
I love that you asked this question! This is a saying and an idea that I think every vineyard/winery can relate to and needs. I'll never forget when it was first said to me and how much it has influenced everything from my winemaking style to my overall work ethic. (If this person happens to read this, I still think about that moment, even now! Thank you.) It basically comes down to the idea that every business needs that one person who can do almost anything when called upon, a person who's always there to help you see things through and get the job done right. You know, a real Jack-of-all-trades.
Whether its learning how to take apart the pressure washer or figuring out how to thoughtfully combat daily disease pressures in the vineyard, there's always a new challenge in our line of work. I look to my father when I think about it and how no matter what the problem, no matter how small or catastrophic in nature, he always keeps a cool head and figures it out. I'm also extremely lucky to have my wine family, both my big sister Anna and my "big brother" Erik (our current tasting room manager, who looks very similar to my sister and me, but no blood relation, just wine family! We've adopted him ever since 🙂 ) to help out during the busy season. They've taught me different philosophies and strategies of how to sell wine to all different kinds of clientele, while I encourage them to help out at harvest or conduct a pump over or two in cellar with me. It's really important that everyone on the team not only wants to learn more and absorb as much as they can about our wines and our vineyards, but are also willing to get their hands dirty in the process.
I'm still learning to be patient (I'm an Aries, so it can be a real struggle, lol), but that type of diligence and never-give-up attitude has helped shape me to become the winemaker I am today.
You are currently in your 5th harvest and 3rd year as winemaker. How do you think working in the vineyard aided your ability to produce wine?
(Side note: I have been harvesting with Casanel Vineyards & Winery since our first estate 2010 (7th Harvest) and I have been involved in the cellar since 2013.) I honestly cannot stress enough how invaluable it is to be involved and invested in the viticultural aspect of this industry. Every winemaker loves to say the same thing, "Great wine starts in the vineyard." But, I've learned, that not every winemaker practices what they preach, especially in a place like Virginia where Mother Nature might not always have the best of intentions for winemakers. She keeps you on your toes, all the time!
During tastings, I explain to clients that our harvest season is also known as hurricane season on the East Coast, one of the many reasons making wine is such a challenge here in my home state. It's not as easy as it looks, to 1) be so aware of Mother Nature all the time and everyday, and 2) to try to wrap your head (and grapes) around trying to work with Her, not against Her. Working in the vineyard has given me the confidence to make decisions quickly and confidently. Timing is everything, whether it's knowing which chemicals to include in your spray for bloom or figuring out the best time to harvest in between rain storms, it's important to listen to what the grapes are telling me. I have 4 or 5 different weather apps and alerts on my phone, no joking. I also live on the Estate, a great advantage when I need to collect weather data or conduct a daily walk-through of our vines. My viticulurist, Lucie Morton, instilled in me very early just how important it is to get out there every day and check on the jungle.
Working in the vineyard is definitely the hardest part about my job, but also the most rewarding. One of the more frequent phrases you hear us say behind the bar is that we are extremely proud of our "bud-to-bottle" approach. Meaning that, whether we are hand-bottling our latest batch of estate sparkling, or hand-harvesting any one of the 10 blocks in our 3 Estate Vineyards: our fingerprints are on everything.
Tell us about your first vintage as a winemaker. Were you nervous? Excited? Terrified? All of the above? Has those emotions changed over the years?
All of the above, for sure! But oddly enough, I also felt pretty confident: confident that our site can produce spectacular fruit, and confident that I now had the right team in place to take Casanel to the next level. The 2014 vintage was the first time that I got to "hold the reins" and manage both the vineyard and winery. My winemaking consultant, Katell Griaud, was there to guide me and teach me how to realize what I wanted for our new portfolio. I am extremely fortunate that I get to work with someone as talented, humble, and hard-working as Katell. She has taught me everything I know about winemaking, and so much more about life. Her winemaking mantra is to "always put your best foot forward." I appreciate her frank approach to winemaking and the innate ability she has to coax the most intricate of flavors out of our wines. She is my mentor and my friend, and I am so lucky to have her by my side.
Over the years, I am happy to say that I am still always excited for harvest, no matter what. Even as I write the answers to this, I find myself remembering the first time I was given a pair of clippers, the early mornings cloaked in fog while the sunlight struggles to break through the cloud cover, the way the vines had curled and climbed their way throughout our trellis. It's the culmination of 8 months of hard labor amongst the vines: the memories of frozen fingertips while winter pruning, April flowers and May showers, the threats of frost, hail, heavy rains, and everything in between: it all fades away when you release that first clip on the bird netting, freeing those beautiful clusters to the world. It's our chance to show the industry what we've been working towards and aiming for all year: that next great vintage.
What is your favorite aspect of being in the wine industry?
My favorite aspect of being in the wine industry? There are so many different way to answer this question. I would be remiss, though, if I didn't say that my favorite aspect is that my family and I get to create truly unique, truly Virginian products year after year that are reflective not only of our little site's terroir and our winemaking style, but are also part of a broader spectrum of creative, delicious, and forward-thinking wines that Virginia offers. The industry here is full of amazing, talented people and I am again, very fortunate to have met some of those people and picked their brains about winemaking.
I'm only 29, a baby by industry standards, but I am grateful for the time that these guys have given to me, the patience with which they've listened to my questions and inquiries, and the wisdom and confidence they've instilled within me to keep striving to be a better me than the day before.
Thankfully, women are becoming more common in the wine world, but it is still dominated by men. Do you find this to be a hinderance in being accepted as a winemaker? What are you finding to be the most difficult hurdles to overcome as a young winemaker?
Ah, this is a question I'm asked a lot. Honestly, the only way to answer this is to give you both sides of the coin, which may help you understand where I am coming from. (Apologies for writing a long answer to this one!)
On one hand, yes, because I am a woman, there is some stereotypical deterrence in being accepted as a winemaker. Combine that with being under 30 years old and without a "Formal Education" in winemaking, it's apparently very hard for people to believe that yes, I do in fact take care of both the vineyard and winemaking here at Casanel. But on the other hand, no, because I am one of the few women doing what I do for my business, a good many people are extremely supportive and proud of what we are crafting together as a family. More and more people are excited about the strides women are making in this industry. They want to seek us out, hear our story, and share what we've done to fight the stereotypes in our industry.
This field has been dominated by men because it's a hard job. Not only do you have to be tough physically, but you also have to be decisive, quick, and prepared to do whatever it takes to adapt in times of crisis and excel in times of prosperity. Sometimes, I find myself joking with the ladies of the vine. In this day and age, it seems kind of funny that people get so tickled to meet a female winemaker or female vineyard manager. Some of the strongest, smartest, and most resourceful people in the game I've met are women: just look at the team here at Casanel! (Lucie, Katell, my sister, my mom, etc.)
I remember when I first started out, that I felt like all winemakers were arrogant jerks: quick to judge, reluctant to share secrets and knowledge, just overall tough to talk to and understand. I soon learned that not all winemakers are like that – it's honestly a by-product of our job. This entire industry is built on criticism, so it's essential to develop a "thick skin," lest you be eaten alive by other people's thoughts and opinions of you and your wines.
And trust me, people can be the worst sometimes. I remember when I had taken over the portfolio and I happened to conduct a tasting for a gentlemen (also in the wine industry here in VA) who had nothing nice (or constructive) to say about anything; he even criticized the way I wore my makeup and had done my hair, declaring, "Real winemakers don't look like you. They wear Carhartts®, not eyeliner. Stop trying to tell me you're something you're not." It stung at first, but then, as our new wines gained traction and the right people started to realize how hard my team and I had worked to elevate Casanel, I slowly began to see that it doesn't matter what people think. Just "Do You" and what's best for you and your brand.
Case in point, I've learned a lot from both my fellow females and male counterparts. One of the most important points? Gender doesn't make great wine. A great winemaker makes great wine. And that's the kind of winemaker I am pushing myself to be.
One of our tag lines is "Pursue Your Passion." You obviously have passion for wine. If you were to give advice to someone entering the wine industry to pursue their passion, what would you tell them?
To the next generation of vineyard managers, winemakers, tasting room educators, and owners, here's my advice to you: break the boundaries. Never give up. Never stop learning. And never be afraid to go beyond what you think you're capable of doing, even when people tell you that you can't or that you're not good enough to do so. Wine is just as alive as you are, and is only as great as the passion and effort you put forth into your vineyard and cellar.
I go back to what I've touched on earlier, things like gender, history, luck… those don't make great wine. Great winemakers make great wine because they are connected to every aspect of their business: the vineyard, the cellar, and the tasting room. The devil is in the details, and the most successful businesses understand that and live by it every day.