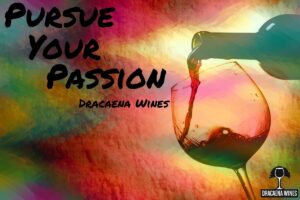 What is the definition of being successful? Is it making more money than you know what to do with? Is it having letters after your name that people aren't even sure what they mean? Or is it simply being happy? When Mike and I decided to enter the wine business, we knew it wasn't going to be an easy road. We were realistic. We understood that we would neither be an overnight sensation, nor ever be as recognized as Robert Mondavi. That's not why we entered the business. We entered the wine industry because we love wine and it was our dream to own a winery. We chose to not just wish or dream about it, we made a conscious decision to make it happen. We chose to Pursue Our Passion.
It's a scary thing chasing down your dreams, but if you don't enter the race you are never going to win. One of my favorite sayings about Pursuing Your Passion was made by "The Great One," Wayne Gretzky. He very eloquently stated, "You miss 100% of the shots you don't take." He knows you need to take risks. You need to leave the safety net that tethers you to your comfort zone so that you can experience what happens next.
In this, what has become a monthly tradition, a guest blogger will tell you their story of how they pursued their passion in the wine industry. These people understood what Van Gogh meant by "I would rather die of passion than of boredom."
I have said it many times. I LOVE social media. If this was a career option when I went to college, I would have been all over it!  I am a true Sagittarius. I am an extrovert, optimistic and enthusiastic, and definitely likes change. I get bored after 5 minutes and am always looking for something else to challenge me. That's why I went into teaching. No matter the subject (originally Advanced Placement Biology, now Adventure Education) each class has its own dynamics and I get a new start every 42 minutes. Social media changes every minute, heck every second! 
I honestly don't know when Dave and I crossed paths.  All I remember is that I was drawn in by his wine photography.  He always has beautiful flowers, or fresh fruit in his pictures. And then there is Gianna. Oh I love Gianna! She is beautiful and she always finds her way into Dave's photos. Plus she is always happy! Yeah, she's a Labrador Retriever, but she knows good wine! (Alright, Dave chooses the wine, but Gianna approves) 
I was fortunate enough to meet Dave in real life when Mike and I visited
Cindy of Passaggio Wines in her tasting room in Sonoma. We had a fantastic time sipping our way through Cindy's wines while conversing about everything under the sun.  Social media is an amazing thing, because even if you don't officially know someone, because of it, when you do finally get face to face, you feel like you have known them forever. That's exactly how I feel about Dave, like we have been friends forever. 
I asked Dave to tell his story, because although he is not officially in the wine business, his passion for wine shows in every post he makes. I remember when we were in the tasting room and he wanted to take a picture of a bottle of Passaggio wine.  He moved around the tasting room searching for the perfect props to make the wine stand out. Passion exudes from him! I know you are going to enjoy his story.
~Sláinte! 
Purple Passion
I was born in San Francisco and have lived my entire life in the Bay Area, currently in Hayward. I've been married for 33 years to same wonderful woman and we have a son who recently was married and lives in Salinas.  For 35 years, I have been employed as a Security Manager at a defense contractor in Palo Alto. Sports are important to me as SF Giants and 49ers allegiances run deep. Wine has become a passion of mine only in the last 5 years.  I agreed to write this with the hope that others will see that your dreams can come true.
I have always enjoyed wine, I just knew nothing about it.  As I got older, I started to appreciate it more and more.  Somewhere along the line, something triggered me to get very passionate about the regions, the people and the wine they produce. There were many influences that got me started toward this passion. Starting with the movies "Sideways", which got me very interested in the wines of Santa Barbara County and "A Good Year" which heightened my awareness of French wines and how the French look at California wines.  The biggest influences are the people who I have come across in the wine business.  It all started with Dinelle Schultz, who I met on Instagram by chance.  She was working in tasting rooms in the Lompoc and Los Olivos areas. We would discuss pinot noirs from that area and she would tip me off to ones I always liked.  Seems we have a similar palette.  From her I somehow was attracted to the scribblings of wine blogger, Stephen McConnell, aka @_soif. Love him or hate him, he knows his stuff.  We have become good friends over the last few years and have shared several bottles, good and bad.  Next up is Lisa Morgan, who encouraged me to visit Clarissa Nagy's tasting room in Orcutt. When I did, I was hooked!  Lisa and Clarissa have become some of my closest friends in the wine industry.   Elton Slone, CEO of Robert Craig Winery in Napa Valley, who I met through my cousin, told me that I was onto something. Then there is Jolene Patterson, a wine writer in the Sonoma County area, who took me under her wing, to expose me to the producers in her area.  There are more but it would go on forever.
My success in the social media circles, Instagram mostly, is mindboggling to me. I started out posting just wine bottle shots and found there was a real audience for it.  As I gained a small following, I started adding sports memorabilia to my pictures such as SF Giants and SF 49ers.  There were bobbleheads, pins etc. that added a little more to the content.  As I gained even more followers and likes on my pictures I found that I wanted to keep improving.  I started adding flowers, food and then finally my Labrador retriever Gianna to some shots.  That was what really launched the large following I currently have. I try not to focus on the same wines and producers all the time, but I do have my favorites that I support more than others.  I believe that I appeal to a wide range of interests:  wine, flowers, food, sports and dog lovers. Out of my 10K Instagram followers, it is probably split pretty evening across those interests. My passion is truly about all you see in my photos. I am really about the visual experience!
Wine has become a passion of mine for several reasons.  First and foremost is that it has many facets that include the smells, the textures and the tastes.  There is nothing better than a real strong perfumed nose on a wine. I am very oriented toward the personal aspects of wine.  I have become close friends with many people in the wine industry, from tasting room folks to cellar rats to winemakers to CEOs.  All are such warm and personable people who are very passionate about their place in the business.  I hope someday to retire to a place where I can be part of it myself, preferably Santa Barbara County.
I am basically a red wine guy but have morphed a little into rosés and Rhône whites such as roussanne and viognier. My favorite varietal is pinot noir, probably from the Sideways influence.  Also, enjoy the Rhône varietals, grenache and syrah.  In addition, cabernet franc and merlot, are favorite Bordeaux varietals, again probably because of the Sideways negative influence.  But to be honest, it is hard for me to say I dislike any varietal as they all have their place and time.  I have not traveled to any foreign countries for wine yet, though I would love to visit Italy and France at some point.  I am a true Californian at heart and I try to endorse those wines as much as I can. My vacations these days always have a wine theme attached to them, the Santa Barbara County and Paso Robles regions always pull at my heart strings. 
My social media wine passion has brought me many wonderful opportunities.  I cannot list them all but here are few.  First, are the all great people I have met to Include Larry Schaffer and Maeapple Chaney from Tercero Wines, Bret Urness and his family from Levo Wine, Raul Torres (Paso Kid), Nico Fritz (cellar rat), James Piper (Taste in the Alley/Nagy Wines), Cindy Cosco from Passaggio Wines and the Bowman's from Napa Valley Wine & Cigar.  The most memorable experiences are a vineyard tour and tasting at the Stolpman estate in Ballard Canyon that included tacos with vineyard guru, Ruben Solorzano; Attending Hospice du Rhone in Paso Robles; vineyard tour and tasting in Anderson Valley with the Boss Family at Panthea Winery; Howell Mountain visit with Elton Slone from Robert Craig Wines; working a day during harvest with Crux Winery in Geyserville. 
I want to say that I do not consider myself a blogger in anyway.  My Instagram postings are wine I enjoy drinking/trying along with tasting notes meant for the casual observer.  You won't see me posting any negative statements about much but you can tell when I really enjoy and endorse something.  I am basically a guy who is having a great time, drinking good wine, interacting with people more passionate than me about something that's fun to talk about.  I appreciate all my social media followers and hope this lasts for a very time.  Thank you for the opportunity to tell my story.