Knock, knock!
Who's there?
Banana.
Banana who?
Knock, knock!

Who's there?
Banana.
Banana who?
Knock, knock!
Who's there?
Banana.
Banana who?
Knock, knock!
Who's there?
Orange.
Orange who?
Orange you glad I didn't say banana?
I think this self quarantine thing is getting to me. Some people are taking the time to learn new skills, perhaps pick up a new language or play an instrument. Not me, I, apparently, am reverting back to my childhood days and remembering stupid jokes. Because the first thing that popped into my head when I heard this month's #WinePW topic, orange wines, was that joke.
But orange wines are no joke! They are, in fact, very serious wines and they are somewhat of the rage right now. The funny thing is that although they seem to be the new kid on the winemaking block, the process has actually been around for an extremely long time. It is believed that the first wines made, were actually orange wines.
Scientific data has shown that orange wines were originated in the country that has been making wines for over 8,000 years, Georgia. They would bury clay jars (qvevri) up to their neck and the wine was left to ferment. The Georgians called this "amber wine," today, we call it "orange wine."
How Does a Wine Get Orange?
After the fruit is picked, the fruit is brought to the winery to be processed. It begins with de-stemming the fruit, (although some wines undergo whole cluster fermentation) which simply removes the rachis (stem) from the fruit itself. The fruit can then be crushed. This is the process of breaking open the skins to allow the pulp and juices to be released. This will have an impact on the color and flavor of the wine. 
Typically, this is the point in wine making where white and red wines vary. Since allowing the juice to sit in contact with the skins will give the wine color and tannic structure, white wine is often pressed immediately to separate the juice from the skins, seeds and solids. But this is where orange wine differs from its white wine counterparts. In order to make orange wine, the juice is allowed to sit on the skins of the white grapes, providing color. 
Just as red wine left on the skins for longer periods of time contributes to the deep color and increased tannin level, an orange wine will gain color and tannin depending on the length of time it sees contact. (if you would like to read more about the rest of the process, please see my post Behind the Scenes of a Winery; Grape to Bottle.)
What to Expect in an Orange Wine
You know when you have been on a moving walkway and you step off, you still feel like your moving on the belt? Or how about when you have to step on an escalator that is broken, but your first step still feels like you are moving? Think about how you feel you are still rocking on water when you step on land after being on a swaying boat.  These are all examples of how the declarative (factual information our brain processes based on experiences) and procedural (performing a task without conscious awareness) functions of our brains are separated. 
Orange wines kind of fall under that same principal. You have trained your brain and palate to expect something when you drink a white. The skin adds new flavors to the wine while also giving it a richer, fuller body and typically more intense flavors. So when tasting one, you might be thrown for a loop at first. Because of its tannic structure that is not typically in a white wine, it is not recommended to drink this wine chilled. 
Food Pairings with Orange Wines
Orange wines are dry crisp wines, but they are brawny. The typical descriptors include tropical fruits, apples, honey, yeast and nuts as well as that savory taste of umami. This is a wine for your hot and spicy dishes. Think three alarm chili, hot wings or a chimichurri dish.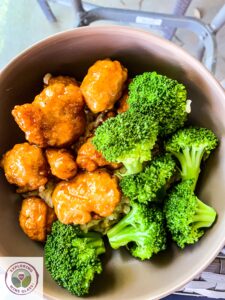 Mike is not a fan of super spicy, and with the weather topping at 91, I wasn't too keen on a hot dish, so we had to go down a different path. I decided to look at the varieties that the wine was made with. When seeing the varieties, I immediately thought of Chinese or Thai food. We decided to make it an all orange evening and went with Orange chicken with Broccoli and rice. 
I can not lie, we completely cheated with the meal. We could have actually made orange chicken, and I have done so in the past, but awhile ago, we found Crazy Cuizine Mandarine Orange Chicken at Costco and it is so cheap and so delicious it is not worth it to make it any more. 
The Wine 
Field Recordings is located in the very hip area of Paso Robles known as Tin City. You have to love a place that you can park your car and start walking and choose between wineries, craft breweries, distilleries and of course food. If you would like to watch the film Tin City, it is available on Amazon Prime and you can listen to my interview with Dina Mande, the producer and director of the film on your favorite podcast aggregator or here. 
The 2019 SKINS from Field Recordings is a blend of 50% Chenin Blanc, 35% Riesling, 15% Pinot Gris and they recommend it to be paired with bleu cheese, duck sausage and dried fruit. According to their tasting notes, it has flavors of apricot, Haitian orange and marzipan with 11.8% ABV.  The wine saw 29 days of skin contact.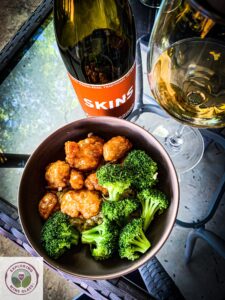 ? medium amber
?? medium aromas honeysuckle, peach, orange marmalade
? dry, low acidity, low tannin, medium alcohol, full body, medium flavors apricot, pith, almond, medium finish
? SRP $19, 50% Chenin Blanc, 35% Riesling, 15% Pinot Gris, can age 
The wine itself was free of faults, but not to either Mike's or my palate. However, once we paired it with the orange chicken it became much more friendly. The acid within the chicken helped to bring out the flavors within the wine that were lack luster on its  own. To us, it seemed a bit flabby without the food to enhance it. This may not be our favorite wine, but it was a pairing that explicitly demonstrates how food and wine interact with each other. 
Join in the Conversation
Interested in learning more about orange wine and find some incredible pairings?  Join in the conversation this Saturday, May 9th on Twitter at 8am PT. All you need to do is follow #WinePW. If you can't make the chat, or even if you can, be sure to support my fellow bloggers and check out their posts to get the recipes for their pairings and hear their thoughts on orange wine. 
~Sláinte!