Imagine a vacation spot that is ideal if you love water sports. How about if hiking is your thing? What about a place that offers both of those options? Now add in art, amusement parks, and hilltop villages.  Have I sold you yet? Want even more? How about some incredible history? You can vacation and see Roman ruins as well as castles from the 12th century. But wait, on top of all of these amazing things to do, let's add wine tasting. Is there a more perfect place for you to visit? I find it hard pressed to find someone who wouldn't want to spend time somewhere that offers all of this. Welcome to Lugana!
One Grape to Rule Them All
Ok, there you have it, I admit I'm a Lord of the Rings fan and I couldn't get this quote
out of my mind while we were learning about Lugana on #winestudio. I was so delighted to be able to participate in the program again. It has been awhile since I have had four Tuesdays free and oh what a month to get back in the game!  
In case you are unfamiliar with #winestudio, it is a "wine education and grassroots marketing program produced by Tina Morey." The programs are typically a month long and allows the participants to take an interactive deep dive into the wine world using Twitter as the platform. 
This month, we virtually traveled to Lugana, Italy. I am an Italian wine lover, but prior to a very special dinner in NYC hosted by Susannah Gold, Lugana east coast brand ambassador, I had never heard of this wine region. So when I was asked if I wanted to join in the conversation on #winestudio, my answer was a very fast YES!
Frodo had the one ring, Lugana has the one grape variety. The entire DOC is dedicated to the production of Trebbiano di Soave. The grape is also known as Trebbiano di Lugana or more commonly by the historic name, Turbiana. When tasting Turbiana, you can expect a wine that has an acidity that makes your mouth water. To me, that is right in my wheelhouse, however, it also has a wonderful salinity with flavors of almond, citrus, peach and white flowers. It is a wine that provides the consumer with the whole package of a quality wine but at in incredibly low price.
Even though Lugana focuses on a single grape variety, they offer it in an array of expressions. The majority (95%) of the wines produced in Lugana DOC are dry, still white wines. But you can also find sparkling and even late-harvest. No matter the expression you choose, the DOC has a strict regulation that in order to be labeled Lugana it must be a minimum of 90% Turbiana. This regulation isn't a difficult one to comply with as the majority are actually 100%. 
The winemakers produce the wine in one of five differing styles. Basic Lugana is designed for early consumption and is the largest production category. Lugana Superiore requires a minimum of one year maturation, is harvested from lower yield vineyards and does not require oak aging as does the Riserva. Superiore typically has a higher alcohol level than Basic. It is often aged completely in stainless steel and offers up a lovely minerality to show that. Lugana Riserva requires a minimum of two years aging with at least six months in bottle. Since it is often a blend of mixed maturation (both stainless and oak), it tends to have balsamic notes and more creaminess than Superiore.  Late harvest or Vendemmia Tardiva must have at least 12g/l RS but is not overly sweet as it maintains its acidity and freshness. Finally Spumante is a sparkling version that is produced in either the Charmat or Metodo Classico method. 
Follow Dracaena Wines on Twitter, Instagram and Facebook for special offers.
One DOC; Two Borders
Italian is the region's main language, but English and German are also prominent due to the high tourism from Germany and Austria. Although rather small, the Lugana DOC is partially located in both Lombardy and Veneto and sits along Lago di Garda, Italy's largest lake. Lake Garda, in turn, borders three regions; Lombardy, Veneto and Trentino. It resides a short 30 minutes drive from Verona. The DOC is one of only a few that actually crosses two regional borders. 
Bounded on the north by Lake Garda and by low hills consisting of boulders and stones that were formed by the Alpine glaciers from the Ice Age on its other borders. The lake basin has an extreme effect on the climate within Lugana. It allows for mild winters and moderately hot summers; somewhat Mediterranean. Between the matrix of sand  and clay, the lake's ability to control the temperature and the surrounding hills, the Lugana DOC has a very distinct terroir. 
Vitis silvestris grape seeds were found around the pile dwellings of Peschiera del Garda confirming that winemaking in the region dates back to the Bronze Age. The Lugana DOC was registered in 1967, which makes it one of the first regions to be protected by the Italian wine regulation. 
There are five municipalities within this small DOC. Desenzano, Sirmione, Pozzolengo and Lonato are located in Lombardy. Even though there is only one commune in Veneto; Peschiera del Garda, it accounts for 60% of the wines in bottle. The five communes can be fundamentally divided into two zones.  The larger area comprising Desenzano, Sirmione, part of the commune of Pozzolengo, and Peschiera is made up of clay soils. These historically top-quality areas are known for their mineral stylistic wines. The second zone consists of more hills and stretches from the Monumental Tower of San Martino della Battaglia in two different directions: towards Pozzolengo and towards Lonato. These soils are clay with more sand and gravel. These wines have less minerality but are more acidic and have a bigger, more rounder mouthfeel.
Dracaena Wines has received consistent 90+ ratings and multiple Double Gold medals. Click image to order yours today and let Dracaena Wines Turn Your Moments into Great Memories!

The Wines
Colli Vaibò 2018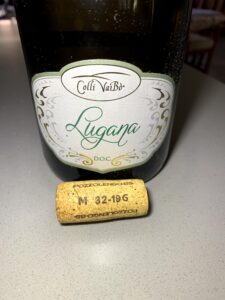 Produced from select vineyards within an 18 hectare area, the wine is fermented in stainless steel with commercial yeast . The wine is aged on lees for 4 months and released after 1 month in bottle. Now in the third generation of winemaking, Diego Bulgarini prides himself in producing wines that express the region to its fullest.  13% ABV. Produced with 100% Turbiana. 
Nunzio Ghiraldi 2017 Sant'Onorata 1953
Produced in the Sirmione municipality and harvested from 60 year old vines. This wine
was fermented in stainless steel and is 100% Turbiana. The fruit was hand harvested, purposely overripe, in October and then fermented in stainless steel for 10 months and then 6 months in bottle prior to release. The vines are planted in clay soils interspersed with calcareous salts. Produced from old clones of Turbiana, with yields less than 8 tons per hectare.

Bulgarini 2017 Superiore Cà Vaibò
Produced in the Pozzolengo – Brescia municipality. The vines are grown on morainic hills, with clay and gravel soils. The wine is 100% Turbiana. "Short drying of selected grapes, next soft pressing. Fermentation at temperature controlled of which part in small selected woods. Summer bottling and aging for 5-6 months in bottle." 14% ABV
Tinazzi 2018 Tarcisio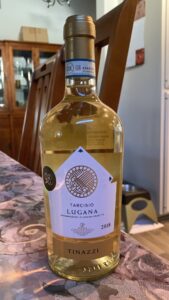 Once again , this wine is 100% Turbiana. Harvested from southern portion of Lake Garda. The fruit was saw cold stabilization prior to soft pressing and fermented in stainless steel at a controlled temperature. 12.5% ABV. Located on the Verona side of Lake Garda, the Tinazzi family has been producing wine for half a century. The wines of the Tinazzi label are "as the line where tradition and innovation meet." I have no idea the story or reasoning behind this shape of this bottle but I absolutely love it!
Final Takeaways
If you have ever wanted to experience something special in your wine glass, then Lugana is the place for you.  Don't let the fact that they focus on a single variety fool you. This is not a region of similarity. Instead, this region exemplifies what diversity truly is. Depending on the location of the vines and the winemaker's touch, every bottle you taste is a different expression of the grape. The wines of Lugana DOC are so versatile. Not only do they come in an array of styles, but they can pair well with a variety of different cuisines. It is exemplary with anything from pizza, to white meats, to elaborate meals and can even handle those stinky cheeses. The acidity, minerality and savory characteristics of the Turbaina grape make it a perfect party wine.  Just make sure you have multiple bottles. 🙂 It truly is one grape that has so much to offer.  
Disclosure of wine sample submission:  I received this wine at discounted cost from Consorzio Tutela Lugana DOC and  Wine Studio. I was not required to write a positive review and the opinions I have expressed are entirely my own.
~Sláinte!
Try the 90+ rated and multiple Double Gold medal winning wines of Dracaena Wines and get a 10% discount off your first order. Click the banner below and use code "Explore" at checkout.