If you are reading this post, then you know that we produce Cabernet Franc. You may also know that I created #CabFrancDay to celebrate the much underappreciated grape varietal. I am on a mission to give Cabernet Franc the respect it is due. I think it is time that the Father gets some of the spotlight.
In a previous post, I explained how Cabernet Franc is the father of Cabernet Sauvignon. I discussed that it is the son who became the King of grape varietals and mentioned differences between the father and son. I thought I'd elaborate on those differences with some graphics.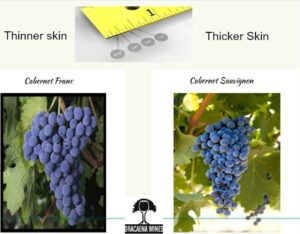 Additionally, although their yields are similar, Cabernet Franc normally buds and ripens typically two weeks earlier. This difference can be a major advantage to Cabernet Franc since if planted in climates where rain is a harvest-time threat Cabernet Sauvignon may have vintage issues. But it can also be a negative allowing it to be more susceptible to Spring frosts. They both have a high tolerance to cold winters but Cabernet Franc prefers slightly cooler weather than Cabernet Sauvignon.
As I leave you here's some questions for you to ponder:
What about Cabernet Franc do you like or dislike?

What about Cabernet Sauvignon do you like or dislike?

I believe Cabernet Franc is a much friendlier wine. One that does not NEED a meal to allow you to enjoy its full body, but can stand up to those large meals. What is your opinion?

Most importantly, remember that December 4th is #CabFrancDay. Will you be grabbing a bottle to join in the conversation? If you would like to get a #CabFrancDay reminder tweet closer to the day, leave your twitter handle along with your comments (or tweet me privately)

What will you do to show that you #LoveCabFranc!
~Sláinte!