Follow us on all the Socials: 
I promise I'll never tell you what to drink but I'll always share what's in my glass.
Let's explore what we pour! All I ask is that you unscrew, uncork or saber a bottle and come join in the conversation.
Sláinte!
ABOUT LORI
Welcome to Exploring the Wine Glass. The place to come to experience all things wine. My blog has won several awards including the Millesima Blog Awards, a finalist for many others such as the Borne Digital Awards, as well as being named one of the top 15 influential wine bloggers in the US by Beverage Trade Network. I am the founder of the now internationally recognized Cab Franc Day. I have both an undergraduate and graduate degree in Biology, worked as a microbiologist. I graduated from UC Davis Winemaking program and completed WSET L2 with Distinction.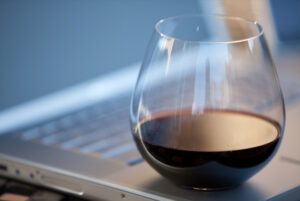 BLOG
Tune in every Wine Wednesday for a new blog post. Here you can find articles including winemaker interviews, wine science, winery behind the scenes, wine tasting experiences, wine pairing suggestions, and wine education.
READ THE LATEST
PODCAST
Do you love wine? New episodes drop every Monday. Join Lori as she cuts through the confusing jargon and the science behind wine, as well as getting the inside scoop about running a winery. Monthly episodes where you can learn about new grape varieties and exciting wine regions. If that's not enough you can even virtually attend Master Wine classes and join in the conversation as wine writers get together and discuss interesting wine news. 

               LISTEN ON APPLE PODCASTS             LISTEN ON PODBEAN          

Exploring the Wine Glass officially accepts samples as well as conducting on-site and online interviews. Want to have your wine, winery or tasting room featured? Please visit the sample policy page and then contact me (exploringth[email protected]) directly, or use the form below. Sláinte!