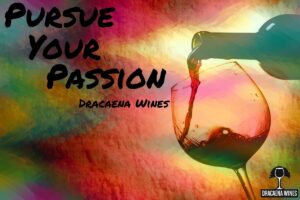 What is the definition of being successful? Is it making more money than you know what to do with? Is it having letters after your name that people aren't even sure what they mean? Or is it simply being happy? When Mike and I decided to enter the wine business, we knew it wasn't going to be an easy road. We were realistic. We understood that we would neither be an overnight sensation, nor ever be as recognized as Robert Mondavi. That's not why we entered the business. We entered the wine industry because we love wine and it was our dream to own a winery. We chose to not just wish or dream about it, we made a conscious decision to make it happen. We chose to Pursue Our Passion.
It's a scary thing chasing down your dreams, but if you don't enter the race you are never going to win. One of my favorite sayings about Pursuing Your Passion was made by "The Great One," Wayne Gretzky. He very eloquently stated, "You miss 100% of the shots you don't take." He knows you need to take risks. You need to leave the safety net that tethers you to your comfort zone so that you can experience what happens next.
In this, what has become a monthly tradition, a guest blogger will tell you their story of how they pursued their passion in the wine industry. These people understood what Van Gogh meant by "I would rather die of passion than of boredom."
There are a lot of educated wine lovers out there. And there are also a lot of people who are uneducated in wine. And that is alright also, because all you need to be in order to be a wine lover is to love wine! Who says you need to have a degree in order to enjoy. There is nothing that states you need to know all the Grand Crus in Burgundy or the four quality levels in German wines. Heck, it isn't even necessary to know where Napa, Sonoma, Paso Robles or insert any other wine region is on a map to open a bottle of wine and pour yourself a glass. 
BUT… as with most things in life, once you get the bug in you  about something you love, it is human nature to want to learn more about it. The more you learn, the more you can expand your horizons within that field and explore options to make it even more exciting to you. This is where Tina Morey entered my life. 
Tina Morey is the creator of a fantastic wine education program called WineStudio. 
#winestudio is a wine education program produced by Tina Morey. Its message is interactive wine education, thus a better understanding of our world through wine and our part in that world. Questions and comments are encouraged! Become involved in the #winestudio conversation through Twitter, Facebook and Instagram and meet new wine folks from all over the world!
Through #winestudio, I have had the opportunity to sample wines from around the world. But more than that, I have learned about the regions that these wines have come from. Rias Baxias, Australia, Argentina, France, in addition to regions within the United States such as Oregon just to mention a few that I have explored. I am so thankful for the  hard work that Tina does in order to continue this educational process. It is pure passion. So when I was thinking about who to ask for this month's Pursue Your Passion post, I knew her story would fit the bill. Enjoy.
~Sláinte!
Passion – around the bend round robin
I'm a stickler for words. In fact, I love seeing words so much that I can fondly recall
diagramming sentences back in middle school. While my classmates were groaning under the weight of words upon pencil-drawn lines, I reveled in the breathtaking formality of it all! Perhaps that's why I don't write as much as I should–I get so caught up in the semantics, that actually formulating cohesive sentences that could possibly resemble good writing, frightens me!
A chance reservation at the award-winning Woodinville, Washington restaurant The Herbfarm made me realize that words, coupled with food and wine can be quite magical. The written descriptions of each course were, to me, profound. And of course the eating of each was that and more. After that, wine came easy to me as easy as the title pastry chef I earned years before. But passionate about it? Oddly enough, the further I dove into the food and wine world, the further I veered from those interesting little words. I missed them. I couldn't shake the feeling that something was off, despite my love of wine.
My very first recollection of the word passion was associated with the suffering of Christ because that's what I was taught in Catholic school. To me it meant that you give of yourself – body and soul. Today I write and produce an online beverage educational program called #winestudio. It began as an idea to showcase and share beautiful wines and flourished into a social media educational community for participants, and grassroots marketing for guests; and it's actually pretty cool. On any particular Tuesday evening, we could be discussing a wine region that has yet to be truly discovered or perhaps a particular cider that someone happened to mention to me years ago.
The written content is endless! When asked to write this article, I first thought "cool!" but then I asked myself if I really believed in the whole passion thing. I reminded myself that I established a program that hadn't been done before and although I love the program for myself, it's not actually designed for me but for my participants and guests. It feels like it all has come round robin: an odd little passion for words brought me to the world of wine and now here I am again. I suppose it is true that you never really forget your first crush. Thanks so much to Lori who asked me to guest write and who inadvertently had me remembering about the true nature of passion.
[slideshow_deploy id='5225']
Tina Morey CS
#winestudio
[email protected]
@winestudioTINA
winestudioTINA.weebly.com