Buttercup was raised on a small farm in the country of Florin. Her favorite past times were riding her horse and tormenting the farm boy that worked there. His name was Westley, but she never called him that. Nothing gave Buttercup as much pleasure as ordering Westley around.
Farmboy, polish my horse's saddle I want to see my face shining in it by morning. AS YOU WISH.
AS YOU WISH was all he ever said to her.
Farmboy, fill these with water… please. AS YOU WISH. 
She leaves his eyes stay on her. She stops, turns, he manages to look away as now her eyes stay on him.
That day she was amazed to discover that when he was saying AS YOU WISH what he meant was I love you and even more amazing was the day she realized she truly loved him back.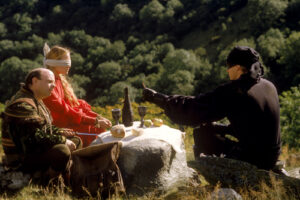 As we approach the most romantic day of the year, this is the story that always enters my mind. It doesn't get any more romantic than finding true love, losing true love, being forced to marry another to find out he is going to kill you. Realizing that your true love is actually still alive, and that he built up an immunity to iocane powder, fought R.O.U.Ss (rodents of unusual size) and avoided lightning sand in a fire swamp, was tortured to  "Almost Dead" but survived and finally storms a castle all in the name of love and ultimately rescues you.    
It is INCONCEIVABLE (used often in the book) to me if you do not recognize this story since it is by far one of the best books (and movies) ever created, but don't worry, I've got you covered. I suggest you open a new webpage and order The Princess Bride, by William Goldman, cuddle up with your loved one by a cozy fire, and pour yourself one (or more) of these amazingly romantic wines and enjoy. 
2014 Domaine De Cantagrils Picpoul de Pinet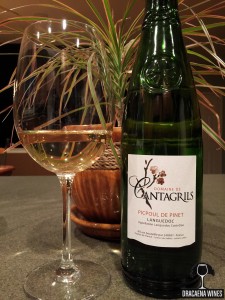 The wine poured butter in color.  On the nose; aromas of melon, green apple, citrus and grass. On the palate; tropical flavors, apple and grapefruit. Initially, without food, it reminded us of a cross between a crisp non-oaky Chardonnay and a Sauvignon Blanc. We could imagine sitting on our patio in the warmer months sipping away. But once we paired it with the food and allowed it to warm up a bit, this became an entirely different wine.  It became fuller in body and the finish lingered a bit more.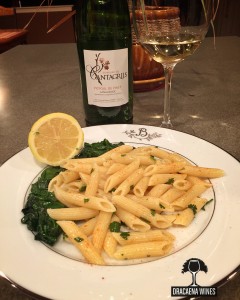 Piqpoul de Pinet is well-known to pair exceptionally with seafood because if the bright acidity, however, I do not eat seafood. Instead, I decided to pair it with lemon pasta with wilted spinach. The oil within the dish cut the acid of the wine and provided a much softer sensation to the palate.  This wine can be a wonderful replacement for Sauvignon Blanc.  This meal, so simple to prepare, will allow you plenty of time to sit down with your loved one and share a romantic evening on Valentine's Day or any day.  
NV Domaine Les Hautes Terres  Crémant De Limoux, Cuvée Joséphine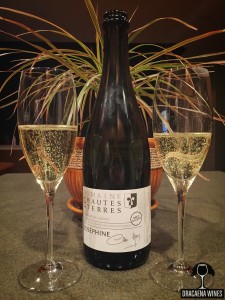 Limoux is a sparkling wine that has Champagne quality but at a Prosecco price. It poured daffodil in color. On the nose; toast and yeast. On the palate; granny smith apple, citrus and lemon.  It did not have the yeasty brown Champagne flavor profile, but had  tiny fine bubbles with a long effervescence. 
We paired this wine with Sopressata Croquetas. This is a meal that truly shows how much you love your significant other. There are two ways you can celebrate with the love of your life. The first is to tackle this meal all on your own. It is a long process. I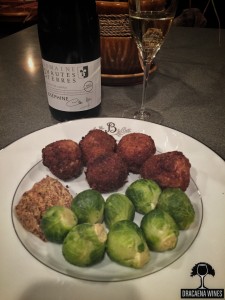 don't think it is a difficult meal, but it is time-consuming and the rue can be a bit temperamental. There is no way your partner could doubt it is true love if you serve this wine and meal. Or, you can choose to make this meal with the love of your life and spend some quality time in the kitchen together. Some of the best conversations occur over a stove.
As Cupid and his arrow get closer
it is difficult to not think back to the most romantic couples in history; Romeo and Juliet, Cleopatra and Mark Antony, Lancelot and Guinevere, Scarlett O'Hara and Rhett Butler and Sparkling wine and cheese. Yep, I went there, and I know there are a lot of you out there who agree with me. When it comes time to go all out and show the love of your life, that they are the one to complete you, you need to go out and get some Sparkling wine and some cheese. A full fire guarantee you will get a positive response.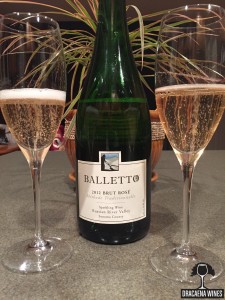 2012 Balletto Brut Rosé
We decided to pair the Balletto sparkling wine with two different cheeses. First was a cranberry cheddar from Wisconsin and the second was a Champagne aged cheddar from the Finger Lakes. 
This sparkling is 70% Pinot Noir and 30% Chardonnay and is all estate grown in the Russian River Valley.  Whole clusters were given tender care during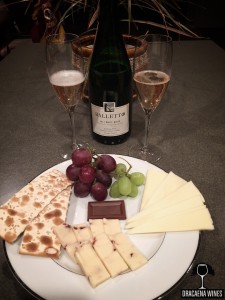 crush and fermentation to provide the soft color. The Pinot Noir was fermented in stainless steel while the Chardonnay saw neutral oak and underwent 100% malolactic fermentation. It was produced in the Méthode Traditionnelle meaning that the wine saw the second fermentation in bottle. It spent three years on lees before only 780 cases were bottled.  It poured salmon in color. Initially on the nose cherry aromas and hibiscus followed by some yeast. On the palate we experienced more cherry with yeast in the mid-palate and then followed by a hint of citrus and minerality. The bubbles were fine and long lasting and the wine was crisp and refreshing. It paired well with the cranberry cheddar but oh my did it sparkle (see what I did there?) with the Champagne cheddar.
Prefer not to go with a classic
and want to think outside the box a bit. I have a wonderful suggestion for you. Make a personalized creation for your loved one. Everyone loves individualized food. It makes us feel special and small servings are just so darn cute! Plus this will allow you to use those ramekins that you have stashed away in your cupboard.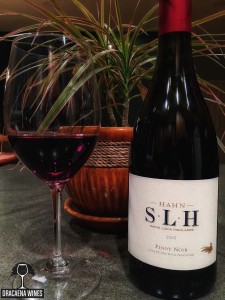 2013 Hahn SLH Pinot Noir
This Hahn Pinot is composed of fruit from three different vineyards in the Santa Lucia Highlands.  52% Smith Vineyard, 42% Doctor's Vineyard and 6% Lone Oak. These vineyard sights experience a long dry growing season that allows the fruit to hang on the vines for an extended amount of time and creates ripe fruit that is extremely complex and full of depth. After the fruit was hand harvested and sorted, it was fermented in open stainless steel tanks. They aged the wine for up to 10 months in separate 60 gallon French oak barrels before blending.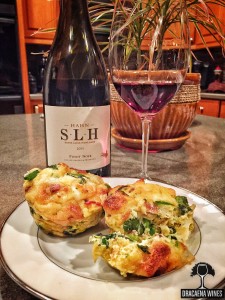 We chose to make  Guyere and Broccoli Rabe Bakes to pair with this SLH Pinot and it was spot on. The wine poured apple in color. On the nose was a soft aroma of cherry, smoke and brown spice. The palate, however, was so much more complex. Strawberry and bing cherry are in the forefront, followed by subtle baking spices and earth. Gentle tannins round out the wine.  So many layers to enjoy with this medium bodied long finish Pinot.  
If you are looking for romance and you love bacon,
then I have the meal (and apparently the app) for you. While searching the web for ideas I came across this blog post about an app called 'Sizzl.' I'm not sure how much I would trust finding romance with an app that is created by Oscar Mayer, but hey, don't mock it til you try it! 
2014 Balletto Rosé of Pinot Noir
The Balletto Rosé is made from 100% Pinot Noir grown on five different estate vineyards. Each vineyard has a distinct element that provides a unique essence creating a complex wine. All fruit is sustainably farmed in the cooler lower third section of the Russian River Valley. To take the best of both worlds of wine making philosophy, 75% saw whole cluster fermentation while 25% was bled from regular fermentation. The whole cluster provides the backbone of the wine while the bleed off fills the middle with bright fruit. 
The wine poured coral in color. There was slight effervescence in the glass, but not on the palate. On the nose was strawberry, strawberry and more strawberry while the palate opened up to a much more complex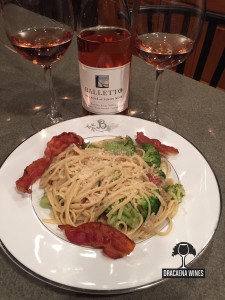 wine.  Initially there was more of the strawberry along with cherry and then some minerality.  It is a light bodied wine with a short crisp finish with a nice balanced acidity. 
Since I already have found the love of my life, I opted not to download the app but did use bacon to show my love.  Tonight I made bacon, onion and broccoli pasta. It is a simple and quick recipe and feel free to add as much bacon as you like to impress your beau.  
My final wine pairing suggestion is the simplest,
but maybe the most romantic one. Simply, make their favorite meal. This not only shows them that you love them, but more importantly that you "know" them and want to please them. Sometimes it isn't the biggest gift or the most glittery one that proves the most. Sometimes it is just a simple gesture.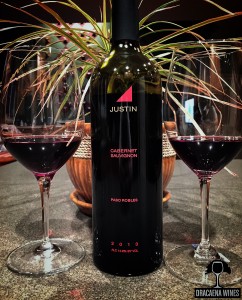 2013 Justin Cabernet Sauvignon
This wine poured garnet in color. On the nose was leather, black currant and baking spices. Once we sipped, our palate found more black currant, black cherry, blackberry and tobacco.  This was extremely well-balanced and surprisingly soft for a Cabernet Sauvignon. It was a medium bodied wine with a long finish.  There is no reason to wait on this Cab, it is drinking phenomenally right now. The berries were hand picked and sorted.The wine was fermented in both closed and open stainless steel tanks and saw pumpovers twice daily.  It aged in 25% new American oak barrels for 14 months.
Justin Winery is located on west side of Paso Robles.  Be prepared for a long drive along a winding road, but this winery is worth it. Justin's story is filled with glory and dates back to 1981 when Justin Baldwin purchased 160 acres and a dream of creating exceptional wines. Five years later, he produced his first wines, Cabernet Sauvignon and Chardonnay, but they were not available to the general public. One year later, he created his Reserve wine, a blend of cabernet sauvignon, cabernet franc and merlot (now known as Isosceles). His first big rating came in 2000 when Wine Spectator rated his 1997 Isosceles the sixth wine in the world. The awards continued, and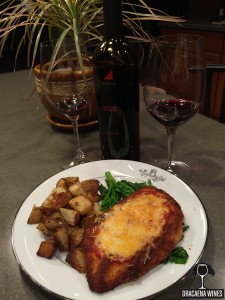 this past year, Justin Winery was named Wine Enthusiast's Winery of the Year. 
For us, Mike has two favorites. Pizza and Chicken Parmesan. He loves it! Whenever we go to a new restaurant, he orders it and that is how he decides whether he likes the restaurant or not. So tonight, chicken parmesan was made. To pull the meal together we wilted some broccoli rabe and made roasted potatoes. 
As I wrap up this post, my honest opinion is if you prepare any one of these romantic wine pairings, I can guarantee your story will end just as Buttercup's and Westley's did:
                               Since the invention of the kiss,
                               there have been five kisses that
                               were rated the most passionate,
                               the most pure. This one left them
                               all behind. The end.

Disclosure: I received these wines from Benson Marketing Group on behalf of the wineries. I was not required to write a positive post and all opinions are my own.  
Sláinte!