I had the honor of hosting this month's #WinePW.  A group of wine and food bloggers get together each month in order to bring their two loves together and get social about them. This month's theme was Enchiladas. [See my invitation post here and my preview post here.]
I could not just choose the typical chicken and cheese enchilada recipe, I wanted to do something special. Not only because I was hosting, but because I was lucky enough to receive a bottle of Trousseau Gris from Cindy of Passaggio Wines and I wanted the perfect meal to pair with this wine.  I have never have a Trousseau Gris before, so I was beyond excited to give it a try! 
The Story Behind Enchiladas
The first reference to the term "enchilada" in the United States was not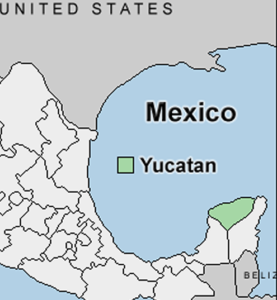 until 1885. The word itself means "chili filled." An enchilada typically involves a corn tortilla rolled around a meat and cheese. Although the history is not crystal clear, it is most often suggested that enchiladas began with the Mayans in the Yucatan Peninsula region of Mexico. The original enchiladas were thought to be corn tortillas rolled around fish. There is also evidence that they would fry the tortillas in grease, then put them on a plate and pour salsa over the top, add cheese, then another tortilla, cheese, salsa to create layers as opposed to rolling. They would then top the stacked enchilada with a fried egg and some lettuce. Tortillas, made from flattened corn bread were originally called tlaxcalli, however it was the Spanish conquistadors that named it the tortilla. 
Chicken and Asparagus Enchilada
Right off the bat, I broke a major rule of enchilada making. I used flour tortillas. I just don't like the taste of corn tortillas. Technically, I guess that means I made a burrito, but I don't think the enchilada police will come and arrest me. Since I use flour tortillas for everything, I've always considered enchiladas to be rolled and open on the ends, while burritos are rolled and closed on the ends. Although I didn't need a recipe per sé, I did hunt around online for ideas for fillings. I have been on an asparagus kick as of late so I hit paydirt when I came across this recipe for chicken, asparagus and black bean enchiladas. I made some minor modifications like eliminating the sour cream, using pre-shredded Mexican Blend cheese and using light whipping cream. None of these changes truly effected the outcome, just made it a bit more healthy of a meal. 
The Story Behind Passaggio Wines
Cynthia Cosco is a fourth generation Italian who grew up watching her grandfather make wine. After 15 years in Law Enforcement, she found herself with a desire to pursue her passion that was ingrained in her from her ancestors. She chose to leave her career and enter the wine industry with the dream of making her own wine. It was in 2004, that she began this journey by working part time at Bevmo in Albany, CA. Through this job, she was introduced to someone who was able to get her a part time temporary job at Chateau St. Jean. She did such an amazing job, that after harvest was over, they hired her full time as a wine chemist and she took enology classes at Napa Valley College.
Once again, proving her worth in gold wine, she was promoted and in 2007 she decided to make her own wine at Crushpad. [coincidentally, where we made our first wine] She attended an open house at Crushpad and was hired as the Lab Manager. During her time with Crushpad she made Pinot Grigio, a Rosé , and Pinot Noir under the Passaggio brand. In 2010, when Crushpad moved to Napa, she was promoted to Winemaker for the white wines. In 2011, she decided it was time to promote the Passaggio brand and currently has a beautiful tasting room located at 25 East Napa St, Suite C in Sonoma.
2015 Passaggio Wines Trousseau Gris
According to Wikipedia [taking with a grain of salt] "Trousseau Gris is a French variety of white wine grape. It is occasionally found in eastern France and was once widely grown in California under the name Gray Riesling. In cool climates it can produce fresh aromatic wines. It needs gentle handling and careful winemaking to bring out its best. It is a white mutation of the red Trousseau grape." Vine Master Fanucchi  states "Trousseau Gris is originally traced back to the Alsace–Lorraine in Northern France near the German border. In addition to making still wine this grape has also been used for port, blended into method champenoise and even for strengthening the nose and complexity of many other white & red wines!"
As I stated, this was the first time I was sampling Trousseau Gris so I was extremely excited. I opened the bottle with such anticipation and couldn't wait to take that first sip. The wine poured blonde in color. ON THE NOSE: peach, honeysuckle, rose petal and tangerine. ON THE PALATE: peach, tangerine, floral essence and citrus. Medium body with a medium finish. It was absolutely divine. I had to contain myself, because the meal wasn't ready yet, and I was afraid I would drink the entire bottle before I even got the meal to the table!
The Pairing
Straight to the point, this was not an exceptional pairing. The enchiladas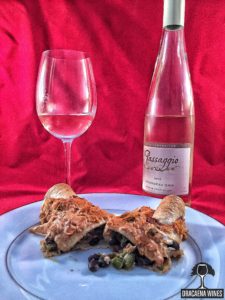 were not very flavorful. In fact, if I tasted them blindly, I would have never guessed that asparagus was in them. The cheese and chicken were extremely mild [read, lacking in flavor], so it provided a superb stage to allow the wine to steal the show. And that is exactly what it did. The Trousseau with its floral and citrus notes was absolute heaven in a glass. I actually got up in the middle of the meal to let Cindy know that she has ruined me for all other Trousseau Gris producers. This wine sets the bar high and although I will now look for other Trousseau Gris, I'm not sure I will find another one that will not just be an understudy. Do yourself a favor and get some!
Be sure to check out all the tasty Enchilada Pairings from #WinePW group!
Camilla of Culinary Adventures with Camilla will post about Prickly Pear-Pulled Pork Enchiladas with Prosecco
Cindy of Grape Experiences will post Wine and Dine: Condes de Albarei 2014 and Goat Cheese Enchiladas
David of Cooking Chat will be debating Wine for Enchiladas — Red or White?
Jeff of FoodWineClick will be running a Taste Test: Wines for Spicy Food.
Jill of L'occasion will feature Cooking with Wine: Chipotle Pinot Noir Enchiladas.
Nancy from Pull That Cork (next month's host) is talking Mom's Enchiladas and Casillero del Diablo Wines for #winePW
Meaghan of Un Assaggio of Wine, Wine & Marriage will be making Green Chile Chicken Enchiladas #winePW
Michelle of RockinRedBlog will be Exploring Enchiladas and Wine Pairings with WinePW. 
Sarah from Curious Cuisiniere will post Chicken and Cheese Entomatadas: Pairing Tomatoes with Wine
Wendy of A Day in the Life on a Farm will be talking about Elderberry Sangria.
For a list of past and upcoming #WinePW events, visit the Wine Pairing Weekend calendar here. We'd love to have you online with us! There is still time to get in on the fun, just email me your title and blog url and I will add it to this preview post. Publish your post between 12:01 a.m-7:00 a.m. EDT on Saturday, May 14 then get social! Even if you don't have a blog, we'd be more than happy to have you join in the conversation.
~Sláinte!