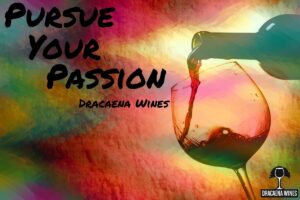 What is the definition of being successful?  Is it making more money than you know what to do with? Is it having letters after your name that people aren't even sure what they mean? Or is it simply being happy?  When Mike and I decided to enter the wine business, we knew it wasn't going to be an easy road.  We were realistic. We understood that we would neither be an overnight sensation, nor ever be as recognized as Robert Mondavi.  That's not why we entered the business. We entered the wine industry because we love wine and it was our dream to own a winery.  We chose to not just wish or dream about it, we made a conscious decision to make it happen.We chose to Pursue Our Passion. 
It's a scary thing chasing down your dreams, but if you don't enter the race you are never going to win.  One of my favorite sayings about Pursuing Your Passion was made by "The Great One," Wayne Gretzky. He very eloquently stated, "You miss 100% of the shots you don't take." He knows you need to take risks. You need to leave the safety net that tethers you to your comfort zone so that you can experience what happens next.  
In this, what has become a monthly tradition, a guest blogger will tell you their story of how they pursued their passion in the wine industry.  These people understood what Van Gogh meant by "I would rather die of passion than of boredom."
This month, I am honored to introduce you to a wonderful woman that I highly respect. I met Beth online, through the #MWWC (Monthly Wine Writer's Challenge) started by Jeff Kralik better known as TheDrunkenCyclist. You may know Beth from twitter or her blog, TravelingWineChick. In one of the friendly competitions, Beth told her story about how she ended up in the wine business and I was so taken aback by the hurdles she cleared to get to where she is today, I knew I had to meet her. As it turned out, meeting her wasn't as difficult as you may think, since she now works at Ehlers Estate.  Beth is, among many other things, in charge of their social media, so when Mike and I visited Napa in November, it was a mandatory stop and I am so happy we did. I know you will be as intrigued by her story as I am. She truly exemplifies the saying, "When one door closes, another opens."
~Sláinte!
Lessons Learned from Following My Passion
When Lori Budd of Dracaena Wines asked me to write a blog post about following my passion, I was not initially sure how I would address the topic. I have told my own passion story a few times: I was a successful, veteran French and Spanish professor whose position was eliminated due to a budgetary reduction in force, which shook me to my core, but allowed me to take a year off from full-time employment to decide what I wanted to do. During that challenging year, I took wine certification courses and worked multiple part-time jobs related to teaching French, managing travel, and learning to sell wine. At a pivotal moment of complete unemployment, the universe stepped in. I was offered a full-time job in the wine business in the Napa Valley. There was nothing but myself to hold me back. I accepted the job, scared to death, but without hesitation. I knew in a split second that moving across the country was my next step, for better or for worse.
During these past three years, I have come to the conclusion that I am still on a journey to discover my calling, my ultimate passion, if you will. During my lifetime, I have had a number of interests about which I am passionate: music, the French language and all things French, travel, writing, and wine. I still love all of these, although I believe there is an ebb and flow in life. As new passions rise to the surface, others fade into the background, but remain present and subtly persistent.
Wine is currently at the forefront, although I dearly love travel and no longer can travel like I used to because of my current lifestyle. While I love wine, I do not think I have reached my final stop with regard to my career and happiness. I am enjoying what I do now, but I feel this nudge inside of me that is pushing me forward. Is following one's passion static or fluid? Is it true that all of a sudden, you land in the right place and that is that, the end, you live happily ever after? Once you have seized a moment and pushed through adversity to something amazing, like I did when I moved forward to my new life in 2014, it leaves you wanting more.
Upon further reflection, I am ready to take my life to the next level. I still feel like something is missing and I am chomping at the bit to discover what it is. There is something out there waiting on me, calling my name. I want to wake up every, single day happy. I am not quite there yet. I love wine and writing and I miss travel. Sometimes I even miss teaching, although I was so angry when my career ended so horribly and abruptly, that I thought I despised it. I keep thinking that there is something else for me where I can combine all of my life's passions into one. I am still yearning to live happily ever after, passionately, every day, without hesitation.
DracaenaWines March 23, 2016 Pursue Your PassionElizabeth Smith, pursue your passion, Traveling Wine Chick 2 Read more >