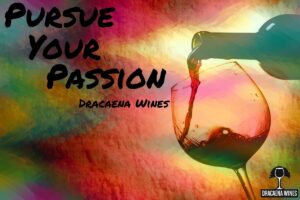 What is the definition of being successful? Is it making more money than you know what to do with? Is it having letters after your name that people aren't even sure what they mean? Or is it simply being happy? When Mike and I decided to enter the wine business, we knew it wasn't going to be an easy road. We were realistic. We understood that we would neither be an overnight sensation, nor ever be as recognized as Robert Mondavi. That's not why we entered the business. We entered the wine industry because we love wine and it was our dream to own a winery. We chose to not just wish or dream about it, we made a conscious decision to make it happen. We chose to Pursue Our Passion.
It's a scary thing chasing down your dreams, but if you don't enter the race you are never going to win. One of my favorite sayings about Pursuing Your Passion was made by "The Great One," Wayne Gretzky. He very eloquently stated, "You miss 100% of the shots you don't take." He knows you need to take risks. You need to leave the safety net that tethers you to your comfort zone so that you can experience what happens next.
In this, what has become a monthly tradition, a guest blogger will tell you their story of how they pursued their passion in the wine industry. These people understood what Van Gogh meant by "I would rather die of passion than of boredom."
I seriously love Social Media! I swear if this was a career when I was in school, Microbiology would have never even entered my mind! The ability to talk to people all over the world and find people who enjoy the same things that you do amazes me! This is how Ryan and I met. Although we have never met in real life, I feel like I know him, and I know that if when we meet, we will hit if off as if we have been friends forever. I consider him a friend now!  
I first met Ryan on a weekly chat called #SonomaChat. It happens every Wednesday evening at 8pm EST.  Amy Lieberfarb is the hostess with the mostess for the chat and for one hour we talk everything Sonoma. Ryan started showing some of his artwork on the chat and I fell in love with it instantly! I mean, seriously, how cool is it that he makes these incredible pictures with the foil caps of wine?! From someone who doesn't have an artistic bone in her body, even just the thought the someone was clever enough to think to do such a thing blows me away! Then to have the creativity to turn the capsules, things the the majority of us just cut off with a foil cutter and throw away, into incredible pieces of art is staggering to me! 
I have included a slide show of some of his art below, but please head to his website, vinomosaics.com and see additional art of his. I doubt you can look at his work and not say "WOW!" If one of his works is not exactly what you are looking for, he does commissioned work also! 
Interested in how he does it all. Check out this short video of him making a piece for Coravin. 
~Sláinte!
I'm often asked, "what made you think of that??" when it comes to my form of art. I like that comment, whether it is meant as a compliment or not, because it is at least an indication that I have a unique perspective. The truth is, my artistic journey evolved quite organically. 
Humble beginnings
It all began with my parents being wine lovers.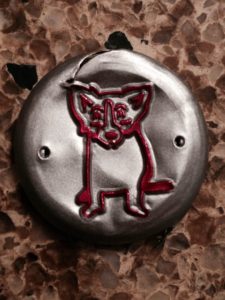 They used a foil cutter to open their wines and saved the perfectly cut foil caps in a large crystal vase on their bar. These accumulated over time and the collection always caught my eye. The range of colors, designs, and logos intrigued me. Since they were so uniformly cut and about the size of a square mosaic tile I started thinking about how to preserve the little keepsakes to turn into a wine mosaic for my parents. After some experimentation I figured out a way to turn the fragile foil caps into hard tiles that kept all the original embossing and design just as it looked on the bottle. I made a very rudimentary mosaic for my folks, but the piece had special meaning because it was made from wines they enjoyed with each other or with friends over the years.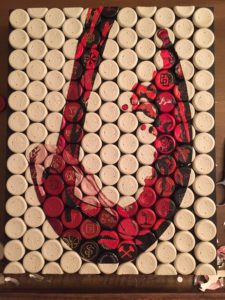 This spawned a chain reaction of passion that I could never have predicted. More wine lovers started saving foils for me and I kept working on pieces, refining my technique, improving my efficiency (these take a long time to make!). The more pieces I made the more inventory of foils I needed to keep this thing going. After panhandling at every local restaurant and bar I could find, I decided to go to the source and headed to California for my first true wine vacation! 
There's a story behind every wine
Now, when you've been organizing, sorting, and working with hundreds of
random wine caps every day for a few years with little knowledge of the wines behind them….  a drive around Napa and Sonoma is like going to the Academy Awards and seeing celebrities everywhere! It was so cool to make connections and see all of these familiar labels. Then to go in and taste the wines, experience the vineyards, sometimes talk to the owners or winemakers sparked a new passion for wine. I had always been drawn to the stories behind each foil that a couple had saved from special occasions or favorite wines. Now I realized just how much work and passion went into putting that wine in the bottle in the first place. I realized my art was a great medium for conveying the intersection of these stories in a compelling way. 
Passion for Art and Wine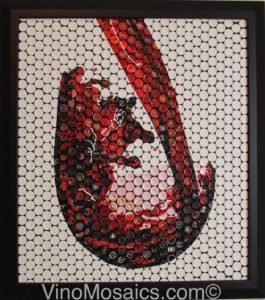 Since that initial trip we have been back many times and developed lasting friendships. I've had winery owners invited me to host art shows or exhibits in their tasting rooms and had people and companies from all over the world commission pieces. I've also developed a thirst for learning more about wine leading me to tastings, seminars, classes, and industry conferences. All of this has served to inform my art which continues to develop complexity and refinement. I would have never dreamed that my silly "unique perspective" on wine foils would have led to so many incredible friendships and experiences in the wine industry! Cheers to following your passion.
DracaenaWines September 28, 2016 Pursue Your Passionmosaic, pursue your passion, Ryan Sorrell, vino mosaic 2 Read more >