Have you heard of the angel's share? It is a term typically associated with whiskey. The term relates to the amount of whiskey that evaporates during the aging process. This evaporation, according to legend, is what the angels drink as they are watching over the whiskey. This amount can range up to 5% a year, so as you can imagine over a few years, it accumulates rapidly.
The amount of liquid that evaporates varies depending on the wood, the actual liquid, air circulation and the relative humidity in which the barrels are stored. When the wine evaporates, that leaves a "head-space" in the barrel, allowing oxygen to enter.
In a previous post, I discussed why a little bit of oxygen is good for wine, but it can go bad quickly. When minor amounts of oxygen are introduced to the wine, it can have a positive effect on the complexity of the flavors and deepen the color. But too much can easily mute aromas and flavors and dull the color, including bricking. When this occurs in a wine, it is called oxidized.
Have you been missing the weekly Exploring the Wine Glass posts? They have moved. Sign up at http://eepurl.com/be49CD to never miss a post. Subscribe to Dracaena Wines' blog in the sidebar on this page.
Certain wines are known to be oxidative. Some Rioja wines, as well as some sherries, just to mention two, are purposely oxidative. These wines mature while being exposed to prolonged direct air. The casks they are aged in are not filled completely to the top. The space is known as ullage and is what leads to the nutty and savory (umami) characteristics of the wine.
While this is important to these wine types, it can be disastrous to other wine styles. This is where topping off comes in. We want to make sure that the angel's share is always replenished. This is simply done by periodically eliminating the headspace by adding more wine. This also keeps the wine safe from bad microorganisms that need oxygen in order to grow.
Topping off is done on a regular basis, usually every month or two. It is a simple, yet time consuming process. We open each barrel individually, and pour extra wine that had previously been stored in a keg tank under inert gas.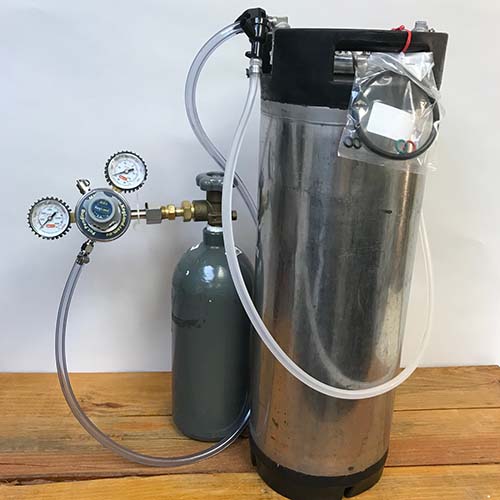 ~Slàinte!
Please follow us on Instagram, Twitter, Facebook and Youtube.
We've stacked the odds so that you can get our award winning wines without breaking the bank. Click the image to find out all of the benefits of joining the CHALK CLUB including discounted shipping and up to 25% off all purchases. .