This recipe suggestion came from Michelle Williams of RockinRedBlog.com in her blog post Celebrate #CabFrancDay with Dracaena Winery. However, when someone asked for her recipe in a comment, her answer was "My recipe for gyros is call my fav local Greek restaurant for take out."
So I went to FoodNetwork.com and found this Emeril Lagasse recipe that sounds similar to Michelle's description. Be sure to visit Michelle's site. Her posts are always so insightful and she has superb talent of pairing the wine with music.

Greek Grilled Leg of Lamb: Gyros
Total Time:
1 hr 52 min
Prep:
20 min
Inactive:
2 min
Cook:
1 hr 30 min
Yield:
16 servings
Level:
Easy
Ingredients
1 (4 to 5-pound) boneless leg of lamb, trimmed of visible fat
5 cloves garlic, peeled and cut into 20 slivers
1/4 cup extra-virgin olive oil
3 tablespoons fresh lemon juice
4 cloves garlic, minced
2 tablespoons chopped fresh oregano
1 tablespoon chopped fresh rosemary
1/2 teaspoon salt
1/2 teaspoon ground black pepper
Essence, recipe follows
16 pita breads
Tzatziki Sauce, recipe follows
Chopped tomatoes
Essence (Emeril's Creole Seasoning):
2 1/2 tablespoons paprika
2 tablespoons salt
2 tablespoons garlic powder
1 tablespoon black pepper
1 tablespoon onion powder
1 tablespoon cayenne pepper
1 tablespoon dried leaf oregano
1 tablespoon dried thyme
Tzatziki Sauce:
1 medium cucumber, peeled, seeded and finely chopped
1 cup plain yogurt
1 tablespoon olive oil
1 teaspoon lemon juice or white wine vinegar
1/2 teaspoon salt
1 teaspoon oregano
1 teaspoon minced garlic
Directions
With a sharp knife, make 20 slits across 1 side of the lamb and insert the garlic slivers. Place in a large non-reactive dish.
In a bowl, whisk together the oil, lemon juice, garlic, oregano, rosemary, salt, and pepper. Pour over the lamb and rub evenly across the surface. Cover with plastic wrap and marinate, refrigerated, for at least 2 and up to 6 hours, turning occasionally.
Remove from the refrigerator and let come to room temperature. Season lightly on all sides with Essence. Brush a grill lightly with olive oil and preheat to medium heat.
Remove the lamb from the marinade and place on the grill. Cook, turning occasionally until the meat reaches an internal temperature of 145 degrees F for medium-rare, about 1 1/2 hours. Remove from the grill and transfer to a platter. Tent with foil and let rest for 12 minutes before carving.
Thinly slice the lamb and place the meat in the center of the pita breads. Top with Tzatziki Sauce and chopped tomatoes, and serve.
Essence (Emeril's Creole Seasoning):
Combine all ingredients thoroughly and store in an airtight jar or container.
Yield: about 2/3 cup
Recipe from "New New Orleans Cooking", by Emeril Lagasse and Jessie Tirsch. Published by William and Morrow, 1993.
Tzatziki Sauce:
In a medium bowl combine all the ingredients and chill for at least 1 hour to allow the flavors to marry.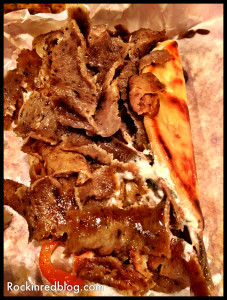 Recipe courtesy of Emeril Lagasse, 2002